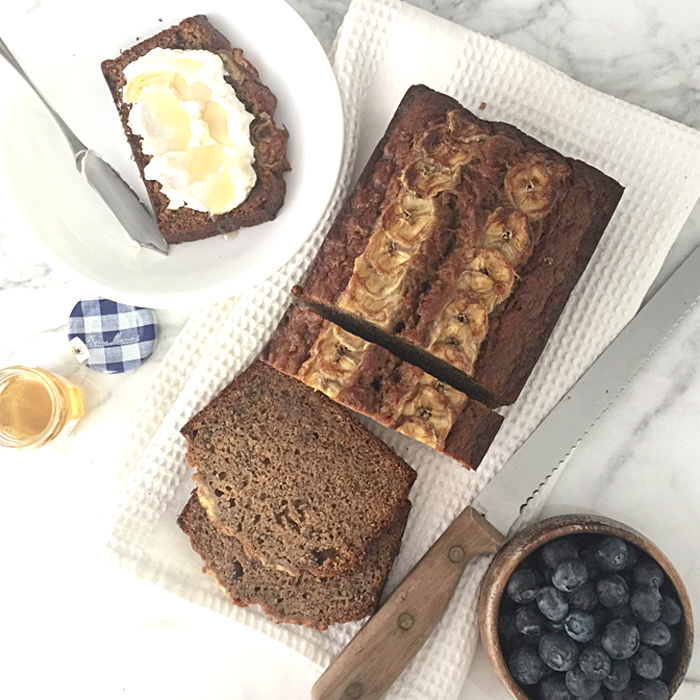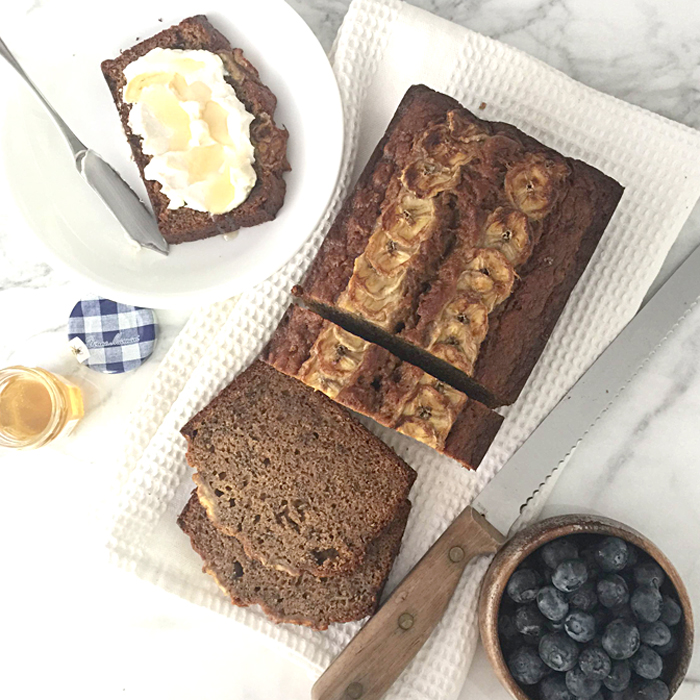 This recipe for the ultimate banana bread is based on the (in)famous Cook's Illustrated banana bread recipe. It is the perfect recipe for five (not the usual three) of the 87 ultra-ripe bananas you've had to throw into the freezer because every Sunday you buy a half dozen bananas convinced that THIS is the week you will start your wellness lifestyle and blend fruit smoothies every morning for breakfast after yoga, but by Friday you have nothing but half a dozen over-ripe bananas, the beginning of a fruit fly problem, and four pounds you gained because you skipped yoga altogether and ate leftover pizza dipped in Ranch dressing for "breakfast" at 3PM instead.
Or that might just be me and you have frozen bananas expressly for the purpose of making this Banana Bread recipe.
This recipe can be made with very ripe bananas that have not been previously frozen, but "steamed" in the microwave oven to get the same soft, liquid-rendering effect. For those detailed instructions, check out the original Cook's Illustrated Banana Bread recipe on the link (possible paywall).
Different Banana Bread Recipes
If you don't have five bananas, try one of these other banana bread recipes, which use the usual three very ripe bananas: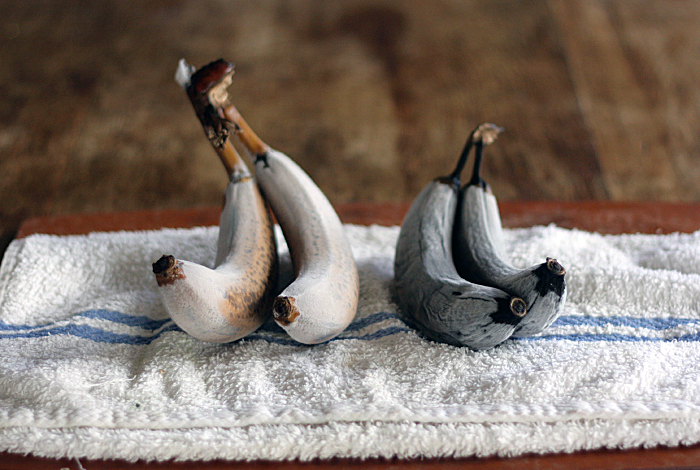 Banana Bread Serving Suggestions
There is nothing like simply sawing off that first, thick, caramelized end slice of banana bread as soon as it's cool enough to handle, but you only get to do that once. After, toast a slice of banana bread, then:
spread with whipped cream cheese + fresh berries
spread peanut butter + honey + toasted walnuts
make a Fluffer Nutter 'Nana: peanut butter + grilled marshmallows
make a Fluffer S'mutter S'mores Ice Cream Sundae: peanut butter + grilled marshmallows + chocolate, vanilla, and peanut butter ice creams + caramelized banana slices + hot fudge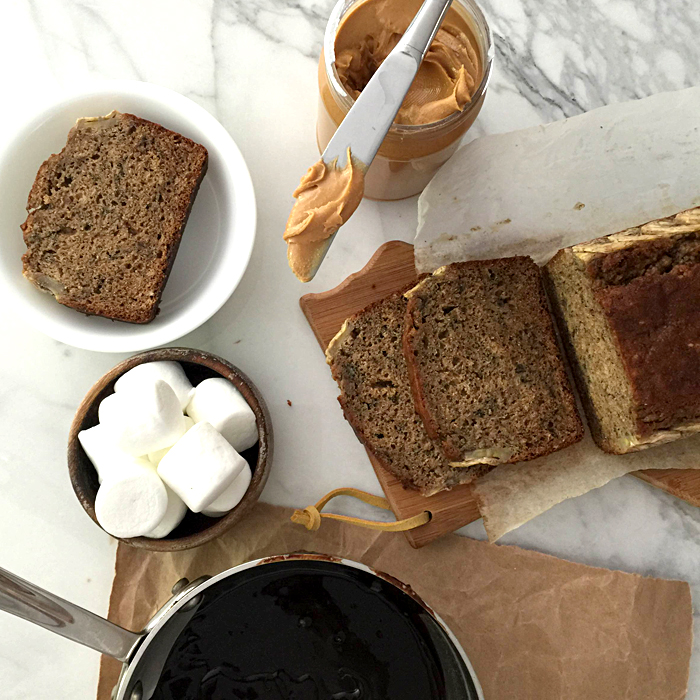 Banana Bread Recipe Notes and Shopping Resources
Bananas: It is best to use bananas that are so ripe, the skins are almost nearly black without actually becoming fermented. When this happens to your bananas, peel them and place them in a plastic zipper-top bag and freeze for use in this recipe. If you are using bananas that have not been frozen, just microwave them as indicated, but for only 1 minute. Proceed with the same recipe from there.
Flour: I use organic flours from King Arthur Flour, and keep them in airtight bags in the freezer to maintain freshness for longer since I don't use flour often enough to buy new flour regularly, and also keeps little critters out. If you keep flour in the freezer, let your measured amount sit out on the countertop at room temperature for a few minutes.
Nuts: Nuts do not belong in banana bread. EVER. But if you think you need to add them, go ahead. Just don't tell me about it.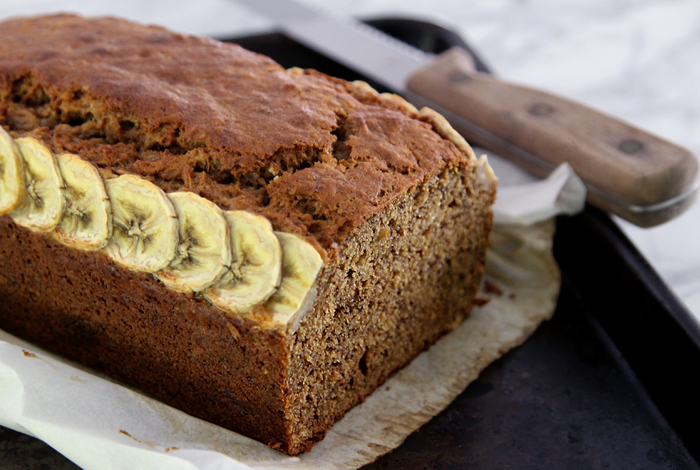 Print Recipe
Ultimate Banana Bread Recipe
This Ultimate Banana Bread Recipe is based very closely on a recipe by Cook's Illustrated. Their original measurements and instructions, where different from mine, are indicated in parentheses.
Ingredients
5

frozen very ripe bananas + 1 ripe

but not frozen banana for topping

1

cup

unbleached all-purpose flour

Cook's Illustrated: 1¾ cup

¾

cup

whole wheat flour

Cook's Illustrated: none, use all all-purpose flour

1

teaspoon

baking soda

½

teaspoon

table salt

8

tablespoons

1 stick unsalted butter, melted and cooled slightly

2

large eggs

¾

cup

packed light brown sugar

1

teaspoon

vanilla extract

Cook's Illustrated: ½ cup walnuts, toasted and coarsely chopped (optional, 2 teaspoons granulated sugar for banana topping)
Instructions
Preheat oven to 350°F. Spray 8½ x 4½-inch loaf pan with nonstick cooking spray, then line the bottom and sides with parchment paper (to make it easier to remove the baked loaf from the pan for cooling).

Defrost frozen, peeled bananas by placing in a microwave-safe bowl, covering bowl loosely with paper towel and defrosting in microwave oven for about 3 minutes, or until mostly thawed. Pour microwave-thawed bananas and liquid into a fine-mesh strainer over medium bowl and allow to thaw completely and drain on the countertop.

Whisk all-purpose flour, whole wheat flour, baking soda, and salt together in a large bowl.

Transfer banana liquid to medium saucepan and cook over medium heat until reduced to ¼ cup, about 5 minutes. Remove pan from heat, stir reduced liquid into bananas, and mash with until smooth. Whisk in butter, eggs, brown sugar, and vanilla.

Pour banana mixture into flour mixture and stir until just combined. (Cook's Illustrated: Fold in chopped walnuts if you're using them.)

Scrape batter into prepared pan. Slice remaining banana diagonally into ¼-inch-thick slices. Arrange banana slices on top, on either side of loaf.

Bake banana bread until toothpick inserted in center of loaf comes out clean. Baking time can take anywhere from 55 to 75 minutes depending on your oven; mine took 65 minutes.

Cool bread in pan on wire rack 15 minutes, then remove loaf from pan and continue to cool on wire rack.
Notes
Bread, tightly wrapped in plastic will keep for a few days. You can also slice the loaf and freeze!