Matcha Chia Seed Pudding is a delicious way to get high power antioxidants and super nutrients of both matcha green tea and chia seeds into your diet! With only four ingredients, it's a fast and easy recipe, making Matcha Chia Seed Pudding a perfect breakfast or snack for busy days. Shall we?
Jump to:
What is Matcha Chia Seed Pudding
Matcha Chia Seed Pudding is a matcha-infused vegan or vegetarian "pudding." But unlike traditional pudding that relies on eggs, regular dairy, and even starch thickeners, chia seed pudding gets its rich, custardy texture from the natural gel that forms from chia seeds. Depending on the type of liquid you use to make the pudding, Matcha Chia Seed Pudding is vegetarian, and can be 100% plant-based, suitable for vegans.
If you already know of, make, and eat chia seed pudding, then you take your usual chia seed pudding made with your favorite alternative or regular milk, then add matcha powder for both the earthy flavor and antioxidant boost that comes from matcha.
Even though it looks and sounds like dessert especially when garnished with colorful toppings, this recipe for Matcha Chia Seed Pudding has no refined sugar.
What is Matcha
Matcha is a Japanese green tea powder made from dried Camellia sinensis tea leaves, which are the same tea leaves used to make regular brewed green tea, white tea, and black teas. However, rather than brewing the dried leaves and drinking the liquid like regular tea, for matcha you whisk the fine powder into liquid and consume all of it. The matcha powder doesn't dissolve.
There are several factors that distinguish matcha from other teas made from the same plant. How the tea plants are grown, which leaves are harvested, when they are harvested, and how the leaves are dried and processed all determine whether tea will be matcha or regular tea. All of these details in the processing of matcha ensures that the vibrant green color is retained in the final product, but more importantly the health benefits.
Like most teas, matcha has a slightly bitter, tannic taste. Different types and styles of matcha can range in flavor from grassy and herbal to almost sweet.
Health Benefits and Dietary Considerations of Matcha Chia Seed Pudding
If you're drinking matcha green tea for the antioxidants and eating chia seed pudding for the super macronutrient profile, why not combine them into one super superfood?
This is exactly part of the reason I started eating Matcha Chia Seed Pudding in the first place! I love the herbal, bitter taste of matcha, but admittedly, I don't love matcha green tea as a drink. And adding milk and tons of sweetener to matcha as a drink makes it even worse. However, something in my brain switches when you add things to matcha in a bowl and it turns into a food that you can chew. Hey, whatever it takes, right?
Health Benefits of Matcha
The extraordinary health benefits of matcha come from its antioxidant content, specifically a catechin called epigallocatechin gallate aka EGCG. This antioxidant is found primarily in green tea, but the powdered matcha form has almost 140 times the EGCG as regular brewed green tea.
Here's how matcha's antioxidants and other compounds can benefit health:
EGCG has strong anti-inflammatory effects throughout the body, and thus has the capability to prevent and fight a broad range of disease and chronic illness including cancer specifically skin, liver and lung cancers, diabetes, and heart disease.
Research has shown that EGCG in matcha may reduce blood pressure, cholesterol, and the accumulation of plaque in blood vessels thereby reducing the overall risk of heart disease.
Studies suggest that EGCG in matcha may help boost metabolism and promote fat oxidation. While matcha alone is not a magic solution for weight loss, it may be a helpful component of a healthy diet and exercise routine.
Matcha contains L-theanine, an amino acid that is known to promote relaxation and reduce stress. The caffeine in combination with L-theanine in matcha can enhance mental focus and alertness without the jittery side effects that can be associated with high caffeine intake.
Matcha may aid the liver in detoxification. One study has shown that, 80 people with nonalcoholic fatty liver disease were given either a placebo or 500mg of green tea extract for 90 days. The results of one study have shown that individuals who took a green tea extract for 90 days had significant reduction in liver enzymes, which are a sig of non-alcoholic fatty liver disease. Matcha is grown in the shade, which can increase its chlorophyll content. Chlorophyll is believed to support the body's natural detoxification processes by aiding in the elimination of toxins and heavy metals.
Health Benefits of Chia Seeds
One 1-ounce serving of chia seeds, which is about two tablespoons of dry chia seeds, provides:
10 grams of fiber
5 grams of protein
4.2 grams of plant-based omega-3 fatty acids
This recipe for Matcha Chia Seed Pudding is:
100% plant-based / vegan
vegetarian
dairy-free
gluten-free
refined sugar free
keto-, paleo-, and Whole30 friendly
What Ingredients You Need for Matcha Chia Seed Pudding
Only four ingredients are required for Matcha Chia Seed Pudding:
Chia seeds

Matcha green tea powder

Almond, coconut, or alternative milk
Maple syrup
and to enhance the flavor, these are optional:
Vanilla - adding a drop or two of vanilla to anything makes it seem sweeter without adding any actual sugar, so you can add less actual sweetener. Who knows what the science is there, but it's tested and true!
Sea salt - salt balance sweetness and actually makes sweet foods taste a little sweeter! (It has to do with the sweet/salt receptors in the tastebuds, you can nerd out here.)
Fresh berries, other fruit, and nuts as garnishes/toppings
What Kind of Matcha Should I Use for Chia Seed Pudding?
For this Matcha Chia Seed Pudding, the differences in taste among matcha powders will not be as noticeable, but color will. Generally, "ceremonial grade" matcha is the brightest green and will create the most vibrant pudding. However, it's more expensive. Culinary grade matcha is totally fine; the green will just be slightly less verdant.
Additional Ingredients Notes and Resources
Chia Seeds. There are a few colors of chia seeds. Black chia seeds are the most widely available. You can find organic black chia seeds as Costco!
Almond Milk. Almond milk comes in a wide variety of formats. Use a plain, unsweetened almond milk or other alternative plant-based milk that fits into your health and dietary needs. The almond milk we use in this recipe is sold in shelf-stable 32-ounce boxes.
Maple Syrup: A little bit of maple syrup adds that extra boost of sweetness. I use this organic maple syrup that is amber in color and more robust in flavor than lighter colored maple syrups. You can substitute with honey, though the recipe will no longer be vegan.
Vanilla. You really do need a drop or two of vanilla in the recipe to bring out the "chocolate." I use this organic brand of pure vanilla extract. Don't use imitation vanilla flavoring.
Salt. Adding salt to sweet dishes isn't meant to make them taste salty. Salt not only brings out the natural sweetness of other ingredients, it balances the sweetness, too.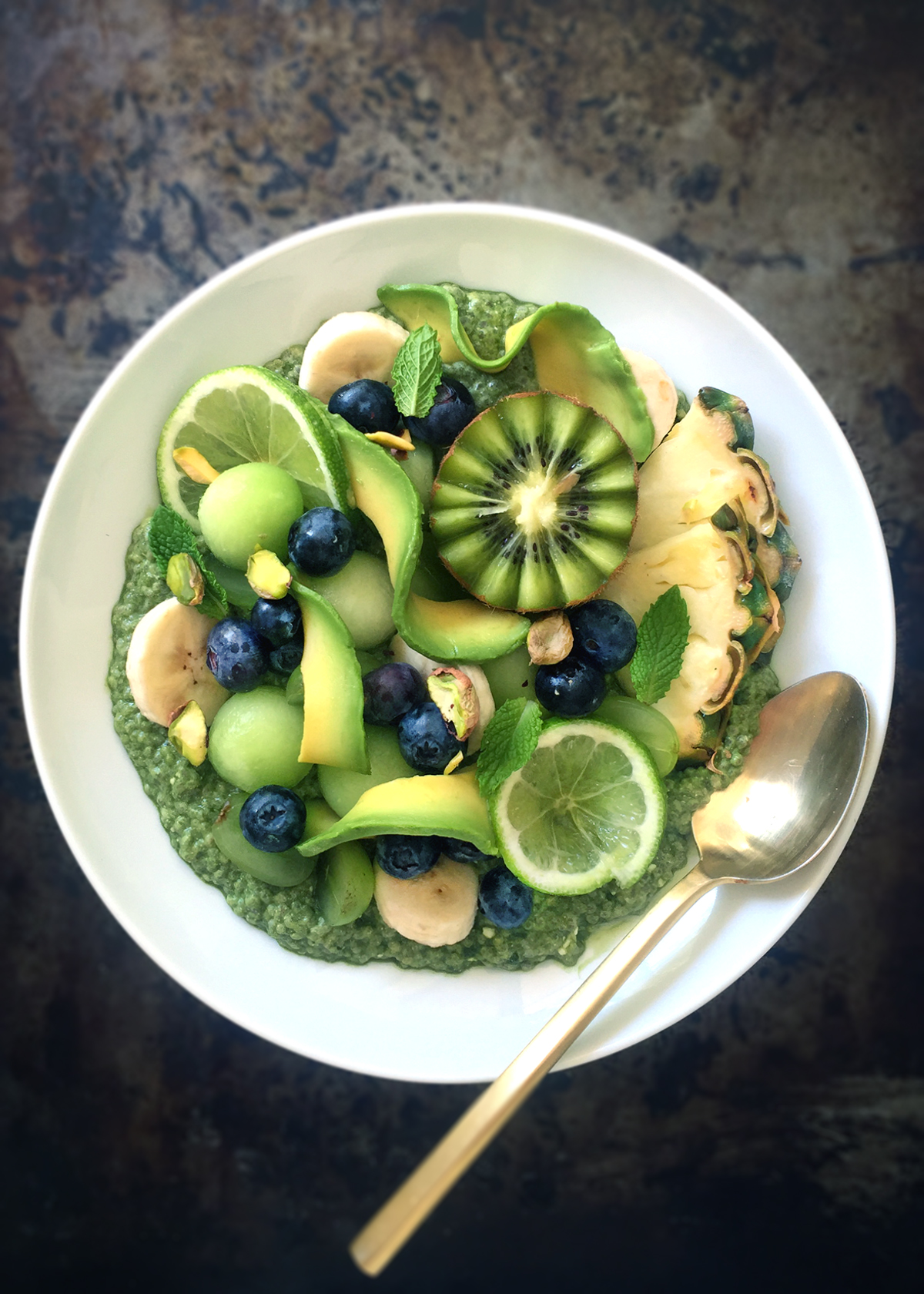 Instructions for How to Make Matcha Chia Seed Pudding
Matcha Chia Seed Pudding requires nothing more to do than mixing all the ingredients together.
The most "difficult" step of making Matcha Chia Seed Pudding is waiting for it to gel.
Put all Matcha Chia Seed Pudding ingredients in a mixing bowl—there is no specific order. Vigorously whisk or stir together all of the ingredients together in a bowl that you can cover with a lid, plastic wrap, or even just a small plate over the top!
Cover the container of Matcha Chia Seed Pudding. It will begin to "gel" within 15 minutes. For a firmer texture, set in the refrigerator for 1-2 hours, up to overnight.
Once the Chia Seed Pudding is set, it's ready to eat! You can, of course, zhouzh with garnishes and healthy toppings. Keep reading!
Best Toppings for Matcha Chia Seed Pudding
Matcha Chia Seed Pudding is pretty delicious straight up on its own, but if you, like me, must always "zhuzh" everything, toppings and garnishes are actually a great opportunity to add even more nutrients to your life! Here's a list of some nutrient dense chia seed pudding toppings:
Berries—blueberries, blackberries, raspberries, and strawberries—are a perennial favorite for their antioxidants and fiber
Kiwi, which is actually a berry!, is great for a tone-on-tone visual aesthetic (if that's your thing)
Figs
Melon balls
Pomegranate seeds
Tiny scoops of frozen açai or all-fruit sorbets (I love mango for this!)
Nuts like almonds, walnuts, and pistachios are a great source of plant-based protein and omega3s.
if your Matcha Chia Seed Pudding is more of a snack or an end-of-the-day treat, shaved white chocolate is a fun indulgence!
Pro Tips and Techniques
Portion size. One serving of chia seeds is 2 tablespoons of dry chia seeds, which expands into only about a half cup with liquid. Be mindful of the portion size of the actual chia seed pudding. It is tempting to fill a cereal-sized bowl with chia seed pudding!
Use small mason jars or covered glass containers as individual servings to help with prep and portioning.
Meal Prep: Because Chia Seed Pudding is so easy to make and will keep in the refrigerator for five days, it's a great breakfast or snack to meal prep. Make 5 days worth of Chia Seed Pudding and either store it in a single airtight container in the refrigerator, or portion the finished Chia Seed Pudding in smaller individual size containers (8-ounce mason jars are great for this). You can add fresh berries or different toppings just before eating.
Blend Chia Seeds for Smoother Pudding. If you prefer a smoother texture to your Chia Seed Pudding rather than the crunchy texture of whole seeds, grind the chia seeds in a blender or food processor before adding to the liquid. You can also blend the entire mixture in a high-power blender.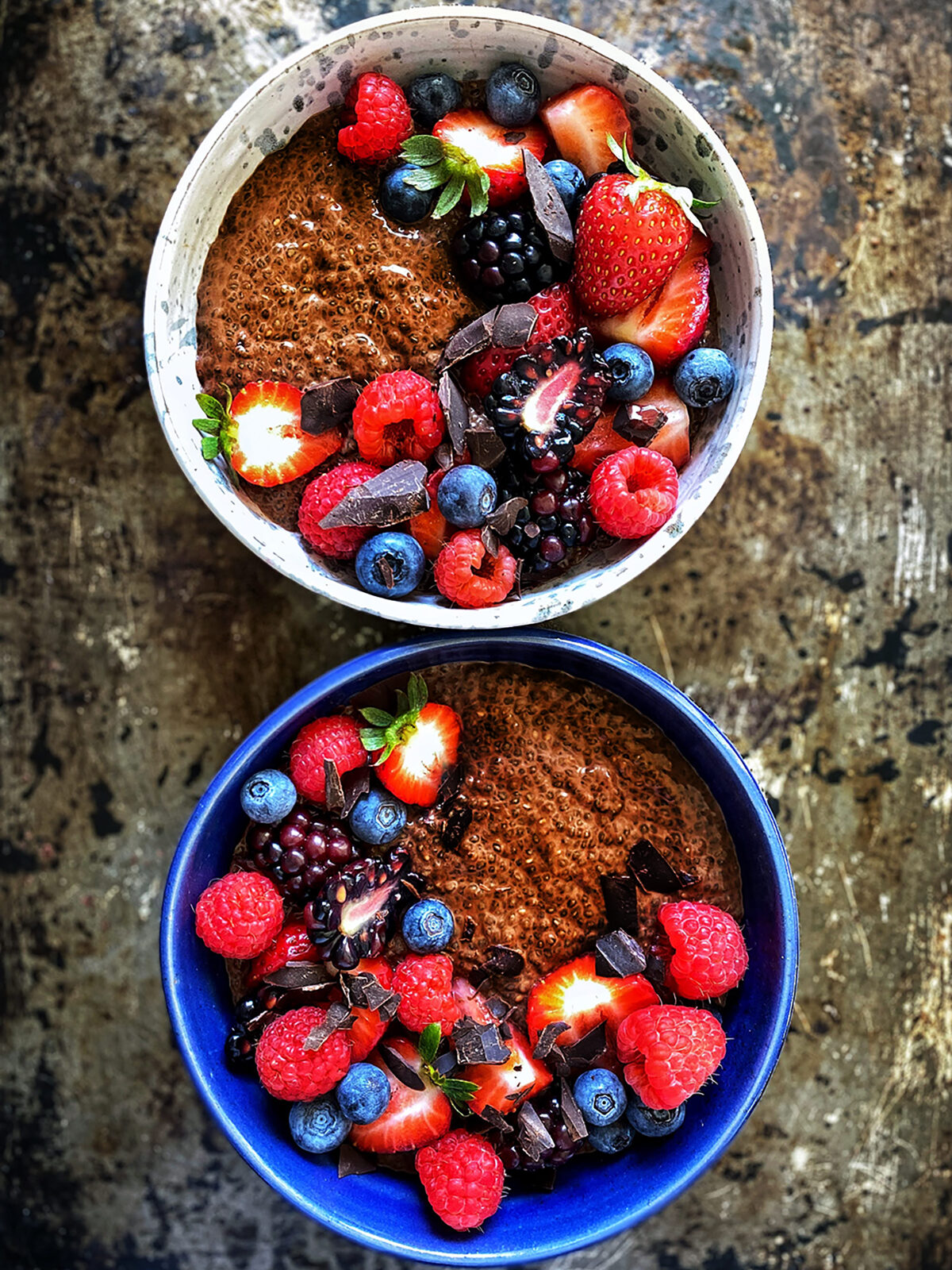 Variations
Matcha is only one variation of endless possibilities of Chia Seed Pudding. You can use a different type of alternative milk, swap out the matcha for another type of spice or flavoring, and substitute maple syrup with any number of natural, unrefined sweeteners. Here are some favorite variations:
Chocolate - To make Chocolate Chia Pudding, substitute in cocoa powder for the matcha powder. Because cocoa powder is less intense in flavor than matcha powder, substitute about three to four times as much cocoa powder.
Chai Spice - substitute out the matcha for about 2 tablespoons of a ground spice blend that includes cardamom, cinnamon, ginger and turmeric. If you add a spoonful of canned pumpkin puree, it's a Pumpkin Spice Chia Pudding!
Preserved Fruit - If fresh fruit isn't readily available, try swirling a couple of tablespoons of your favorite fruit jam or preserve instead
Original Plain Vanilla - keep it simple and leave out additional flavorings, using only chia seeds, milk, maple syrup, and vanilla extract. You can even leave out the vanilla to keep your chia pudding super simple.
Tools and Equipment
Glass mixing bowls
Whisk
Mason jars for storage
Mason jar lids
Advance Prep, Leftovers, and Storage
Chia Pudding is perfect for advance prep and storage. Store Chia Pudding in air-tight containers—glass mason jars with air-tight lids are perfect for this!—in the refrigerator for up to five days. In fact, portioning out single serving-size portions into small 8-ounce glass jars or containers makes it super easy to grab n go from the fridge throughout the week!
Chia Pudding does not store well in the freezer.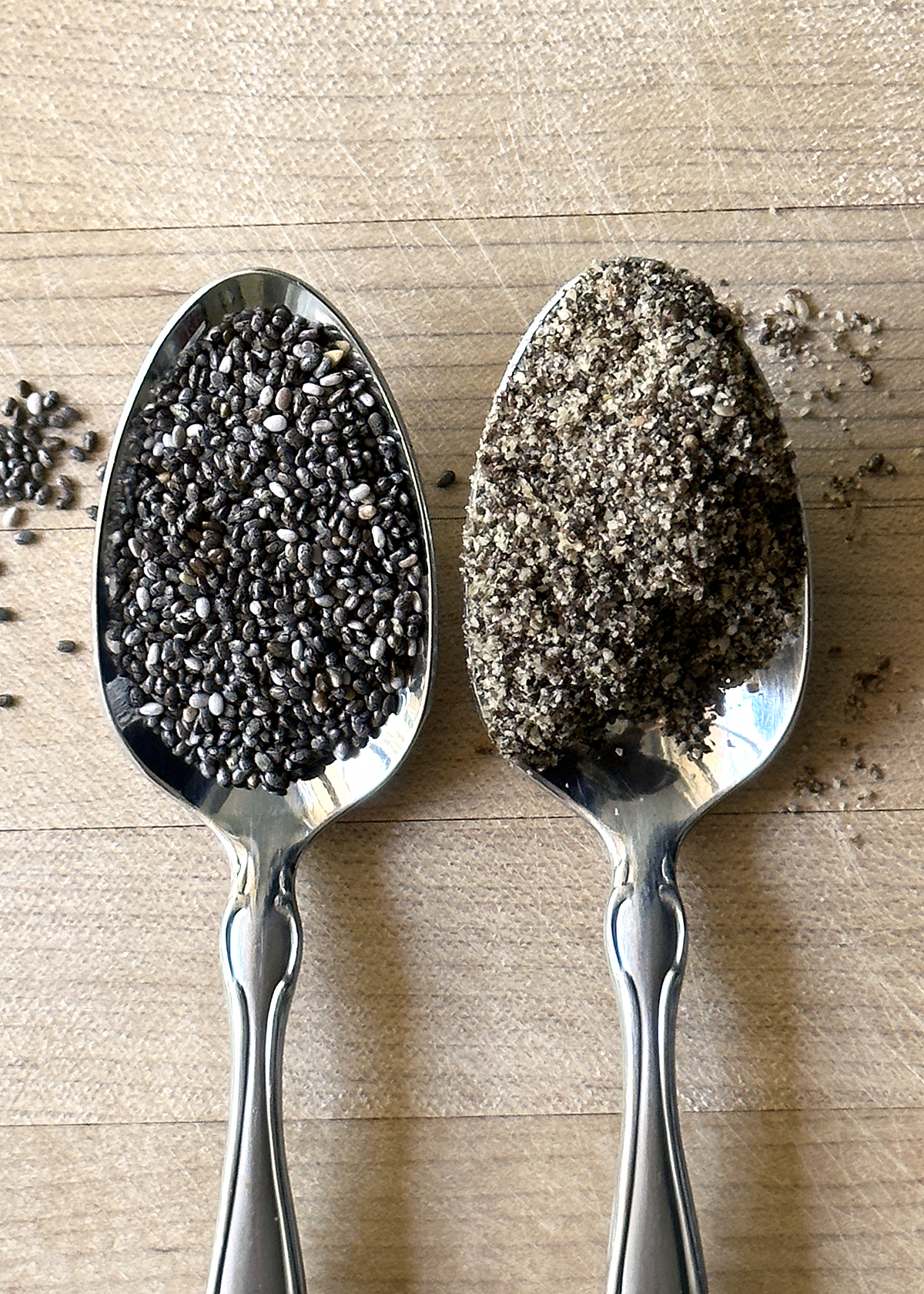 FAQs
Chia Seed Pudding FAQs
What kind of chia seeds should you use for Chia Seed Pudding
Use whichever chia seeds are available and affordable for you. There are two types of chia seeds you will see most often on store shelves, black and white. There is a slight nutritional difference between the two, but the difference is so small, they're virtually identical. Black chia seeds have marginally more protein content and white chia seeds have more plant-based omega3 fatty acids in the form of ALA.
How do you make smoother Chia Seed Pudding?
To make your Chia Seed Pudding smoother, blend chia seeds into a powder before mixing with the remaining ingredients, or you can blend all of the ingredients together. I have had smoother results when I blend the chia seeds first.
How long does it take chia seeds to set?
Chia seeds can begin to set in as little as 15 minutes, but can take up to two hours, depending on the seeds and the type of liquid.
Why aren't my chia seeds "gelling" into pudding?
Couple reasons chia seeds may not be setting into a gel. 1) If there is too little liquid, the chia seeds won't be able to absorb and create the gel. 2) If there is too much liquid, the chia seeds might have gelled, but didn't absorb the extra liquid, making the entire thing seem runny. Try to stick to a ratio of 1:3 or 1:4 chia seeds:liquid.

It is also possible that the chia seeds are past their prime. Though chia seeds can last for 4-5 years even without refrigeration, make sure your chia seeds aren't too far beyond their "best by" date when making chia seed pudding.
How long does Chia Seed Pudding last?
Matcha Chia Seed Pudding will keep up to five days in an air-tight container up to five (5) days.
Chia Seeds in General FAQs
How long can I keep chia seeds?
Chia seeds last for 4-5 years without refrigeration in a cool, dry area.
Do chia seeds have to be ground?
No, chia seeds do not have to be ground into a meal or powder for maximum benefits, unlike other seeds like flaxseeds. However, you can grind chia seeds in a high-power blender to make a smoother Chia Seed Pudding.
More Matcha, More Chia
If you're here for the gorgeously green and grassy flavor of matcha, try these recipes:
If you're here for the outstanding health benefits of chia and other "super seeds," try these recipes:
Print Recipe
Matcha Chia Seed Pudding Recipe
Ingredients
4

tablespoons

chia seeds

1

cup

unsweetened plain almond milk, plus ½ cup to add for consistency

(or any other unsweetened alternative milk)

2

teaspoons

matcha powder

2

tablespoons

maple syrup

1

teaspoon

vanilla extract

optional: pinch of sea salt
Optional Garnishes
fresh berries, peeled and sliced kiwi, figs, and melons

sliced almonds, toasted almonds, roasted pistachios
Instructions
Put chia seeds, almond milk, matcha powder, maple syrup, vanilla extract, and sea salt in mixing bowl or large mason jar and stir to combine, making sure to break up any clumps of matcha powder.

Cover and let chia seed pudding "set" in refrigerator for at least two hours.

After setting time, if Chia Pudding is too thick, stir in extra almond milk 1 tablespoon at a time until you get the consistency of pudding.

Spoon chia pudding into serving bowls or cups and top with optional garnishes.
Nutrition
Serving:
1
serving
|
Calories:
200
kcal
|
Carbohydrates:
26
g
|
Protein:
5
g
|
Fat:
9
g
|
Saturated Fat:
2
g
|
Polyunsaturated Fat:
5
g
|
Monounsaturated Fat:
1
g
|
Trans Fat:
0.03
g
|
Sodium:
671
mg
|
Potassium:
216
mg
|
Fiber:
9
g
|
Sugar:
12
g
|
Vitamin A:
11
IU
|
Vitamin C:
0.3
mg
|
Calcium:
163
mg
|
Iron:
2
mg