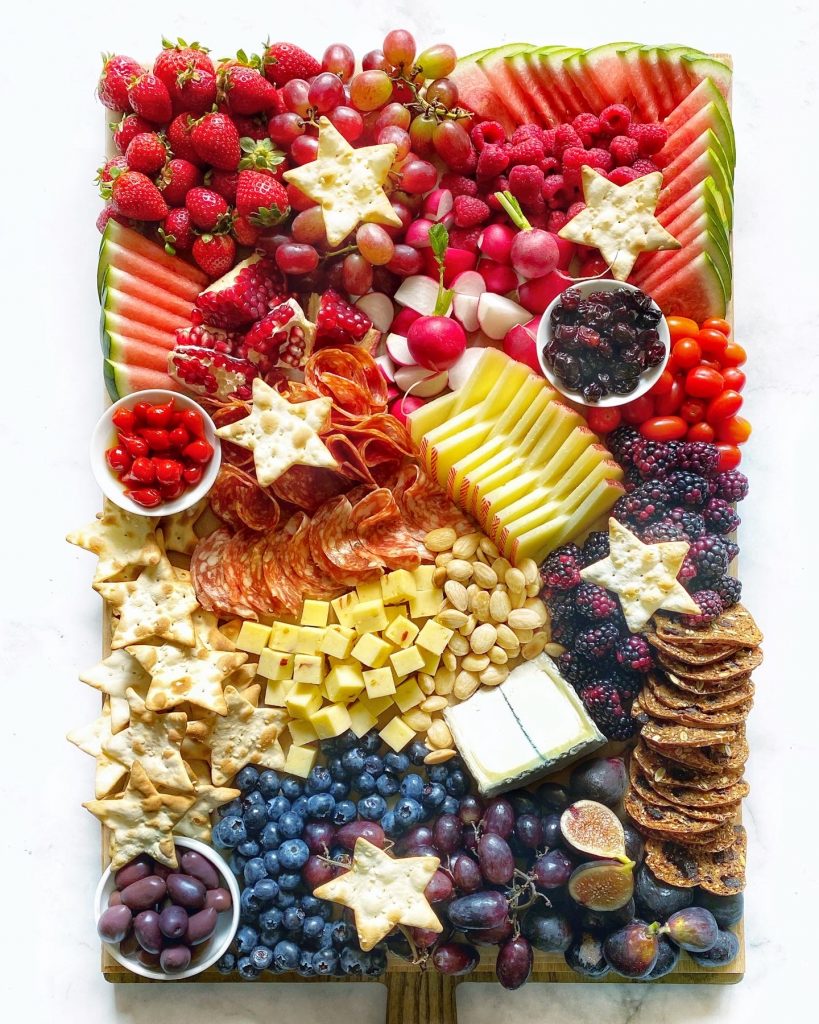 It took a little time to put this Red White and Blue Charcuterie Board together because other than blue cheese and the very obvious and ubiquitous blueberries, there are limited options for foods that are naturally in the blue/black/purple range.
But we did it! And we're sharing everything you need to build your own red, white and blue cheese and charcuterie board for Memorial Day, Flag Day, the Fourth of July, Election Day, or any other occasion where a colorful, patriotic board would be fitting.
Feel free to copy, paste, print and share these lists for your personal use! If you re-publish any part of this post on your blog or website, please credit and link back to this page. No part of this post is for commercial use.
Jump to:
What You Need for a Red, White, and Blue Charcuterie Board
You will need all the usual ingredients for an epic cheese and charcuterie board, just naturally colored red, white, and or blue.
Charcuterie, which will all be red
Cheese, almost all of which will be white
Fresh fruits and vegetables, red and blue
Crackers
Dried fruit
Nuts
Pickles and other briny accompaniments
Sweet spreads or honey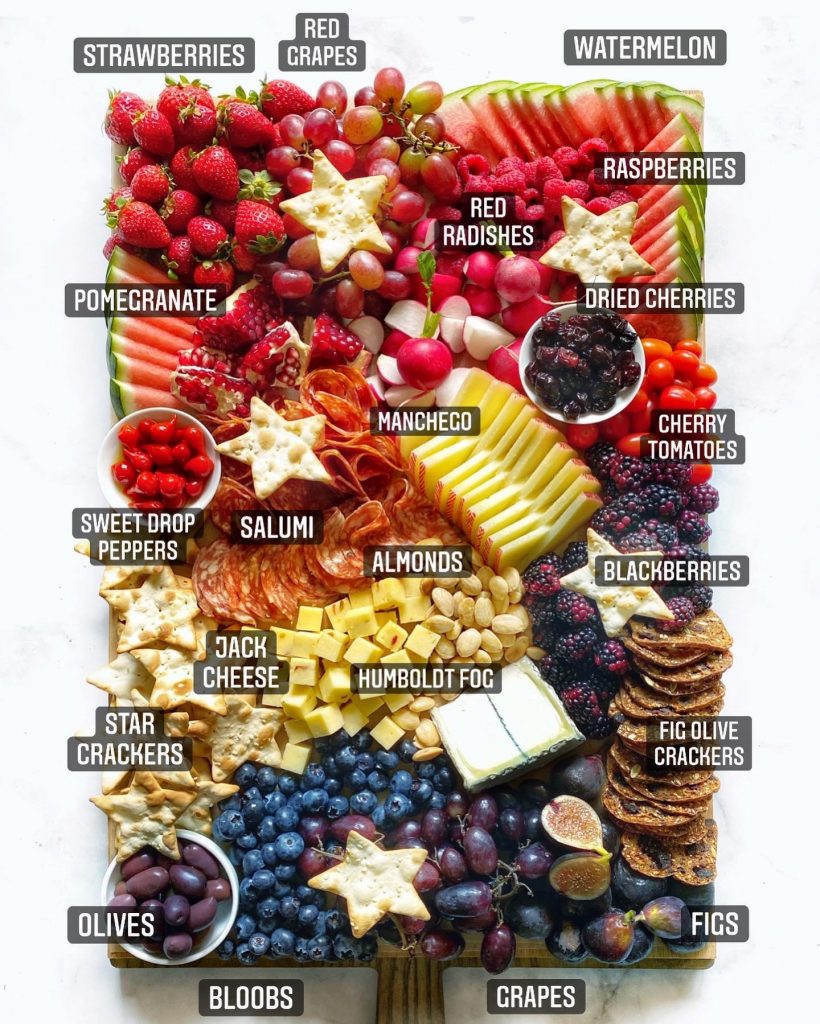 Ingredients Notes and Resources, by Color
Red Ingredients for Charcuterie Board
Charcuterie. Anything goes. My favorites are always a spicy soppresata, genoa salami, and cappacola. There are so many artisan makers out there, find one who is local to you!
Red Cheese. There are no cheeses (that I know) that are obviously red, only a few with red rinds that are generally not edible. Manchego, a sheep's milk cheese that has origins in Spain, comes in a version with a red rind, though the cheese itself is white. Keep the rind on the cheese when serving. Drunken Goat is a goat's milk cheese, and though it's not red, it suggests "red" because it is washed in red wine. Some types of Gouda, a familiar cow's milk cheese, have a red rind made of inedible wax. One way to serve Gouda is to leave the rind whole, slice or crumble the interior cheese, and reassemble within the rind as its container.
White Cheese with Red Garnish. If you are having trouble sourcing red cheese, use a brie or other small round cheese with a bloomy rind and pile some berries, dried cherries, or edible flowers on top.
Tomatoes. Cherry tomatoes are ideal for boards. Larger tomatoes that require slicing can weep their ripe juices onto the board and get messy, so make sure to place them strategically between other items that can "dam" in their juices.
Pomegranate. Out of season during the American Red White and Blue holidays (Memorial Day, Independence Day), but during election years, you can get pomegranates November for Election Day Boards! Serve pomegranates in individual pieces broken from a whole fruit (as pictured) so guests can take a piece from the board to their plate/napkin. DO NOT serve pomegrante arils individually removed from the fruit and set in a bowl, unless it's VERY clear with the presence of a small spoon that guests should the arils onto their plates. The last thing you want is for people to reach into a bowl of pomegranate arils and touch everything like it's a bowl of popcorn. Ew.
Raspberries and Strawberries. Obviously. I like Pudwil's berries from the southern California Farmers' Markets, and Harry's Berries for strawberries. But you can get both raspberries and strawberries from regular markets.
Apples. I cannot eat any apple other than Fuji apples. Because apples are such perfect complements to cheese, the best way to serve any apple is in thin slices that can be added to a cracker or used as a "cracker" itself with cheese. Only use apples for the purposes of filling space on a very large board. Apples are not at their peak for flavor and texture in the Red, White and Blue season.
Red Grapes. Pro-tip: cut large bunches of grapes into small clusters that diners can take and eat out of hand, similar to pomegranate clusters.
Red Mini Bell Peppers. These are not pictured on my boards because I hate bell peppers of all kinds, and I'd rather eat peppers in their spicy, pickled format. However, other people love bell peppers, and as far as red "vegetables" go, it's this, tomatoes, and radishes. Take what you can get.
Red Radishes. Scrub round red radishes well, leave a tiny bit of stem as a "handle," and cut into quarters or halves, which serves double duty to keep the radishes from rolling around (and sometimes completely off!) your board, and also makes it easier for people to grab without unnecessarily touching a lot of other things.
Watermelon. Watermelon has the same issue that tomatoes have, they tend to weep their juices all over the board, especially on larger "party boards" that are left out for a long time period at room temperature. Still, in the summer, if watermelon is not already being served elsewhere, add a few slices to the board.
Dried Tart Cherries and Cranberries. I buy these two dried fruits in packages from Whole Foods. You only need to choose one or the other. In the summer, if you can opt for fresh cherries, add dried cranberries.
Red Walnuts. Red walnuts are a specialty variety of walnuts that are available in the fall at some farmers' market in California, but you can also get them packaged from the usual place.
Sweet Drop Peppers or Peppadew Peppers (not pictured). Sweet Drop Peppers are tiny tear drop shaped, subtly smoky, slightly spicy pickled peppers. The two most common brands in jars are DeLallo and Les Trois Cochons. They are my FAVORITE but I limit myself because I can eat an entire jar by myself in one sitting. Peppadew peppers are larger, round, thin-skinned and fairly mild bright red peppers. I used to get these from the self-serve olive and antipasti bar at Whole Foods or natural foods markets, but now buy them in the same department of the grocery store packaged by the store in to-go containers, and increasingly in jars in the same aisle where olives are.
Red Cerignola Olives. I said I generally stay away from foods that are dyed, but these olives are an exception because we already eat dyed olives; black olives are naturally green! Red olives are not always available, so they are not pictured on these boards, but you can peep them here. TBH, if you have black/purple olives, there isn't a real need for red olives, especially if you have red pickled peppers.
Red Berry or Sour Cherry Jam. I am currently having a love affair with Sour Cherry Jam by Dalmatia. The brand Divina has a sour cherry jam as well.
White Ingredients for Charcuterie Board
Cheese. Cheese is naturally white because guess what, milk, from any animal from which we get cheese, is white. Pick your favorites. MESSAGE ME for CHEESE RECS, as my favorites change all the time, and also, making a rec is more accurate if I know what you don't like. Though I tend to avoid "decor" on my boards, using a star-shaped cookie cutter to cut out stars from slices of white Cheddar, provolone, or Monterey Jack seems cute.
White Vegetables. I did not include white vegetables on the boards pictured here for no other reason than they didn't fit. However, if you have the space, or want to go "lighter" with more vegetable crudites, add cauliflower, endive, fennel, jicama, and radish.
Nuts. Marcona almonds are visually the most "white," but raw cashews can appear fairly light, too.
Simple White Crackers. My favorite is the sprouted grain Mini Croccantini, but they have a pretty wide variety of flavors.
Gluten-free Crackers. It's usually a thoughtful move to offer a gluten-free cracker option. These gluten-free crisps by 34 Degrees are made with chickpea and rice flours. Super light.
Star-shaped Crackers. Info on these star-shaped crackers is probably one of the most-requested items. The crackers are made by Valley Lahvosh. They are available in the deli sections of chain grocery stores. Stores often sell-out before a holiday, so stock up a couple of weeks early.
Blue Ingredients for Charcuterie Board
All other fresh fruit and vegetables I get first from the Wednesday Santa Monica farmers' market. Whatever I can't find there, I supplement with produce from Bristol Farms and Whole Foods, which are grocery stores both in southern California.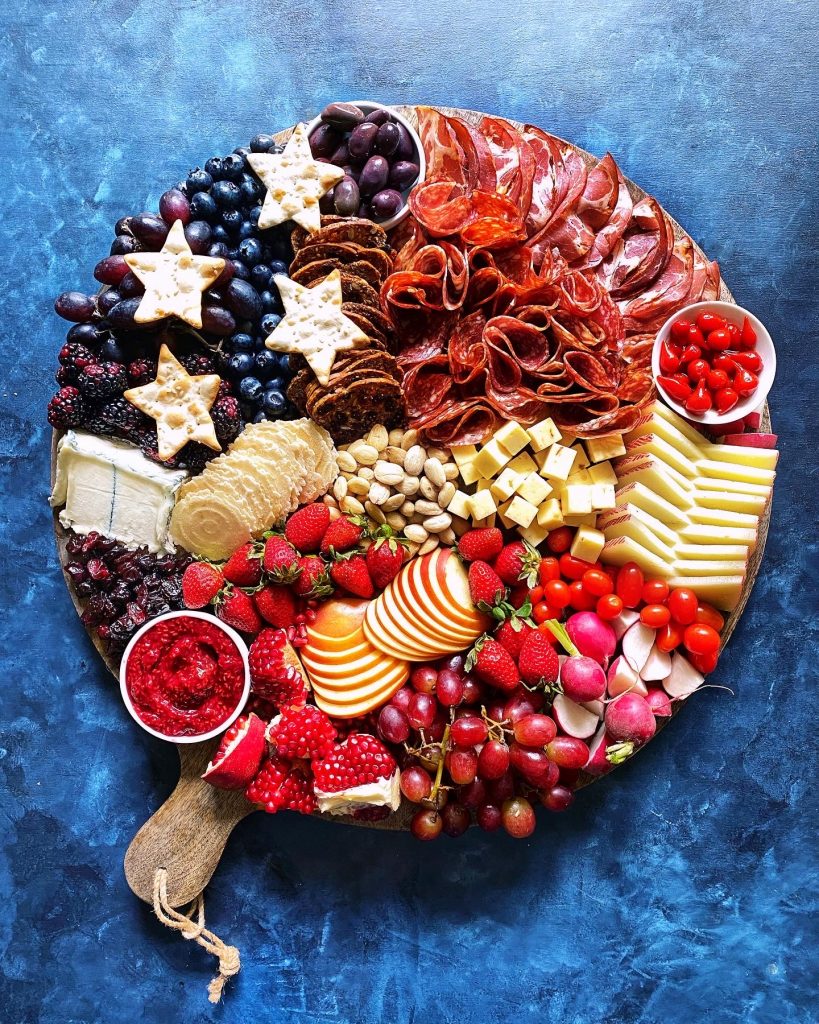 There are many other small, snackable red, white, and blue things you can put on a board like seasonal red (usually dyed), white, and blue corn tortilla chips and red (beet-dyed), white and natural blue potato chips. There are also many white snacks like chicharrones and popcorn. Use these to fill in gaps if you have to! Though I encourage you to just fill in gaps with more cheese.
DOWNLOADABLE Grocery Shopping List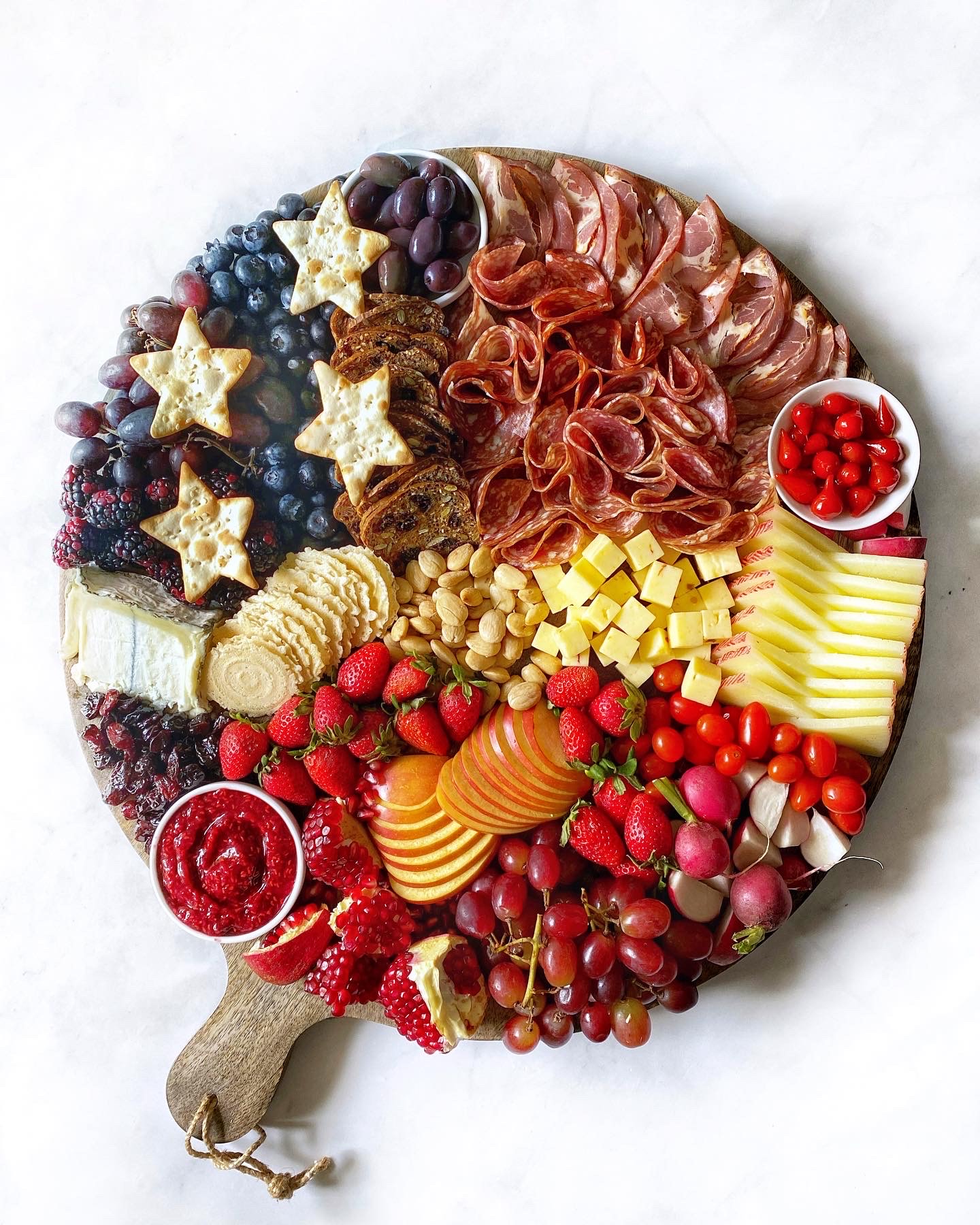 Tools and Equipment
More Spring and Summer Holiday Boards
Red, White, and Blue Charcuterie Board Recipe
Pick and choose from this list of red, white, and blue ingredients for your next cheese and charcuterie board for Fourth of July, or any other patriotic occasion.
Ingredients
Cheese
gouda with red wax

manchego with red rind

brie cheese wheel

vintage white cheddar cheese

boursin cheese

mozzarella slices

for cutouts

Humboldt Fog goat cheese

available in specialty cheese section fo grocery stores

blueberry goat chevre log
Fresh Fruit and Vegetables
strawberries fruit/vege red

raspberries fruit/vege red

blackberries

blueberries

red apples

sliced

red and purple/black grapes

watermelon fruit/vege red

pomegranate, broken apart into clusters

red mini bell peppers

mission or other purple figs

cherry tomatoes

red radishes fruit/vege red

cauliflower

endive

not pictured

fennel

not pictured

jicama

not pictured
Olives and Pickles
red cerignola olives

not pictured pickles red Whole Foods olive bar

peppadews

not pictured pickles red Whole Foods olive bar

sweet drop peppers

purple cerignola olives
Dried Fruit
dried cranberries

dried tart cherries
Sweet and Savory Spreads
red berry jam

sour cherry spread

blueberry compote
Nuts
red walnuts

not pictured nuts red

marcona almonds

cashews
Crackers and Bread
beet chips

plain white crackers, like mini Croccantini

star shaped crackers

by @ValleyLahvosh, available at many grocery stores

fig and olive crackers
Instructions
Place ingredients on large wooden board in groups of red, white, and blue.