When it's fall/winter and you think there's nothing fresh for a salad, think again! Arugula Pear Salad is the perfect dish with sweet pear and tart pomegranates that hit their peak in the cooler months!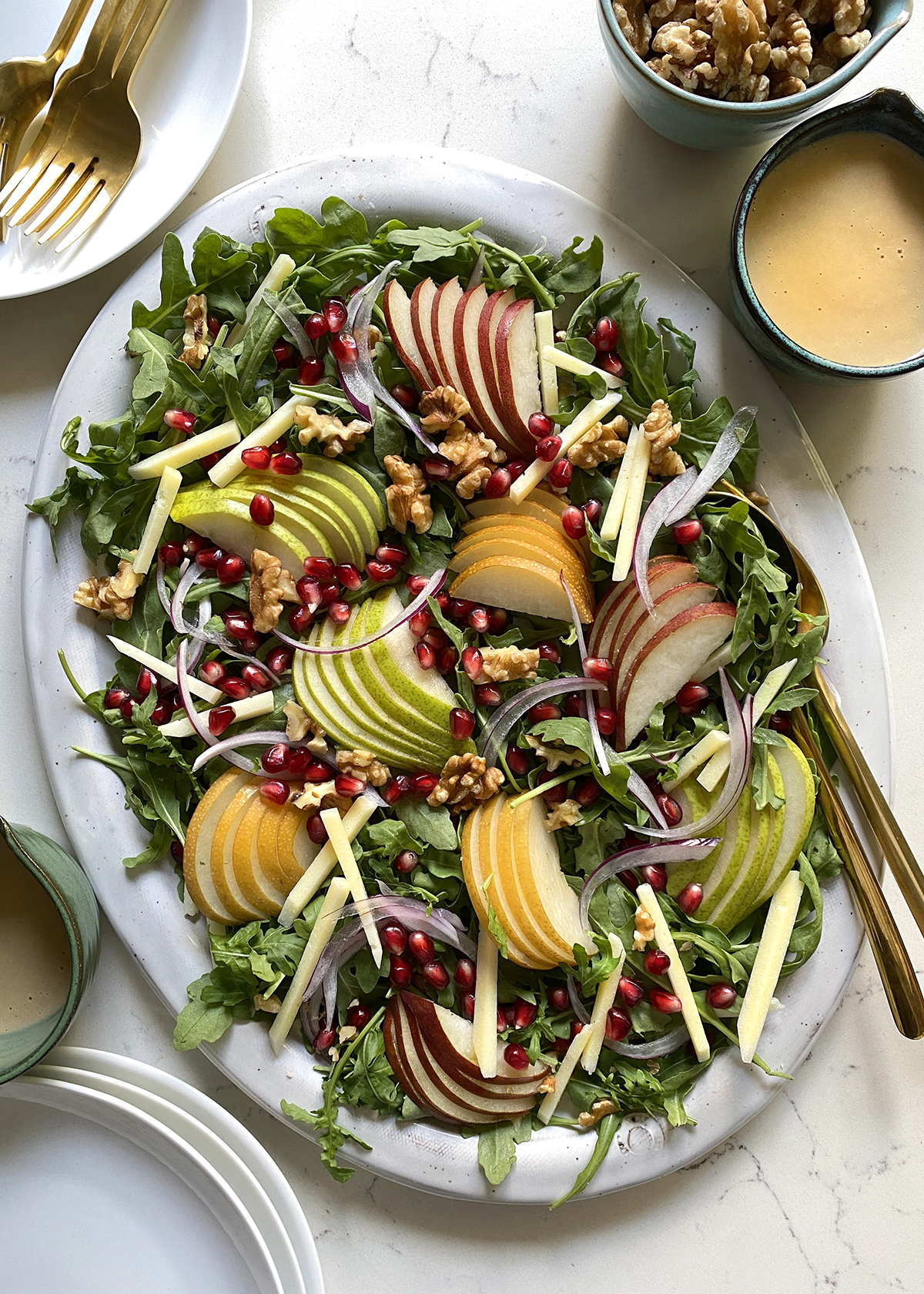 This recipe for Arugula Pear Salad is:
gluten-free
vegan adaptable, vegetarian
low carb
anti-inflammatory
anti-oxidant rich
Jump to: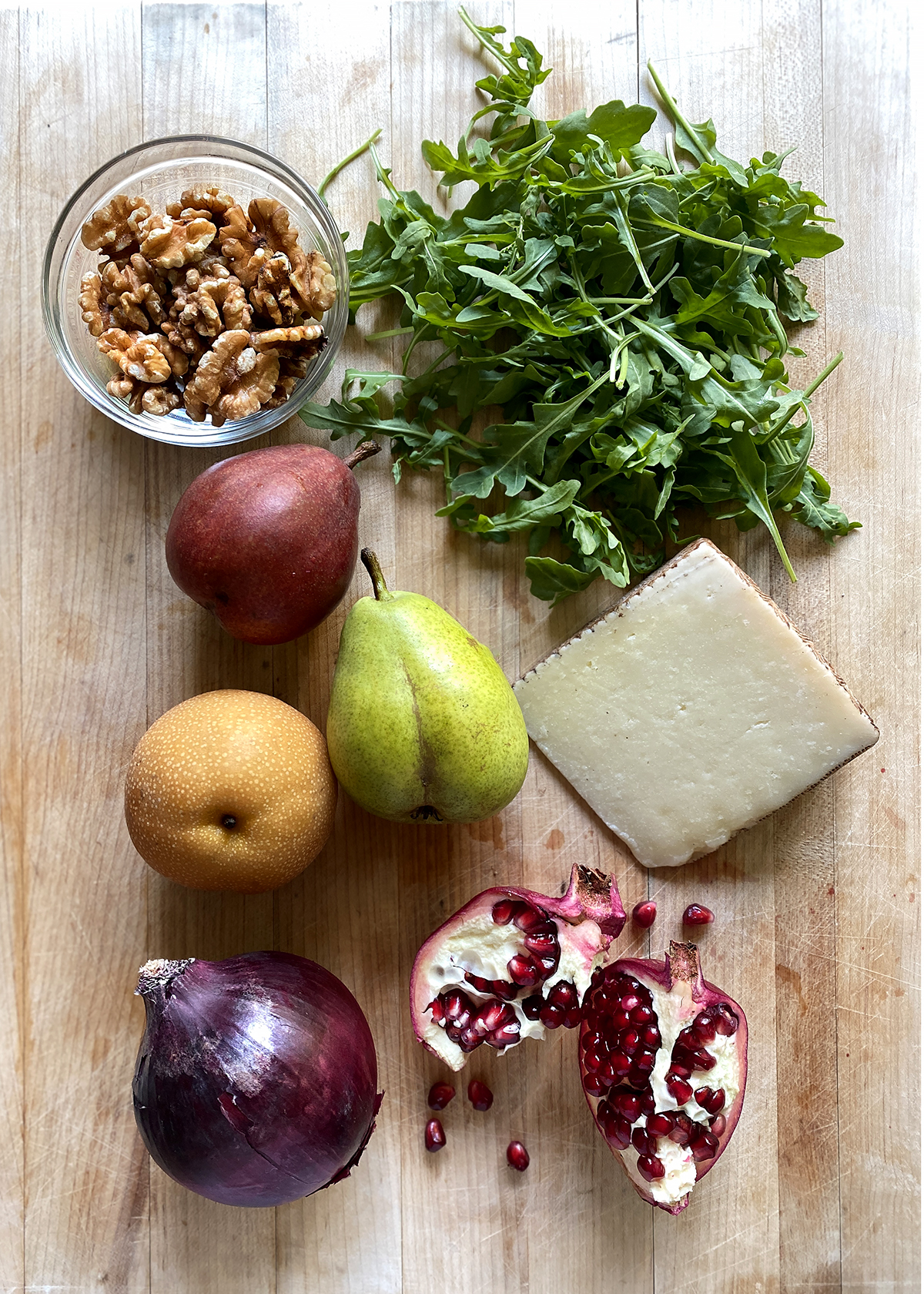 What Ingredients You Need for Arugula Pear Salad
wild arugula
pears
walnuts
hard cheese
red onion
pomegranate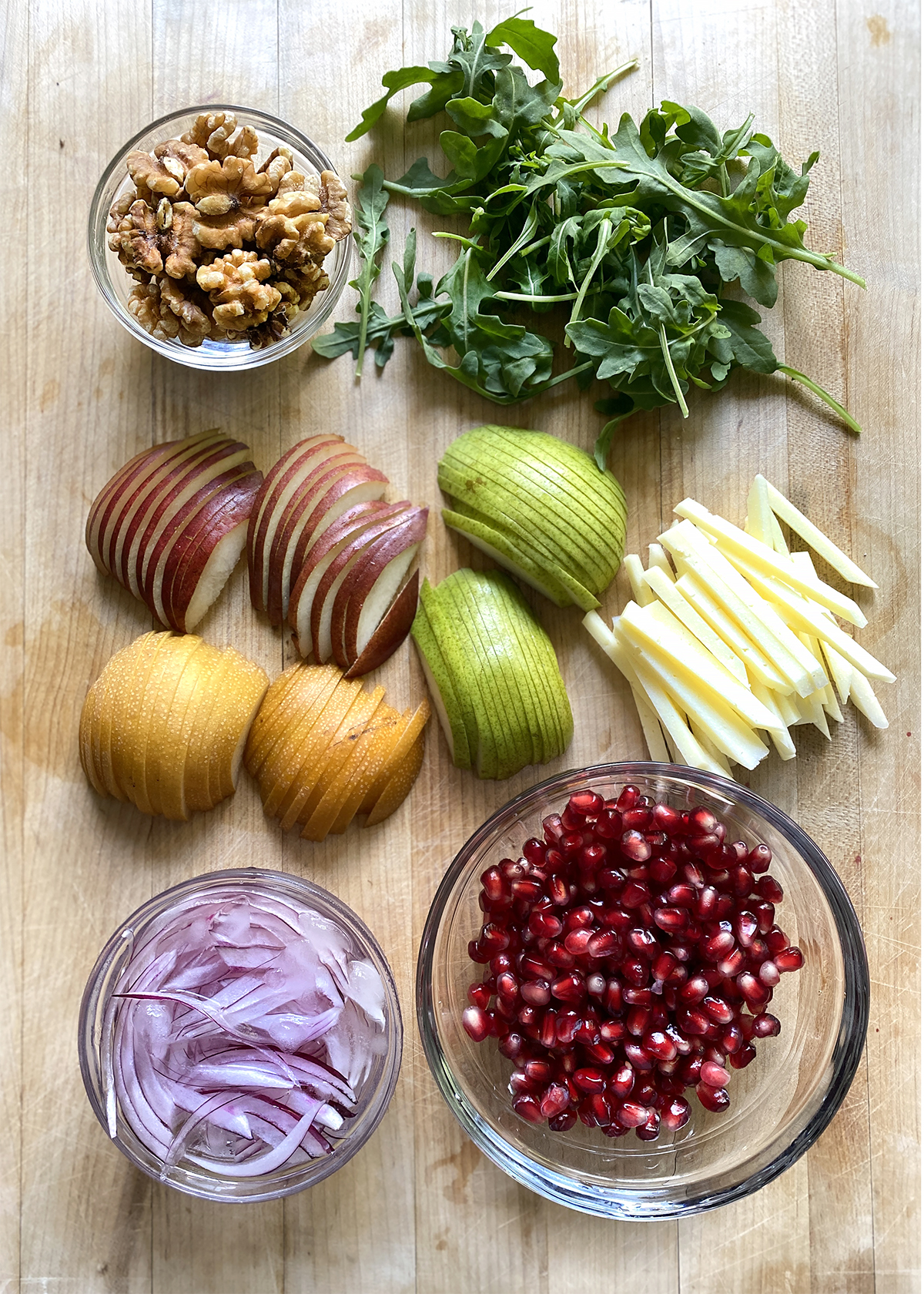 Instructions for How to Make Arugula Pear Salad
The hardest step in making this salad is deciding which dressing to drizzle over everything, so I've already done it for you: Maple Mustard Dressing. The rest is easy:
Place all the ingredients in a salad bowl or platter with high sides
Drizzle with dressing.
Enjoy!
Ingredients Notes and Resources

Wild arugula. Wild arugula is available year round, but is freshest when it's in season which is fall. It is considered a "bitter green," but its flavor is more peppery than bitter. Arugula is a member of the Brassica family, so if you're trying to get more vegetables from the broccoli/brussels/cabbage family, you can do it with arugula! At the grocery store, this grower/brand is reliable.
Pears. For salads, I like pears that are firm/crisp rather than soft/buttery. All the varieties of the round, tan-colored Asian pears, Comice pears, and Bosc pears have the best texture for a salad. Anjou pears, both red and green, are a good choice, too.
Walnuts. For a salad, walnuts pieces (rather than halves) are more affordable. Make sure to toast them in a sauté pan over medium-low heat until they're fragrant, about 4 minutes.
Cheese: Any salty, funky cheese is great to balance the other flavors and textures in this salad. The cheese pictured in these photos is an aged sheep's milk cheese similar to Spanish manchego. I have also made this salad with feta, goat cheese, and a mild blue cheese. Pears, walnuts and blue cheese is a common flavor combination.
Red Onion. I use red onion for the added health-promoting benefit of the anthocyanins of the red/purple color. However, red onions are slightly stronger in flavor than other onions, so soak the slices in ice water for 10 minutes to soften their bite.
Pomegranate. Buy whole pomegranates and pull the seeds yourself for the best flavor and quality. It's kind of tedious, but you can also think of it as meditative. Buying pomegranate seeds in plastic containers is a LAST resort. In fact, if you think you have to buy them this way, don't. And substitute with dried cranberries or other small tart fruit or berry. You wuss.
All other fresh herbs and produce from either the Santa Monica Farmers' Market on Wednesday, or Whole Foods Market.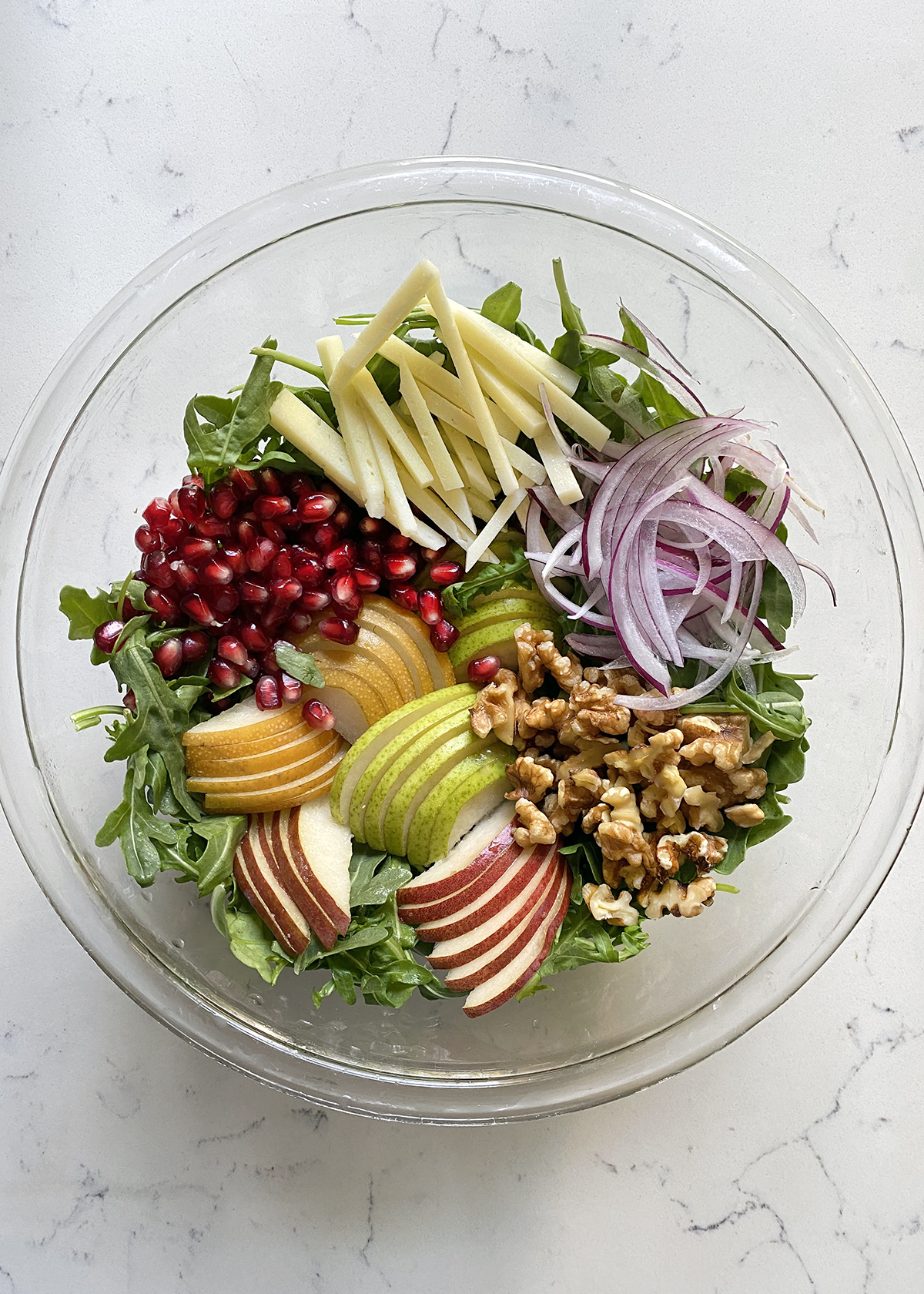 Substitutions and Dietary Considerations
This Arugula Pear Salad is endlessly flexible. The key to making substitutions is to always keep the taste spectrum in balance. You want to hit sweet, salty, sour, bitter, and if you know you know, umami, all in one dish.
Arugula. If arugula is a little too peppery for your taste, try a different flavor-forward leafy green vegetable. Baby spinach and baby kale are both great, generally less intensely flavored substitutes. Radicchio, the purple-red head that looks like a small purple cabbage, has a slightly bitter flavor. The only leafy green I would recommend against is actual kale, which is just too tough to pair with tender pears, no matter how much you massage the kale.
Walnuts. Substitute with chopped toasted almonds, roasted, salted pistachios, pecans, or hazelnuts. All of these nuts offer health-promoting benefits in terms of fiber, healthy fats, and protein. For a non-nut option, toasted pepitas work perfectly.
Cheese. Any funky, salty cheese will substitute well for the manchego. A very approachable cheese to substitute here is either goat chèvre or feta, or shaved parmesan or pecorino. Because pears are so sweet, you will also see them paired with blue cheese in other salads, on pizza, and as a cheese course. If you already have something in your refrigerator, just use that!
Red Onions. If red onions are too intense, try shallots, which are in the same color family, but milder in flavor. Obviously, you can leave them out.
Pomegranate. Pomegranate provides an additional pop of sweetness to balance the peppery arugula, but with subtle tartness. If you'd like to substitute, try dried cranberries or dried tart cherries.
Dietary Considerations
As presented, this Arugula Pear Salad is gluten-free, vegetarian, and refined sugar-free. For additional dietary considerations:
Vegan. Cheese is the only ingredient that is not 100% plant-based. To make the salad suitable for vegans, substitute with a plant-based cheese or leave it out. This plant-based feta is a solid choice (coconut oil-based).
Dairy-free. As above, the cheese is the only ingredient that is dairy. Substitute with a plant-based version.
Sugar-free. The salad itself is sugar-free, though pears and pomegranate have natural fruit sugars. Maple Mustard Dressing has maple syrup as a sweetener, which is still considered a sugar. To make the salad completely sugar free, skip the dressing and toss it with a basic vinaigrette of apple cider or red wine vinegar, olive oil, Dijon mustard, and salt.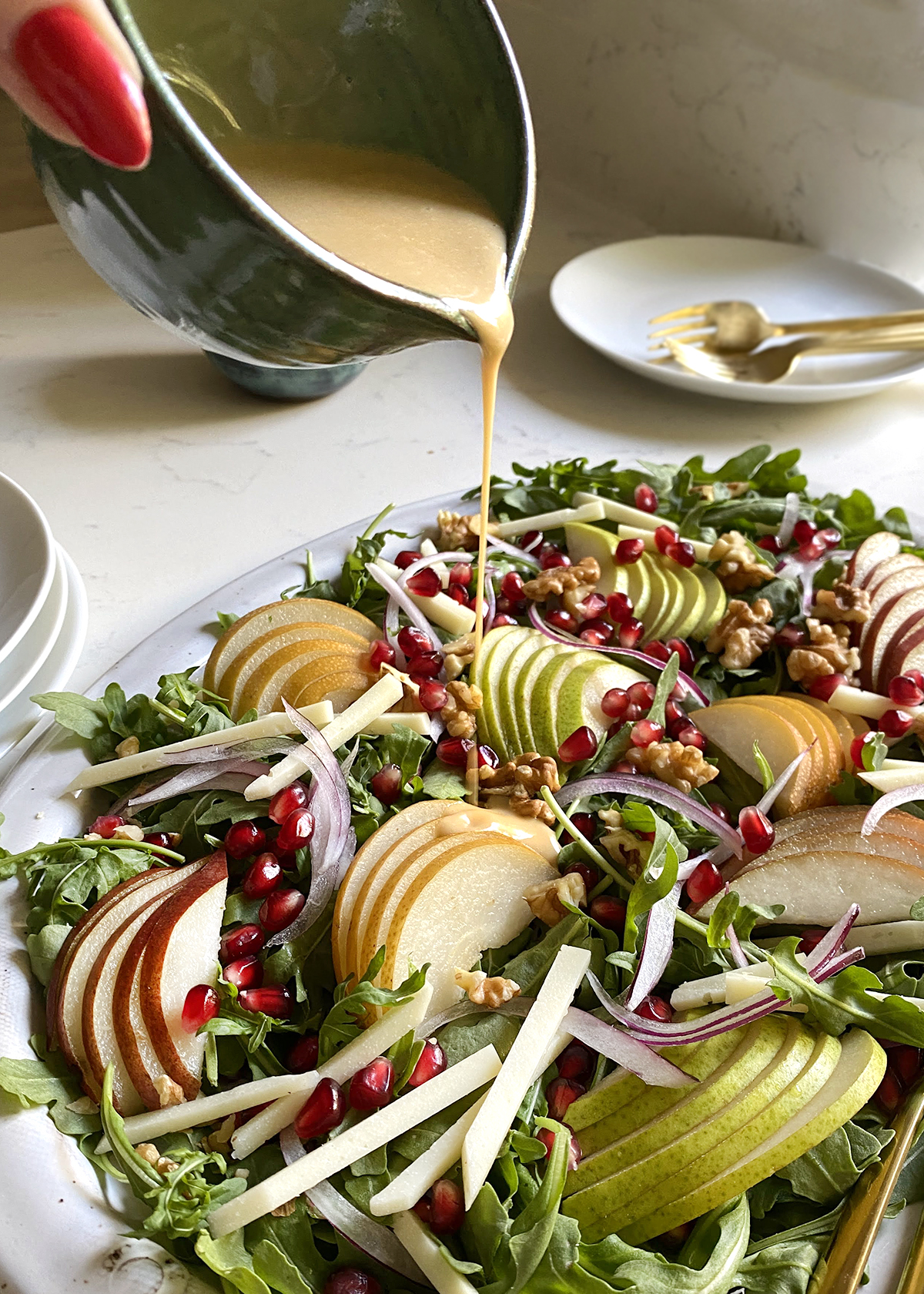 Pro Tips and Techniques for Arugula Pear Salad
Wash arugula only right before you're going to eat it. If your instinct is to prep in advance by washing, resist the temptation with arugula. Like other tender greens, arugula lasts longer in the refrigerator when it is bone dry. If there is even a drop of water in there, it invites wilting and worse, decomposition. Ew.
Slice pears right before serving. Pears oxidize when cut and will turn brown at the edges, so it's best to cut them just before serving. If you are preparing a few hours in advance, rub the cut surfaces of the pears with lemon juice to slow down the oxidation.
Tools and Equipment
You don't technically need any special equipment to make this Arugula Pear Salad. You can simply use a large knife and cutting board to chop all vegetables. However, that doesn't mean there are a couple of gadgets and tools that might make this salad even easier to throw together than it already is.
Salad spinner - this has saved my sanity because wet, soggy greens are the worst. And in the case of arugula, the drier the greens, the better.
Chef's knife - my daily workhorse knife
Cutting board - large and sturdy so you have enough surface area for all the fluffy greens, and doesn't move around on the countertop
Japanese-style mandoline - to make lightning fast work of slicing the onions. You don't need it for the pears though. When you start eating a LOT of vegetables, this will be a lifesaver.
Fruit and vegetable wash
For the Maple Mustard dressing, these tools are also helpful
Variations and Modifications
Add cooked quinoa to give the salad a plant-based protein boost!
Add 2 cups shredded cooked chicken breast to make it a hearty main dish salad
FAQ
What kind of pears should you use for salad?
Anjou, Asian, Bartlett, Bosc, and Comice pears are all great pear varieties for salad because of they are firm when ripe. Asian pears go even a little further and are crisp/crunchy.
How do you keep pears from turning brown?
Like avocado and apples, pears oxidize when cut, and some varieties more than others. To keep them from turning brown too quickly, rub the cut surfaces with lemon juice.
Can you make this in advance?
You can prep most of the components for this salad—toasted walnuts, sliced cheese, sliced onions—in advance, store them separately, and assemble just before serving. However, the arugula and pears should be prepped just before serving to keep them at peak quality. Maple Mustard Dressing is highly recommended as an advance prep!
More Fall Salads You Must Try
I wasn't kidding when I said "think again!" if you thought there was nothing fresh in the fall/winter. In addition to this Arugula Pear Salad, try: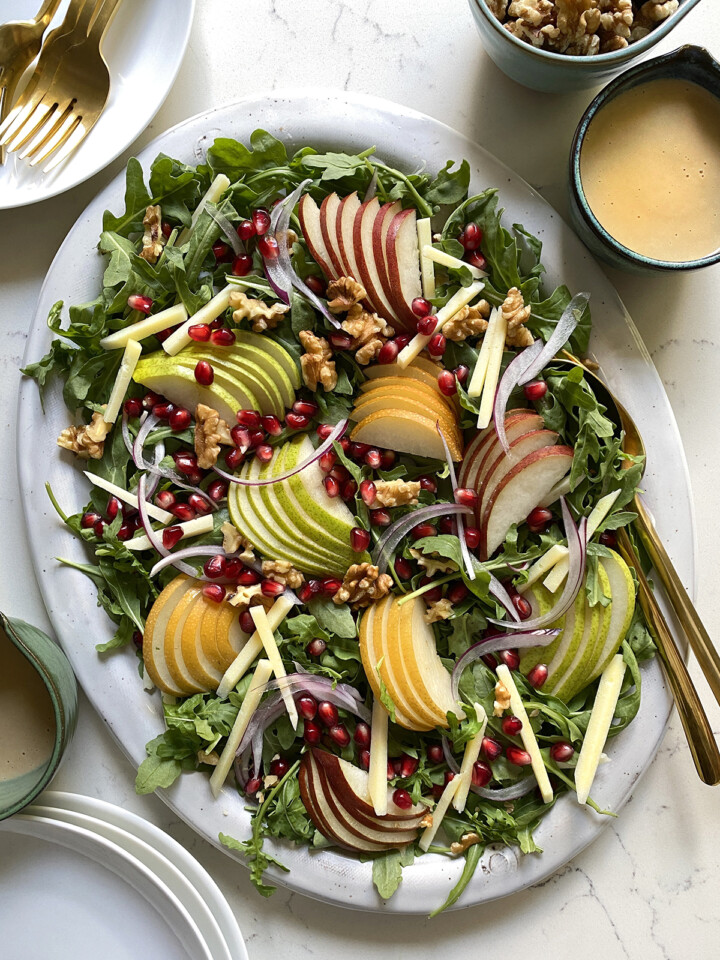 Print Recipe
Arugula Pear Salad Recipe
Crisp sweet pears are perfectly balanced by peppery arugula, crunchy walnuts, tart pomegranate, and a little bit of funk from an aged cheese.
Ingredients
8

cups

wild arugula

(equivalent to 5-ounce plastic clamshell)

2-3

pears, thinly sliced

½

cup

toasted walnuts, roughly chopped

¼

small red onion, sliced paper thin and soaked in ice water for 10 minutes

4

ounces

aged sheep's milk cheese like Manchego, sliced into matchsticks

½

cup

pomegranate arils

½

cup

Maple Mustard Dressing
Instructions
Place arugula in bottom of large salad bowl or serving platter with high sides.

Arrange sliced pears over arugula, followed by walnuts, sliced red onions, cheese, and pomegranate.

Drizzle salad with ¼ cup of Maple Mustard dressing, and serve the remainder of the dressing alongside.

Salad, without dressing, will keep in an airtight container in the refrigerator for one day. Once dressed, leftover salad does not keep well because the arugula will get soggy.