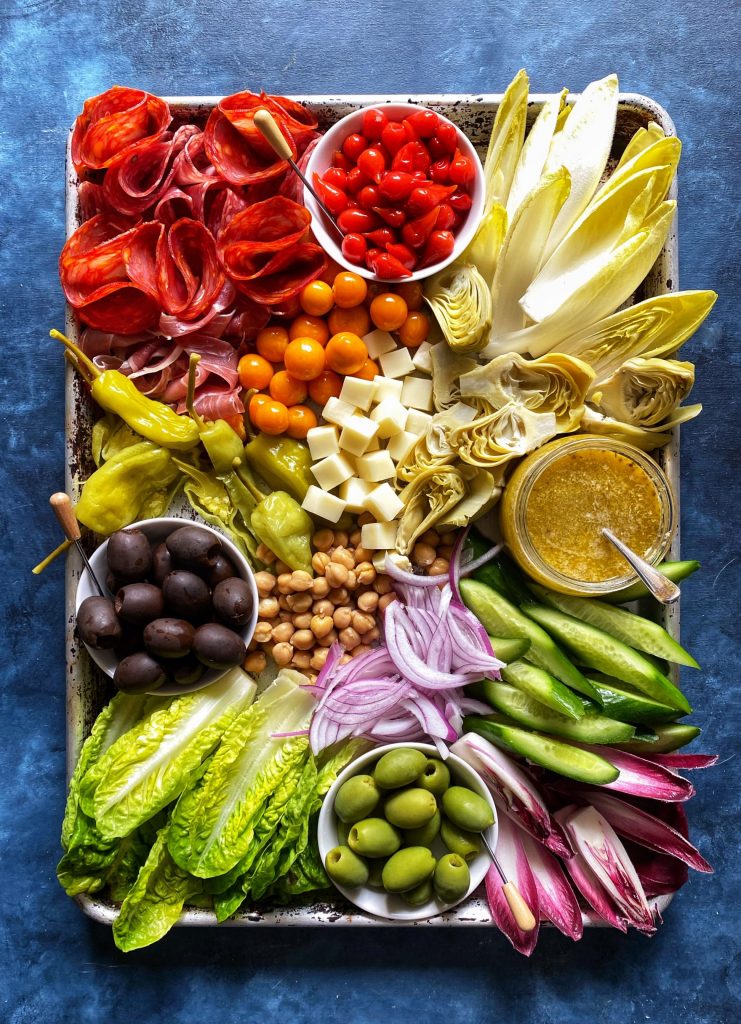 We're taking an Antipasto Chopped Salad—all the chopped up Italian salumi, cheese, olives, and other pickled and marinated things tossed with shredded greens—out of the bowl and putting all of it, along with its new fresh lettuce family back onto a platter to build an Antipasto Salad Platter.
Consider it a vegetable crudités platter with a little extra density.
Or a charcuterie board gone light.
Either way, the Antipasto Salad Platter is a fun way to graze through the usual delicious little antipasti, and get some fresh crunchy greens dipped in creamy red wine vinaigrette and Anchovy Vinaigrette along the way.
For a slightly different albeit much more indulgent platter for grazing, try the Italian Date Night In Board, which includes some more substantial ingredients like fried ricotta-stuffed squash blossoms, pasta chips, and meatballs to follow the antipasti right on the board. And for an actual salad salad, make the Antipasto Chopped Salad Recipe.
How to Serve Antipasto Salad Platter
Even though "salad" is in the name, it's less of a salad you eat with a fork, and more of a charcuterie board from which you pluck off things, either with small serving forks, or if you're among family, with clean hands. People can pick up whole Little Gem and endive leaves to dip in the vinaigrettes and snap up ruffled slices of soppresata.
Use and board, large platter, tray, or even a baking sheet (like I did in the photo) to serve, and offer small plates and cocktail forks for individuals.
What You Need for an Antipasto Salad Platter
There are so many kinds of antipasto, from cured meats to cheeses to different kinds of olives, marinated mushrooms, and pickled vegetables, it makes this Platter endlessly flexible. This specific platter has:
sturdy "salad" greens with leaves that work as crudites
widely available fresh vegetables like cucumbers, cherry tomatoes, celery, and red onions
canned things like artichokes hearts and chickpeas
jarred things like olives and peppers
cheese and salumi
tangy Red Wine Vinaigrette made creamy so it's dip-able
Antipasto Salad Platter Ingredients Resources
Little Gem Lettuce: Little Gem Lettuces are their own variety of romaine-like lettuce, they are not baby romaine. I get mine from The Garden Of farm at the Santa Monica Farmers' Market, but have seen them at smaller grocery stores like Bristol Farms and Gelson's (Los Angeles). They are not super easy to find, so you can use the smaller, inside leaves of the heart of regular Romaine lettuce.
Casteleveltrano Olives are medium-sized, bright green olives that are mild in taste. They are also sold bulk in the Olive Bar (where we're never going again after this pandemic) or in jars in the same aisle where regular olives and other pickled vegetables are. Substitute any favorite olive.
Peppadew peppers are my ALL-TIME FAVORITE THING, sweet, tangy, spicy, round peppers about the size of a ping pong ball. Substitute peperoncini, which have about the same heat, but are not sweet. If you have both, even better.
Chickpeas: I use this brand of organic canned chickpeas. If you are ambitious and want to cook chickpeas yourself, follow the method for soaking and cooking dried chickpeas in this recipe here. You will make about double the amount of cooked chickpeas you need for this salad recipe. Make hummus with the rest.
Provolone cheese is an Italian semi-hard cow's milk cheese that is similar to mozzarella, though just a little bit stronger/funkier in flavor. I bought my provolone from the deli counter at Whole Foods Market, but it shouldn't be hard to find in the refrigerated section or the deli of just about any regular grocery store. If you can't find it, or prefer, mozzarella cheese is a good substitute. National brands like Sargento and organic brands like Organic Valley have packaged sliced provolone. This brand even sells a package with BOTH provolone cheese and salami together!
Genoa salami is a generally non-spicy (heat) Italian-style dry salami. I bought mine from the deli counter at Bristol Farms, but you should be able to find it in packages in the refrigerated section or the deli case of most grocery stores. You can substitute any type of sliced salami for the Genoa. I have even used very thinly sliced pepperoni before.
Without the provolone cheese and Genoa salami, the recipe is plant-based, so if any of your guests are vegan, serve the cheese and salami on the side where the vegans can't see it.
Antipasto Vinaigrette Ingredients Resources
Tools and Equipment You Need for Antipasto Salad Platter
Antipasto Salad Platter Recipe
serves 4 to 8 depending
Ingredients
1

Creamy Red Wine Vinaigrette

recipe below

1

Anchovy Vinaigrette

recipe here
for the Platter
2

heavy Little Gem lettuce heads cut lengthwise into sixths

or about a dozen romaine heart leaves

½

head radicchio

cut length-wise into ½-inch wide wedges or leaves from 2 endive heads

1

pint

small cherry tomatoes any color

or ½ cup sun-dried tomatoes in olive oil

1

avocado

sliced

4

stalks celery or 2 Persian cucumbers

cut into 3-inch long sticks

½

cup

marinated artichokes

½

cup

castelveltrano olives

½

cup

black olives

¼

cup

peppadew peppers

¼

cup

peperoncini sliced lengthwise into halves with stems attached

¼

cup

pickled onions

½

can chickpeas

drained and rinsed

¼

pound

provolone or mozzarella cheese cut into cubes

8

ounces

bocconcini mozzarella

½

pound

Genoa salami + prosciutto

dried oregano

fresh basil, chopped fresh parsley for garnish

salt and pepper to taste
for the Creamy Red Wine Vinaigrette
2

cloves

garlic

grated or very finely minced and smashed with ¼ teaspoon salt

1

anchovy

smashed into a paste

2

tablespoons

red wine vinegar

2

tablespoons

fresh lemon juice

juice from half a lemon

2

tablespoons

dried oregano

¾

teaspoon

kosher salt

plus more to taste (I used an entire teaspoon!)

½

cup

mild olive oil

¼

cup

mayonnaise or aioli
Instructions
Make the Creamy Vinaigrette:
Shake together the garlic, anchovy, red wine vinegar, lemon juice, oregano, salt and pepper, olive oil, and mayonnaise in a lidded mason jar to form an emulsified vinaigrette. Taste for seasoning, and adjust salt, pepper and lemon juice as needed.
Assemble the Board:
Arrange the lettuce, radicchio, tomatoes, chickpeas, avocado, celery and/or cucumber, artichokes, olives, peppadew peppers, peperoncini, cheese, and salumi on a large cutting board, cheeseboard, tray, or platter. Garnish with dried oregano, fresh basil, and chopped fresh parsley if using.

Place small bowls with Creamy Red Wine Vinaigrette and Anchovy Vinaigrette alongside for dipping or drizzling.
Notes
Suggestion: You can also chop everything and make an actual Antipasto Chopped Salad, on which this Board is based.