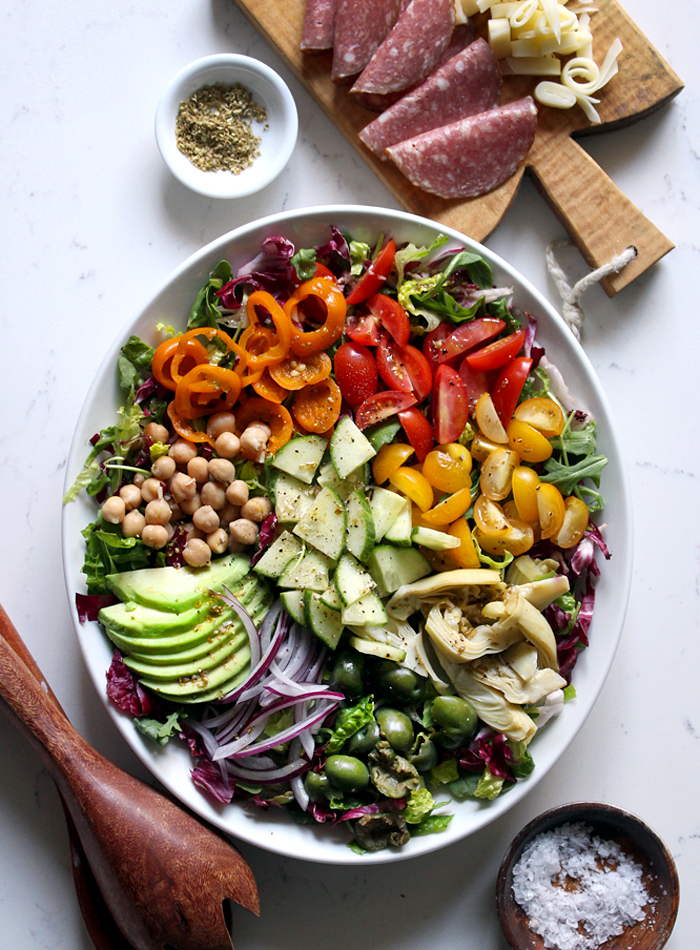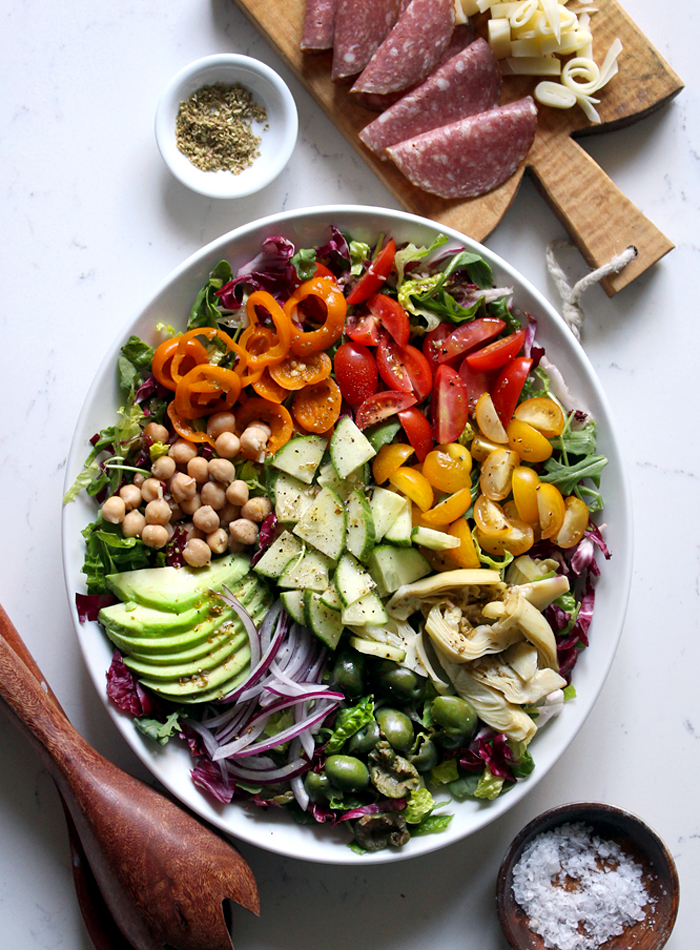 People who say they don't like salad just haven't had a good salad, and this Antipasto Chopped Salad isn't just good, it's great because it's more than just a pile of soft, flavorless leaves on a plate.
An Antipasto Chopped Salad takes all the parts of an antipasto platter, chops them up, and puts them in a bowl with some crunchy lettuce so it can legitimately be called a "salad."
Basically, you get to eat an Italian charcuterie board with a fork (or spoon!).
What is Antipasto | What Season | How to Serve Antipasto Chopped Salad | Main Ingredients | Fave Brands and Shopping Resources | Substitutions | Dietary Considerations
What is Antipasto?
Antipasto literally translates to "before meal," so basically it's an appetizer. When we think of antipasti (the plural form of "antipasto"), we typically mean salumi, cheeses, olives, and other briny, marinated, and pickled vegetables. These are served as a starter before a main meal. Though they're not necessarily served all together on a board, it's basically a cheese and charcuterie board, just a little more generous on the pickled vegetables side!
To go full antipasto platter, try this Antipasto "Chopped" Salad on a Board. A "Salad Board" is like a regular antipasto platter, but with more fresh vegetables for dipping like spears of baby romaine and celery. The recipe a dip-able creamy version of Red Wine Vinaigrette, which would be just as good on this salad, too.
Antipasto Chopped Salad Spans the Seasons
The Antipasto Chopped Salad is especially perfect in the cooler months when bright, fresh vegetables aren't as easy to find. Crunchy romaine lettuce and bitter radicchio are usually available fresh year-round. Many of the other ingredients in this salad come right out of cans and jars. At this point in our post-pandemic world, we all have marinated artichoke hearts, peperoncini, olives, and chickpeas in our pantry.
How to Serve Antipasto Chopped Salad
You can present this Antipasto Salad in a wide, shallow bowl or platter with high sides, compose it by color, drizzle with vinaigrette and gently toss at the table right before serving. Or, you can dress and toss all the salad ingredients first and serve in any large bowl.
I prefer the composed presentation for obvious reasons, even if I'm presenting and serving this salad to no one else but myself.
Smaller portions of the full recipe are great as a starter/side. The sopressata (salumi) and cheese makes this salad a pretty filling meal in and of itself.
What You Need for an Antipasto Chopped Salad
Anything you would put on an antipasto platter, you can chop and put into an Antipasto Salad. This specific salad has:
romaine as the leafy green, and radicchio!
widely available fresh vegetables like cucumbers, cherry tomatoes, and red onions
avocado—because I'm in California
canned things like artichokes hearts and chickpeas
jarred things like olives and peppers
cheese and salumi
bright, tangy, herbal Red Wine Vinaigrette
Antipasto Chopped Salad Ingredients Resources
Castelveltrano Olives are medium-sized, bright green olives that are mild in taste. You can find Castelveltrano olives in jars in the same aisle where regular olives and other pickled vegetables are. Substitute any favorite olive.
Peppadew peppers are my ALL-TIME FAVORITE THING, sweet, tangy, spicy, round peppers about the size of a ping pong ball. Substitute peperoncini, which have about the same heat, but are not sweet. If you have both, even better.
Chickpeas: I use this brand of organic canned chickpeas. If you are ambitious and want to cook chickpeas yourself, follow the method for soaking and cooking dried chickpeas in this recipe here. You will make about double the amount of cooked chickpeas you need for this salad recipe. Make hummus with the rest.
Provolone cheese is an Italian semi-hard cow's milk cheese that is similar to mozzarella, though just a little bit stronger/funkier in flavor. I bought my provolone from the deli counter at Whole Foods Market, but it shouldn't be hard to find in the refrigerated section or the deli of just about any regular grocery store. If you can't find it, or prefer, mozzarella cheese is a good substitute. National brands like Sargento and organic brands like Organic Valley have packaged sliced provolone. This brand even sells a package with BOTH provolone cheese and salami together!
Genoa salami is a generally non-spicy (heat) Italian-style dry salami. I bought mine from the deli counter at the grocery store, but you should be able to find it in packages in the refrigerated section or the deli case of most grocery stores. You can substitute any type of sliced salami for the Genoa. I have even used very thinly sliced pepperoni before.
Vegan/Vegetarian. Without the provolone cheese and Genoa salami, the salad is plant-based, so if any of your guests are vegan, serve the cheese and salami on the side where the vegans can't see it.
Red Wine Oregano Vinaigrette Ingredients and Resources
Dried Oregano: The dried oregano I use for this salad is a Sicilian variety that is sold as dried whole stems tied together into a bundle and packaged in plastic bags. I found mine in the "shop" section of a favorite Italian restaurant near me. You can also order different brands of dried oregano online. If you can't get the Italian oregano on the stems, the crumbled dried oregano sold in small jars is fine!
Mild Olive Oil: If you have one olive oil in your house, by all means use it. However, if you have a choice, use the olive oil with the mildest flavor, even one that is labeled "light." Extra-virgin olive oil might be too expensive to use in a salad in which it will be competing with other fairly strong flavors (fresh garlic, raw onions, vinegar pickled vegetables, hot and spicy peppers). I use this $10-$15 grocery store olive oil as my everyday olive oil, and Brightland as my "special" (i.e. not for this vinaigrette).
All fresh herbs and produce from either the Santa Monica Farmers' Market on Wednesday, or Whole Foods Market when I can't find what I need at the farmers' market.
Ingredient Options and Substitutions
Though I've perfected this recipe over years, I can't deny the beauty of the endless flexibility of Antipasto Chopped Salad. Any ingredient you'd put on an antipasto platter would work to add more flavor, so add it! And if there's an ingredient you don't love or can't find, there's almost always a good substitute.
Here are some additional ingredients I add or sub-in if I have them or if they're in season:
basil and parsley — chopped into the salad as part of the "greens," adds yet another flavor dimension.
celery and celery leaves
hearts of palm
marinated mushrooms
roasted red peppers for the peperoncini
sun-dried tomatoes for the fresh tomatoes
bocconcini for the regular mozzarella or provolone
Dietary Considerations
With a few modifications, this Antipasto Chopped Salad recipe can be appropriate for:
keto, no carb, and low carb lifestyles without the chickpeas, and check the labels of marinated and pickled vegetables for added sugar
vegetarian without the salumi
100% plant-based/vegan without the salumi and cheese
Antipasto Chopped Salad Recipe
You can present the salad composed in a large, shallow bowl, then drizzle with vinaigrette and gently toss at the table right before serving, or you can dress and toss all the ingredients first and serve in any large bowl. I prefer the composed presentation for obvious reasons, even if I'm presenting and serving this salad to no one else but myself. serves 4 to 8 depending on serving size
Ingredients
Red Wine Oregano Vinaigrette
2

tablespoons

red wine vinegar

2

tablespoons

fresh lemon juice

juice from half a lemon

2

tablespoons

dried oregano

2

medium cloves garlic

grated or very finely minced

½

teaspoon

kosher salt

plus more to taste (I used an entire teaspoon!)

1

cup

mild olive oil
Salad
1

head iceberg or romaine lettuce

chopped

1

head radicchio

chopped

1

pint

small cherry tomatoes, any color

cut into quarters

1

avocado

chopped

2

Persian cucumber or stalks of celery

or both sliced cross-wise ¼-inch thick

½

can chickpeas

drained and rinsed

¼

red onion

cut length-wise (or ¼ cup pickled onions)

½

cup

marinated artichokes

½

cup

castelveltrano olives

— or other olive you like

¼

cup

peppadew peppers

chopped—or the more traditional peperoncini

¼

pound

aged provolone cheese

cut into ⅛-inch-thick slices, then cut into ¼-inch-wide strips

¼

pound

Genoa salami

cut into ⅛-inch-thick slices, then cut into ¼-inch-wide strips

freshly squeezed lemon juice to taste

dried oregano

salt and pepper to taste
Instructions
Make the Vinaigrette:
Whisk together the vinegar, oregano, lemon juice, garlic, salt and pepper in a medium bowl. Add the oil in a slow, steady stream, whisking constantly to form an emulsified vinaigrette. Taste for seasoning, and adjust salt, pepper and lemon juice as needed.
Assemble the Salad:
Slice onion length-wise (top-to-bottom) into paper-thin crescents. Soak the onion slices in a small bowl of cold water for about 10 minutes to take the spicy edge off. Drain water off.

Combine shredded lettuce, sliced radicchio, halved/quartered tomatoes, chickpeas, avocado, cucumber, marinated artichokes, olives, and peppadew peppers, and provolone, salami, pepperoncini and red onion in a large, wide bowl. Drizzle about ¼ cup of the vinaigrette over the ingredients in the bowl, then toss gently to combine and coat the vegetables. Taste for seasoning and adjust with additional vinaigrette, salt, and pepper.

Serve salad with extra dried oregano and vinaigrette.

You will have about 1 cup of vinaigrette left. Cover the leftover vinaigrette tightly and keep in refrigerator up to 3 days.

The salad, once dressed, does not keep well. Eat it all now.