Why should summer have all the fun with Caprese salads? Make a Persimmon Salad in the fall and winter and make it Caprese-style with basil and mozzarella! Shall we?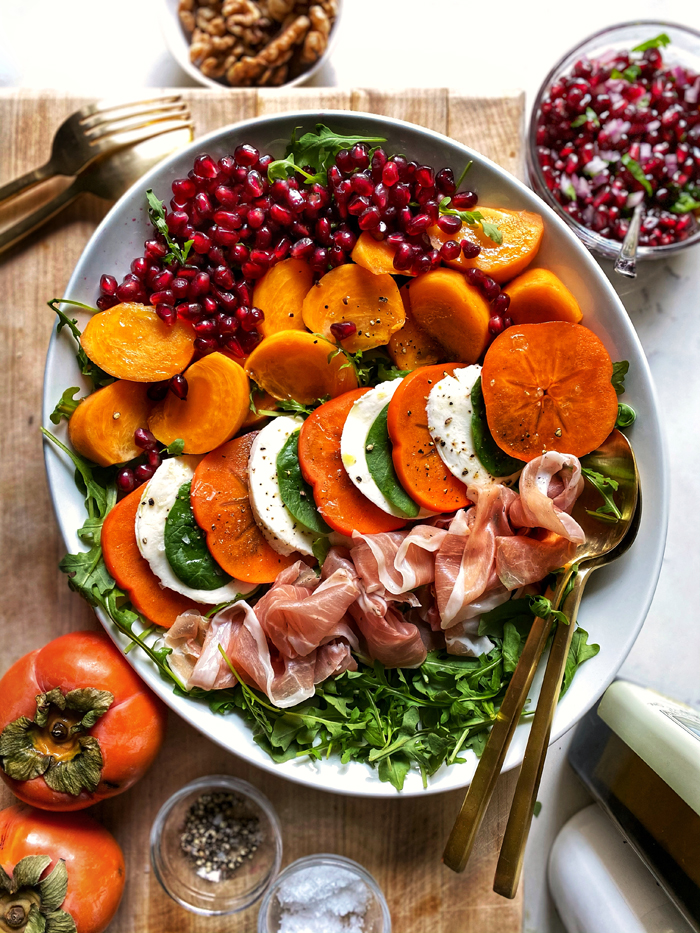 Jump ahead to the recipe for Persimmon Salad, other wise keep reading about how we even get all those persimmons in the market in the first place!
Jump to:
So.
How are those scallions and celery that you put in a mason jar of water on your kitchen counter back in April doing?
Right.
If there is one thing I learned during the last how many months of a global pandemic, and hopefully others have, too, it is that I am willing to pay someone one million dollars a week to wash my dishes.
I've also learned that growing and producing food is difficult and often, like most of the effing time actually, we take for granted the availability of fresh fruits and vegetables, dairy, and the most important product for survival obviously, wine.
Can you even imagine trying to grow and produce the variety of foods you eat every day?! I grew six snap pea plants in the spring, harvested three snap peas, was absolutely thrilled, then realized it was, LITERALLY THREE SNAP PEAS. That's not even a bite, let alone a single meal.
Thankfully, we don't actually have to try to survive only on what we ourselves can grow. The Golden State of California does about 147% of the work for us.
Where do Persimmons Come From?
California alone grows one-third of the vegetables and two-thirds of the fruit and nuts that we get here in the United States, making it the leading agricultural state in the country. California is also the sole producing state of almonds, walnuts, olives, artichokes, dates, raisin grapes, kiwifruit (who knew?!), clingstone peaches, pomegranates, and sweet rice.
I went on an agri-tour of California that included leafy greens farms in the Imperial Valley in southern California; sweet potatoes, some of those specialty produce like persimmons and pomegranates, olive oil and dairies in the San Joaquin Valley; and California Wine Country. Our agri-tour group met farmers and producers, and learned so much about a variety of California grown produce as well as the mission-critical importance of sustainability in farming practices.
IT'S SO EASY BEING GREEN
Because of alternating climates in Northern and Southern California, leafy greens grow year round in the entire state, contributing approximately 90% of all leafy greens grown in the United States. Executive Director of the California Grown organization, Cher Watte Angulo, spoke to us from a red leaf lettuce field with Mexico visible over her shoulder; that's how far south the Imperial Valley of California is.
ONE POTATO, TWO POTATO, SWEET POTATOES MORE
Jason Tucker is a second generation sweet potato farmer, and his sister Amberley Mininger and her husband Brad Ralls, are sweet potato farmers as well as processors. Mininger Foods produces pre-peeled and cut sweet potatoes for grocery stores, making the work of getting from farm to table even easier for us.
Sweet potatoes are a considered a superfood, and shockingly, a purple sweet potato has more of the antioxidant anthocyanin, ounce for ounce, than a blueberry. Sweet potatoes are fat- and cholesterol-free and a solid source of dietary fiber.
The warm, dry climate of the San Joaquin Valley makes California sweet potatoes even better. The sweet potatoes can stay on their vines and "cure" (akin to "ripen") directly in the soil without chemicals, rather than after harvest in storage sheds.
Try this recipe for Whipped Sweet Potatoes using their California-grown sweet potatoes!
KC and the SUNSHINE BRANDS
KC Cornwell's Loquaci Home Ranch in Madera, California in the San Joaquin Valley produces citrus, grapes, as well as specialty produce like persimmons and pomegranates (which are featured in the recipe below). From KC, we learned that California produces a considerable percentage of the country's specialty crops, including:
80% of all the fresh citrus marketed in the United States, and above and beyond that, over 92% of the lemons,
97% of the nation's prunes, and 44% of the prunes in the world,
over 99% of fresh grapes in the United States,
100% of the nation's pomegranates
Pomegranates are one of my all-time favorite fruits, in case you couldn't tell from my near-daily social media posts about them and my addiction to Pomegranate Salsa. Am I obsessed because pomegranates are a superfood? Is it that they are unfortunately close in name to one of my puppers (pomeranian)? We'll never know. However, what we do know is that pomegranate arils contain both the pomegranate seed and the juice of the fruit, wrapped in a thin membrane, and that the firm seed inside contains punicic acid, which is a bioactive compound related to alpha-lionleic acid, one of the "healthy" fatty acids.
Pomegranates (and persimmons) are part of the Persimmon Salad recipe below. Also try the Fall Farmers' Market Salad with Maple Citrus Vinaigrette
ALL IN THE DAIRY FAMILY
If you thought re-growing your celery and scallions was tough, try raising a dairy cow in your backyard so you can make cheese.
Ok, so don't try that.
California dairies lead the rest of the nation in sustainable dairy production and is number one in milk, ice cream, and butter; they are the second largest producer of cheese and yogurt.
Ninety-nine percent of California dairies are family owned, like Fiscalini Family Dairy based in Modesto, California, which also produces their own cheeses. Fiscalini makes mostly Cheddar cheeses, and what is now one of my favorite cheeses 'San Joaquin Gold,' a 12- to 16-month-aged Italian-style cheese that's a little parmesan-y, a little cheddar-y, pictured left above. It is perfect for a cheeseboard.
There are California producers who make mozzarella style cheeses, which is an ingredient in the Persimmon Salad recipe below!
If you really want to go all-in on California cheeses, peep this Guide to the Best Wine and Cheese Pairings that feature California cheeses and Central Coast wines.
OLIVE YOU SO MUCH
Like every good food blogger, I am obsessed with olive oil for both cooking and for health/medicinal uses.
Rolland Rosenthal of Rosenthal Olive Ranch practices high-density hedge row farming for his California olives, which allows for maximum yields and mechanical harvesting, which increases food safety. While there are over 75 varieties of olives grown for olive oil in California, three varieties are grown in the hedge-row style that Rosenthal uses: Arbequina, Arbosana and Koroneiki.
I used Rosenthal Ranch organic extra virgin olive oil for the Persimmon Salad recipe below.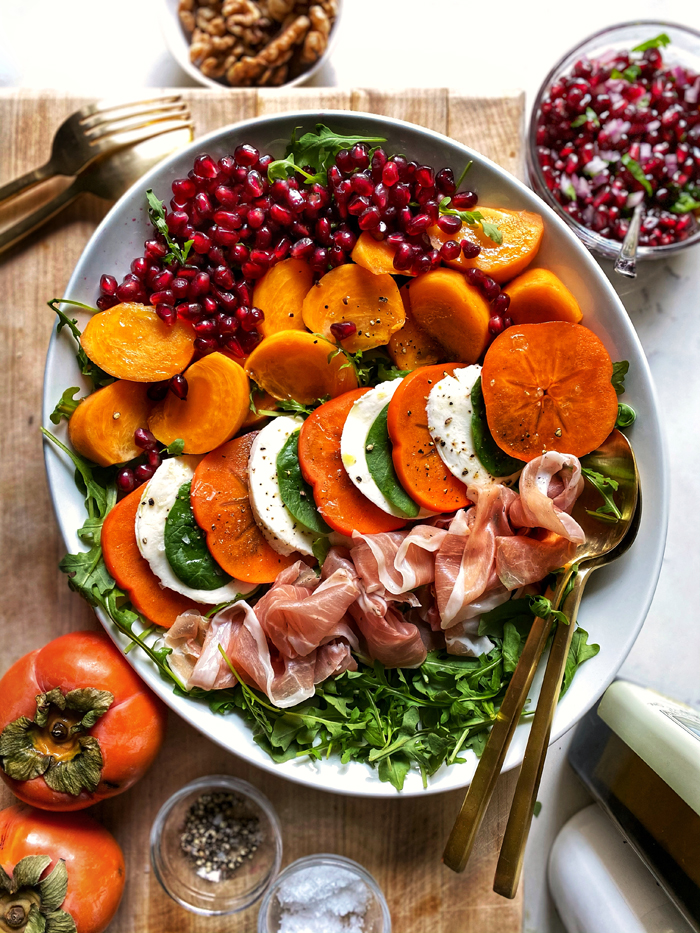 #CAGrown to Donate Fresh Produce and Food
One last, but very important, thing! Every year, California farmers donate over 160 million pounds of fresh produce and foods to food banks. This year, California Grown has pledged to donate an additional 1 pound of food for every post on social media hashtagged with #CAGrown. Make something with California Grown products, post a photo of it, and tag. If you need ideas, message me and we can brainstorm ideas, or make the Autumn Caprese below, or fork it, you are welcome to re-share my photo and recipe below (with proper photo credit please, of course)
Ingredients You Need for Persimmon Salad
Fuyu persimmons
Arugula
Mozzarella
Pomegranate
Prosciutto
Olive Oil
Lemon
Salt and pepper
Ingredients Resources and Notes
Persimmons. Use Fuyu persimmons for this recipe. There are two types of persimmons grown in California: Fuyu and Hachiya. Fuyu persimmons are the firm, round, tomato or mini pumpkin-shaped fruit pictured directly above; they are eaten firm and the skin is generally edible. Hachiya persimmons are larger, shaped like a gentle, inverted triangle; they are eaten when they are very very soft. In fact, Hachiya persimmons taste AWFUL when they are not near-rotting ripe.
Pomegranate. Buy a whole pomegranate and pull the arils—the "seeds" inside—by hand. If you're already making Pomegranate Salsa, which I encourage you to have in your fridge all season until pomegranates go out of season, use that. The added flavor of onion/shallot and fresh parsley will be a bonus.
Mozzarella. Use a ball of mozzarella that comes in a brine in a container. Burrata, or even stracciatella (other cheeses derived from mozzarella) also work as their flavor profile is similar, but have a different "cottage cheese that's crying" texture, which I HATE, but it's your dish, you do you.
Olive Oil. I used California-based Rosenthal Ranch organic extra virgin olive oil for both the Pomegranate Salsa and drizzling on the Caprese
All produce is California-grown, from local Los Angeles farmers' markets or organic at Whole Foods Market
Prosciutto is not California-grown, but dammit, it should be, who wants to start a prosciutto farm with me.
Substitutions and Dietary Considerations
Arugula. If arugula is a little too bitter for you, or you can't find it, substitute with any other tender green. Baby spinach is fairly mild and works well as a background green to the other ingredients in the salad.
Dietary Considerations
Vegetarian. To make this recipe vegetarian, omit the prosciutto and just hit the salad with a little additional salt.
Vegan/Plant-based. To make this recipe suitable for vegans, omit the prosciutto and substitute regular mozzarella with a plant-based alternative. This brand has vegan mozzarella that's closest to regular dairy (it's made with cashews).
Sugar-free. This recipe as presented is refined sugar-free. If you are watching your sugar intake, keep in mind that both the persimmon and pomegranate have natural sugars.
Dairy-free. To make this dairy-free, substitute out the regular dairy mozzarella for a plant-based version or use sliced firm tofu. Mozzarella is mild as far as cheese flavor goes, so tofu isn't a far stretch.
Paleo. As presented, this recipe is paleo-compliant (just make sure the prosciutto doesn't have added sugars). However, persimmons are a high carb fruit and therefore not considered keto-friendly.
What persimmon do you use for salad?
A: Fuyu persimmons, which are the firm, round variety, is the best persimmon for this salad. The skin is edible, easy to slice, and will hold its shape in a salad. Hachiya persimmons, which are the upside down cone shaped variety are meant o be eaten very very ripe and won't hold their shape in a salad.
How do you prepare persimmons for a salad?
Treat Fuyu persimmons the way you would prepare an apple for a salad. Thin laterally cut slices—cut like "rings" around the equator—are great. Persimmons have a star-shaped core similar to an apple so they make for a great presentation! You can also cut persimmons into thin wedges. The salad above uses both.
How do you know when a persimmon is ripe and ready to eat?
A. Fuyu persimmons are similar to apples in that they are ready to eat when they firm. The best way to tell is they are ripe is by their color, which should be uniformly deep orange all around. They will give very slightly to pressure, but they should not be soft.
Can you eat persimmon skin?
A: Yes! Fuyu persimmon skins are edible! The skins have some texture, similar to an apple, so it's fine to peel it with a sharp paring knife. Just be careful as persimmons without their skins are slippery little suckers!
What Else to Do with Persimmons
When persimmons are in season, grab as many as you can! They are great to eat fresh out of hand like an apple, and are a beautiful, colorful, health-supporting fruit that's welcome during a season when a lot of produce sections go beige. Here are some more ideas:
Bake a Persimmon Upside-down Cake
Serve slices persimmon as a fresh fruit option on a Charcuterie Board
Chop persimmons into your morning oatmeal or chia bowl
Slice persimmon into wedges and wrap each wedge with prosciutto as an appetizer or snack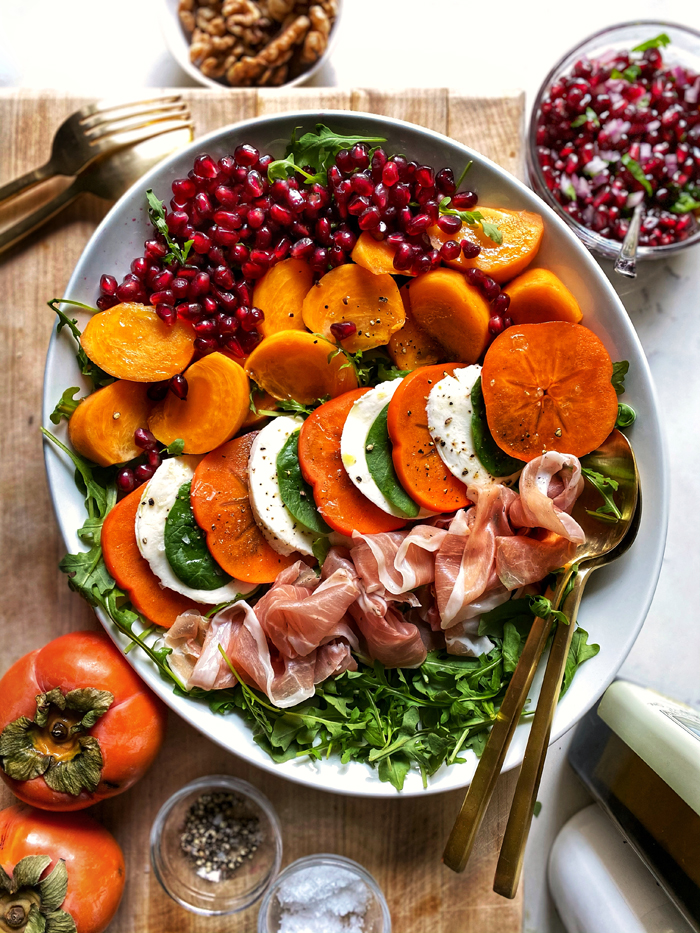 Print Recipe
Persimmon Salad with Pomegranate, aka Autumn Caprese Recipe
There is no absolute right or wrong way to arrange the ingredients on the platter. However, some ways are righter than others. I like to keep each of the ingredients generally together, and everything arranged in rainbow-ish order. Tossing everything into a bowl probably works, too. It's a salad, ffs.
serves 2 as a light main or 4 as a starter
Ingredients
4-6

cups

wild arugula

or other bitter green to balance the sweet and tart

1

cup

pomegranate arils

2

Fuyu persimmons

1 peeled and cut into wedges, the other sliced laterally into thin rounds

1

large ball of fresh mozzarella cheese

sliced into ¼-inch wide rounds

2

tablespoons

California extra virgin olive oil

plus more to taste

juice of half a lemon

flaky sea salt

fresh cracked black pepper to taste

optional: 2-4 ounces prosciutto

pomegranate molasses
Instructions
Place wild arugula or other bitter greens on serving platter or shallow bowl. Arrange alternating slices of persimmon and mozzarella over the arugula, adding a leaf of arugula or baby spinach in between.

Arrange peeled persimmon wedges and prosciutto if using, around the persimmon/mozzarella. Spoon Pomegranate Salsa onto platter. Drizzle everything with olive oil, lemon juice, and sea salt.

Pomegranate molasses is a thick syrup made from reduced pomegranate juice and lemon juice. It kind of works in this recipe the way a balsamic glaze would work on a tomato-based Caprese.