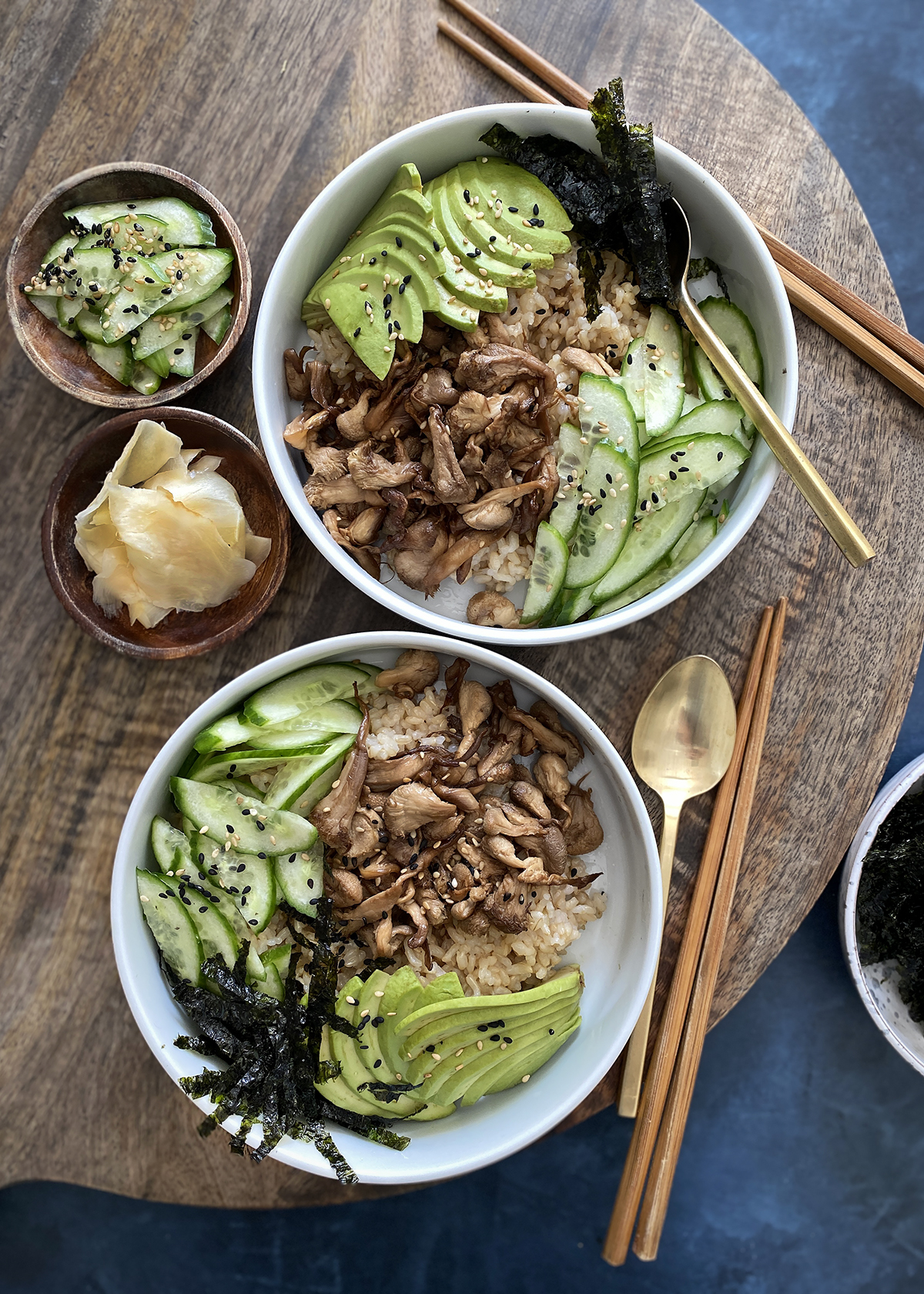 Jump to:
So you read a headline on the internet about the incredible health benefits of lion's mane mushrooms. And now you're staring down a big fluffy white cloud on your kitchen counter asking yourself, "But what do you do with lion's mane?!"
If you're here, you're going to cook it!
And the best way to cook lion's mane mushrooms is actually the simplest. This lion's mane mushroom recipe is for quick sautéing on the stovetop. The golden, caramelized mushrooms will be delicious to eat straight out of the frying pan, or you can use the pieces in other recipes.
But first let's get into the what and why of lion's mane mushrooms. And if you're already in the know and just want to cook and eat, skip ahead to the recipe.
What is Lion's Mane Mushroom | Health Benefits | Taste and Texture | Where to Buy | When Are They in Season | How to Cook | How to Eat | How to Grow | Other Mushroom Recipes to Try | Lion's Mane Mushroom Recipe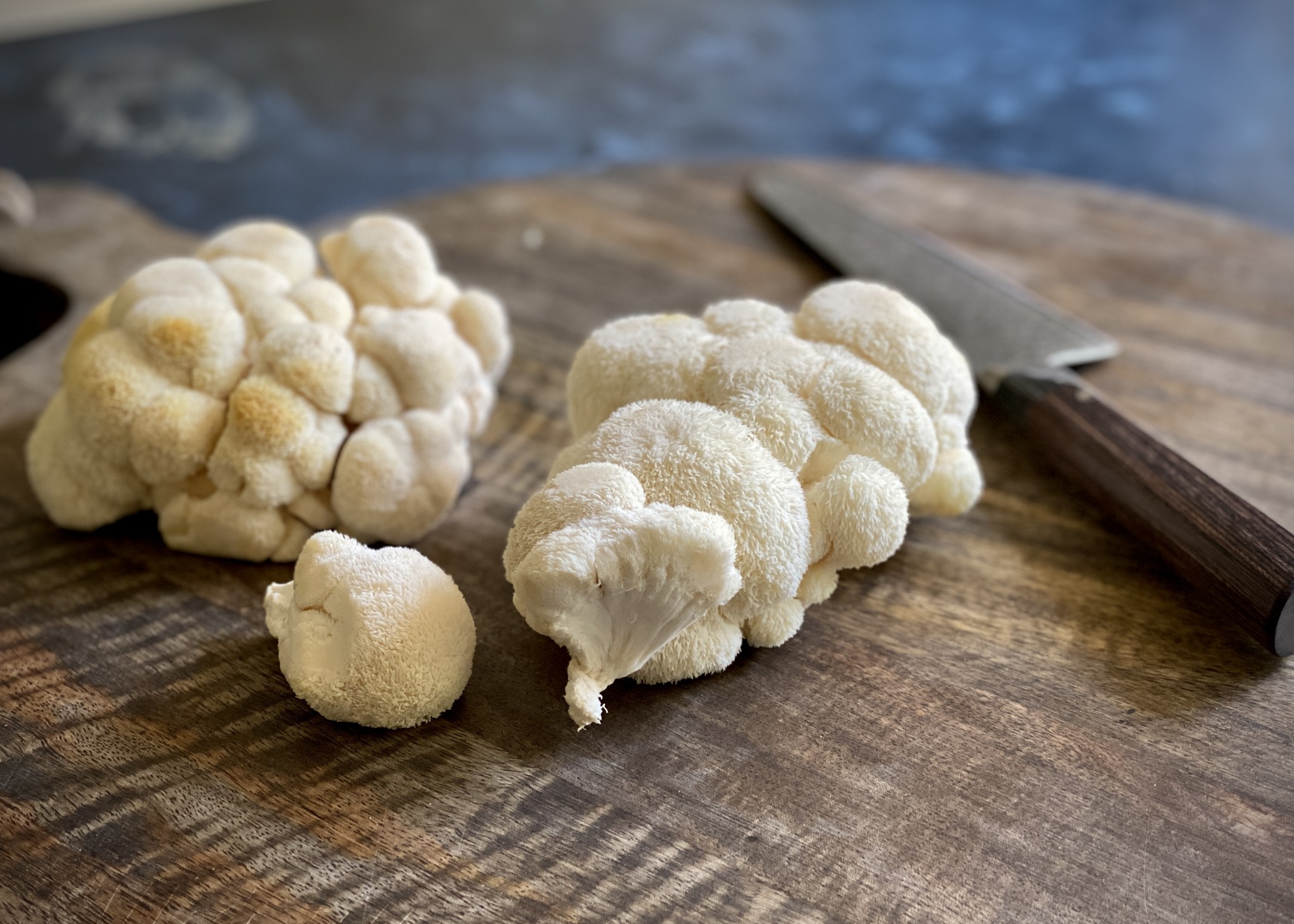 What is Lion's Mane Mushroom?
Lion's mane is a mushroom native to North America, Europe, and Asia. It gets its English name from the appearance of some varieties, a shaggy lion's mane, as you can see in the photos! Varieties of the mushroom can vary from white to a pale yellow. It is sometimes called a hedgehog mushroom, which is derived from a translation from Latin of its scientific name Hericeum erinaceus.
All of the varieties I've ever seen look like cauliflower, not to be confused with "cauliflower mushroom," which is different species of mushroom altogether.
Asian cultures have been using lion's mane—called "hou tou gu" in Chinese and "yamabushitake" in Japanese— for its health benefits as both a medicinal mushroom and a culinary mushroom for thousands of years. As growing scientific research shows their health benefits, the mushroom has become increasingly recognized around the world. Health and wellness circles make use of lion's mane mushrooms as supplements in the form of pills, powders and tinctures with concentrated extracts of the mushroom, similar to medicinal mushrooms like chaga, cordyceps and reishi.
Quick side note that may or may not be a bonus: Lion's mane mushrooms do not and cannot get you high as they do not contain psilocybin, the psychotropic compound in "magic mushrooms" that causes hallucination.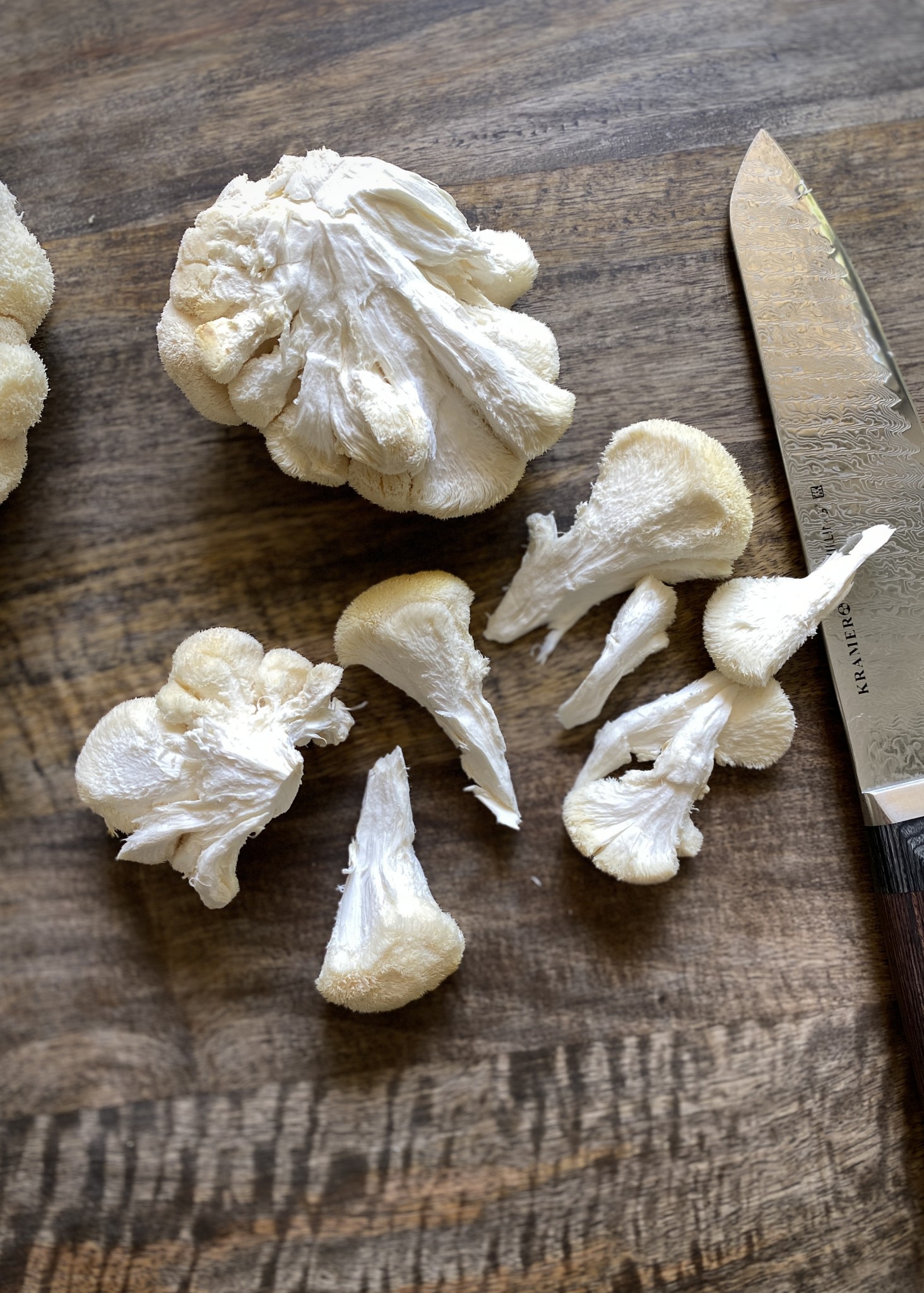 Health Benefits of Lion's Mane Mushrooms
If the photos make lion's mane mushroom look like a brain, well, maybe that's a good way to remember one of its most important health benefits. Lion's mane has brain-protective effects. Studies have shown that compounds in the mushrooms can protect against Alzheimer's disease, stimulate the growth of new brain cells, and protect existing nerve cells.
Like other mushrooms, lion's mane contains antioxidants and other compounds that make them anti-inflammatory and immune-supporting. Beta-glucans in lion's mane are a prebiotic soluble fiber which has been shown to promotes gut health and in-turn reduce the risk of heart disease.
What Does Lion's Mane Mushroom Taste Like?
I have found lion's mane mushrooms taste, well, like a mushroom. They are milder than shiitake mushrooms, but more intensely "mushroom-y" than a regular white mushroom.
Some people say that lion's mane mushrooms taste like crab or lobster, making them a great plant-based or crustacean-allergy substitute for seafood. I personally haven't noticed that they taste like seafood. However, I do use them in place of crab, or imitation crab as the authentic case may be, for a plant-based version of California rolls for their texture.
You can eat lion's mane mushrooms both raw and cooked. The raw format has a mild flavor and bouncy texture. You can also rehydrate dried lion's mane mushrooms to use in recipes.
Where to Buy Lion's Mane Mushrooms
You can buy fresh lion's mane mushrooms in grocery stores in the section with other fresh specialty mushrooms and at farmers' markets. The following are where I have found fresh lion's mane mushrooms near me in southern California:
Whole Foods Market grown by Far West Fungi
Beverly Hills Farmers Market, Sunday
Hollywood Farmers Market, Sunday
Mar Vista Farmers Market, Sunday
Culver City Farmers Market, Tuesday, from Golden State Papayas
Santa Monica Farmers Market, Wednesday, from GoldenStatePapayas
Venice Farmers Market, Friday, from LAFungHi
If finding them fresh is not as easy, even via online, look for dried lion's mane. The mushrooms can be re-hydrated and then used in almost the same way as fresh mushrooms!
If you're up for it, you can also forage for wild lion's mane, or grow them at home! More on that later.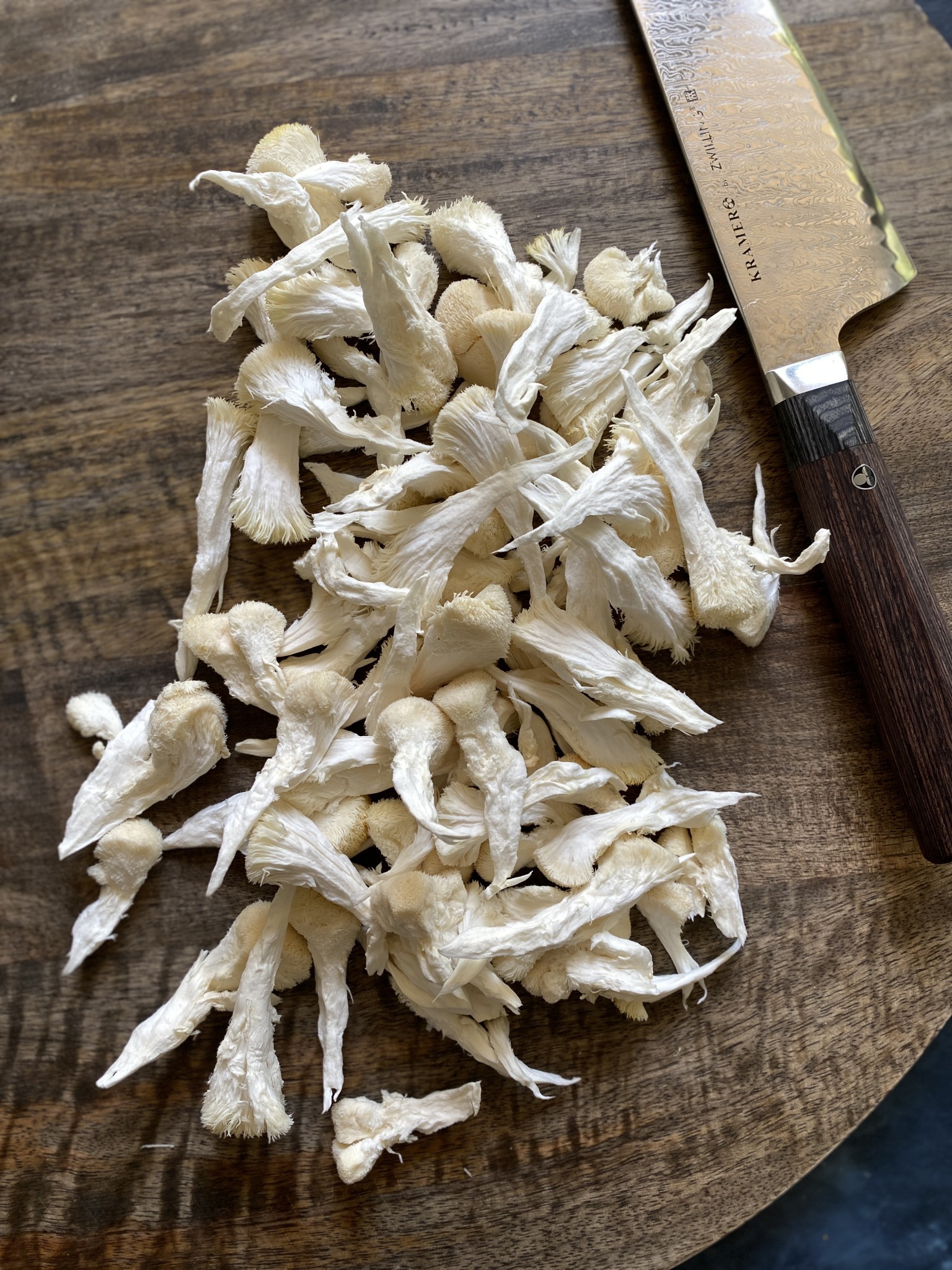 When Are Fresh Lion's Mane Mushrooms in Season
Because lion's mane mushrooms sold in grocery stores and at farmers markets are cultivated in climate-controlled indoor environments, they are available year-round. This calendar from California Grown shows What's in Season and when, all over California.
Lion's mane mushrooms are found in the wild in the late summer and fall.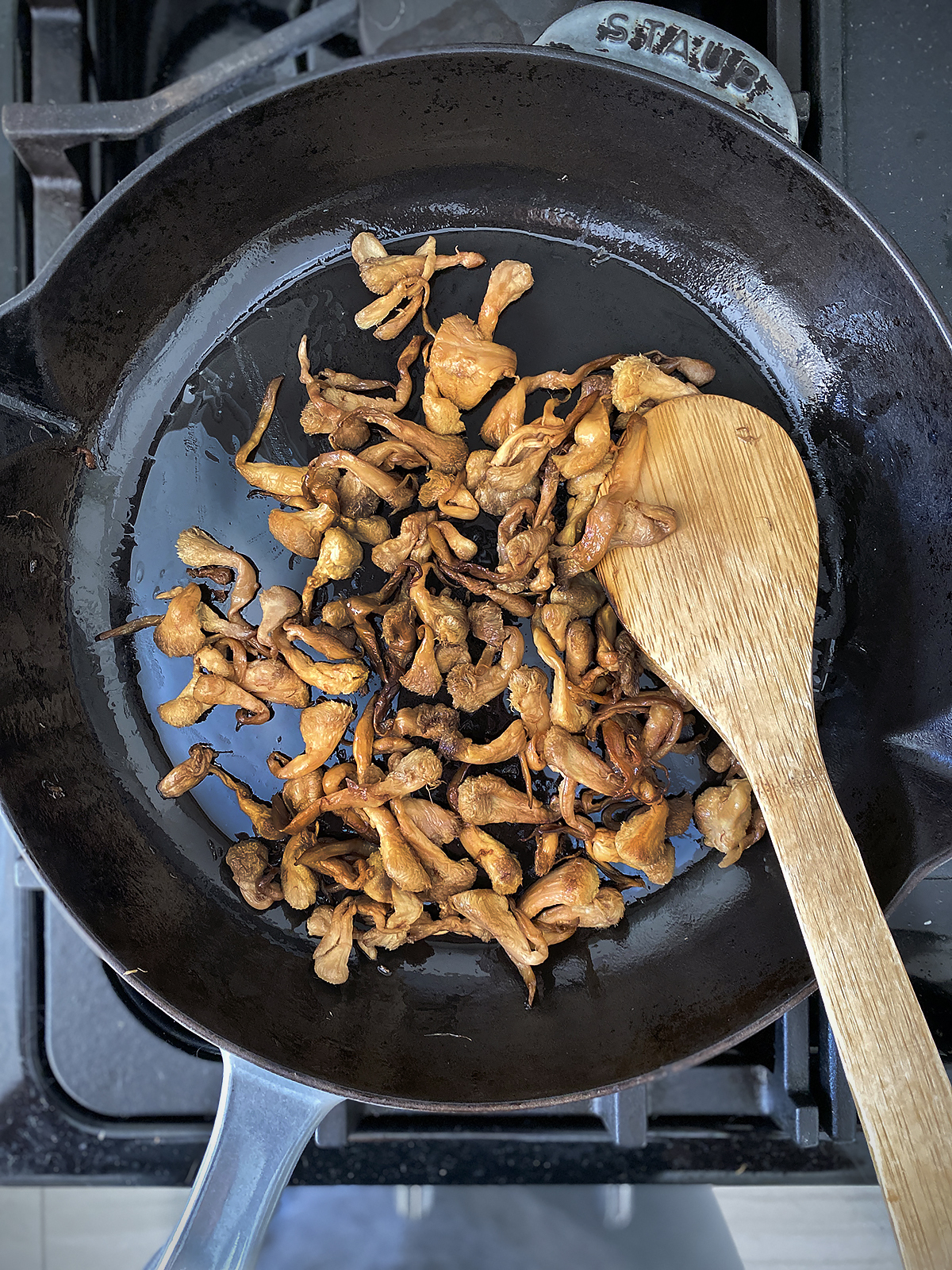 What You Need to Cook Lion's Mane Mushrooms
fresh lion's mane mushrooms
tamari
neutral oil for sautéing
garlic powder
Ingredients Notes and Substitutions
Lion's Mane Mushrooms are available to me in southern California from a number of growers who sell at the local farmers' markets. I found these exact ones grown by Far West Fungi in Whole Foods.
Tamari is a Japanese-style soy sauce that is brewed without wheat so it is gluten-free. It is my preference, but regular soy sauce is an almost exact substitute. This is the brand of tamari I use.
Avocado Oil is what I use for sautéing. It has a neutral flavor, a high smoke-point, and some health-supporting benefits. Because the mushrooms aren't cooking at very high heat, olive oil is a good substitute. This is the bottle of avocado oil I currently have on my counter.
Garlic Powder is preferred over fresh minced garlic in this case only for convenience.
How to Use Cooked Lion's Mane Mushrooms
piled onto toast with whipped feta or ricotta
as the filling for plant-based tacos or tostadas
tossed into salads
over grain bowls
deconstructed California Roll bowl
in a traditional California Roll (see photos above!)
as a plant-based option on a DIY Hand Roll Sushi party
Far West Fungi, Specialty Mushroom Farm in Monterey County, California
I learned a lot about specialty mushrooms, including lion's mane, after visiting Far West Fungi, one of the stops on an agri-tour (agricultural tour) of Monterey County with California Grown.
Far West Fungi grows 12 varieties of specialty mushrooms and forages another 70+ types. If you're in the San Francisco Bay Area, you might have seen them in the Ferry Plaza Market or at other weekly farmers markets in the surrounding area. Lucky for me down in Los Angeles, I am able to find Far West Fungi lion's mane, along with shiitakes and oyster mushrooms, in my local grocery store.
As I mentioned previously, if you want to make this Lion's Mane Mushroom Recipe and can't find them in your grocery store, you can grow your own with a Grow Kit from Far West Fungi. The mushroom mini farm is the same kind of spore-infused block that Far West uses in their own farm.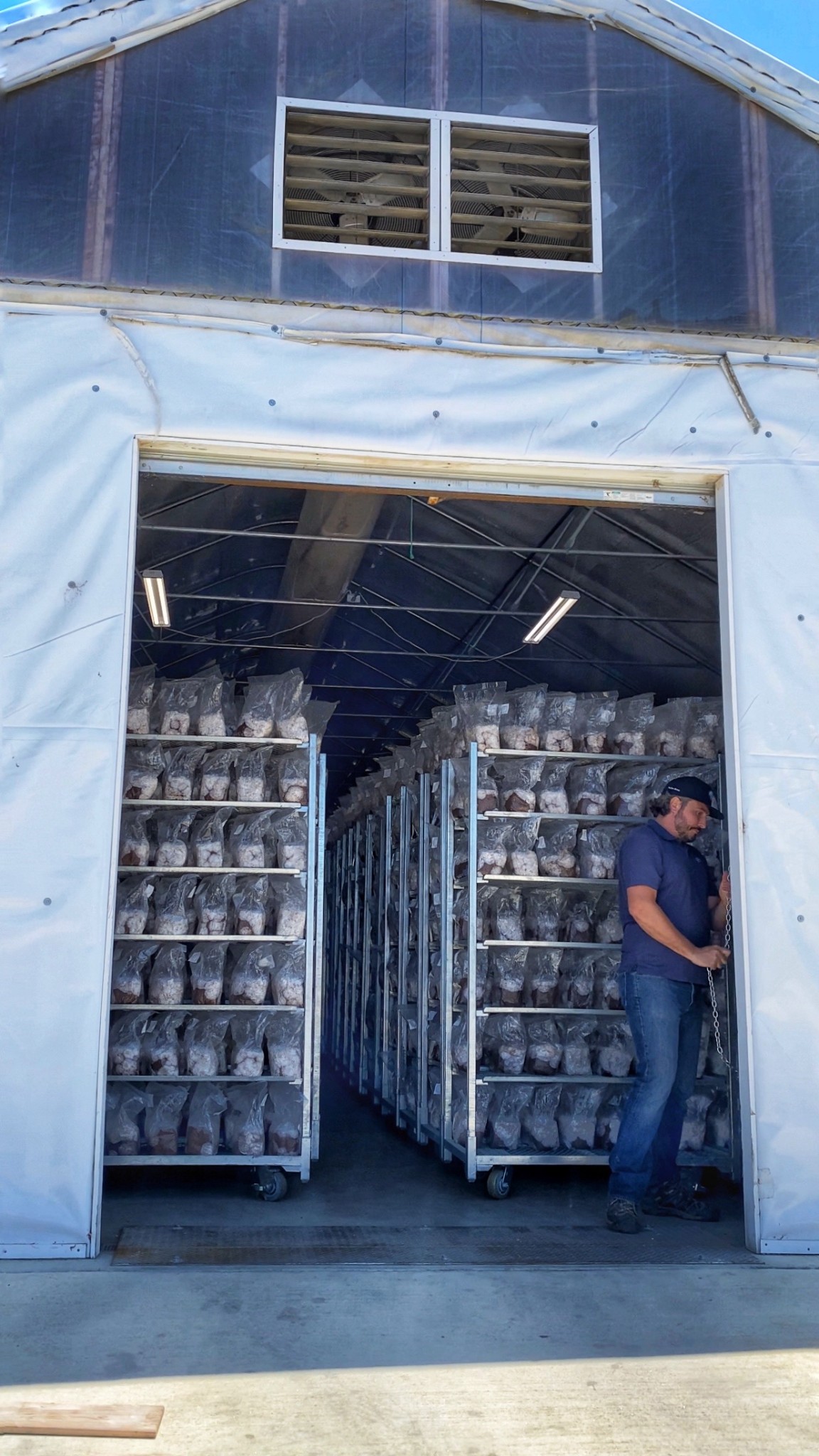 Though Far West Fungi mushrooms grow in tightly controlled indoor environments, the proximity of the farm to the ocean certainly helps to maintain the cooler temperatures required for optimal mushroom growing. In fact, Monterey County's geography creates many micro-climates that supports a wide range of agricultural products from artichokes to wine.
On the agri-tour of the region, we also visited Ocean Mist Farms, which relies on the Mediterranean climate to grow fresh artichokes. California grows 100% of fresh artichokes in the US, and Ocean Mist Farms is the largest producer of fresh artichokes in North America. Monterey County is also home to Lakeside Organics, the largest organic producer in the U.S.
More Mushroom Recipes
Lion's mane isn't the only mushroom that both offers health benefits and tastes great. Try different types of mushrooms with these recipes:
Friends from the Monterey AgriTour shared a few mushroom-based recipes, too. Check them out below:
This post sponsored by California Grown. All opinions are our own. Thank you for supporting our partners who keep The Delicious Life well fed!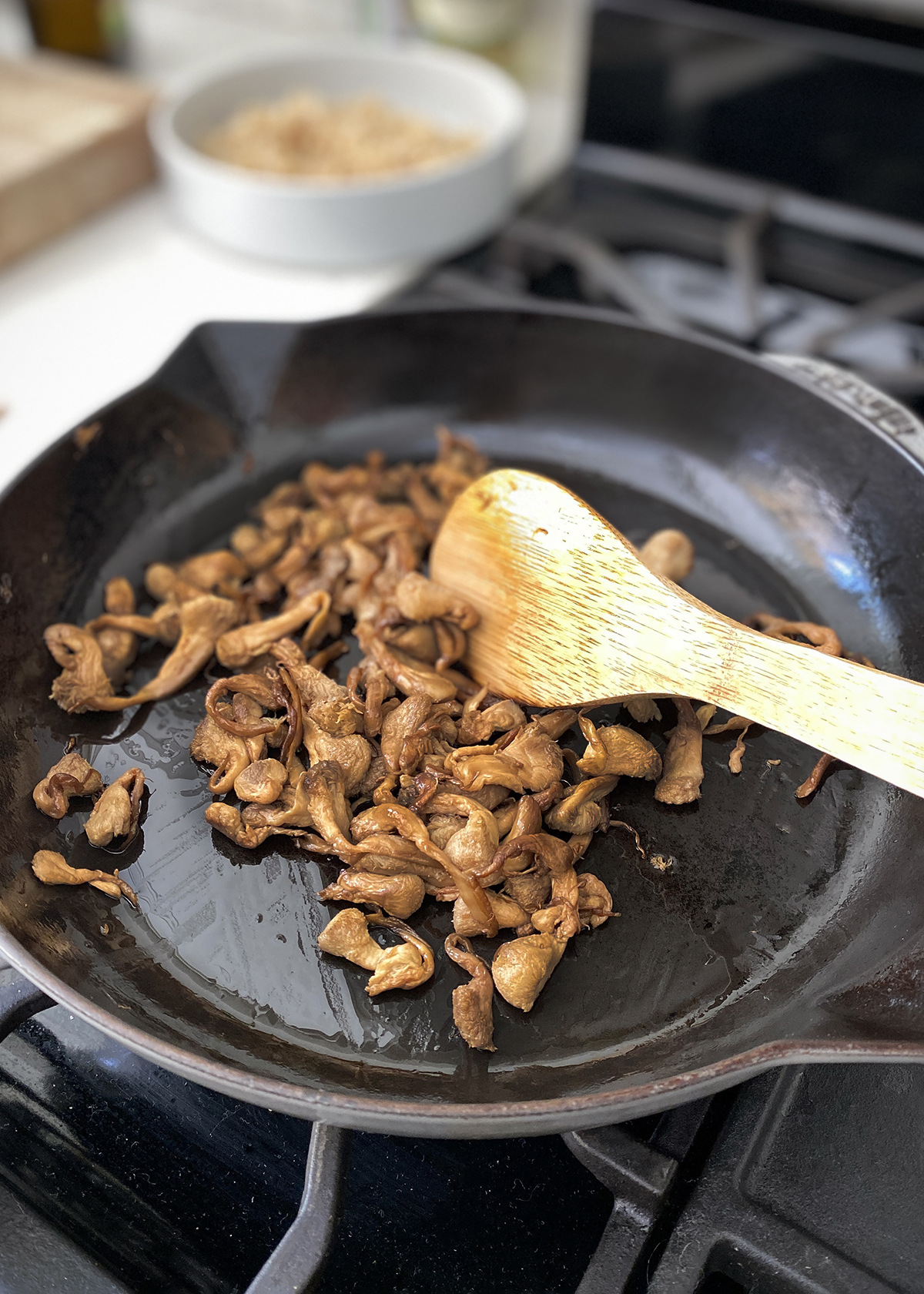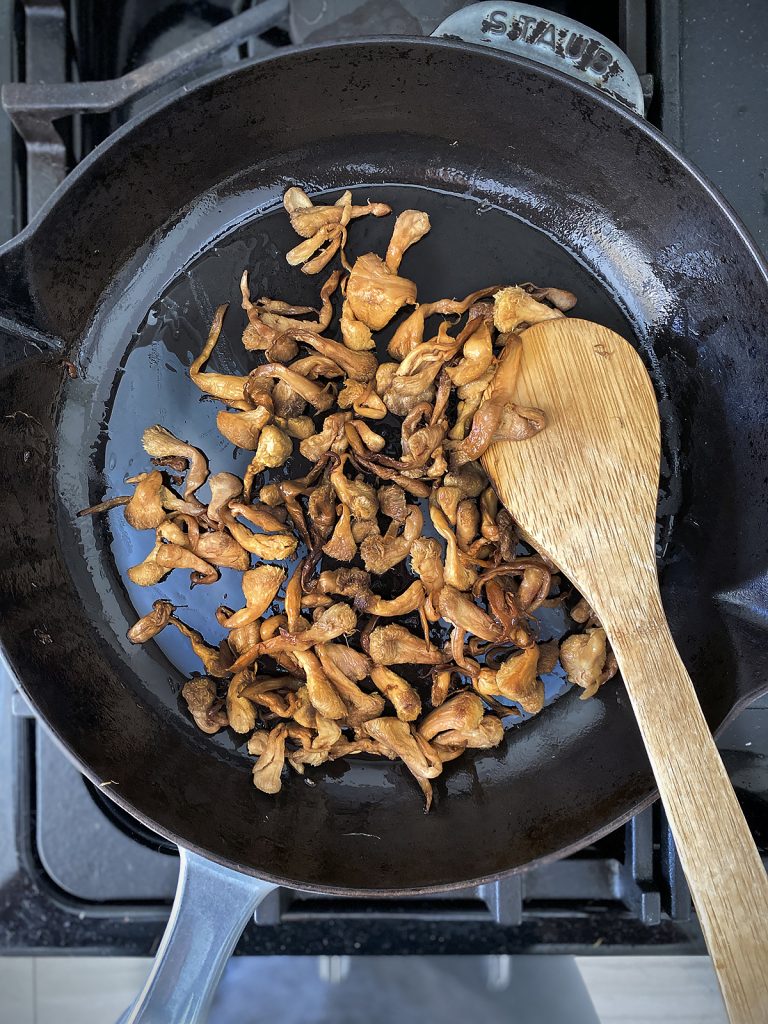 Print Recipe
Lion's Mane Mushroom Recipe
A quick stovetop sauté of lion's mane mushrooms and a simple drizzle of soy sauce makes it easy to eat one of the most beneficial mushrooms for our brains and bodies, lion's mane.
Ingredients
6

ounces

lion's mane mushroom

rinsed and dried

1

tablespoon

avocado oil or other neutral oil

1

tablespoon

tamari or soy sauce

optional: ½ teaspoon garlic powder
Instructions
Remove any dried or browned bits from the base of the lion's mane mushroom either with a knife or by simply pulling off with your hands.

Shred the lion's mane mushroom into ½-inch wide strips.

Heat a frying pan over medium heat. Sauté the shredded lion's mane mushroom strips in the pan, DRY, i.e. without oil. Dry sautéing will draw out some of the excess moisture from the mushrooms. Allow the mushrooms to brown at their edges. This will take about 5-7 minutes.

Drizzle oi, tamari or soy sauce, and garlic powder if using, over the mushrooms in the pan. Stir fry until fragrant and the mushrooms have developed a deep brown color. Remove mushrooms from heat.