Everybody knows the most craveable part of Brussels sprouts are the crispy, charred, burnt bits, so why not maximize that by shaving the Brussels sprouts to make more surface area? Shaved Brussels Sprouts Salad with Pomegranate and Walnuts is the best way to serve it, too!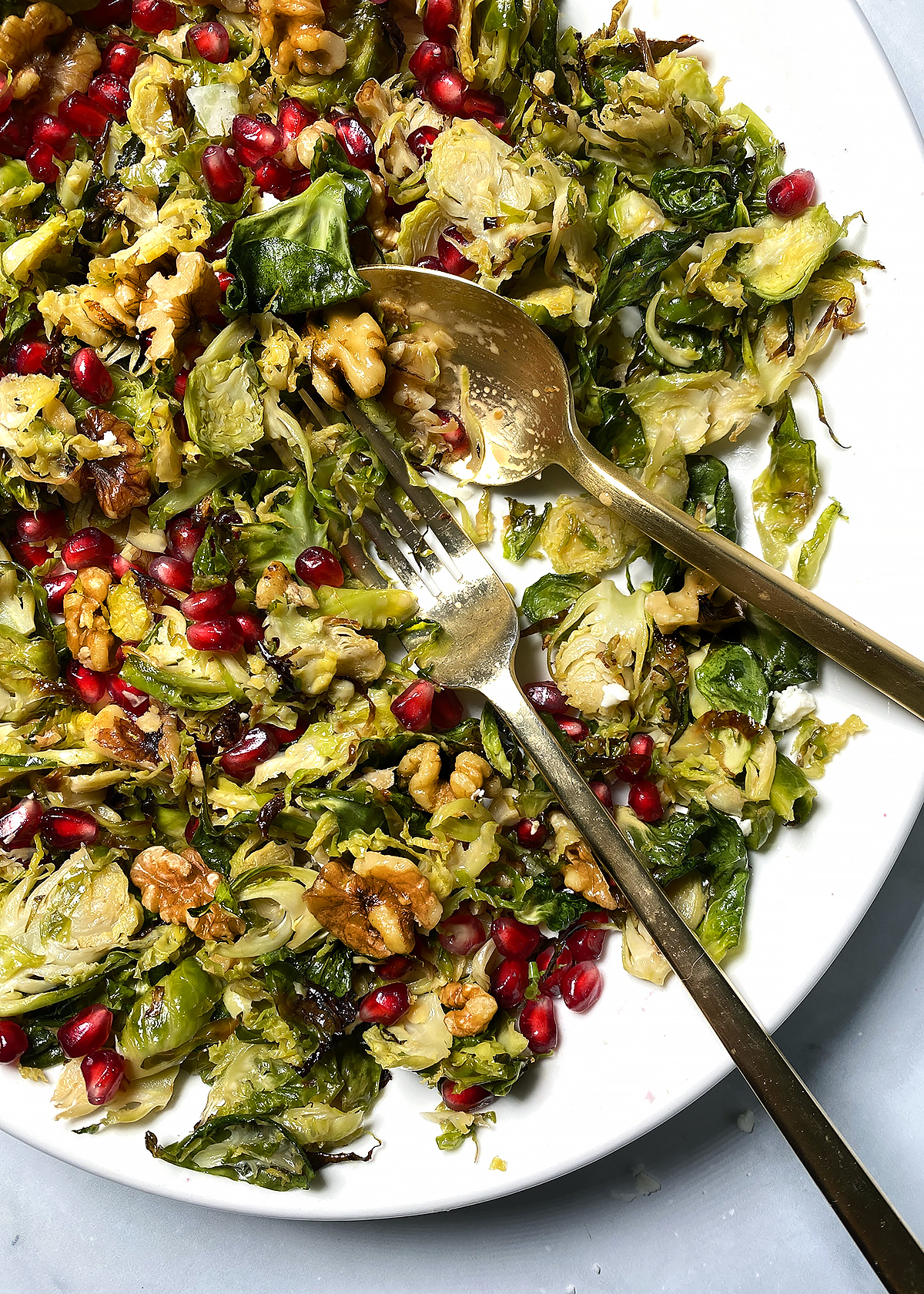 Jump to:
What are Shaved Brussels Sprouts
If you think you have to get out a razor blade and take to your Brussels sprouts like Paulie does to garlic, don't worry, you don't. Shaved Brussels sprouts aren't actually shaved. They're just very thinly sliced with a sharp knife, mandoline, or the slicing blade on a food processor. Though if you want to use a razor blade, I can't stop you.
Why shave Brussels sprouts instead of the usual cutting in half or quarters? Shaving Brussels sprouts exposes a lot more surface area to caramelize, crisp, and sometimes char that is essentially the only reason for Brussels sprouts to exist. Individual leaves and loose shreds that get super burnt are a delicacy in this kitchen.
Shaving Brussels sprouts also makes them much easier to eat and digest if you're eating the sprouts raw in a salad or slaw.
Health Benefits of Brussels Sprouts
"Brussels sprouts are good for you" is common knowledge, but do you know why and how they're good for you? Like their cousins in the Brassica family, broccoli, cauliflower and kale, Brussels sprouts:
are anti-inflammatory from phytonutrients
contain glucosinolates, sulfur-based compounds found in brassicas that have been shown to inhibit the growth and proliferation of cancer cells
fiber-rich which contributes to good gut health and blood sugar regulation
particularly high in vitamins C and K. One serving of Brussels sprouts (1 cup cooked) exceeds 100% of the recommended daily value of each.
Raw vs Roasted Brussels Sprouts
This recipe is for shaved Brussels sprouts that are cooked, either oven-roasted or air-fried.
Though I will always choose cooked Brussels sprouts over raw when given the option, if you are trying to incorporate more raw brassicas like Brussels sprouts into your diet, you can also follow this recipe, skip the roasting step, and serve the dish as a truly fresh salad.
Cooked Brussels sprouts are easier to eat and digest. Fresh/raw Brussels sprouts have a slightly higher nutrition content.
What Ingredients You Need for Shredded Brussels Sprouts
Brussels sprouts
avocado oil
kosher or coarse sea salt
fresh pomegranate arils
walnuts
optional feta cheese for funk
Instructions for How to Make These Shaved Brussels Sprouts
There are only three major steps to making these Shaved Brussels Sprouts:
Shave the Brussels sprouts, using whatever method is most easily accessible to you, whether that's the slicing blade on a food processor, a mandoline, or good old fashioned shark chef's knife on a sturdy cutting board.
Coat the Brussel sprouts with a small amount of oil and roast or air fry until you get those coveted crispy burnt shreds
Toss shaved Brussels sprouts with Maple Mustard Dressing, toasted walnuts, and fresh pomegranate arils
How to Shave Brussels Sprouts
There are three ways to shave Brussels sprouts: 1) sharp chef's knife on a cutting board, 2) mandoline, or 3) food processor with a slicing attachment. Use whichever method is most accessible to you. I have all the tools available, and still always choose to slice Brussels sprouts by hand.
Get detailed instructions to shave Brussels sprouts here.
Ingredients Notes and Resources
Brussels sprouts. Look for individual Brussels sprout heads that are heavy for their size, with tightly closed leaves, and generally unblemished. Small blemishes and a little dryness is ok since the outer leaves can be peeled off and discarded.
Avocado Oil. For cooking, I use this avocado oil that's pretty widely available. A good olive oil is a perfect substitute.
Maple Mustard Dressing. In the fall and winter, make this Maple Mustard Dressing weekly, keep it in the fridge, and use it on everything from salads to roasted vegetables, to drizzled over grain bowls.
Pomegranate. Pomegranate is in season at the same time Brussels sprouts are generally at their peak, in the fall and winter, which is why they are perfect together in this recipe, and also why getting whole fresh fruits and seeding them yourself will have the best flavor. If seeding a pomegranate is the bottleneck that is keeping you from making this recipe, go ahead and buy the pre-seeded pomegranate in the plastic to-go containers!
Walnuts. Whole raw walnuts in bulk are the best value, and you can store them in your freezer for maximum freshness.
Feta. Buy feta as a whole block in brine and crumble it yourself. Feta is made from cow, goat, sheep or a combination of the latter two. Use the kind that best suits your dietary needs. For a plant-based feta, this is a solid brand made with coconut oil.
All other fresh herbs and produce from either the Santa Monica Farmers' Market on Wednesday, or Whole Foods Market when I can't find what I need at the farmers' market.
Substitutions and Variations
There are many recipes for Shaved Brussels sprouts, and they are all pressed from the same template: shaved Brussels sprouts + dressed with something sweet tart + tossed with nuts and salty cheese. Sometimes, there are other things for texture, salt, heat, sweet, flavor, seasonal interest, body, and/or protein. Here are some suggestions:
Instead of Maple Mustard Dressing, you can try my other all-time favorite dressing Apple Cider Vinaigrette, Balsamic Vinaigrette, or any tart dressing with subtle sweetness that can stand up to robust flavors of Brussels sprouts
If fresh pomegranate arils aren't available, try dried cranberries or currants
Any toasted nut like almonds or pistachios can work in place of walnuts
If you are using cheese with this recipe, feta is my favorite, but anything with high funk and flavor will work. Try goat chevre, ricotta salata, shavings of parmesan, or pecorino which is similar to parm but made from sheep's milk instead of cow.
Health and Dietary Considerations
As printed, this recipe for Shaved Brussels Sprouts Salad is:
vegetarian
100% plant-based, suitable for vegans if you don't use the optional feta, or use plant-based feta
gluten-free
dairy-free
refined sugar-free
paleo
keto and Whole30 adaptable if you omit the maple syrup from the dressing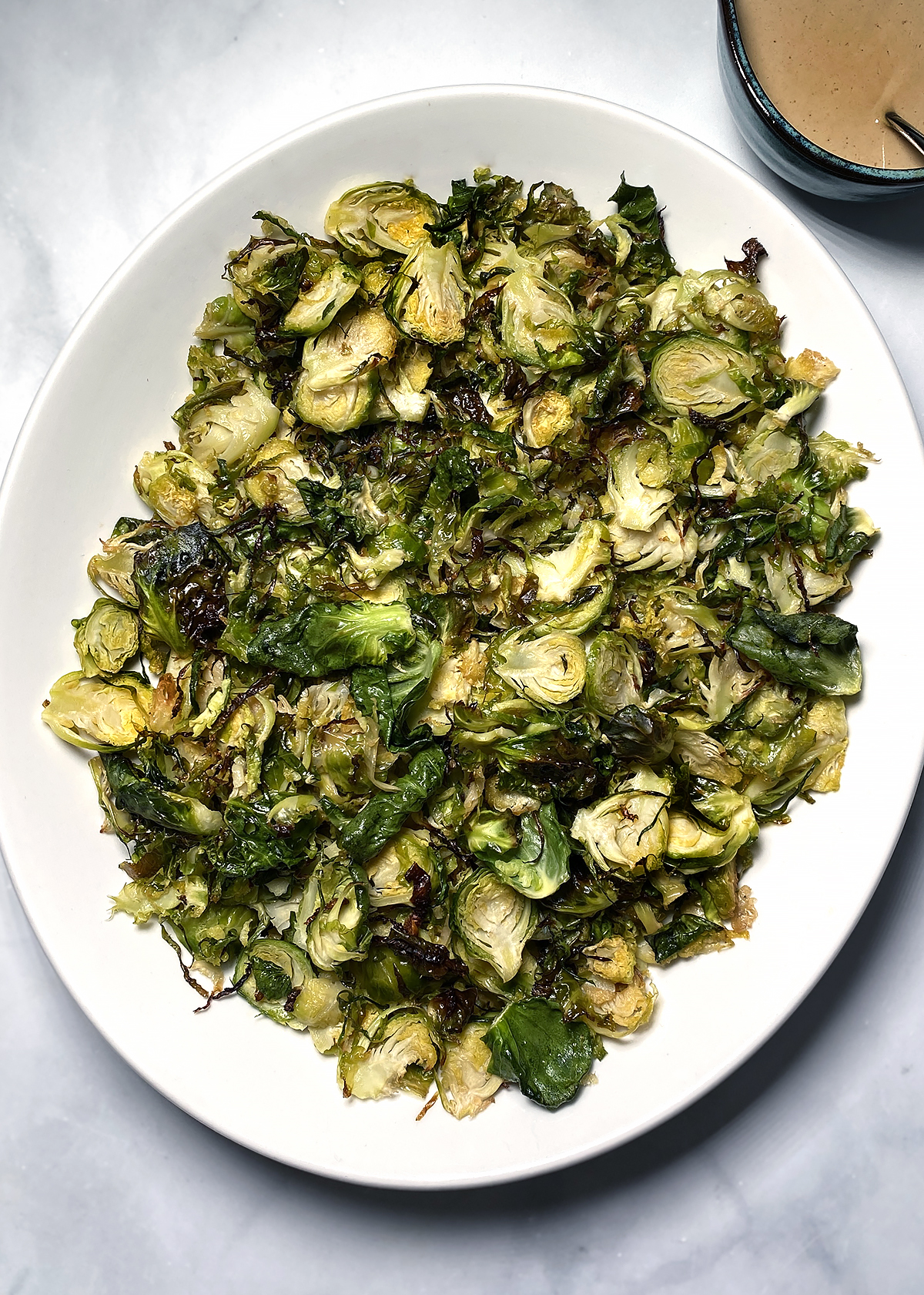 Pro Tips and Techniques for Shaved Brussels Sprouts
Advance Prep. Shaved Brussels sprouts are the perfect dish for advance preparation, whether in a large batch for entertaining or a Holiday dinner or for weekly meal prep. You can shave the Brussels sprouts, make the Maple Mustard Dressing, toast the walnuts, and seed the pomegranate up to five days in advance, then roast and assemble right before serving.
Advance Cooking. If you want to actually cook in advance so all you have to do is re-heat, you can also roast the shaved Brussels sprouts in advance by one day. Store everything separately though, until right before serving.
Tools and Equipment
As I always say, you don't necessarily need any special equipment beyond a sturdy cutting board and a sharp chef's knife to make any recipe. However, that doesn't mean a few handy tools and gadgets might make it easier. And in the case of this particular recipe, either a mandoline or food processor will make lightning-fast work of shaving Brussels sprouts.
Salad Spinner.
Large Cutting Board.
Chef's Knife.
Mandoline.
Food Processor with Slicing Blade.
Vegetable Wash.
Baking Sheet.
Parchment Paper.
Air Fryer.
Leftovers and Storage
Store shaved, cooked Brussels sprouts separate from dressing, walnuts, and pomegranate in an air-tight container in the refrigerator for three days, or in the freezer for a month.
If you've already dressed the shaved Brussels sprouts and tossed with the other ingredients, keep it in an air-tight container in the refrigerator for one day.
Combined together, these ingredients do not freeze well.
What to Serve with Shaved Brussels Sprouts
These Shaved Brussels Sprouts are the perfect side dish for essentially any protein main dish like:
You can also make these Shaved Brussels Sprouts into a main dish salad by tossing in shredded cooked chicken, canned flaked tuna or salmon, or cooked quinoa to keep it plant-based.
Wine Pairing with Brussels Sprouts
Roasting Brussels sprouts caramelizes them and gives them a subtle char. Here are wine pairings that work with those flavors:
Red wine. Go with a light-bodied red like Pinot Noir, which has an earthy quality to match the roasted flavor.
White wine. Vermentino, which is a light-bodied white wine mostly associated with Italy, has floral and citrus notes, and sometimes a bitter almond finish, which will pair with the slight natural bitterness of Brussels sprouts and the walnuts in the salad.
More Brussels Sprouts Recipes to Try
In case you couldn't tell, we love the skin-smoothing, gut health-supporting, anti-inflammatory benefits of Brussels Sprouts. Here are more recipes to make sure you have Brussels sprouts on heavy rotation in your kitchen:
Shaved Brussels Sprouts Salad with Pecorino and Capers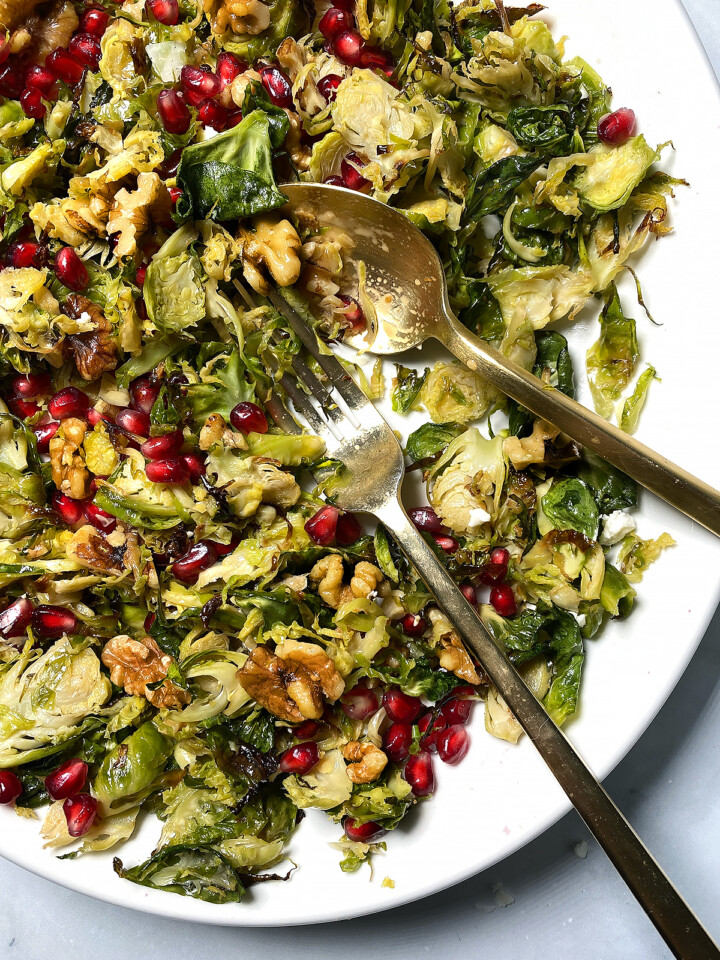 Print Recipe
Crispy Shaved Brussels Sprouts with Pomegranate and Walnuts
Nothing makes Brussels sprouts more craveable than shredding them then roasting them (or air-frying if you have an air fryer!) until golden brown with delicious crispy bits. Add tart pomegranate and crunchy toasted walnuts and it'll become an addiction.
Ingredients
1

pound

Brussels sprouts

2

tablespoons

avocado oil

½

teaspoon

kosher or coarse sea salt

¼-½

cup

Maple Mustard Dressing

½

cup

toasted walnuts

¼

cup

pomegranate arils (seeds)

optional: ½ cup crumbled feta
Instructions
Pre-heat oven to 425°F. Line a baking sheet with parchment paper.

Shave the Brussels sprouts by using the slicer attachment on a food processor, on a mandoline, or a sharp knife.

Spread Brussels sprouts on baking sheet, drizzle with oil, and toss to coat. Sprinkle with salt and toss Brussels sprouts again to distribute the salt.

Roast for 10 minutes until Brussels sprouts are tender, caramelized, and edges start to char, stirring the Brussels sprouts halfway through roasting time.

Place hot Brussels sprouts in serving bowl, toss with Maple Mustard Dressing. Sprinkle with toasted walnuts, pomegranate arils, and crumbled feta if using.