Garlicky, super flavorful, and subtly spicy, this Whole Roasted Cauliflower is an impressive way to cook and serve your favorite vegetable, and bonus, it's so much faster, easier, and cleaner than pulling individual florets. You'll never go back to any other way of cooking cauliflower! Shall we?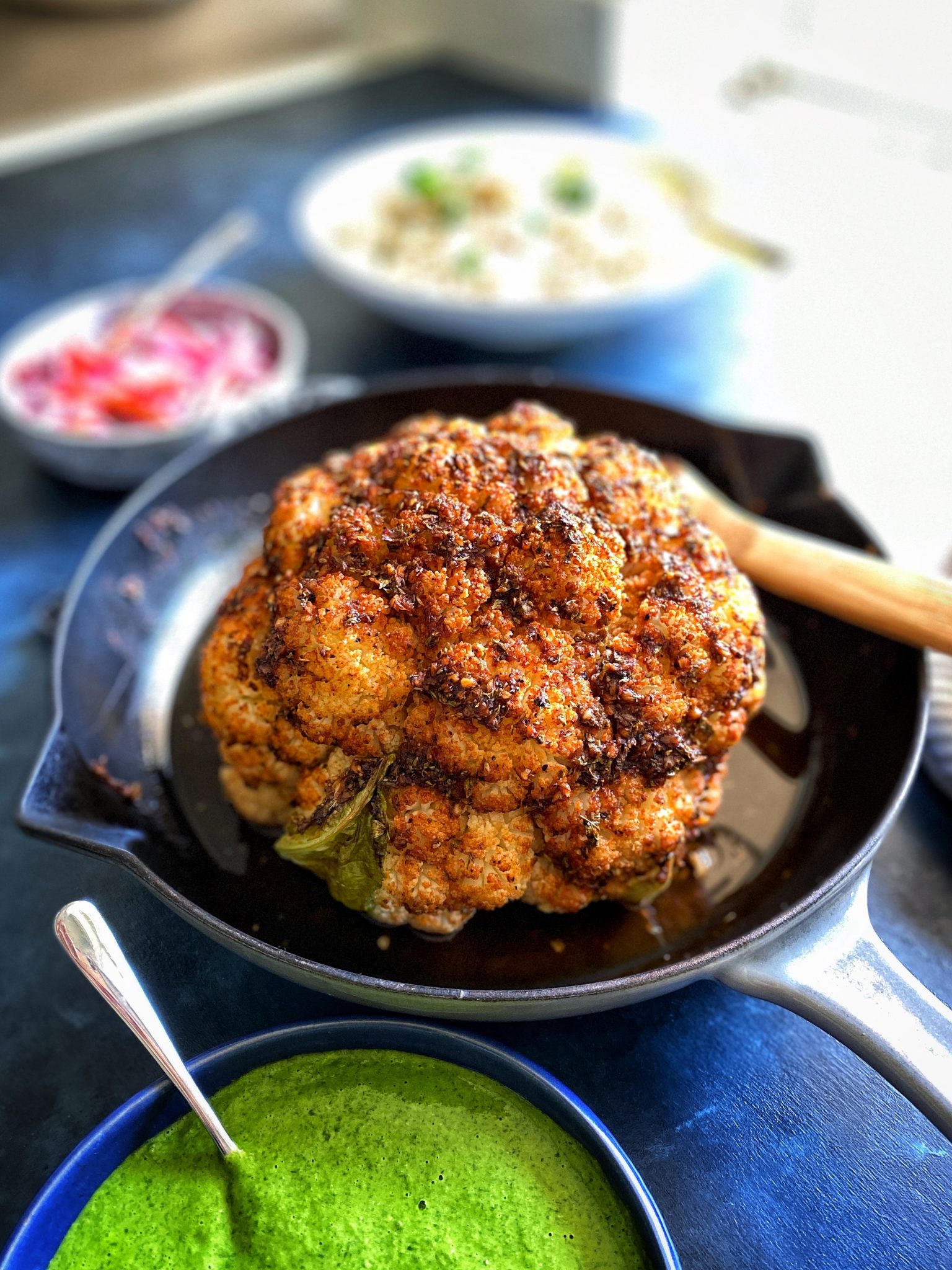 Jump to:
After roasting at least a dozen whole heads of cauliflower, I've finally landed on this method for the perfect, tender-but-not-soggy roast, plus a garlicky, spicy marinade that gives it all the addictive flavor notes. It's so good you might want to eat the whole thing yourself.
Ok, but don't do that. That's a lot of cauliflower all at once for one person.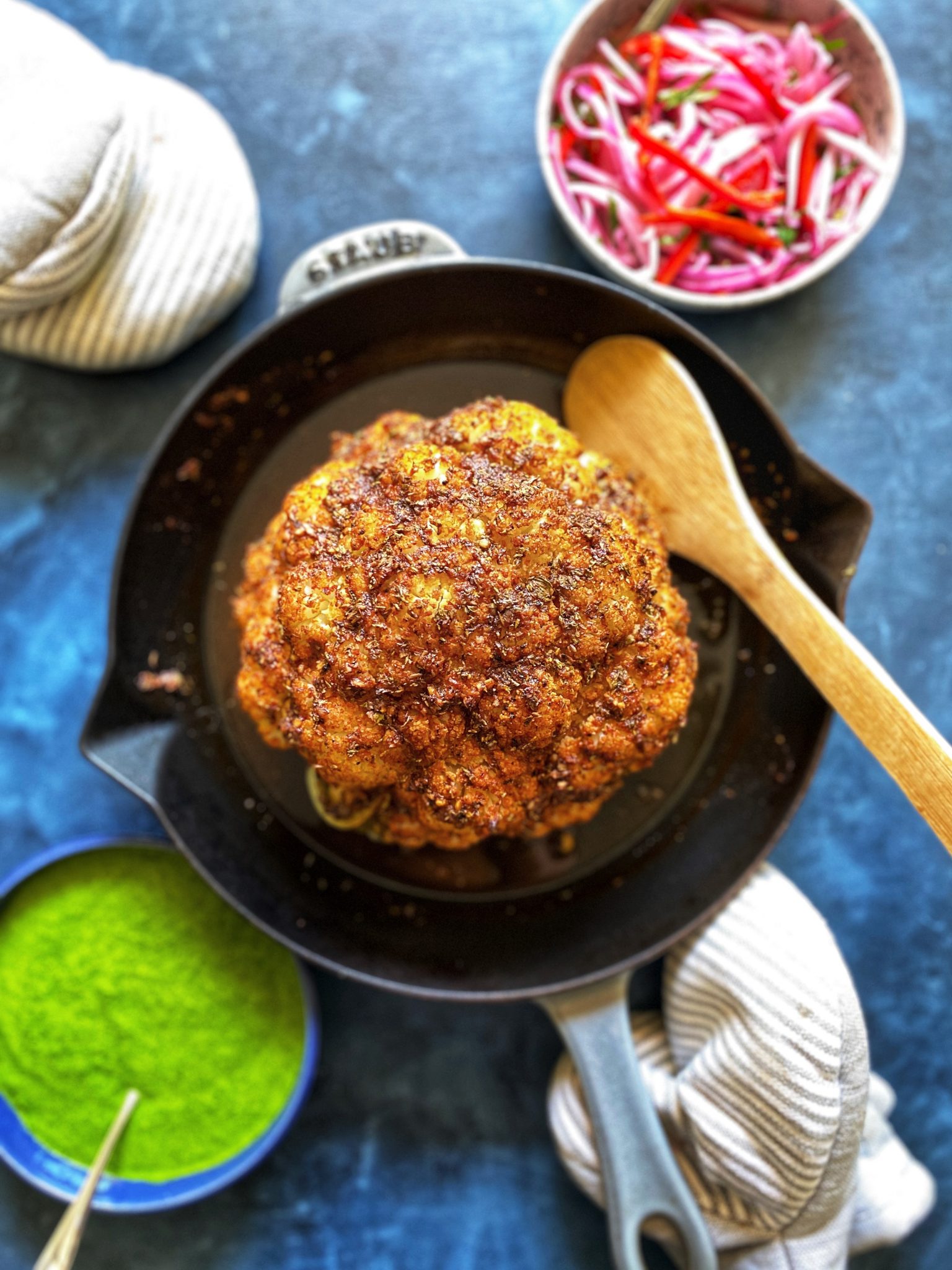 Why Roast Cauliflower as a Whole Head
So why even roast the whole head of cauliflower instead of the old way of pulling apart the florets and roasting on a baking sheet? A few reasons:
faster, easier, and more convenient
tastes just as good, if not better
visually impressive
gives main dish vibes
Part of the reason to roast cauliflower as a whole head is convenience. It's just faster, easier, and not to mention cleaner, to plop a whole head of cauliflower into the oven rather than taking the extra time to pull apart the florets, leaving annoying little cauliflower crumbs—you know what I'm talking about—all over the place to clean up.
But convenience isn't worth it if you have to sacrifice taste, right? Don't worry, roasting the cauliflower head whole renders a perfectly tender inside, with a flavorful, spicy outside from the marinating sauce.
Finally, pulling a whole, steaming, caramelized roast from the oven feels a little more special, the way a whole roast turkey coming out of the oven gets wide eyed "oohs" and "wooows." And, if you're serving cauliflower as a vegetarian or plant-based main dish, a Whole Roasted Cauliflower that you "carve" feels more like a main dish than florets tossed with a sauce like a salad or side dish.
I'm not trying to replace chicken with this Whole Roasted Cauliflower Head here. I'm just really truly appreciating the wonder that is a Whole Roasted Cauliflower Head. And in the case of this "a la Brasa" style, the cauliflower is blanketed with a garlicky, limey, spicy sauce that gets dark and caramelized and totally addictive after roasting.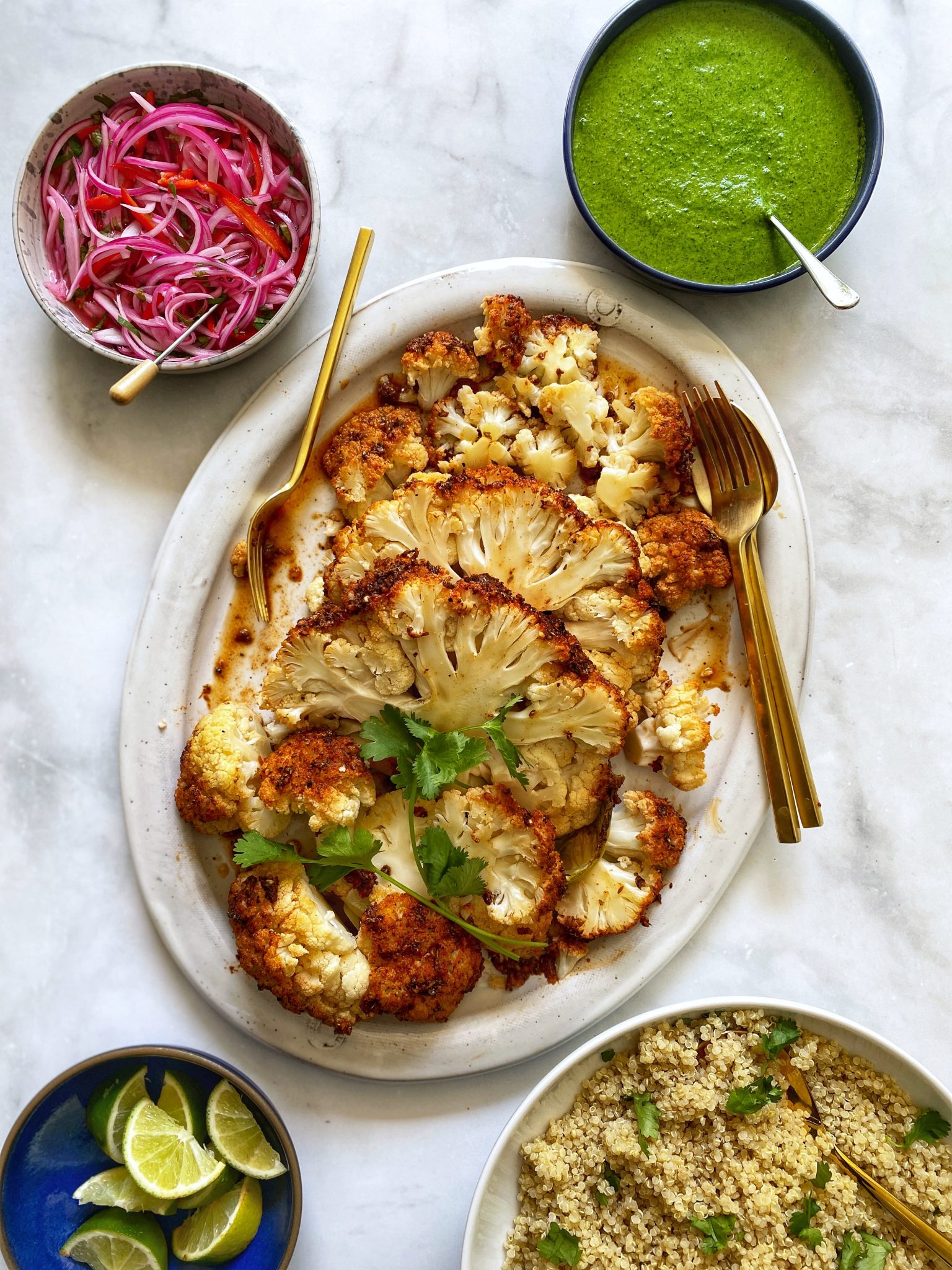 What is "a la Brasa" Style?
Whole Roasted Cauliflower Head, spicy "a la brasa" style takes the essential ingredients of Peruvian pollo a la brasa marinade, and simplifies them into a thicker, denser spice rub that gets brushed all over the cauliflower. The cauliflower doesn't need to marinate, but it roasts long enough for the outside to develop that deep burnished glow and is tender enough to "carve" like a chicken with nothing but a dinner fork and butter knife.
"Brasa" literally translates from Spanish to English as "ember" or "hot coal." Technically, any food that's "a la brasa" is cooked over hot coals. However, Peruvian pollo a la brasa, which is spit-roasted over a wood fire, also has a distinctive garlic-soy-lime marinade that gives the chicken a characteristic dark, burnished skin with a ton of salty umami.
When home cooks make pollo a la brasa in their kitchens, they are rarely using a spit roaster over a wood fire. Instead, they are marinating the chicken in that marinade, then grilling on regular grill grates, or most often, roasting it in the oven.
The marinade is what makes "a la brasa" so good, and on cauliflower, it is OUTSTANDING. Like literally, it really stands out because cauliflower is such a great neutral flavor palette.
Obviously we're not spit roasting the cauliflower so it is truly "a la brasa?" I don't know—chopped cauliflower is not really rice either and noone's getting mad at that.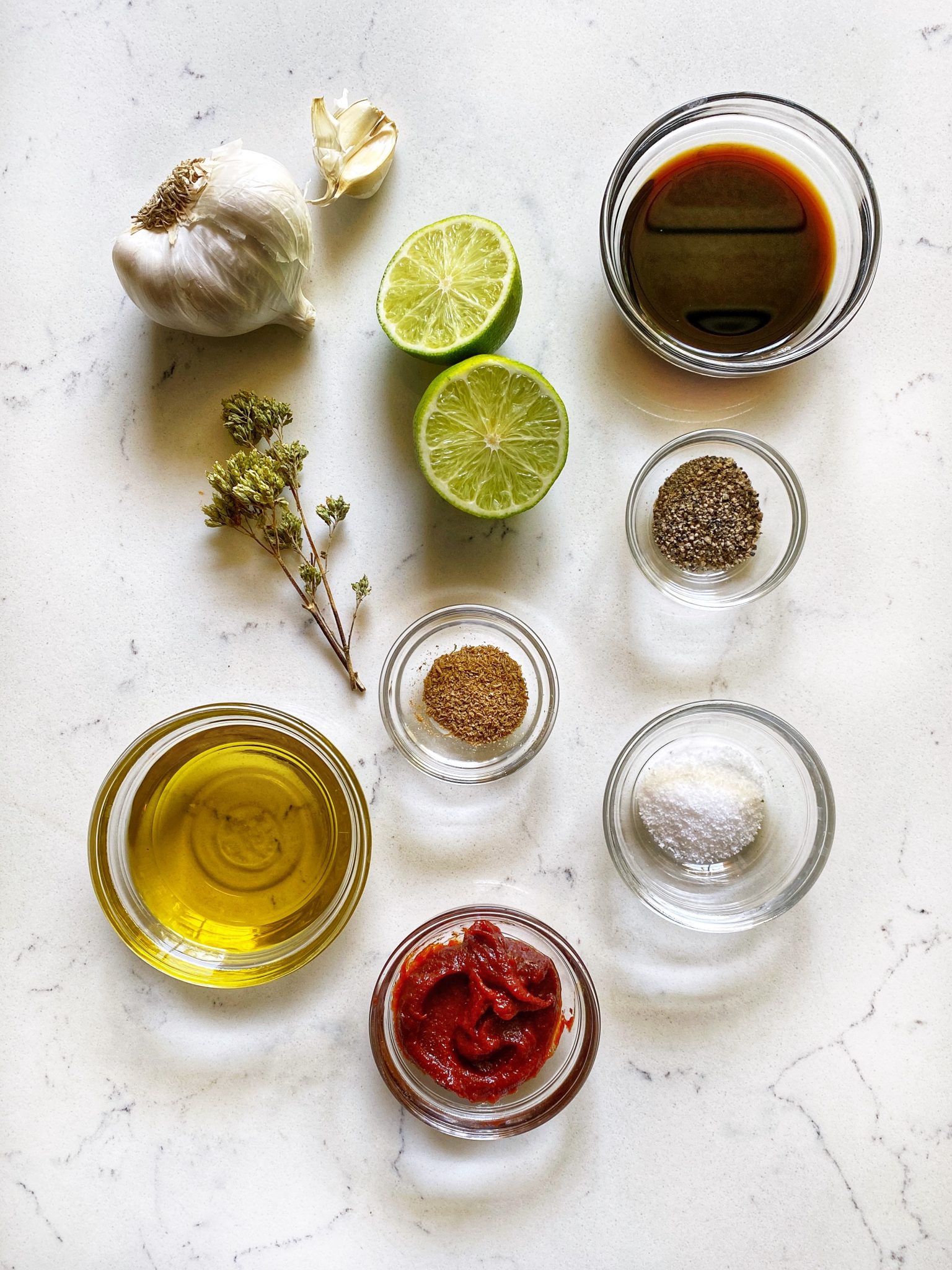 What You Need for Whole Roasted Cauliflower Head
a la Brasa Style
You obviously need a whole cauliflower head for this recipe, and if you're in a season or region where the cauliflower heads are small, get two!
The rest of the recipe is the spicy A La Brasa marinade, for which you will need:
Garlic
Aji Amarillo paste, or other hot sauce like sriracha or gochujang that is thick and more paste-like
Soy Sauce
Lime or Lemon Juice
Dried Oregano
Ground Cumin
Olive or a neutral oil to help the marinade stick to the cauliflower
*VIDEO* Watch How to Make Whole Roasted Cauliflower
How to Make Whole Roasted Cauliflower Head
Like skinning a cat, there's more than one way to roast a whole cauliflower head. I've tried them all. Trust me, the method that's the easiest is roasting the whole head in a cast iron skillet covered tightly with foil first to soften it.
Then, the foil comes off the cauliflower, the spices go on, and the entire thing roasts uncovered a few minutes longer to get the deep browning on the outside.
This roasting method works with or without a marinade like when you're making a simple whole roasted cauliflower head with just olive oil and salt.
This method takes a little longer than boiling the cauliflower in a pot on the stovetop first for only 15 minutes, then roasting, but to be honest, I'd rather not have to wash more pots. The time and effort trade-off there is probably worth it.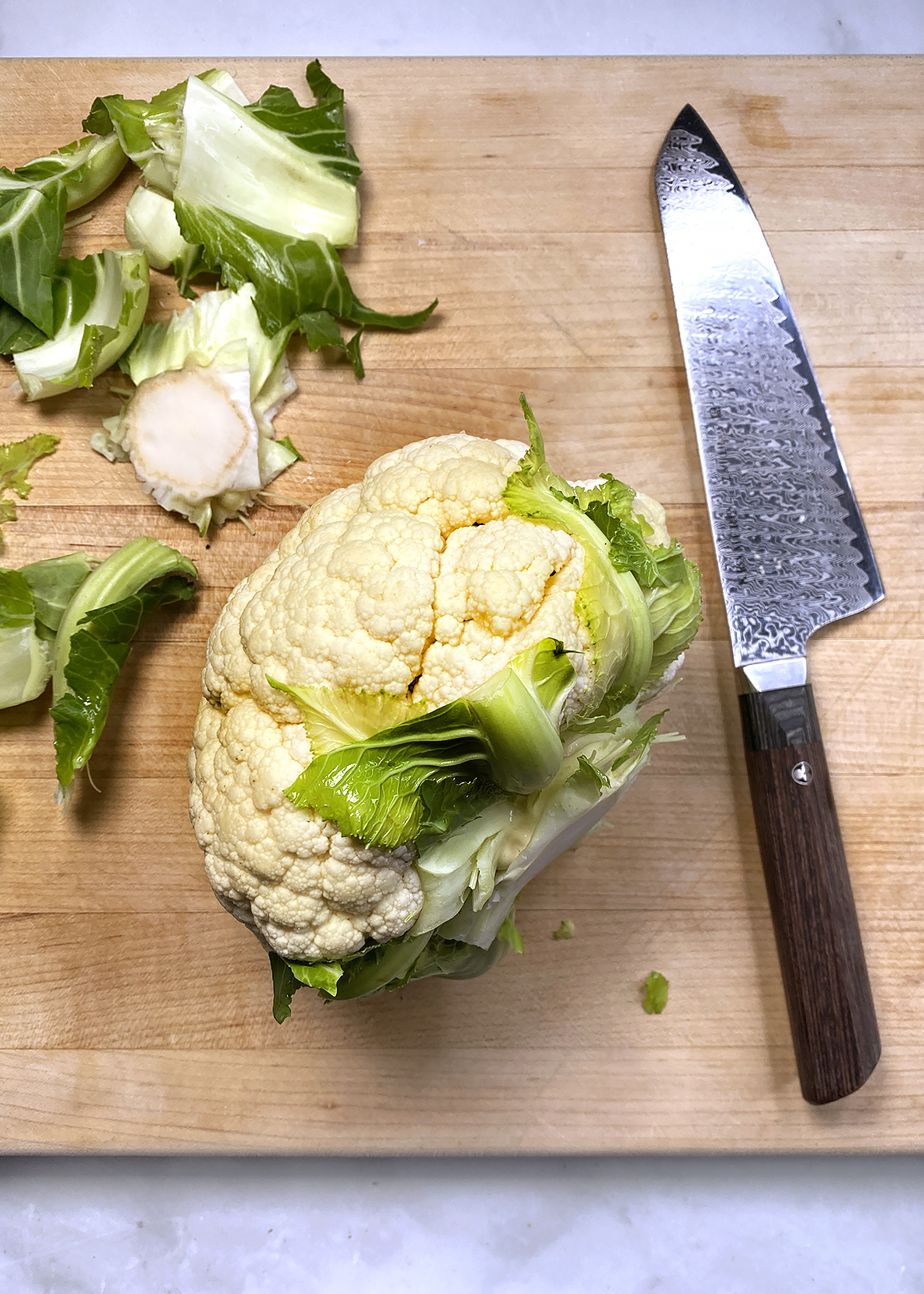 Ingredients Resources and Substitutions
Cauliflower. Get the largest, heaviest head of cauliflower you can. Cauliflower used to be a winter season vegetable, but it's available year round now. If the heads are small, make two small ones!
Garlic. Max out the fresh garlic for the marinade. If you don't like dealing with fresh garlic, substitute 2 teaspoons garlic powder. I normally wouldn't support substituting garlic powder for fresh, but because most of the other flavors are dried spices, garlic powder is fine.
Aji Amarillo Paste. Aji amarillo is a yellow-orange spicy chili pepper that's native to Peru. We don't have easy access to it here in the US, but it's not impossible to buy the paste format in jars online. If you can't find aji amarillo, use any other hot sauce like sriracha or gohchujang.
Soy Sauce. I use tamari, a Japanese soy sauce made without wheat, so it's gluten-free. Regular soy sauce is fine. This is the brand of organic tamari I use.
Lime or Lemon Juice. Use whatever you have. Citrus is there for acid than flavor, which means you could also substitute an equivalent amount of vinegar if you don't have citrus on hand. Not everyone can just walk out to the backyard and pluck a lemon off a tree like Ina Garten.
Dried Oregano. There are several types of dried oregano. The one you would probably want to use for this is Mexican oregano. However, I have a ton of Sicilian oregano because I love its crazy earthy intensity, so that's what I use.
Ground Cumin. Cumin gives the rub/marinade its characteristic smoky flavor without having to spit-roast the cauliflower over an actual wood fire.
Olive or a neutral oil to help the marinade stick to the cauliflower. For roasting or grilling, this oil is one of the best.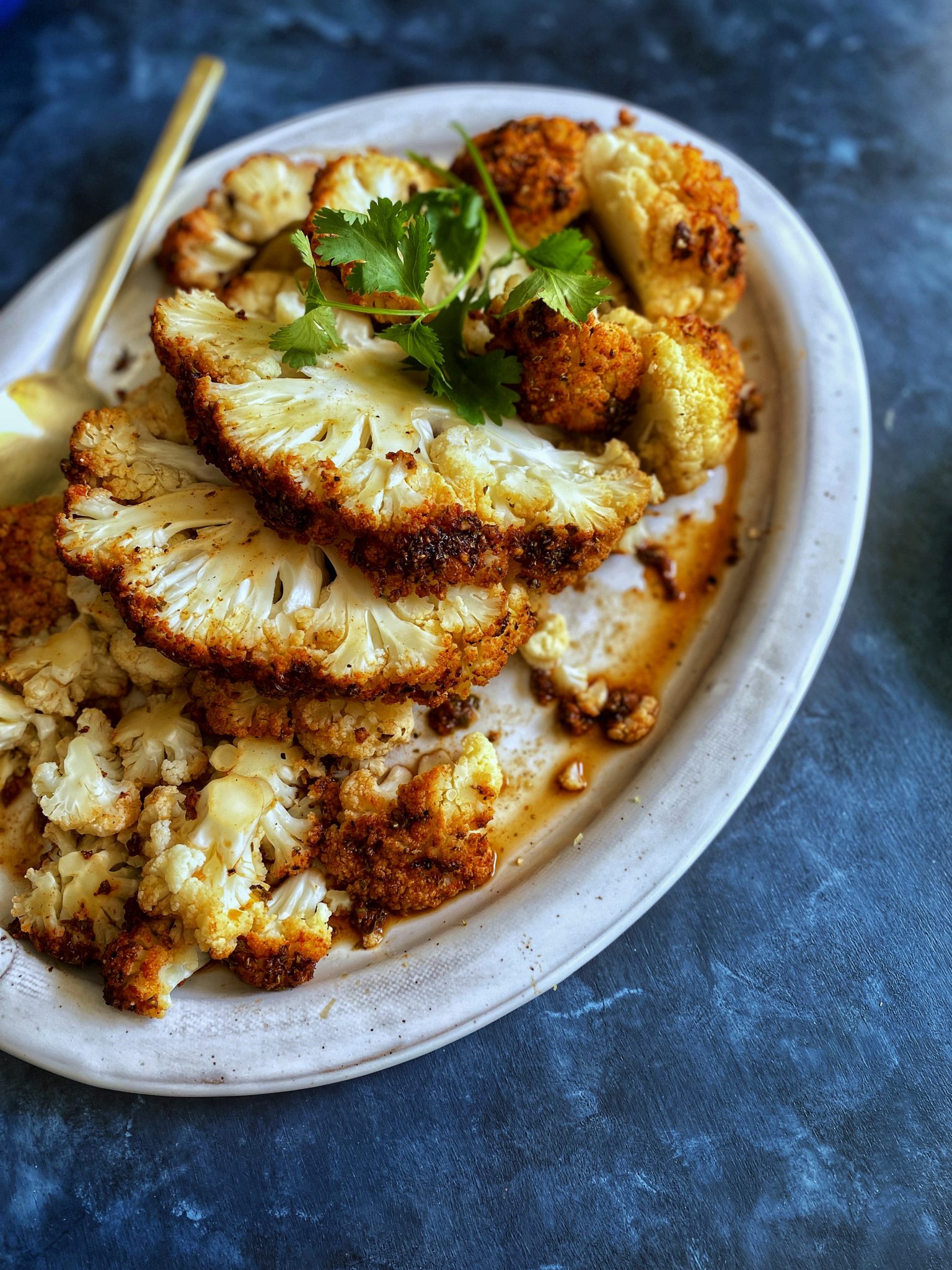 Tools and Equipment to Make Whole Roasted Cauliflower Head
As I always say, you don't need any special equipment to make almost any recipe and that's the case for Whole Roasted Cauliflower. A sharp knife and a sturdy cutting board are the basics you always need to get you started, and the rest are also things you already have:
sturdy cutting board
sharp knife to remove the outer leaves and cut the stem flush with the bottom of the cauliflower head
cast iron skillet or other heavy-bottom shallow pot or baking dish
aluminum foil
Salad spinner. You actually don't need this for a whole cauliflower head because you can just rinse the whole head under running water then dry it off with a kitchen towel. But if you want to give it a spin, this is the one I have had for YEARS and love and refuse to part with.
Vegetable wash.
Advance Prep, Leftovers, and Storage
Advance Preparation
Because the recipe is so quick and easy, there actually isn't much to prep in advance except mixing the marinade ahead of time, as far as 5 days in advance.
Leftovers Storage
Refrigerating Leftovers. Leftover Whole Roasted Cauliflower will keep in the refrigerator for up to five days. The marinade by itself will also keep in the refrigerator for 5 days.
Freeze Leftovers. You can freeze advance cooked or leftover whole roasted cauliflower for up to 6 months. Cut the whole roasted cauliflower into individual "steak" servings or wedges and place in an air-tight container with as much air removed.
FAQs
Do I have to wash caulliflower?
Yes, you do have to wash cauliflower before cooking and eating. Dirt and other undesirables can get caught between the nooks and crannies of the florets.
How do you wash a whole head of cauliflower?
Remove the outer leaves from the whole head of cauliflower at the stem, and cut off brown parts of the stem/core so the cauliflower head will sit flat. If the cauliflower head looks relatively clean—turn the head over and peek inside too!— then a vigorous rinse all over under a very strong stream of water from the sink faucet should be enough to loosen any dirt and wash it away.

If there is more dirt and/or other undesirables, submerge the whole head of cauliflower under water with a fruit and vegetable wash (like this one), and shake the cauliflower around in the water to loosen all the dirt and let the dirt settle to the bottom. You may have to do this a few times if the cauliflower has a lot of dirt.
Can you eat the green leaves of cauliflower?
Yes! Cauliflower "leaves" are totally, perfectly good to eat. If the leaves are intact on the head, you can leave them on the head to roast. They will roast quickly because they're thin and become dark, toasty, and super crisp, similar to wayward Brussels sprouts leaves. In this kitchen, crispy burnt brassicas are a prize!
Why is my cauliflower too soft?
Soft, mushy cauliflower is the result of overcooking. Cauliflower, to begin with, will never get as fully crisp or crunchy as other vegetables because cauliflower naturally contains a lot of water. To keep a whole head from overcooking, err on the side of undercooking by reducing the roasting time to 25-30 minutes and checking the doneness with a fork from there.
What to Serve with Whole Roasted Cauliflower
a la Brasa Style for a Peruvian Dinner Feast
Make More Cauliflower Recipes for that Good Gut Health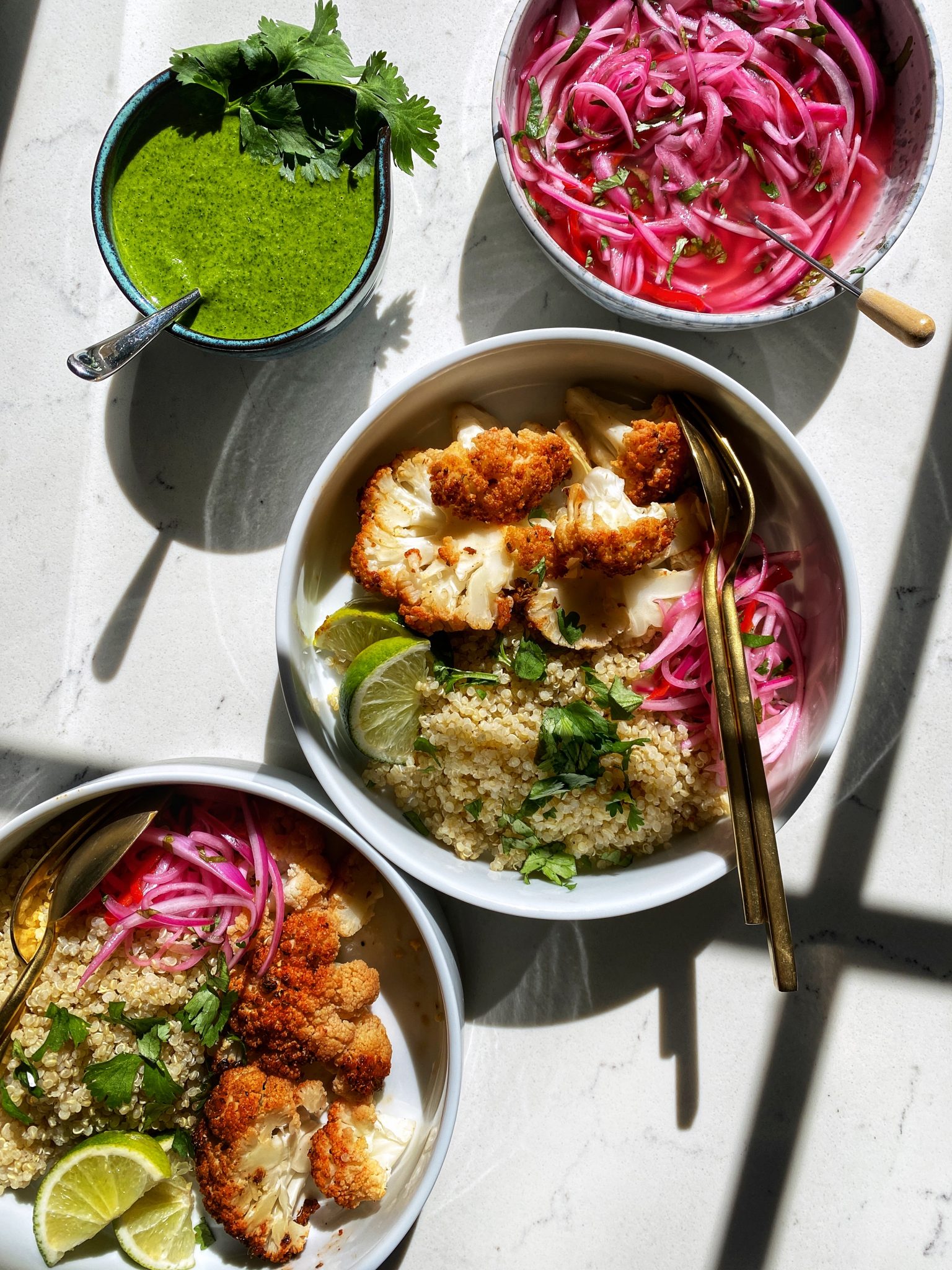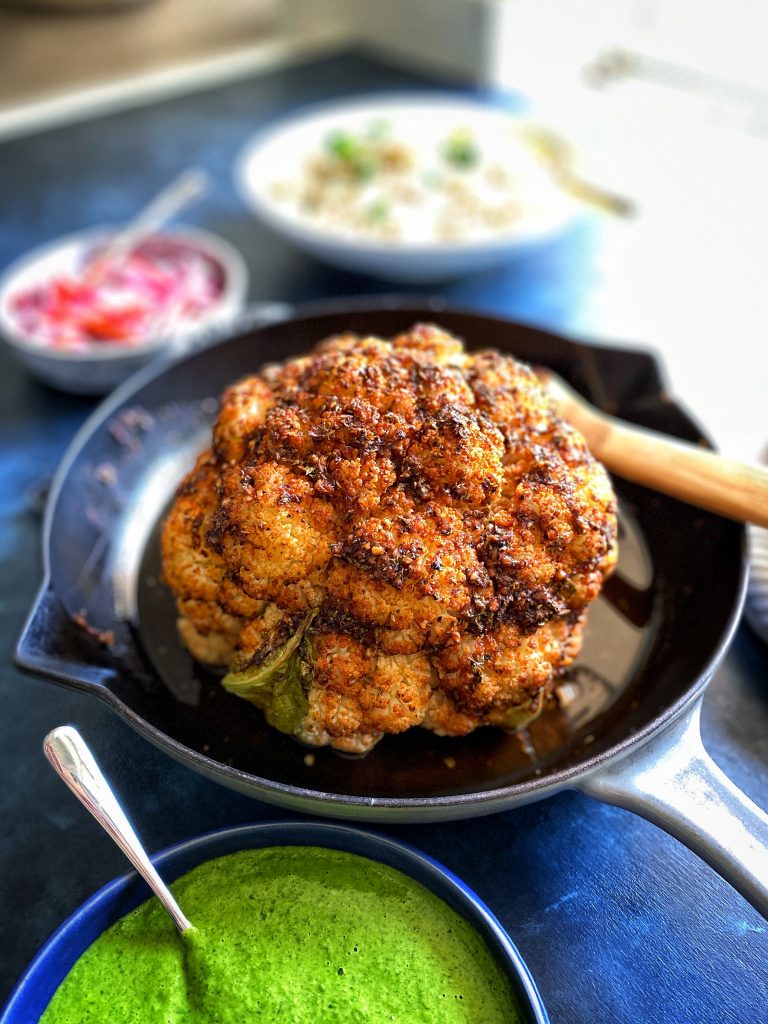 Print Recipe
Whole Roasted Cauliflower Head Recipe, Spicy "a la Brasa" Style
serves 2-4
Ingredients
1

large, heavy head of cauliflower, about 3 pounds
for Spice Rub
4-6

cloves

garlic

finely grated or minced

3

tablespoons

soy sauce

1

tablespoon

aji amarillo paste

or other hot sauce like sriracha or gohchujang

1

tablespoon

lime juice

1

tablespoon

dried oregano

1

teaspoon

ground cumin

1

teaspoon

salt

½

teaspoon

freshly ground black pepper

olive oil

as needed for texture
Instructions
Heat the oven to 400 degrees.

Place whole cauliflower head in a cast iron skillet or shallow Dutch oven, add about ¼ water to bottom of pan, cover entire skillet with aluminum foil or cover Dutch oven with lid, and roast until cauliflower is softened, but not quite fork tender. Mine took about 40 minutes.

While the cauliflower is roasting, make the Spice Rub. Whisk together minced garlic, soy sauce, aji amarillo or other hot sauce, lime juice, dried oregano, ground cumin, salt and pepper. The rub should be about the consistency of ketchup so it sticks to the cauliflower. If it's too thick, add olive oil ½ teaspoon at a time.

Remove the cauliflower from the oven and remove the aluminum foil or lid. Using a small brush, cover the whole cauliflower head with the spice rub, making sure to get in between florets and underneath. Do not use your hands; the cauliflower is very hot.

Return the rubbed cauliflower head back to the oven. Roast until the cauliflower is fork tender and the spice rub has darkened and caramlized, about an additional 15-20 minutes.

Slice the whole roasted cauliflower head and serve with aji verde sauce, salsa criolla, and lime wedges on the side.
Nutrition
Serving:
1
serving
|
Calories:
124
kcal
|
Carbohydrates:
18.7
g
|
Protein:
6
g
|
Fat:
4.6
g
|
Fiber:
6.4
g
|
Sugar:
7.7
g