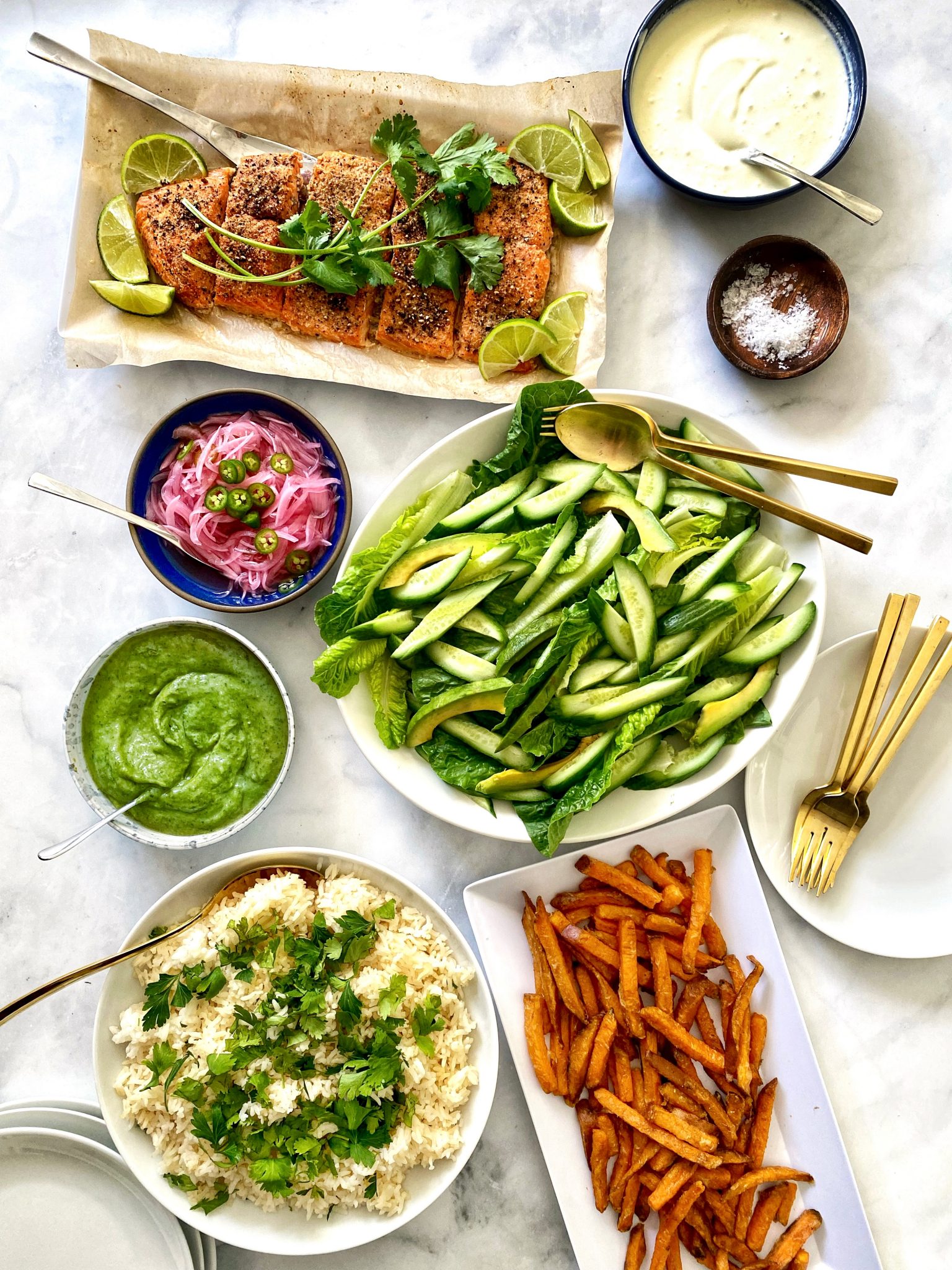 One time, someone introduced me to pollo a la brasa, that deeply flavorful Peruvian chicken that's spit-roasted over a wood fire. While I thought the chicken was pretty good, it was the accompanying green sauce, AJI VERDE, that got me OBSESSED in a way that I haven't been obsessed with a single food in years.
It got to the point I was going to the restaurant for pollo a la brasa near me, literally named "Pollo a la Brasa," almost weekly just for the sauce. My order gradually shifted in balance until I was barely ordering the chicken — like literally, can I just order one chicken thigh?—and paying cash on the side for an extra 16 ounces of Aji Verde because it isn't even an option on the menu.
What is Aji Verde
Essentially, aji verde is a very bright green Peruvian sauce made primarily of cilantro and other green herbs, hot chile peppers, lots of garlic, and a few other ingredients that add umami. "Aji Verde" translates literally from Spanish to English as "green chile" so it is, as you would guess, very spicy.
Aji Verde is often served with that Peruvian rotisserie chicken pollo a la brasa, but appears on the table as a general condiment with many Peruvian meals. I am not kidding when I say I put Aji Verde in, on, and around everything from rice to eggs to fries.
In Peru, people make aji verde with herbs and chile peppers that are native to their region. The herb is called huacatay and the chile peppers are aji amarillo and aji panca. Sometimes called Peruvian black mint or wild marigold, the herb is native to the mountains of Peru, but also grows in other regions of South America. Huacatay is an intensely aromatic herb, in the fragrance profile of basil, cilantro and mint. With its long leaves, it looks similar to Vietnamese rau ram, though not at all similar in flavor.
We don't have easy access to fresh huacatay, aji amarillo, and aji panca here in the US, but we do have cilantro and mint as herbs and jalapeño and serrano peppers, so that's what most people here use to make Aji Verde.
A few years ago, a local farmer here in southern California had fresh huacatay, and continues to offer it for a short time in the summer. More information about where and how to source ingredients in the sections below.
What You Need for Aji Verde
Aji Verde is a template of 8-10 ingredients that you can tweak to fit your personal taste preferences. The following is a list of general types ingredients, and the specifics are what the recipe yours in the end. The recipe below is my favorite version after multiple iterations over many years, sometimes several variations in the same meal as a test.
These are the ingredients you will need for Aji Verde:
cilantro
huacatay, Peruvian black mint, or regular mint
garlic
green onion
jalapeño or serrano pepper
aji amarillo if you have access to Peruvian ingredients
citrus juice and zest, either lemon or lime
oil or fat like olive oil, mayo, or even avocado
strong, salty cheese, like cotija, queso fresco, feta, parmesan, or nutritional yeast, which is what I use to make this sauce 100% plant-based (vegan)
If you've had Aji Verde in a Peruvian restaurant, specifically with the herb-and-spice-marinated rotisserie chicken called pollo ala brasa, you've probably had Aji Verde made with mayonnaise and some kind of cheese. You can use both of these ingredients, and you will be keeping your aji verde fairly traditional.
However, my version of aji verde doesn't use regular mayo or cheese. Most mayonnaise is made with eggs. Normally, I LOVE eggs. However, eggs in mayo are raw and I am scared to death of raw eggs. (Story for another day.) I found a plant-based mayo I like. Because I'm cutting back on dairy, I also started using nutritional yeast as a substitute for the salty umami flavor of parmesan and can barely tell the difference because the other flavors in the sauce are so prominent. With plant-based mayo and nutritional yeast, my Aji Verde is accidentally vegan!
How to Make Aji Verde
Technically you can "make" aji verde in about five minutes, or as long as it takes to blend the ingredients together into a smooth sauce. The most time consuming step of the whole process is plucking the leaves and tender stems of cilantro.
Throw all of the ingredients into either a blender or food processor and let 'er rip. For the smoothest sauce, use a high power blender.
The order in which you put the ingredients doesn't matter.
Ingredients Notes and Substitutions for Aji Verde
Because this recipe is more of a template, it is perfect for substitutions. Here are some additional tips and suggested substitutions
Cilantro. If you really love the taste of cilantro, you can simply chop the leaves and tender stems from the bunch of cilantro instead of painstakingly plucking the leaves by hand. The strongest cilantro flavor comes from the stems, so I pull them all off because I am hyper-sensitive to it. I buy organic cilantro from any grocery store or farmers' market in the summer.
Huacatay. You can find huacatay in a dried form like other dried herbs or as a paste in a jar online here. If you live in Los Angeles, you can find dried, jarred, and sometimes fresh huacatay at El Camaguey Market in Culver City along with a lot of other Peruvian ingredients. Coleman Farms offers fresh huacatay in the summer at the farmers markets around Los Angeles.
Garlic. The first time I made Aji Verde, I generally followed a recipe I found online and used ONE clove or garlic and that was the probably the stupidest cooking mistake I've ever made in my life. Max out the amount of garlic.
Green Onions. Use the entire stalk. No point in wasting the white or green parts.
Jalapeño. I use jalapeño peppers because they're slightly lower on the heat scale than serrano peppers. In either case, adjust the heat level with the amount you use, and whether or not you include the seeds. Seeds make it spicier.
Aji Amarillo. Aji Amarillo is a long, bright yellow-orange pepper native to Peru. I have not found it fresh here in the US, but it is available frozen whole, or in jars as a paste. This is the organic version of aji amarillo paste I buy online, pictured above.
Lime Zest and Juice. Zest the lime on a microplane first, then roll the whole fruit on the counter top to loosen the juice, then squeeze out the juice for maximum extraction. You can also use a small lemon, which actually gives the sauce the acid it needs without as much citrus essence.
Olive Oil, Mayo, or Avocado. This is the plant-based mayonnaise I like, made with avocado oil. It has a slightly strong vinegar fragrance than others, but has the best texture.
Nutritional Yeast. This is the brand I bought at Whole Foods. This is the most popular brand, available in a shaker container. Both are available online, too! (The links I provided are for 2-packs, so don't balk at the price lol).
Additional FAQ
Tools and Equipment

As I have said so many times before, you can absolutely make this Aji Verde with nothing but a sharp knife on a sturdy cutting and a lot of time. However, to make Aji Verde a truly smooth sauce, you will want to spin it in either a food processor, or even better, a high power blender. These are the tools I have in my kitchen that I use for making Aji Verde:
High Power Blender. This is the one I have. The smoothie cup attachment (instead of the full size pitcher) is just the right size for Aji Verde.
Food Processor. This is the small, compact food processor I have had for 800 years. It still works well. The small size is just the perfect size for sauces like Aji Verde.
Salad Spinner I can't live without this to really dry off the herbs.
Cutting Board. My favorite every day cutting board.
Garlic Press. You only need the press if you're doing this by hand. Otherwise, you'll just toss whole smashed cloves into the blender or food processor. As a side note, the most ridiculously expensive garlic press I've ever seen better come with a happy ending.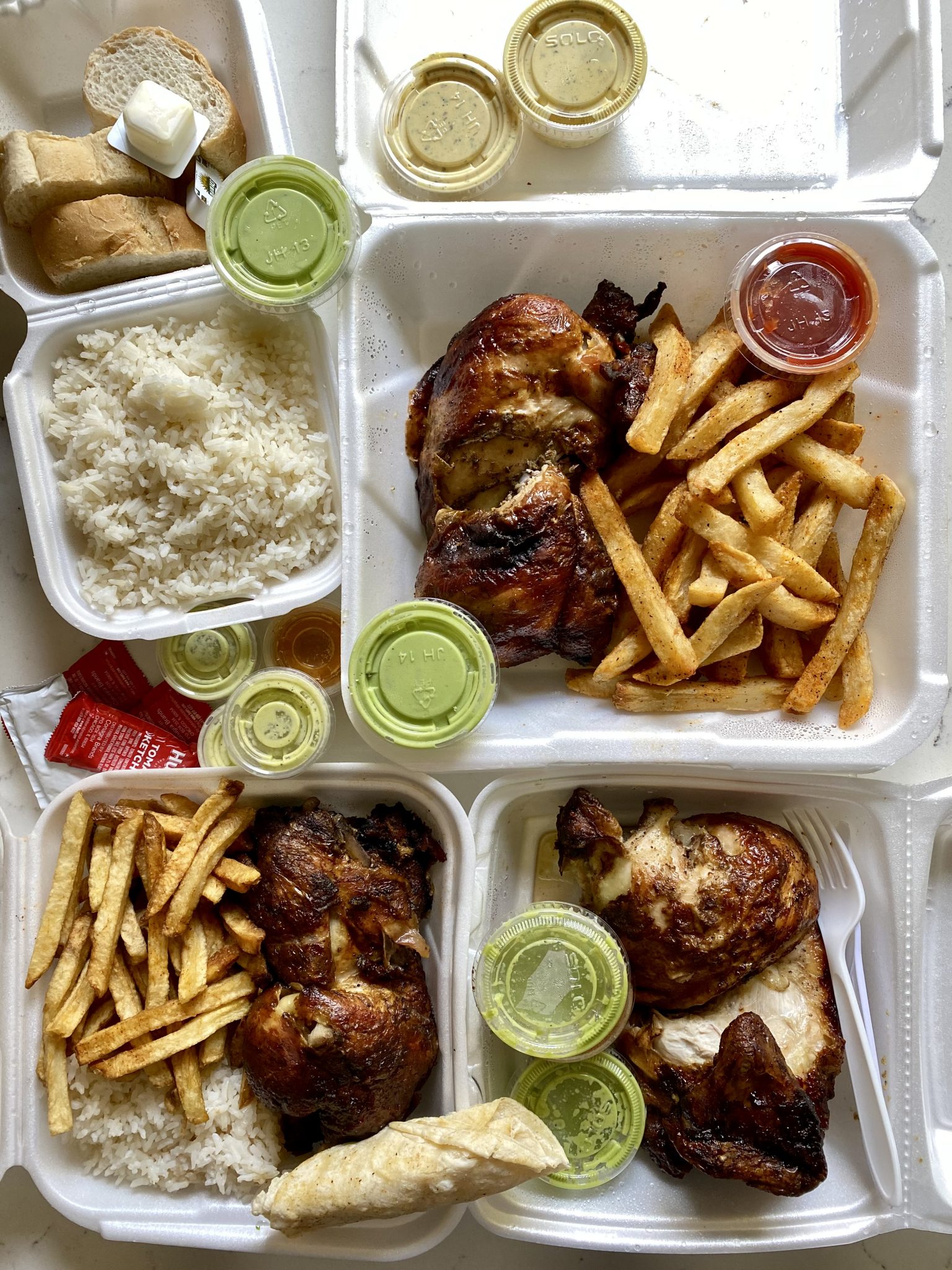 How to Put Together a Peruvian Dinner with Aji Verde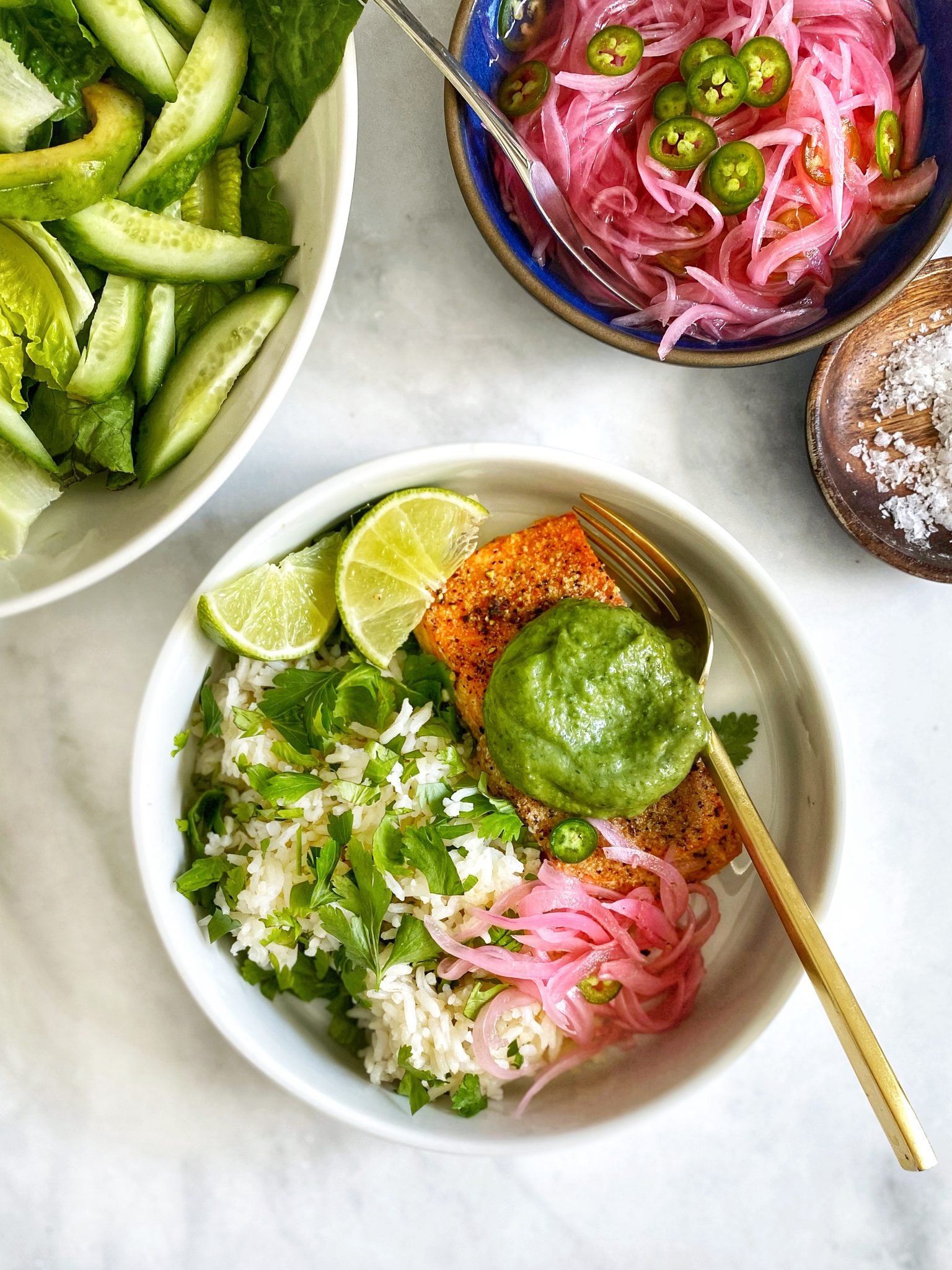 Other Ways to Use Aji Verde Sauce
Any dish in which you'd like to add a bright, herbal, and very spicy taste element, you can use Aji Verde! Use it like a salsa, use it like a pesto. Here are some specific suggestions for how to use Aji Verde:
stir into hot cooked rice or quinoa as the base for a spicy grain bowl
toss with roasted cauliflower or broccoli florets
shake together with a few tablespoons of red wine vinegar and water to make a VERY spicy salad dressing
drizzle over Crispy Smashed Potatoes
dip regular or Sweet Potato Fries in it!
Other Green Herb Sauces and Condiments
Green sauces with a base of leafy green herbs make an appearance in some format in so many cultural cuisines. Here are a few recipes I love:
Italian Salsa Verde, made with a base of parsley
Chimichurri, similar to Salsa Verde with almost all parsley, and with oregano and red pepper flakes
Ginger Scallion Sauce, with just scallions, ginger, and searing hot oil
Kale Pesto of any and every kind
Green Goddess Pesto, which is just a non-creamy version of the original Green Goddess
Chermoula
Green Harissa
Zhoug
Print Recipe
Aji Verde Recipe
Peruvian spicy green sauce made with cilantro and hot peppers
Ingredients
1

large bunch

cilantro, leaves and tender stems

about 1 ½ cups

1

jalapeño pepper

or serrano pepper

2

tablespoons

aji amarillo paste

or add extra jalapeño or serrrano pepper

1

stalk

green onion

5

cloves

garlic

1

whole

lime, zest and juice

¼

cup

mayo

plant-based or regular

¼

cup

light olive oil

¼

cup

nutritional yeast

(or equivalent cotija, parmesan, or feta cheese)

¼

cup

ice cold water

1

teaspoon

kosher salt

plus more to taste
Instructions
Place all the ingredients in a food processor or high-power blender and process until smooth, occasionally stopping the machine to scrape down the sides. Add more water 1 tablespoon at a time to get a smooth, pourable consistency, similar to ketchup.