The culinary world needs to re-think the concept of the "mother sauces" ...
And just consider Italian salsa verde "The (God) Mother of All Sauces."
I know. I've said something along those lines before. Many times. And each time, I am positive that "this is the greatest sauce on the planet. Ever. Period. Forget what I said before about..." I said it about Green Goddess Dressing. Then Kale Walnut Pesto. And Momofuku's Ginger Scallion Sauce. Fish sauce vinaigrette. More recently about Tahini Lemon Vinaigrette.
I know. I've said it before, but this time it's different. This one really is the one.
This. Is. It.


Bright. Gorgeous. Aggressive. (And I'm not talking about the food blogger who made this sauce in her kitchen yesterday *ahem*.) Salsa Verde was meant to accompany a simple roast chicken, but I couldn't help myself from taking increasingly bigger "tastes" of the stuff with a spoon right from the food processor before we even sat down for dinner. What little we had leftover transformed a bowl of plain quinoa into an amazing side dish the next night. With a few spoonfuls of water and lemon juice, Salsa Verde becomes a vinaigrette for salads and vegetables.
I don't have to imagine how good it will taste with pan-fried tofu and buckwheat soba because I'm going to try it tomorrow.
I promise I won't ever feel this way again. Maybe. Until I make homemade hot cock next week.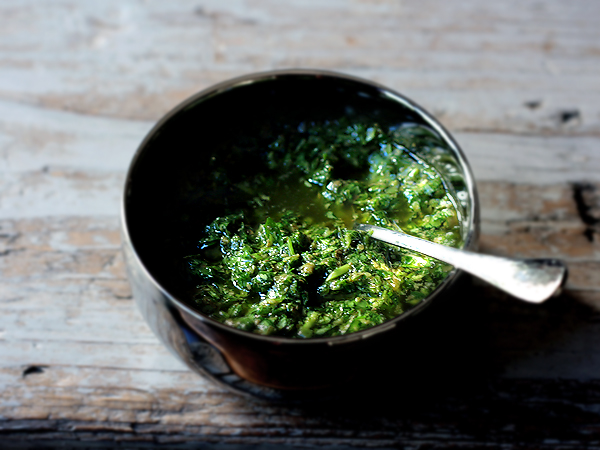 Italian Salsa Verde
This recipe uses essentially 1¼ cups of different fresh green herbs. I have made it with all different proportions and to be honest, my fav is almost all parsley, with about 2 tablespoons fresh basil to fill in the rest. You can use tarragon, sage, and rosemary, but I find that they are all just a little too unique in flavor to mix in here, and we all know how I feel about cilantro.
inspired by chef Jonathan Waxman's Roast Chicken from Italian, My Way
makes about 1 cup
INGREDIENTS
1 tablespoon capers
4 anchovy fillets (use 2 if you find anchovies a little too salty/strong)
2 cloves garlic (peeled, green germ removed)
¾ cup extra-virgin olive oil
¾ cup fresh parsley, chopped
¼ cup arugula, chopped
¼ cup basil leaves, chopped
1 tablespoon fresh chives
¼ teaspoon sea salt
DIRECTIONS
Rinse capers in cold water, then drain.
Soak anchovies in cold water for 5 minutes, then pat dry and remove the bones.
Using a mortar and pestle (or a food processor), smash the capers, anchovies and garlic with 2 tablespoons of the olive oil until smooth. Transfer to a large bowl.
Add all the herbs and start with about half the remaining olive oil to start, adding more olive oil until you get a chunky, not oily, texture. Season with sea salt.
Serve alongside roast chicken. Or with other roasted meats. Or with bread as a dip. Or mixed into quinoa. Or just eat it plain. Whatever.