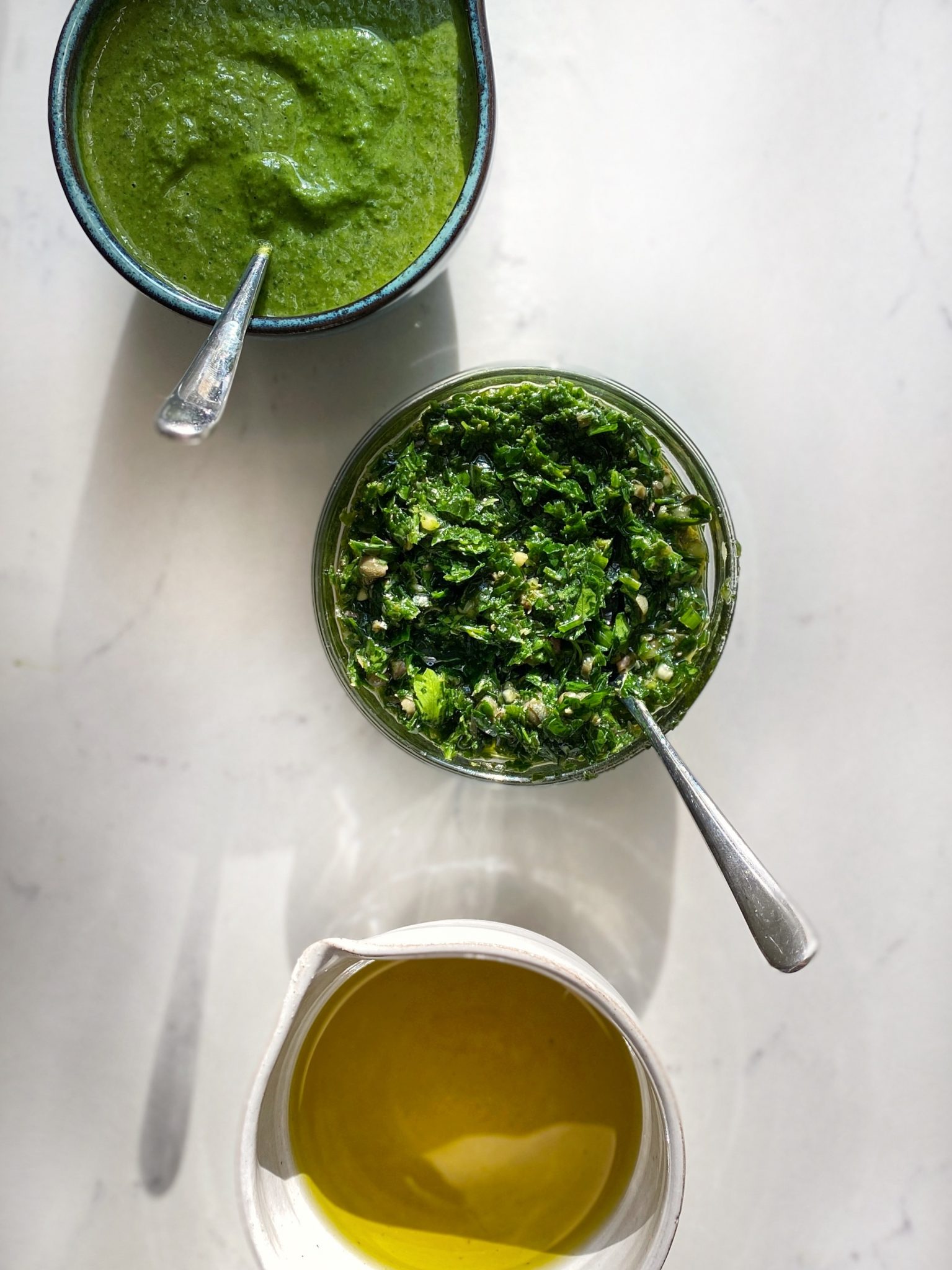 The culinary world needs to re-think the concept of the "mother sauces" and just consider Italian Salsa Verde "The Godmother of All Sauces."
I've said something along those lines before. Many times. And each time, I am positive that "this is the greatest sauce on the planet. Ever. Period."
I know. I've said it before, but this time it's different. This one, Italian Salsa Verde, really is the one.
This. Is. It.
Jump to: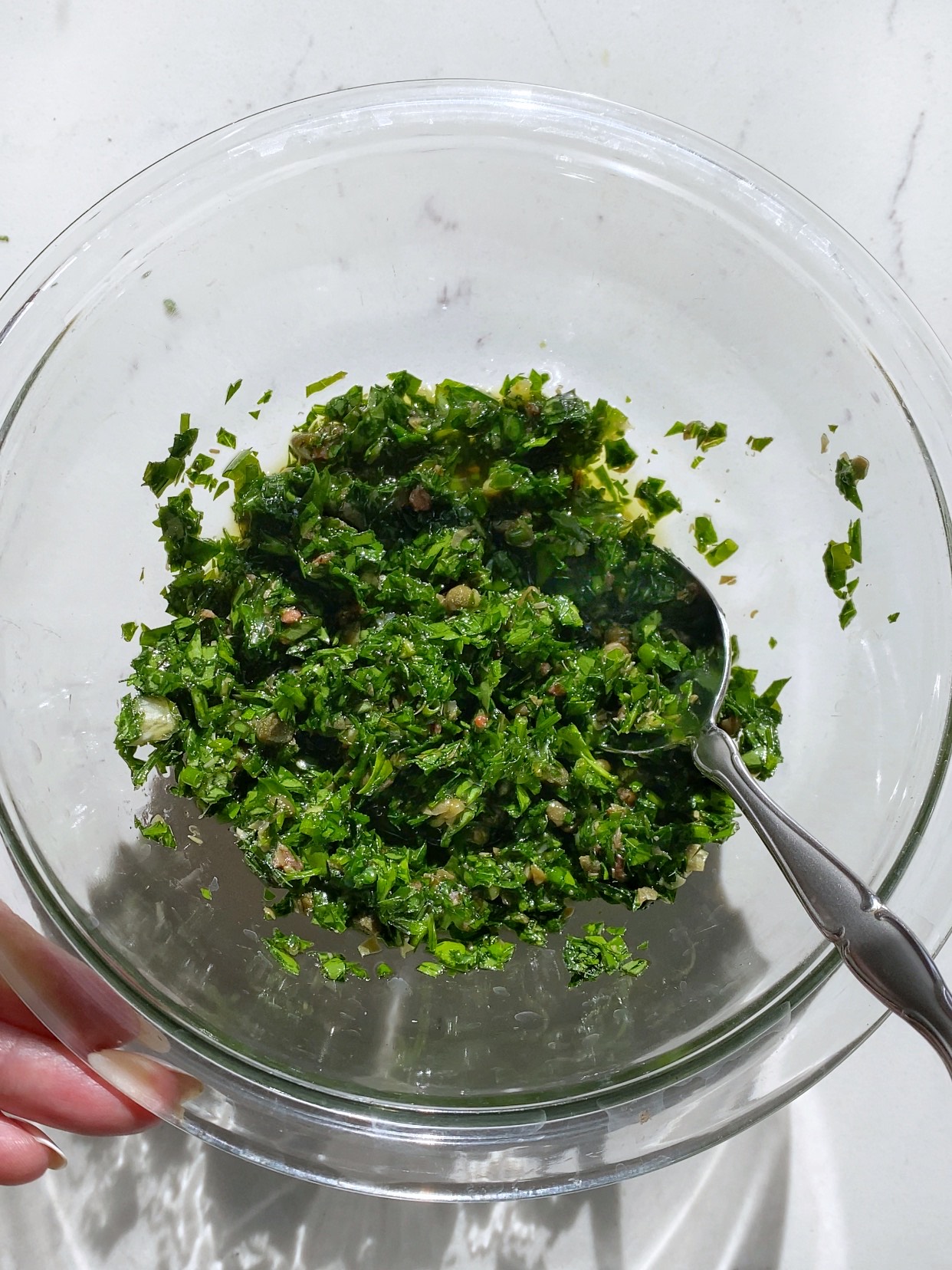 Bright. Gorgeous. Aggressive. And I'm not talking about the food blogger who made this sauce in her kitchen yesterday *ahem*. Salsa Verde was meant to accompany a simple roast chicken, but I couldn't help myself from taking increasingly bigger "tastes" of the stuff with a spoon right from the food processor before we even sat down for dinner. What little we had leftover transformed a bowl of plain quinoa into an amazing side dish the next night. With a few spoonfuls of water and lemon juice, Salsa Verde becomes a vinaigrette for salads and vegetables.
I don't have to imagine how good it will taste with pan-fried tofu and buckwheat soba because I'm going to try it tomorrow.
I promise I won't ever feel this way again. Maybe. Until I make homemade hot cock next week.
What is Italian Salsa Verde | Difference Between Salsa Verde vs Chimichurri | Ingredients | How to Make | Recipe Substitutions | Tools | What to Serve with Salsa Verde | FAQs | Salsa Verde Recipe
What Is Italian Salsa Verde Exactly?
Salsa verde could be that Mexican "green salsa" you have with tortilla chips, or it could be an Italian herb-based sauce like this recipe. "Salsa verde" literally translates from both Spanish and Italian to "green sauce" in English.
While Mexican salsa verde is usually made with a base of chopped or pureed tomatillos, cilantro, and hot chili peppers, the Italian salsa verde is a fresh sauce made of finely chopped herbs, the majority of which is parsley.
Italian Salsa Verde also has fresh garlic, capers, and sometimes anchovies for that added umami. It can range in consistency and texture between finer pesto and rougher chimichurri, depending on what tools you use to make it. A mortar and pestle will render a smoother Salsa Verde; a knife and cutting board with make it a little more rustic.
Salsa Verde Actually Sounds a Lot Like Chimichurri!
Yes, it does! Italian Salsa Verde has many of the same ingredients as Chimichurri, the sauce famously associated with Argentina. They both comprise a base of chopped parsley, garlic, and olive oil. However, Italian Salsa Verde may have any number of other green herbs, like mine with basil, while chimichurri adds only fresh oregano. In addition, the acid component is lemon juice in Italian Salsa Verde whereas it is red wine vinegar in chimichurri. Italian Salsa Verde has added flavor from capers and anchovies for umami whereas chimichurri has red pepper flakes for heat.
Same same, but definitely different. And definitely deserving of their own recipes and posts!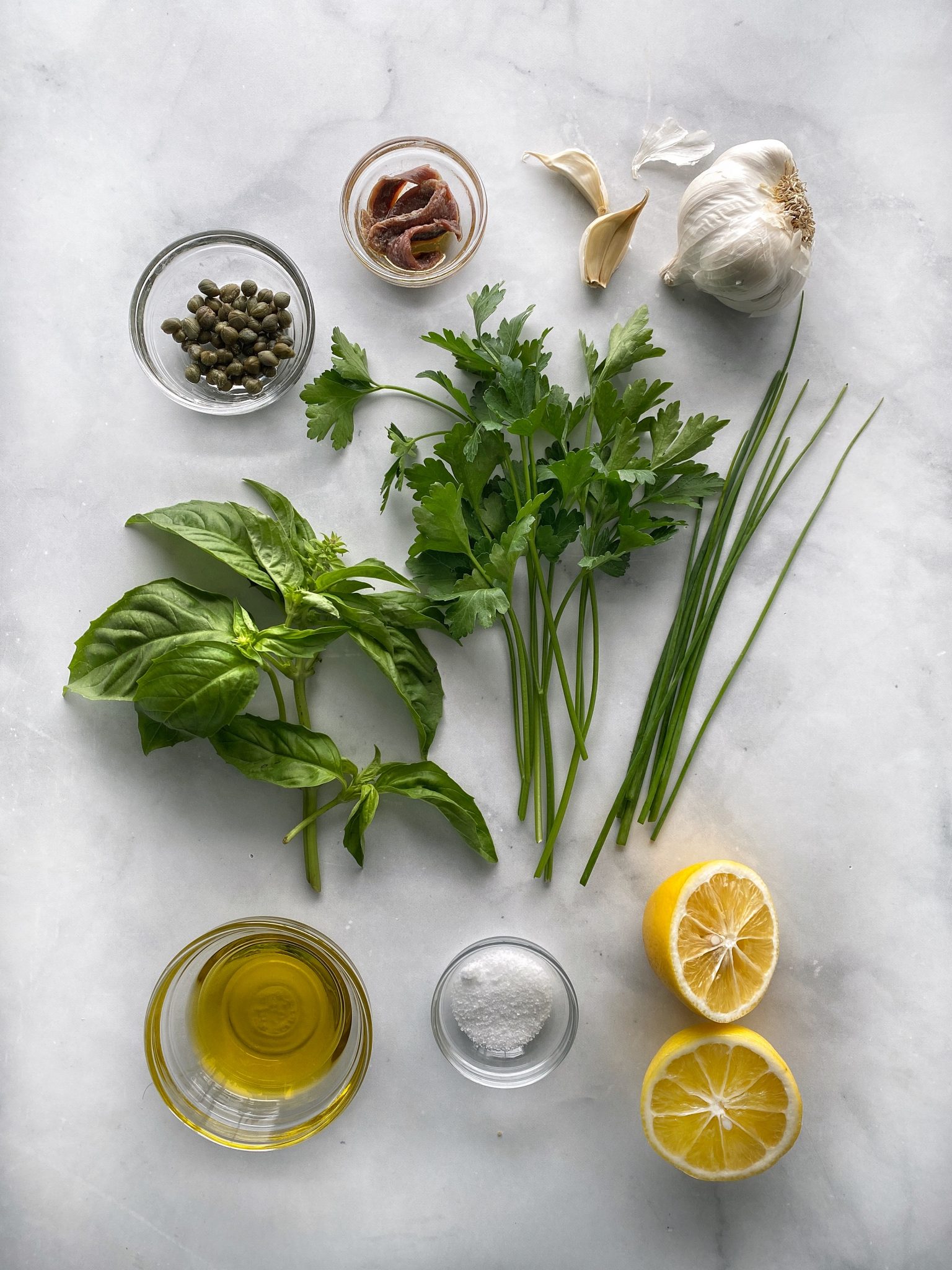 What You Need for Italian Salsa Verde
garlic, obviously
anchovies for that indescribable umami
capers
tons of parsley
basil and any other green herbs that you might have overflowing in your garden
chives
olive oil
lemon juice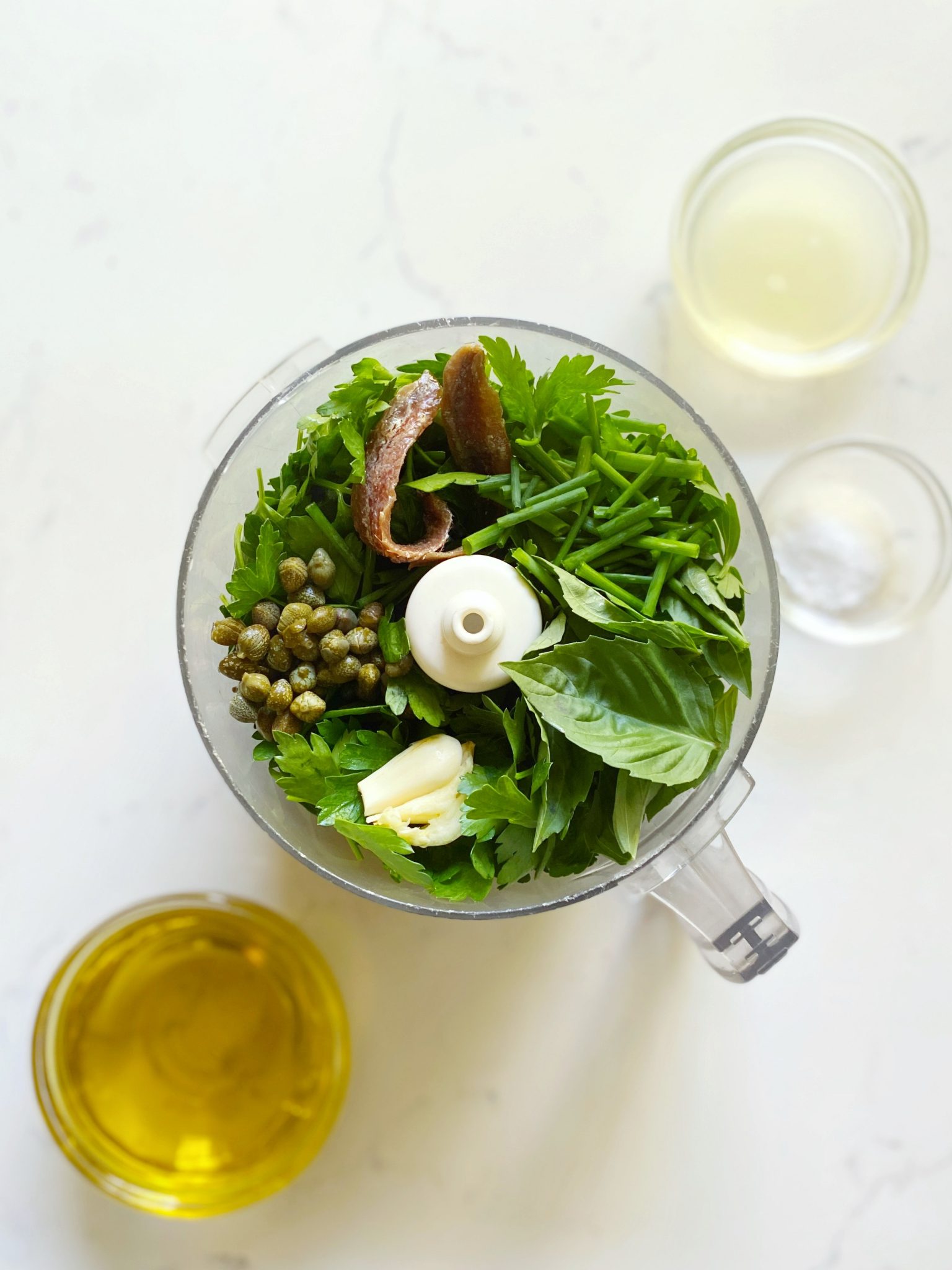 How to Make Italian Salsa Verde
You can make salsa verde a few different ways, depending on what kind of tools you have .
Fast Buzz in Food Processor
If you have a food processor, start by chopping the garlic, anchovies, and capers. Then add the herbs and pulse until fine. Add salt. Drizzle olive oil. Transfer to serving bowl or storage container. Right before serving, stir in lemon juice. Taste again for salt.
Chop Everything By Hand
If you have it in you to chop everything by hand, and I know sometimes it's just easier to run your knife through all the herbs than haul out the food processor, just finely chop everything. Mash the anchovies and garlic with the side of your knife blade, or just push them both through a garlic press.
(Yes! That's a pro-tip! Use your garlic press to smash anchovies!)
Ingredients Notes, Resources and Substitutions
Garlic. If you're sensitive to garlic, start with one small clove, especially since the garlic here is raw, and if you're using a food processor, might end up with a few larger pieces. If you're like me, double the garlic, even though that's not even in the recipe.
Anchovies. The anchovies dissolve into the sauce to add umami so you don't need very fancy (read: "expensive") anchovies. This jar of anchovies is the one I use for everything. Buy anchovies in jars so you can close the lid and store them in the refrigerator.
Capers. Many cooks recommend using salt-packed capers because they "taste better." While that's kind of true, unless you can easily find them in your local grocery store, a jar of normal-person non-pareil capers in brine is perfect.
Parsley. Since parsley is the main ingredient in Italian Salsa Verde, if you don't like parsley or can't find it, try making a different sauce. I use Italian flat-leaf parsley FOR EVERYTHING. I don't even know a scenario in which I would use the curly parsley that I forever associate with garnish on a restaurant steak dinner from my childhood.
Other Green Herbs. Every cook has a version of Salsa Verde with different proportions of various green herbs. I have made this with additions of everything from arugula to spinach, and find that a simple combination of only parsley and basil works best for me and everyone in my immediate radius who eats the stuff.
Chives. You can substitute green onions here very easily.
Olive Oil. Use a lighter olive oil for this Salsa Verde since the other ingredients are fairly strong. This is the everyday olive oil I use.
Lemon Juice. One whole large lemon will render about 4 tablespoons of lemon juice. Start with 2 tablespoons in the Salsa Verde, and add more if needed. You can also substitute red wine vinegar, which is what is used as the acid component in Salsa Verde's cousin, Argentinean chimichurri (as noted above).
Tools and Equipment for Italian Salsa Verde

You do not need any special equipment to make Italian Salsa Verde. At the very least, you need a sharp chef's knife and stable cutting board, as well as some patience to mince the garlic and anchovies and chop all the herbs by hand.
However, if you have a food processor, by all means save yourself some time and throw everything in there and be done in 90 seconds!
In addition, if you have a sturdy mortar and pestle, you can make the Italian Salsa Verde in there, though the texture may come out closer to a fine pesto.
I have all of the above (linked below), and almost always use my food processor.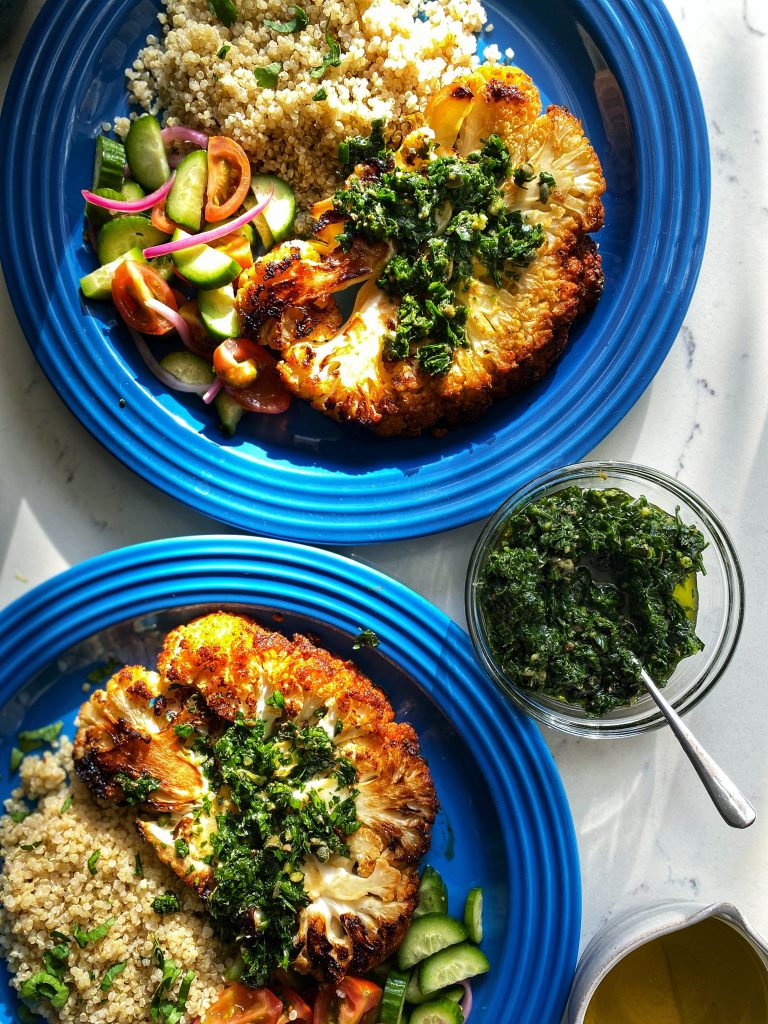 How to Use Italian Salsa Verde
Aside from just eating it straight out of the food processor with a spoon, Italian Salsa Verde is great in, on, and with so many things:
Recipe Frequently Asked Questions (FAQ)
What if I don't like anchovies? Can I omit them? If you don't like anchovies, you can leave them out and double the capers. My nieces and nephews are sensitive to anchovies so when I make Salsa Verde for the entire family, I make one batch without anchovies.
Can I Use Other Green Herbs? Yes! The majority of the green herbs should be parsley, but you can also add: cilantro, dill, marjoram, mint, oregano, rosemary, and tarragon. I have tried all of these over the years, and my favorite combination is still always parsley and basil.
Can I double the recipe? Yes! You can, and absolutely should, double the recipe! Because Salsa Verde is made primarily of parsley, which is a sturdy herb, it keeps fairly well for an herb-based sauce.
Can I make Salsa Verde in advance? Yes! In fact, the Salsa Verde flavors mellow out and mix into one another a little more harmoniously after about 2 hours. I actually thought this "rule" about letting flavors meld together in a recipe was sort of a made-up "hot tip" until I tasted the difference between the very strong "just mown grass" taste of Salsa Verde immediately after processing, and the gentler, bright herbal flavor after letting it sit overnight. I'm a believer. Just leave the lemon juice out of the sauce because certain herbs oxidize with lemon juice, and stir it into the Salsa Verde right before serving.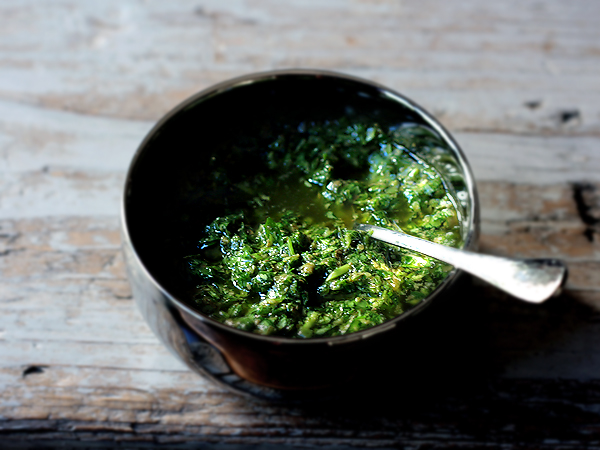 More Bright Green Herb Sauces and Condiments
Aji Verde the Peruvian spicy green sauce with cilantro and chili peppers
Green Goddess Herb Pesto, based on the flavors of the original Green Goddess dressing, but as a veg-forward pesto without dairy or mayo
Ginger Scallion Sauce with Hainan chicken, white fish, and noodles
Chimichurri, similar to Salsa Verde, but with more heat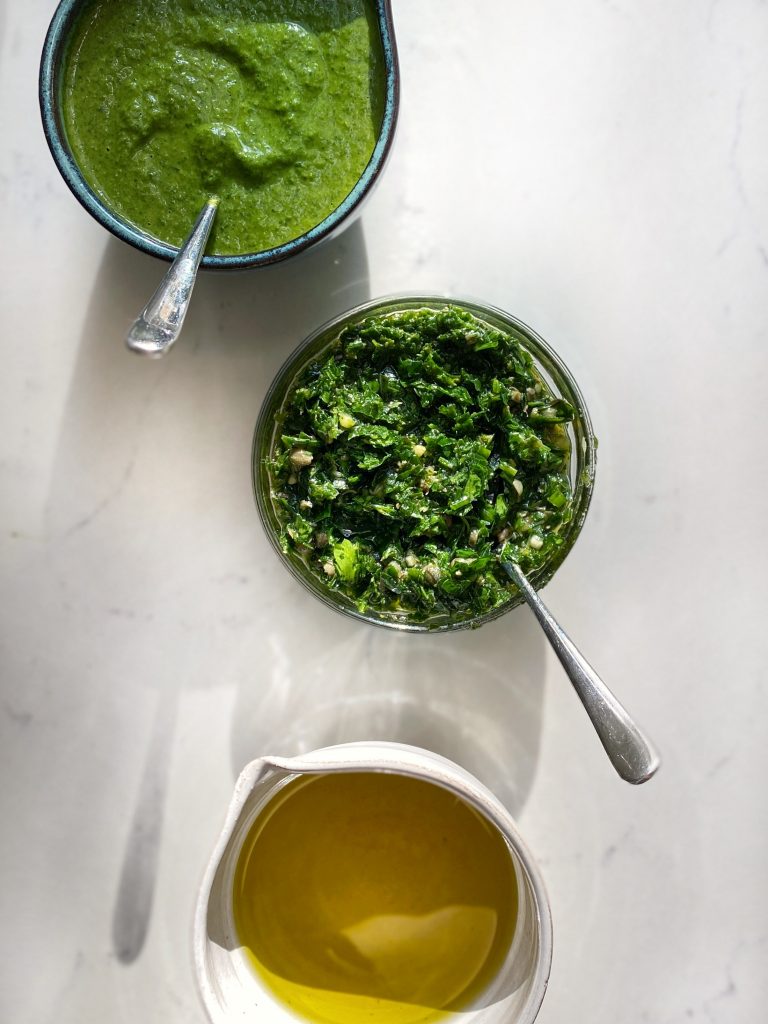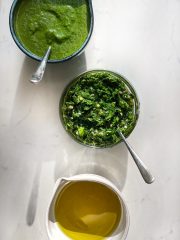 Print Recipe
Italian Salsa Verde Recipe
This recipe uses essentially 1¼ cups of different fresh green herbs. I have made it with all different proportions and to be honest, my fav is almost all parsley, with about 2 tablespoons fresh basil to fill in the rest. You can use tarragon, sage, and rosemary, but I find that they are all just a little too unique in flavor to mix in here, and we all know how I feel about cilantro.
Ingredients
1

tablespoon

capers

2-4

anchovy fillets

(use 2 if you find anchovies a little too salty/strong)

2

cloves

garlic

peeled, green germ removed

¾

cup

extra-virgin olive oil

1

cup

fresh parsley leaves and tender stems

chopped

¼

cup

basil leaves

chopped

1

tablespoon

fresh chives

¼

teaspoon

sea salt

2

tablespoons

fresh lemon juice

(about half a large lemon)
Instructions
Rinse capers in cold water, then drain.

Soak anchovies in cold water for 5 minutes, then pat dry and remove any large, obvious bones.

Using a mortar and pestle (or a food processor), smash the capers, anchovies and garlic with 2 tablespoons of the olive oil until smooth. Transfer to a large bowl.

Add all the herbs and start with about half the remaining olive oil to start, adding more olive oil until you get a chunky, not oily, texture. Season with sea salt.

If you are eating right away, stir in lemon juice. If you are advance prepping, wait until right before serving to stir in lemon juice.

Serve Salsa Verde alongside roast chicken. Or with other roasted meats. Or with bread as a dip. Or mixed into quinoa. Or just eat it plain. Whatever.
Notes
Leftovers can be stored in an airtight container, preferably a container that fits the salsa verde as close to the top as possible to keep out air, in the refrigerator for three days.