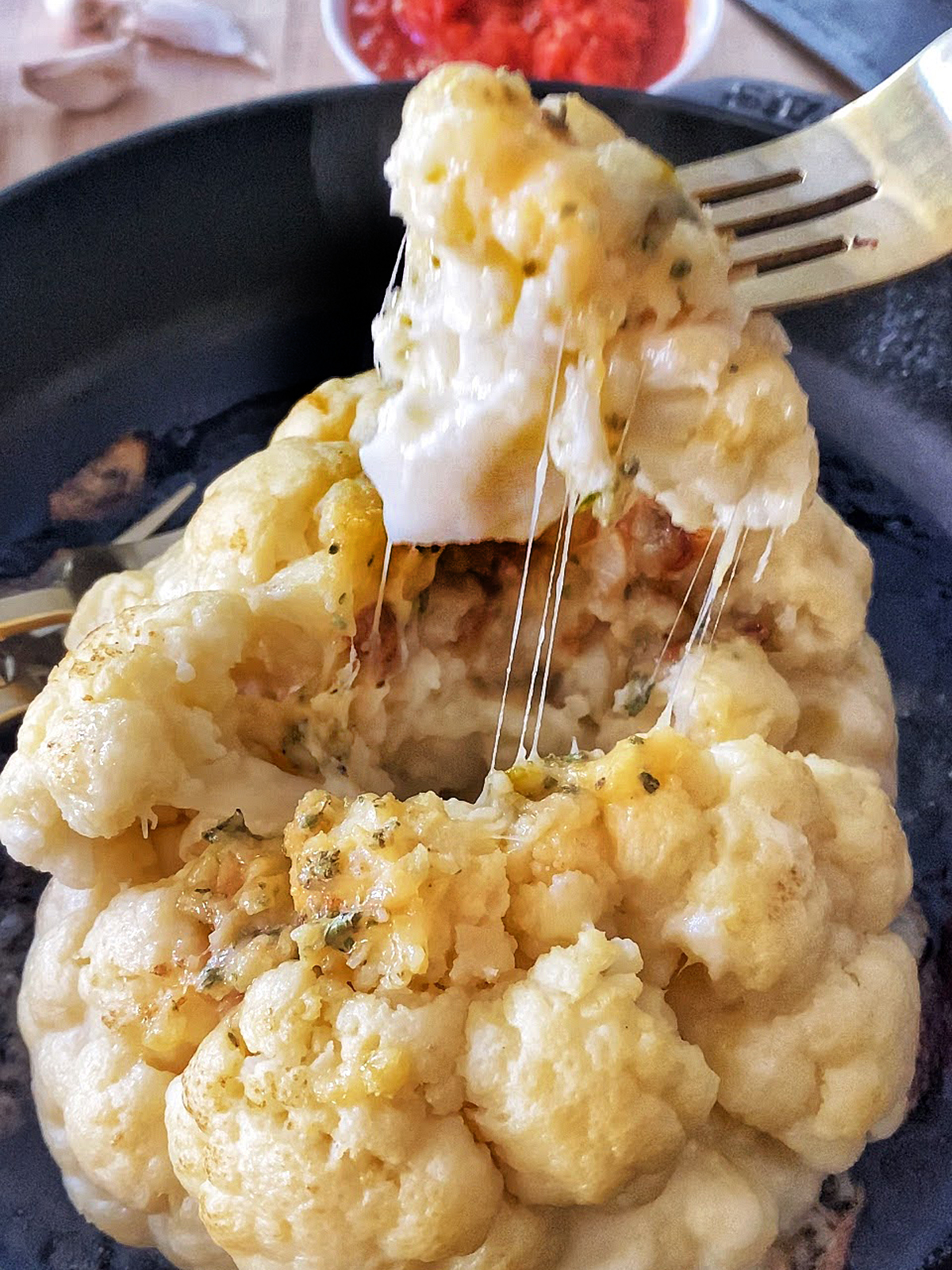 Oven Roasted Whole Cauliflower Stuffed with Cheese was originally intended to be a "healthier," whole food, plant-forward substitute for Pull-Apart Cheese Bread.
You know the Pull-Apart Cheese Bread you've seen on your social media feeds before. The loaf of bread that's been partially sliced, stuffed with an ungodly amount of cheese, then thrown into the oven to toast and brown and melt. The post you've seen is the money shot: a chunk of bread pulled apart from the loaf, with threads of melted cheese stretching between the two. glorious cheese-bread-bombs
This cauliflower version has half the cheese and no processed carbs in the form of bread. But after making the cauliflower multiple times, I've realized I wasn't actually making it to substitute for bread anymore. I was making the cauliflower just to eat it for itself. Oven Roasted Whole Cauliflower Stuffed with Cheese is a dish all its own, whether served as a pull-apart appetizer, or even as a vegetarian main dish.
If bland, boring, pasty-ass watery cauliflower can become rice! pizza crust! buffalo wings! then you can become anything you want, little rockstar.
What You Need to Make Oven-Roasted Whole Cauliflower
You probably already have all of the ingredients in your kitchen except the cauliflower. Unless you're me, then you also already have a head of cauliflower because cauliflower is one of those vegetables you buy every week thinking you're going to eat it, even though 60-75% of the time, you don't.
Cauliflower is the banana of vegetables.
Very large head of cauliflower
Garlic
Dried herbs
Shredded cheese
Dipping sauce(s)
If You Have More Than One Cauliflower
If you have more than one head of cauliflower, make these cauliflower recipes, too!
Ingredients Notes and Substitutions
Cauliflower. You definitely need cauliflower for this recipe, since cauliflower is in the name of the dish. However, you can use any color of cauliflower, not just white. Supposedly, orange and purple cauliflower taste different, but either I have absolutely no sense of taste or the difference is too subtle to matter in this recipe. I have not tried this recipe with romanesco, which is the pale green fractal cousin broccoli and cauliflower.
Olive Oil. I use this every day olive oil for cooking. You can use any neutral flavored oil with medium-high to high smoke point oil, like grapeseed oil or avocado oil.
Garlic. Use roasted garlic to stuff into the cauliflower. Because cauliflower has such a mild flavor on its own, we are using everything we can to add umami and flavor. The roasted garlic has a dimension of flavor that you wouldn't get from using just fresh minced garlic added in the last few minutes under the broiler.
Dried Oregano. I use an Italian oregano that comes dried on its whole stems. You can use whatever dried oregano tastes good to you. If I have dried basil, I add about a teaspoon to the mix.
Cheese. Any "melty" cheese that you would use for pizza or grilled cheese works here, e.g. mozzarella, jack, havarti, and young gouda. With respect to mozzarella, stick to the shreddable "pizza cheese," not burrata or stracciatella.
Marinara Sauce. I use this marinara when I want something delicious in the convenience of a jar
Pesto. The one thing I can't bear to buy pre-made is basil pesto because it is always always always oxidized and dark and if it's not, then it probably has some kind of chemical to preserve the color and will have an off taste. Make Basil Pesto from scratch, or just serve marinara.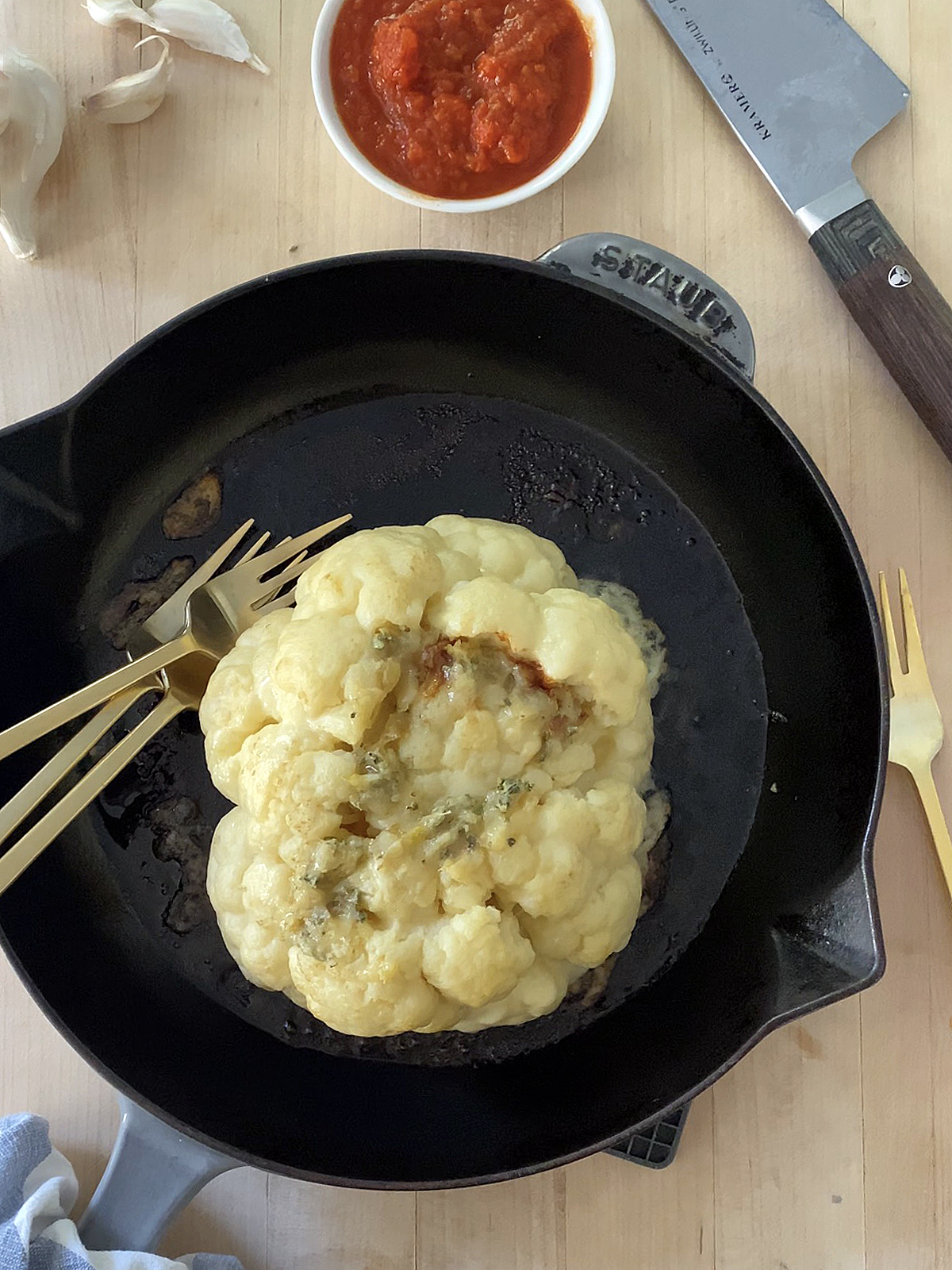 Oven-Roasted Whole Cauliflower Recipe
Tender cauliflower stuffed with garlicky, herb-y cheese stands in for pull-apart bread loaf
Ingredients
1

head

cauliflower

2+1

tablespoons

olive oil

1

teaspoon

salt

10

cloves

garlic

(half a head)

1

tablespoon

dried oregano

1

cup

shredded cheese

chopped fresh herbs

crushed red pepper

1

cup

prepared marinara sauce or basil pesto (or both!)
Instructions
Roast Cauliflower and Garlic
Heat oven to 350 degrees.

Remove the outer leaves from the cauliflower head and trim the center core so that it is flush with the base of the cauliflower head. You are trying to get the cauliflower to sit up straight on the flat surface of a skillet or roasting pan.

Rub the cauliflower head all over with 2 tablespoons olive oil. Sprinkle with salt. Place the cauliflower in a 10- to 12-inch cast iron skillet, add about ¼ cup of hot water to the skillet, wrap the cauliflower with aluminum foil and seal around the pan as best you can.

Drizzle garlic cloves with 1 tablespoon olive oil. Wrap cloves in a square of aluminum foil.

Place pan and foil packet with garlic cloves in oven and roast cauliflower for 45 minutes, or until a fork inserted into a floret goes in and out easily.

Remove garlic cloves from oven, cool, then peel. Remove foil from cauliflower, and roast uncovered for 15 minutes or until florets start to brown and "dry out" a little.

Remove cauliflower from oven and allow to cool slightly.
Prep Cheese for Stuffing
While cauliflower is roasting uncovered for the last 15 minutes, smash roasted garlic cloves with a fork in a small bowl. Stir in dried herbs and shredded cheese.

Once the cauliflower is cool enough to handle (about 10 minutes, it will still be very warm to the touch) wiggle the florets of the cauliflower around and stuff cheese-herb mixture in between the florets. Some of the florets may come loose, which is okay, Just try to put them back into generally the same place, and add some of the shredded cheese mixture, which will "glue" the cauliflower together when it melts.

Turn on broiler in oven. Place stuffed cauliflower, uncovered, back into oven and broil until the cheese melts, starts to bubble, and cauliflower has turned golden brown, about 10 minutes.

Pull on one of the florets to make sure it will "pull apart." Garnish with additional fresh chopped herbs and crushed red pepper.

Serve with forks and marinara sauce for dipping.