There is nothing more comforting than a hot bowl of Carrot Ginger Soup, especially one with a warm spice like ginger.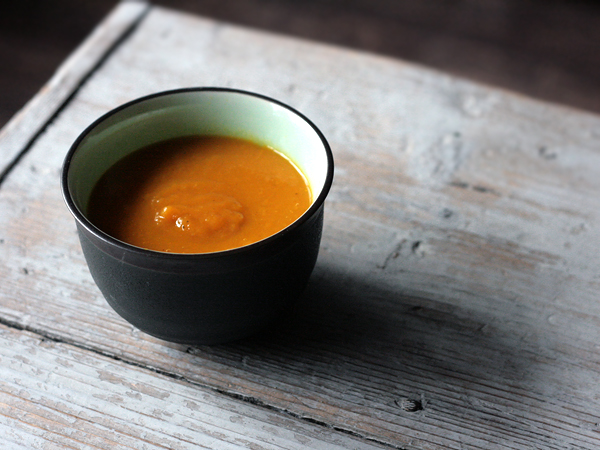 My entire family is back from vacationing in Mexico. I didn't realize how much I missed them...
They had only been gone for five days, but still, I couldn't believe how excited I was to see them return. I drove to the airport early, hung out in the arrival terminal for Alaska Airlines for almost 20 minutes before I realized I was supposed to be waiting at the International terminal. I walked over to Tom Bradley, and still waited a good 45 minutes for all of them to get through Customs. When I finally saw them slowly make their way up the ramp from the underground walkway, it felt like we hadn't seen each other in weeks.
The strange thing is, I don't see my family that often to begin with. My parents live in Orange County, and my sister, who used to live down the street from me, is now also in her new house in The OC with her husband and baby. My other sister and her husband live only ten minutes away, but with completely different lives, it takes a real concerted effort to see one another.
There is something strange about how the heart and mind's memory work. Even though I don't see them on a day-to-day basis when they're here, knowing that they were hundreds of miles away, my heart could feel their absence.
But I'm quite sure that I wasn't completely conscious of it at the time. It was only when I started driving toward the airport to pick them up that I realized that the previous five days, I had felt slightly "off." I couldn't explain why I was having trouble focusing on tasks, or remembering everything on my To-do List. It was the same sort of head-in-a-haze existence that follows shortly after a breakup. I wasn't depressed, but I was definitely dazed. Maybe a little confused, too.
I know that I felt unbalanced because I ate like I was lonely and depressed, which is either drowning my sorrows in inordinate amounts of junk food in the form of ice cream, doughnuts, and the like, or forcing myself to eat for the sake of sustenance because I have no appetite. The first day my family was gone, I made gazpacho and forced myself to eat it. Soup always makes me feel better; even if the soup is cold. I ate the gazpacho for two days because after that, I had neither the energy nor the creativity to cook much else.
However, Carrot Ginger Soup came up somewhat out of necessity, but moreso out of a need for comfort. It was necessary to do something with a surfeit of carrots in my crisper. I don't know why farmers even bother selling carrots in one or two pound pre-packed bags. Do people really eat that many carrots within a few days? Unfortuantely, I am seduced by unit cost, and the bag of carrots is always cheaper per pound than buying individual carrots. I know that it doesn't end up costing any less if I eventually have to throw out half a bag of dried-up carrots that have withered and shriveled to the size of #2 pencils, but I can't help it. I think all Koreans are the same way.
Once before, I tried to make a soup out of leftover carrots, but it was a semi-disaster. I started by sweating onions and whatnot in the bottom of the pan, then added thinly sliced carrots to get them started on cooking before adding stock. What a mistake. The soup tasted fine in the end, but it had turned into a miserable muddied orange color that was so horribly ugly I sent tearful IMs to a chef-ish friend. What is wrong with my soup? Why is my soup the color of clay? What had I done wrong?
I dumped the soup, took note of the advice for next time, and made cauliflower soup instead.
This time, I took the advice that chef-ish friend and added a splash of acid in the form of orange juice to preserve the color and accentuate the taste of the carrots. Now, if I had one of these babies, the soup would have been a breeze, but I am more than happy with my Cuisinart blender, which did a marvelous job of transforming the vegetables broth into a bright, golden carroty orange colored puree. Thankfully, it didn't taste too much like oranges. I don't love orange-flavored foods. Unless it's an orange.
The soup was a momentary comforting sigh. I still missed my family.
More Simple, Comforting Soups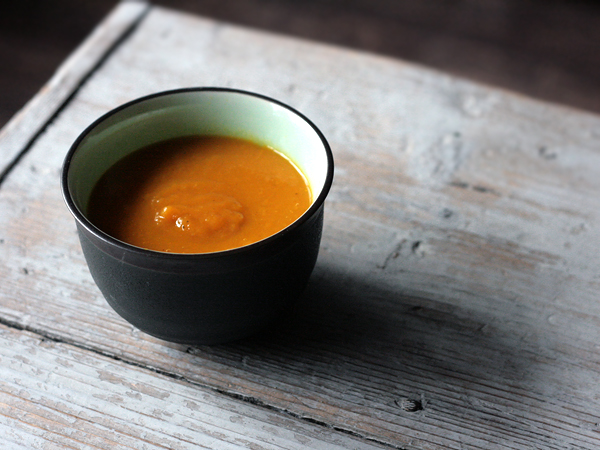 Print Recipe
Carrot Ginger Soup Recipe
Ingredients
1

tablespoon

olive oil

1

medium red onion, diced

4

tablespoons

minced fresh ginger

4

cloves

garlic, minced

1½

cups

chopped carrots

3

cups

vegetable stock

¼

cup

orange juice

optional: ¼-½ c cream or milk
Instructions
In the bottom of a stock pot, sweat 1 diced medium red onion over low heat in 1-2 Tbsp olive oil (do not brown). Add 4 Tbsp of minced fresh ginger, 2-3 cloves finely minced garlic, and cook over low heat until soft and fragrant. Mine took about 10 minutes, though it could have gone longer. I just got impatient.

Add 1½ c. chopped carrots to the pot along with 3 c. vegetable broth and ¼ c. orange juice. Bring to a boil, reduce heat to simmer, and cook until the carrots are tender.

Transfer a few ladle-fuls at a time to a blender and puree until smooth, or puree with an immersion blender in the pot. Thin with more warmed stock to thin out the soup if it's too thick. Season with salt and pepper to taste.

Some people add about ¼-½ c cream or milk to the soup, or use that to garnish the soup once it's in bowls.
** a year ago today, at cafe brasil, her name is rio and she dances on the sand **
originally published August 25, 2006