When you put coffee in a cheesecake, you can definitely eat it for breakfast, even if it has Bailey's Irish Cream in it!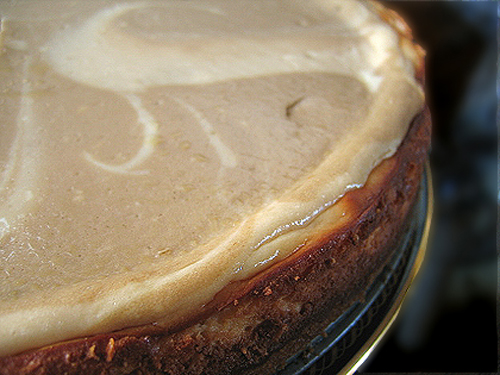 I've said many times before how much of a baker I am not, but for some reason, I found myself on a wild baking spree while spending a few days at my parents' house. Cookies continue to challenge my self-confidence in the kitchen, but cheesecakes are a little easier. Measurements are very forgiving in a cheesecake batter, so the only real complexity lies in the actual baking. You shouldn't overbake, which poses no problem because I have this, shall I say, "habit" of obsessively cracking open the oven door and peeking. It doesn't matter if the oven has a front window and interior lights.
How We Got to Bailey's Cheesecake
I baked a Bailey's Irish Cream and Coffee Cheesecake, intending first to make a cheesecake simply flavored with Irish Cream, but coffee entered the equation when Mom demanded, "Add coffee!" Is the woman brilliant or what? I had to obey. The cheesecake came out with ugly, pock-marked and scarred sides, but it was pretty on top. The darker coffee in sweeping swirls with the lighter Irish Cream was like a softer, warmer, lighter yin yang that's been stretched and draped over the chaise lounge in front of the fireplace. Mom and I impatiently cut a tiny sliver out of the cake before it was chilled and set, and durned it, Mom was right about adding that coffee.
My Mom is the indirect subject of a lot of my musings here on The Delicious Life, but I can't help bringing her up. She is a badass golfer, she is responsible for a lot of who and what I am, and when it comes right down to it, she leads a hell of a lot more exciting life than I do.
Her awesomeness is enough to give me a complex, but it doesn't because that's how awesome she is. Besides, if I told my Mom I needed therapy, she'd kick my ass. In a loving way, of course.
What makes my Mom awesome (besides golf and beer) is something I can't just label with a single word or even phrase. It's just the way she is, what she says, and how she makes me feel, that are all just so her. Awesome.
Ok, this is why Mom is awesome.
We had dinner guests. For dessert, we served the cheesecake, minus the little sliver we had taste-tested. I was nervous at first, but they absolutely loved it. (Yes, of course I know they were being polite, but I can pretend, okay?) When the time came for them to leave, Mom disappeared into the kitchen, and in true Korean ah-joo-mah form, she wrapped up the rest of the cheesecake for them to take home. I was flattered that they liked it, I was flattered that my Mom thought it was decent enough to give to her guests, but I was a little disappointed that she gave it all away. I've bemoaned the diet-threatening dearth of people to eat the things I bake, and here I was on the other end, bemoaning all the same. Oh, well, when it rains it pours, and when it's cheesecake, it's gone.
The next morning , I walked into the kitchen and found my Mom sitting on a stool bent over the counter.
"Mom! What are you eating?"
My Mom was eating a huge swirly piece of the Bailey's Irish Cream Cheesecake!
"I didn't give them all of it, Sarah. Am I crazy? I love Bailey's!" She was laughing. That meant she liked it, and I felt good.
Waitjustonesecondhere.
"Mom! It's not even eight o'clock in the morning and you're eating a piece of cheesecake!"
"Sarah," she said in her most I'm-the-mother-you-are-the-daughter voice, "It has coffee in it."
I don't know why that made perfect sense to me, and why the fact that it was cheesecake in the morning raised an eyebrow but Irish Cream in the morning did not.
Isn't my Mom awesome?
More Recipes
If you're here for the Bailey's, bake the cheesecake, then try these other boozy recipes;
And if you're on a wild baking spree like I am and want to master cheesecakes, try these:
More Cheesecake Recipes
White Chocolate Ricotta Cheesecake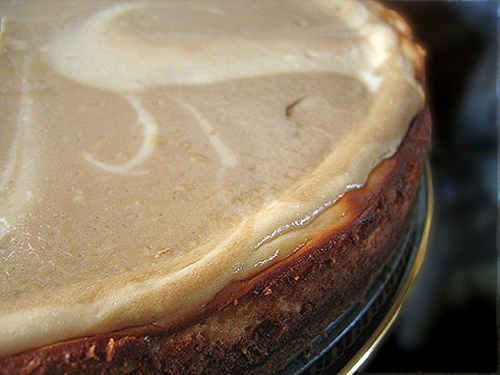 Print Recipe
Bailey's Irish Cream and Coffee Cheesecake Recipe
Ingredients
1½

c.

graham cracker crumbs

6

T.

melted butter

¼

c.

granulated sugar

4 8

oz.

packages cream cheese

1

c.

granulated sugar

1

t.

vanilla

4

eggs

1

T.

instant coffee dissolved in 1 T. hot water

¼ - ½

c.

Bailey's Irish Cream
Instructions
Preheat oven to 350.

Stir together 1½ c. graham cracker crumbs, 6 T. melted butter, and ¼ c. granulated sugar.

Press crumbs onto bottom of springform pan (I used 10", but if you use a smaller one, your crust and cheesecake will just behigher) Bake for 8-10 minutes until toasted golden brown. Remove, and let cool while preparing filling.

Beat 4 8 oz. packages cream cheese that have been softened to room temperature with 1 c. granulated sugar until smooth and creamy. Add 1 t. vanilla and beat in 4 eggs, one at a time.

Pour half the cheesecake filling into a separate bowl. To half of the batter, add 1 T. instant coffee dissolved in 1 T. hot water. To the other half of the batter, add ¼ - ½ c. Bailey's Irish Cream, depending on how strongly Irish Creamy you want it.

Pour half of the Irish Cream filling into the crust. Very slowly, pour half of the coffee filling over the coffee filling. Repeat with the remaining halves of the Irish Cream and coffee fillings.

Gently run a spoon from the bottom of the filling to top without touching the crust to create a swirl.

Bake in preheated oven for 35-45 minutes, until center is barely set.

Remove from oven, run a knife around the edge to loosen it from the sides of the springform pan, and let cool completely in the pan.