Please allow me (and Jose Andres) to blow your mind.
American Caviar in Cone $9 each
Foie Gras Cotton Candy $5 each
foie gras terrine rolled in corn nuts, wrapped in cotton candy

Tuna Ceviche Avocado Roll $14
tuna ceviche, jicama, micro cilantro, wrapped in avocado, coconut dressing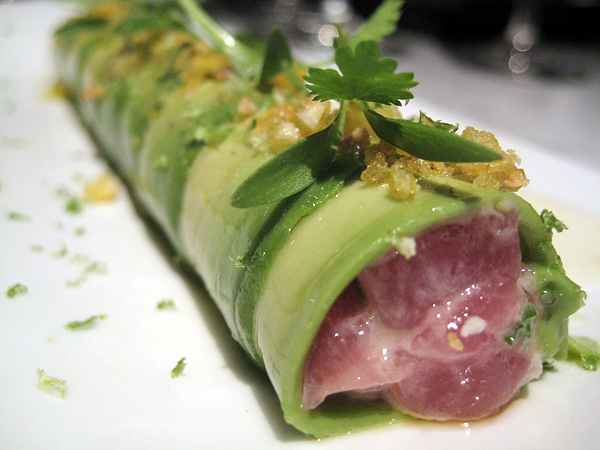 Not Your Every Day Caprese Salad $12
cherry tomatoes, liquid mozzarella "balls," pesto

Watermelon Tomato Skewers $8
with Pedro Ximenez reduction, tomatoes tomato seeds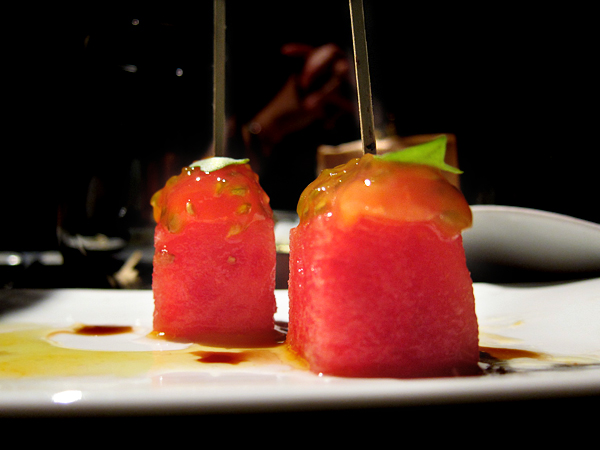 Jicama Wrapped Guacamole $10
with micro cilantro and corn chips

Strawberries with Pedro Ximenez Reduction and Sesame Seeds
Fresh Gaviota strawberries from Harry's Berries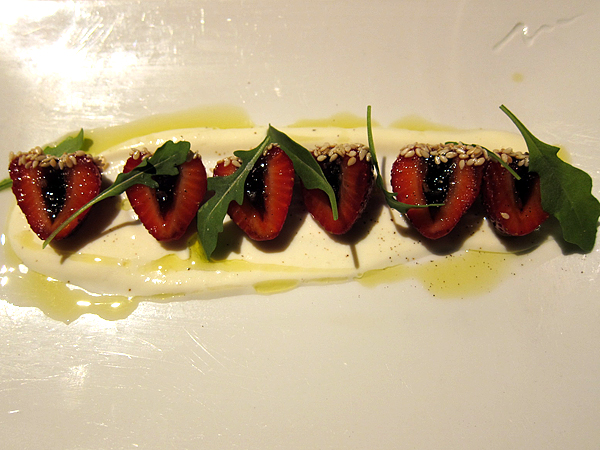 Strawberries with Pedro Ximenez Reduction and Sesame Seeds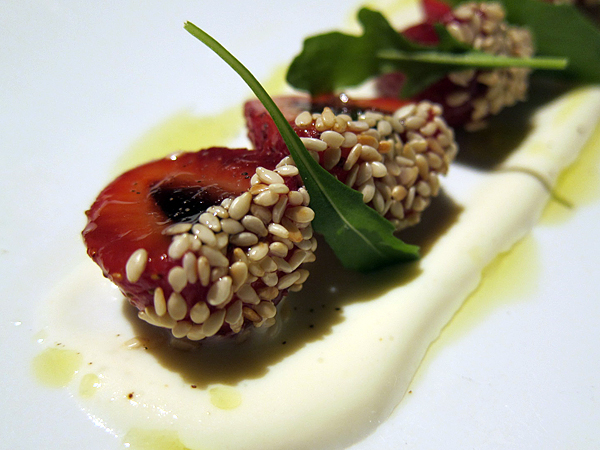 Ottoman Carrot Fritters $7
with apricots and pistachio sauce [carrot fritters recipe]

Feta-ccine
Gelatin
Gelatin
Tortilla de Patatas $5 each
Warm potato foam with slow cooked egg "63" and caramelized onions

"Philly Cheesesteak" $7
Air bread filled with cheese and topped with Kobe beef [philly cheesesteak recipe]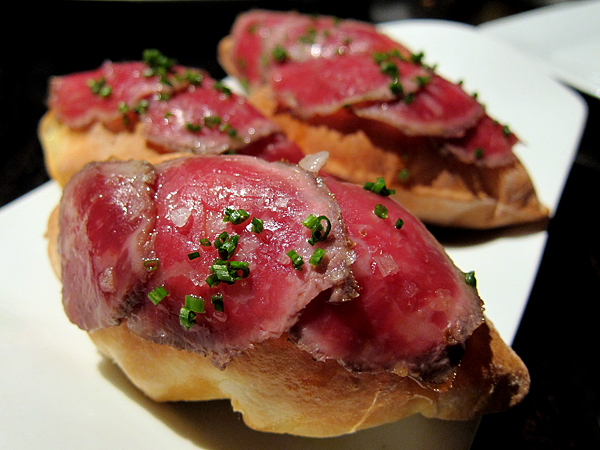 Foie Gras Sliders $15 for three
foie gras, quince on toasted brioche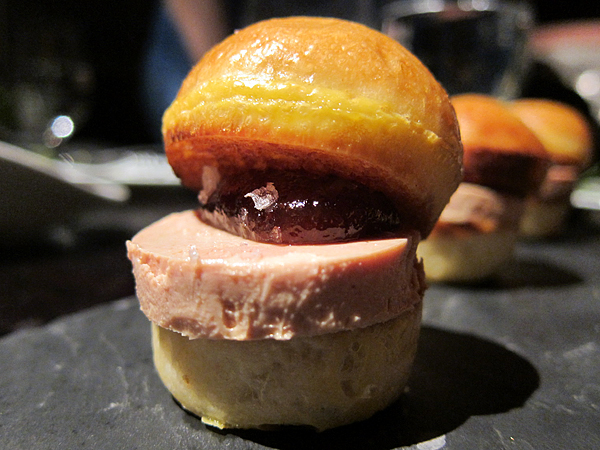 Foie Gras Sliders
Japanese Tacos $10
BBQ unagi (eel) with shiso leaf, cucumber, wasabi and chicharrones [Japanese eel tacos recipe!]

Japanese Taco
Greek Yogurt, Tamarind, Star Anise
Sweet Potato Chips with Greek Yogurt $10
Sweet Potato Chips Bag
Olives, Ferran Adria $10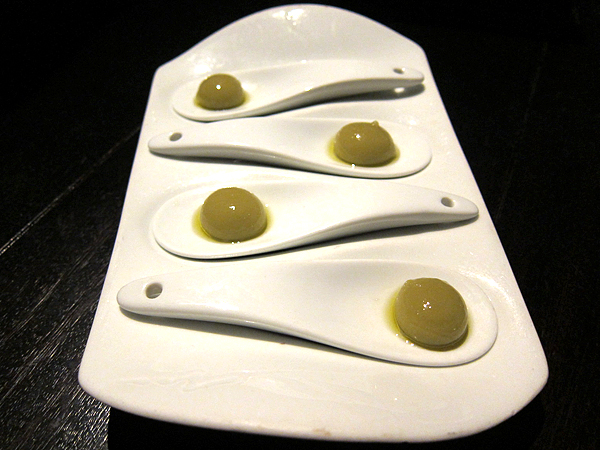 Liquid Olive
Stuffed Green Olives $6
with piquillo peppers and anchovies

King Crab with Raspberry Vinegar $16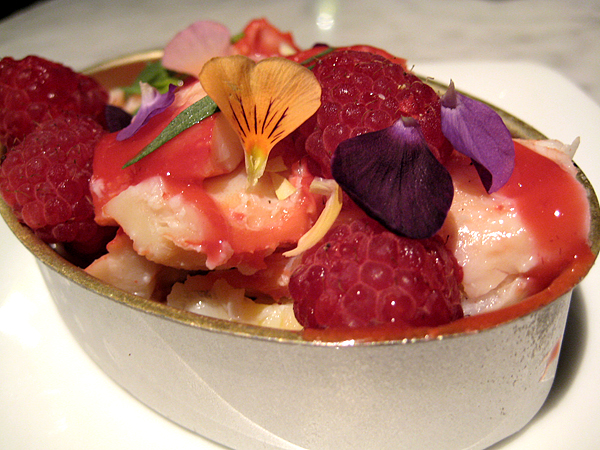 Sauteed Shrimp $12
with garlic ajillo and guindilla pepper

"Bunuelos" $8
Codfish fritters with honey aioli

Papas Canarias $8
Salty wrinkled potatoes with "mojo verde" [salty wrinkled potatoes recipe!]

Seared Piquillo Peppers Stuffed with Goat Cheese $9
Croquetas $7
chicken and Bechamel fritters

Croquetas
chicken and Bechamel fritters

Beef hanger steak with piquillo pepper confit $10
Wild Mushroom Rice with Idiazábal cheese $8
Pa'amb Tomaquet $7
Catalan bread with fresh tomatoes and Manchego cheese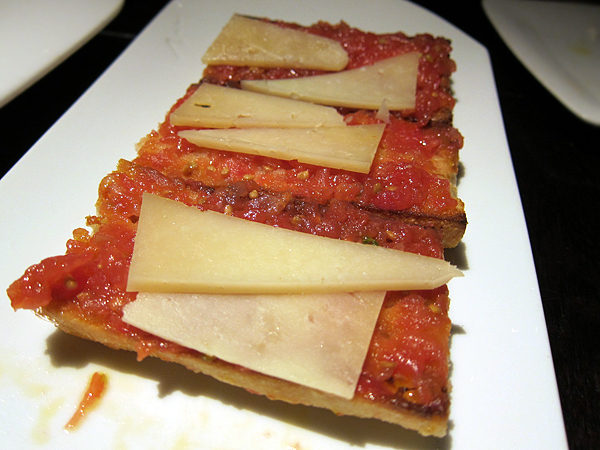 Wine: Recaredo Cava, Sommelier Lucas Paya
Wine: Recaredo Cava
Wine: Sparkling Rose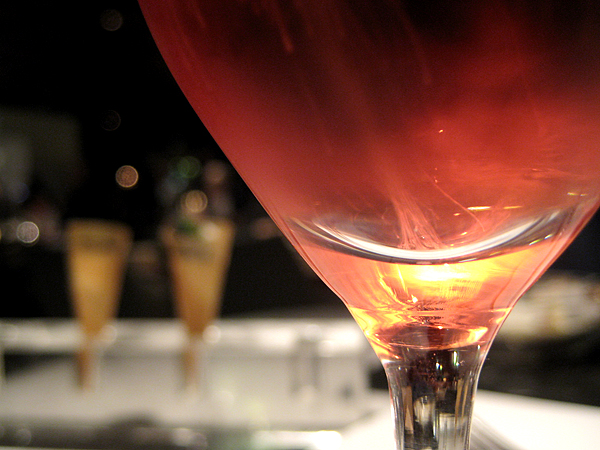 Blanca Dessert: Chocolate Covered Pop Rocks
Blanca Dessert: Nitro Coconut Floating Island $10
Coconut milk dipped in liquid nitrogen, served with passionfruit and bananas

Blanca Dessert: Tres Chocolate Mousse
Rojo Dessert: Traditional Spanish Flan with Fresh Cheese and Fruit
Chalkboard in Rojo Dining Room
"Soft Like Silk"
Display Case of Plates
The Bazaar by Jose Andres at the SLS Hotel