Is Yabu the best soba restaurant in Los Angeles? That would be quite a claim for a city that has more than a few soba restaurants! But in my neighborhood, Yabu is one of my favorites.
Yabu hand makes their soba noodles every day. The menu features soba, in both hot and cold preparations, as well as udon and rice. They also offer grilled and fried dishes, as well as my favorite kind of sushi, mackerel oshi the sushi.
What to Eat at the Best Soba Restaurant
We tried a little bit of everything at Yabu.
Grilled Duck and Green Onion Hot Soba
Zaru Soba, pictured at the top, is a presentation of cold soba noodles and nori seaweed served with a dipping sauce. We also tried Kamu Nanban Soba, soba noodles and grilled duck in a bowl of hot broth.
Japanese Pickles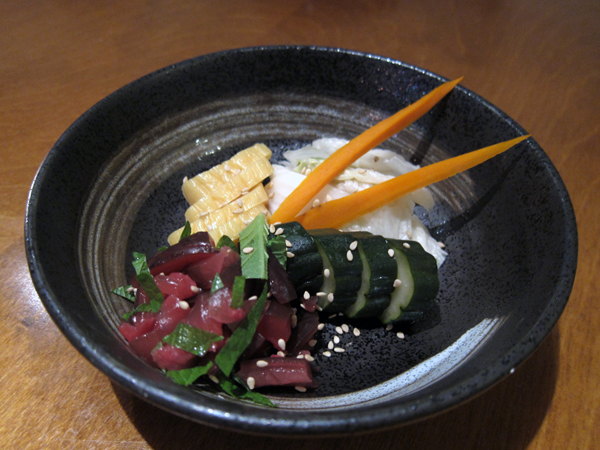 Seaweed Sunomono
Gobo
Renkon Kinpira
Shishito Peppers
Chicken Karaage
Chicken Karaage is my all-time favorite interpretations of fried chicken. The dish is made of pieces of dark meat chicken, coated in either rice or regular wheat flour, then deep-fried. Japanese mayonnaise like kewpie, laced with either a little sriracha hot sauce or yuzu, is the best dip.
Siu Mai (Shrimp Dumplings)
Siu mai shrimp dumplings are not the traditional dumplings you get at dim sum. Yabu wraps the shrimp with thin strips of egg omelet.

Tebasaki Chicken Wing
Tsukune
Tsukune is a chicken "meatball," shaped onto a skewer and grilled. This is one of my all-time favorite dishes.
Duck and Green Onion
Negima Chicken (Dark Meat Chicken with Green Onion)
Spicy Hamachi Maki Sushi (Roll)
Mackerel Oshi Sushi
Mackerel and other silver-skinned fish are my favorite kind of fish for sushi and sashimi. Not only are these types of fish generally more sustainable, their flavor is intense and awesome.
Make Soba at Home
If you're up for the challenge of making soba at home, try the following recipes. The soba recipes use packaged soba noodles which you can buy in Asian grocery stores, some major grocery stores like Whole Foods, and online.
Yabu Restaurant
11820 W. Pico Blvd
Los Angeles, CA 90064
310.473.9757
www.yaburestaurant.com
update: the West Hollywood location at 521 La Cienega Blvd is closed
originally published September 2011, updated August 2022