Sometimes, if you wait long enough, every little thing will fall into the exact place it was meant to be that you won't even believe it! Like if you procrastinate for one year and four months To. The. Day. to post photos of a wine and manicure pairing, every part of it will be so unbelievably perfectly matched point-for-point with the holiday, the season, mani monday, giveaways, and all the crazy things happening in your life right at that moment that you will wonder if the 4.7 earthquake that shook you and your empty bottle of wine out of bed this morning wasn't a wake-up call planned by the universe as well...
Then again, sometimes, if you wait too long, if you get greedy or lazy or cling to some silly hope, what could have been saved as a memory of heart-meltingly, falling in love, falling apart tenderness will disintegrate into an unrecognizable pulpy, stringy, weepy mess.
But that's a very special post for another day!
White Burgundy is the post for today.

SAINT VÉRAN
Burgundy is a region in France. Burgundy produces red wine. Burgundy also produces white wine, which is almost always made from Chardonnay grapes. Oh, there's that damned "almost always" again, which accounts for very rare exceptions like Aligote, old vine Pinot Blanc, and Pinot Gris. But whatever. That's graduate-level drinking and I'm pretty content to stay in my girls gone mild college freshman first floor Unit One triple dorm room drinking Burgundy from a post-hipsterist kimchi jar with some of the residual funk left for emphasis.
Jean-Claude Thevenet is a grower who makes a white Burgundy wine out of Chardonnay grapes grown in Saint-Véran, a more specific geo within Burgundy.

GREEN AND GOLD-DIGGING
Instead of painting my nails to match the wine itself with a transparent pale gold "Chardonnay-sayer," a brilliant nail polish name that I just came up with and should be copyrighted into existence, I painted them with e.l.f. cosmetics' "Green Machine" and dipped the tips in glittery "Golden Goddess" to match the green and gold label on the bottle of Thevenet's Saint-Veran.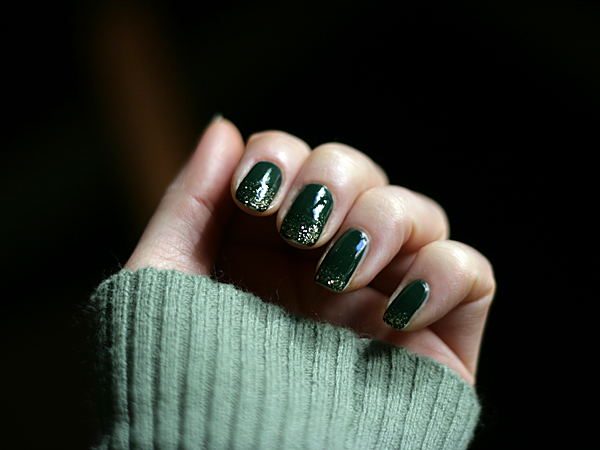 I know. The technique of glitter tips is sooo 2013, but maybe closure on 2013 is the underlying theme here! The color combination, though, is very seasonally appropriate for today, but only today and only the 24 hours max that the manicure lasted without cheaping. I mean "chipping." Let's just say that at the beauty bank, you get what you pay for.
However.
In the wine world, you don't always get what you pay for, an axiom that might be a private allusion to white collar wine crime, OR might be a public pointing to Thevenet's Saint Véran, which drinks like something more expensive than its affordable price tag. I have no idea what that price tag is though because I don't open my own wine.
Did I just blog that gold-digging slice of a buttered douchebaguette out loud?
I did. And speaking of food, I hate to be so cliche when it comes to food with white wine, specifically Chardonnay, but a simple Roast Chicken, with or without some herbs, with or without some lemon, is a perfect dinner, especially since you can use a splash of the wine to deglaze the roasting pan and make a Wine Wine Pan Sauce for the chicken.
Get rid of all the jewelry. Get your nails did. Roast a chicken. Finally say 'Hello' to 2014.

Resources
~ info on Saint Veran "Close de l'Ermitage Vielles Vignes at Madrose.com {importer}
~ buy Saint Veran "Close de l'Ermitage Vielles Vignes (about $20)
~ green nail polish, pictured e.l.f., but my true fav is butter|LONDON's 'British Racing Green'
~ gold chunky glitter polish fav is from sephora by OPI, a bottle I stole out of my sister's bathroom
~ chicken from Marconda's in the Original Farmers' market at 3rd/Fairfax
~ roast chicken recipe: a combination of Thomas Keller and Marcella Hazan (salted inside and out, stuffed with two pricked lemons, roast 400F the whole 60 minutes)
100 Posts in 100 Days, no. 004