Mori Sushi
11500 Pico Boulevard (at Gateway)
West Los Angeles, CA 90064
310.479.3939
www.morisushi.org
When I am overcome with extreme emotion that comes from a flavor or taste experience, one of two things could happen. Most often, opinions and thoughts tumble all over each other in a rolling boil, faster than I can type or speak, so they just come spilling out in a chaotic emotional hurricane. Sometimes I gush because I loved it so much that it hurt, and sometimes I rant in a vitriolic rage because it hurt so much that I hated it. Whichever it is, it is a passionate outpouring. It may take many words, but eventually, I will express the taste, the flavor, the emotion that it evokes, the feeling that floods over me.
It will take many, many, many words. Lots.

Every once in a while, though, extreme emotion manifests itself differently. Words are waiting right there at the edge, pressed up against each other in anxious heat, right there on the verge of exploding out of my mouth. But the words do not register, as if a different language. I cannot translate the feelings into English, I cannot communicate. My mouth is paralyzed by perfect flavors and I just don't know what to say, or it's so ridiculously bad, I just don't know what to say. I have been shocked and awed into a strange silence.
Whether effusive or hushed, one does not indicate passion better than the other. They're just different; which one comes out is based entirely on...hormones? Phases of the moon? Which team wins the Super Bowl? No, there is neither rhyme nor reason. Most of the time the emotions come shouting out loud, enthusiastic, overflowing. But every once in a while, it's a silent scream of pure passion that no one will ever know because I am that good at quietly containing myself during lunch at Mori Sushi in West LA.
There have been many sushi restaurants between the first time Mori Sushi left me virtually speechless and now. Some old ones that I finally tried. Some new ones that caught my attention at the right time. All of them were good and will receive their fair share of gushy lovey words here on The Delicious Life. At some point. Uh, when I get my sh!t together. (I will. No really, I will.) For most of the restaurants, though, that will be all - I will get to say that I went there, ate this and that, but they aren't worth a repeat visit. I have visited Mori more than once, but also have not written about each visit; not for the same reason as the others, but because Mori leave me without adequate words.
The restaurant is situated on the corner of Gateway and Pico, a seedy stretch of road in West Los Angeles that is an unlikely setting for what anyone would imagine Mori Sushi to be. Everything around it, like a couple of "dance" clubs (yes, that kind of *ahem* "dance" club), the saloon across the street, and auto body shops, appear a little run-down, a little crusty and crumbly. Those places needed a paint job about fifteen years ago, but decided not to waste the money. Their original 1920s leases will likely be ending soon so why bother?
You would think, then, that Mori Sushi would be conspicuous in its clean. It is not. It doesn't state its name in words outside. There is just a a simple sage green and white sign with a stick drawing of a fish posted high above the building, the loudest softest hint you'll ever get at either sushi or salvation. Maybe both. When I walked through the doorway, the bright white walls and light wood furniture were familiar and refreshing. Though tiny, with a modest sushi bar and a few tables in the main dining area, the room feels open and airy. Other than a set of giant white paper globe lanterns hanging from the high ceiling, there is no real decor. It is clean, almost to the point of starkly minimalist.
When I sat down at the sushi bar in the seat that had been saved for me, there was a bottle of sake already open. Lunch. A bottle. Confidently chosen without consultation. I was impressed. I could hardly stumble through the requisite reciprocal introductions to take a ladylike shot that would take the awkward edge off. The sake went down, I relaxed in a chair that wouldn't otherwise allow it, and was ready for lunch.
I didn't love the dishes that were something other than sushi or sashimi. Grilled Prawn with a Sea Urchin Sauce, Miso Squid, Seafood Soup, Tempura with Gingko Nuts were good, but nothing I'd order myself. But the sushi and sashimi? Thank God a picture is worth a thousand tasteful words.
Tuna and Tofu "Caprese" Salad: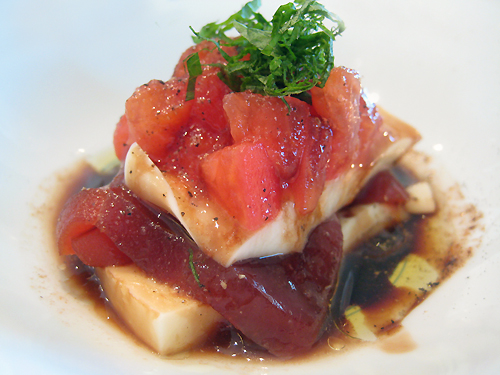 Hamachi, Kanpachi, Toro Sashimi: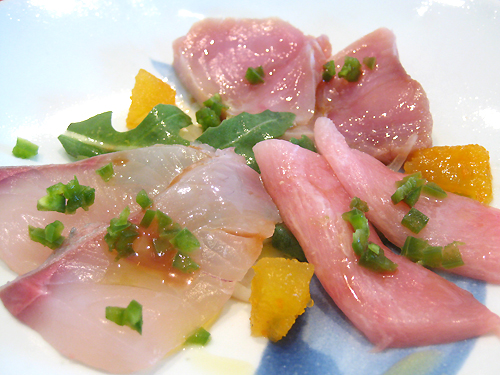 Grilled Prawn with Uni Sauce: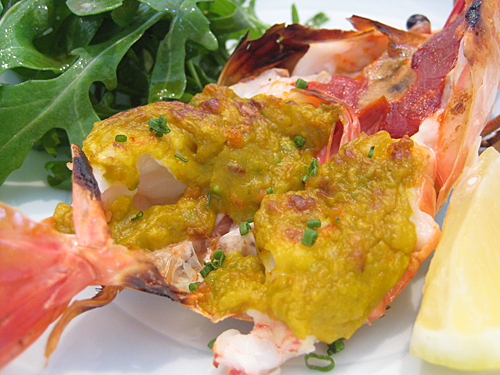 Miso Squid:

Seafood Soup: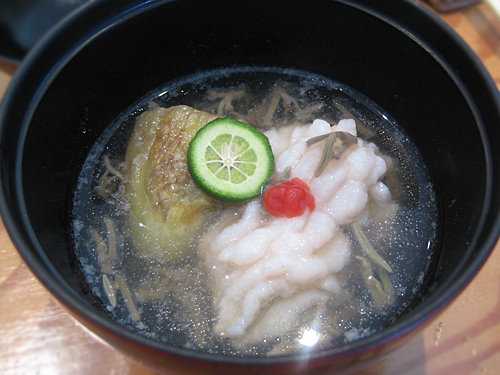 Tempura with Gingko: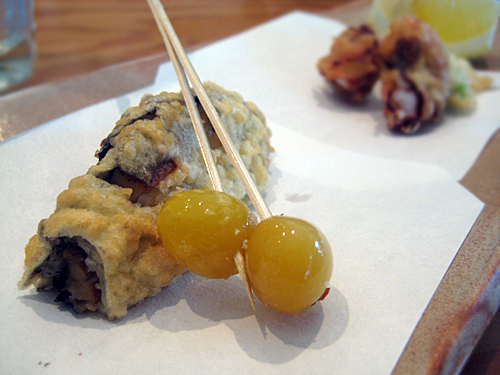 Toro Sushi (OMG):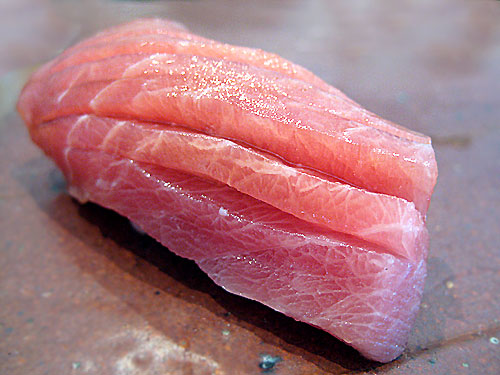 Mackerel (OMG again):

Uni:

I am sure I will go back to Mori Sushi a half dozen times before I blog about it again.