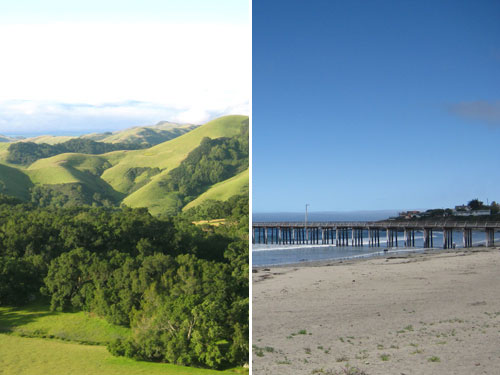 Somewhere along the 20-mile westbound drive from the gently rocking and rolling hills of Paso Robles to the misty coast town of Cayucos, you might start crying. It won't be so much the red-faced, hiccuping, sniffling, sneezing, so you can rest madness.
Rather, it will be a painfully cliché welling up of tears that starts when the mesmerizing view of perfectly parallel budding vines loosens into a softly lit, softly edged mountain fantasy. The tears will just barely teeter along the edge of your lower lashes all through the valleys, flirt with your mascara over the hills, and when an ever-so-slight swerve gives you a peek of the Pacific through a break in the clouds, you won't be able to hold back from blinking your eyes into a tiny, briny spill.
Thank God my mascara is waterproof.
Yes, somewhere between Paso Robles and Cayucos, I had been brought to tears, but I'd be a fool for trying to identify the exact reason why. It was such an uncharacteristic display of weepy emotion in the middle of a car ride, in the middle of a trip, in the middle of California. We had just come off our last wine tasting in Paso Robles and were heading west toward the practically unknown town of Cayucos for the second half of a Central Coast "retreat." Every part of the drive is a little bit fuzzy for me, partially the the effect of a long, slow-acting wine buzz that was unraveling straight into the low, late afternoon sun directly ahead of us, but mostly the result of trying to process so much information - wines, grapes, names, faces - at once.
View Escape to the Central Coast, May 2009
I'd be a bigger fool for trying to pinpoint exactly where we were along the hilly, winding stretch of westbound CA-46 when we found ourselves disregarding all traffic rules, pulling across the highway, and taking "a moment" in a turnout overlooking a valley that was so impossibly technicolor green that it looked like a Hollywood backdrop. I had no idea where we were; we could, in fact, have been on a movie set for all I knew. My smart phone has even smarter GPS, but when I had realized earlier on the drive that no signal weaker than the sound of music was going to clear the hills that were surrounding us on all sides, I had tossed the phone into the glovebox. Or maybe under the seat. Possibly shoved it into my purse.
Out there in the middle of everywhere, I couldn't make a phone call, couldn't send an email, couldn't instagram or tweet to let people know in advance that I wouldn't be updating every minute in real-time. Every digital tie that I had to My. Daily. Life had been severed by a stunning vista on my left and doe, a deer, in the five foot tall grass on my right.
A f**king deer.
That must have been "the moment" -- not a particular point in time, not a single destination point on a map, but the perfect, utterly ambiguous "afternoon-ish, somewhere on the Central Coast" that was never planned, never added to an agenda, never scheduled into offline google calendar, never numbered into an outline-numbered outline, when I realized I was experiencing the exact opposite of my life.
I had to enjoy it right then and there, exactly for what it was because I couldn't share it via email, or IM, or twitter or text with anyone else.
It took 200 miles, a couple of glasses of wine and Bambi, for goodness' sake, but I had finally escaped.
PASO ROBLES WINE COUNTRY - Reality Star
Having spent four years at Cal (UC Berkeley) and now regularly visiting northern California as a Bay Area "alum," I'm no stranger to the popular masses' fermented infatuation with Napa and Sonoma. Both have the same appeal as that of a movie star - fame, fortune, and flash - curiously appealing because those things are all a little out of reach. I'd be lying if I said I haven't been seduced by the sprawling vineyards, stunning estates, and luxurious tasting rooms of some of the most well-known wineries along the CA-29, Napa's own version of the Walk of Fame. I have gone, just another anonymous fangirl in a crowd of tourists, excited to see the place with the name that everyone else only gets to read on a label, cherishing a taste of a limited release Cab like an autographed picture.
But to the slick, sophisticated, somewhat superficial celebrity of Napa, there is the sometimes rebellious, sometimes rugged, but always very real, personality of El Paso de Robles.
Personality. I know what it means to have "personality," believe me. My younger sisters are model-pretty, but I'm the one in the family with a great personality. In the case of Paso Robles though, personality has much less, in fact almost nothing, to do with making up for any sort of deficiencies in physical appearance. Personality has everything to do with the root of the word, "person." Every winery (and restaurant and hotel) we visited in Paso Robles had attached to it, not a corporation somewhere far removed in the background, but a real person with a name, a face and his or her own individual charm.
We met the winemaker whose name is on the grapes that make his wine, chatted in a tasting room about retiring in Paso Robles, cruised through vineyards on a golf cart chauffeured by the grower, and met a dog whose owner's name was on the label on the bottle that's sitting empty on my desk right now. I will admit, it was a little jarring for a girl from LA who hides her "great personality (!)" behind a photoshopped avatar and clever handle to be face-to-face with real, live people, having real conversations, and really laughing out loud, not "LOL." But when you are escaping your ordinary, anonymous life that is filled with things that are represented by nothing more than stock symbols and two-dimensional logos, real people are the best kind of fantasy.
It is not often that we get to do that - meet a person who is responsible (other than yourself, of course) for what you're drinking - but that is precisely the point of Paso Robles.
Paso Robles comprises 26,000 acres of vineyards, 300 wineries, and 40 varietals. That is smaller than say, oh, France, (which is still not the largest wine producing country in the world) but the numbers are sizeable enough to make a thorough tour of the area impossible in less than a month, let alone three days. If you have "done Paso," and have strong opinions about any of the wineries you visited, please share them in the comments to add to the wineries we visited.
L'AVENTURE WINERY & STEPHAN VINEYARDS
ADELAIDA CELLARS
HALTER RANCH VINEYARDS
DINING IN PASO ROBLES - I'm Just Here for the Food
Three meals between two restaurants had me asking myself if the food alone of Paso Robles - not the wine - could be the real reason to make a trip.
The reality is, you can't ever have one without the other. I know I can't.
THOMAS HILL ORGANICS MARKET BISTRO & WINE BAR
SLEEPING IN PASO ROBLES - A Little Bit of Luxury
HOTEL CHEVAL
CAYUCOS - Hidden in a Silver Satin Mist
CASS HOUSE LUXURY INN & RESTAURANT
SAN LUIS OBISPO - Exactly the Way to Head Back to LA
NOVO RESTAURANT

Chances are, there is a restaurant almost like Novo in your neighborhood - a family owned operation that just serves good food in a comfortable, California casual atmosphere. It may even have outdoor seating on a patio in the back like Novo.
But it won't be Novo because Novo's back patio overlooks a creek that, if you stop your conversation, or put down your cell phone, or just simply sit back in your chair, you can hear. Novo Restaurant in San Luis Obispo was the final stop on our Central Coast itinerary, and the sparkling wine, the Avocado Summer Roll the size of a burrito, and the Roasted Vegetable Sandwich were the perfect way to ease back toward LA.
---------------------------------
If you take a long weekend to visit the Central Coast, or just a standard weekend to stay in Paso Somewhere along the westbound drive from the gently rocking and rolling hills of Paso Robles to the tiny coast town of Cayucos, you might start crying.
Or you might not. I don't know how an escape to the Central Coast will affect you.
I just know that it will.
Where to Wine, Dine and Sleep in Paso Robles, Cayucos and San Luis Obispo
WINE IN PASO ROBLES
Paso Robles Wine Country Alliance
www.pasowine.com
Adelaida Cellars
5805 Adelaida Road
Paso Robles, CA 93446
800.676.1232
805.239.8980
www.adelaida.com
Halter Ranch Vineyard
8910 Adelaida Road
Paso Robles, CA 93446
888.367.9977
www.halterranch.com
L'Aventure Winery
2815 Live Oak Road
Paso Robles, CA
www.aventurewine.com
DINE IN PASO ROBLES
Thomas Hill Organics
1305 Park Street
Paso Robles, CA 93446
805.226.5888
www.thomashillorganics.com
SLEEP IN PASO ROBLES
The Hotel Cheval
1021 Pine Street
Paso Robles, CA 93446
866.522.6999
www.hotelcheval.com
IN CAYUCOS
Cass House Luxury Inn & Restaurant
222 North Ocean Avenue
Cayucos, CA 93430
805.995.3669
www.casshouseinn.com
IN SAN LUIS OBISPO
Novo Restaurant
726 Higuera Street
San Luis Obispo, CA
805.543.3986
www.novorestaurant.com