Day One of Son of a Gun's lunch service on Day 2 of 2012 means I don't start my New Year's resolutions until Day 3...
Tried everything on the menu we haven't seen (and eaten) before on the dinner menu. Two words: Oyster Loaf.
Smoked Trout Salad - new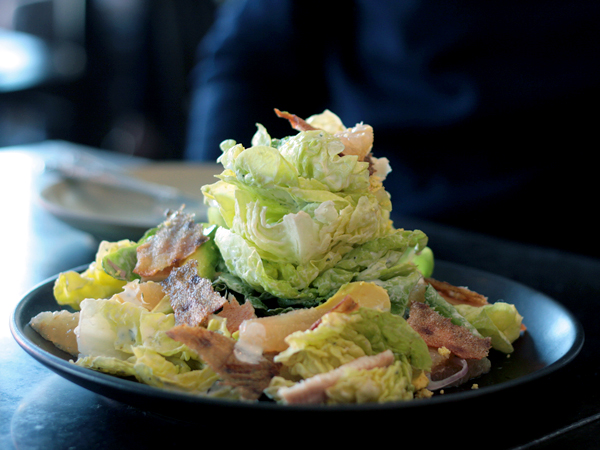 Chicory and Cauliflower Salad with Anchovy Dressing - new
Son of a Gun Lunch
Opening day...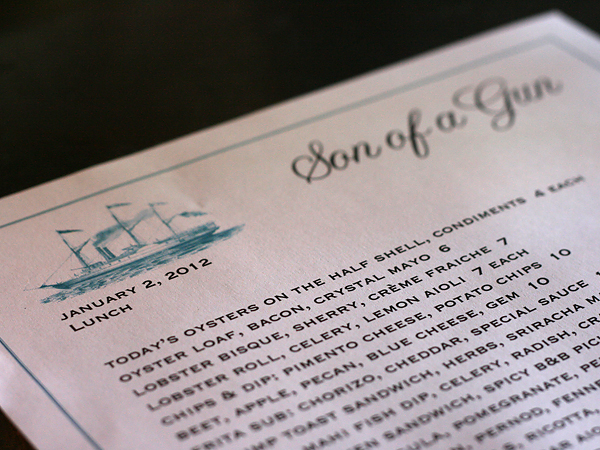 Oyster Loaf
Oyster loaf, bacon, Crystal mayo, $6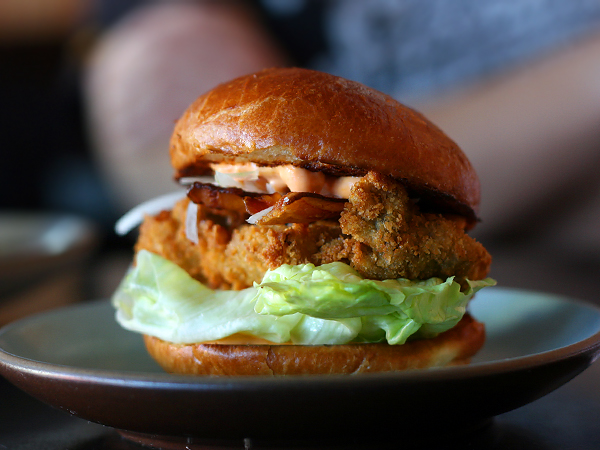 Lobster Bisque
Lobster bisque, cherry, creme fraiche $7

Beet Salad
Beets, apples, pecans, blue cheese, gem lettuce $10. I forking LOVE this salad. (But I'd also love to see a heartier "main dish salad" suitable for a light+liquid lunch at the bar. A Son-of-a-Gun-ified Nicoise, maybe?!)

Frita Sub
Chorizo, Cheddar cheese, special sauce $11 (also pictured above)

Persimmon Salad
Lettuces, arugula, pomegranate, persimmons, dates $12

Cavatelli and Meatballs
Cavatelli pasta, meatballs, ricotta, garlic bread $14. Like a meatball sub in a bowl. The bread alone could be a meal.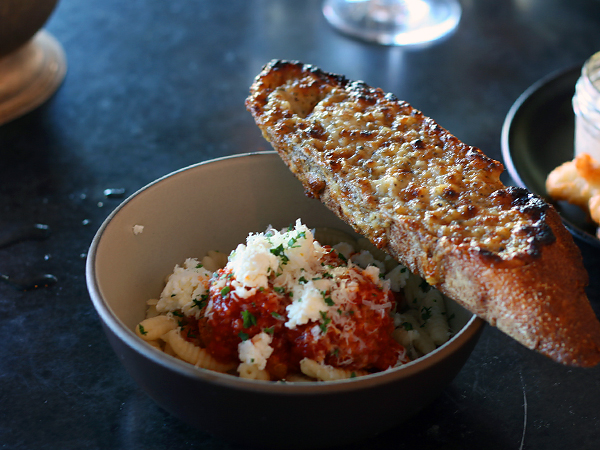 Fish & Chips
Fish and chips, malt vinegar aioli $15

Frozen Lime Yogurt
Frozen lime yogurt, graham crumble, toasted meringue $6

Son of a Gun Wine List
Pinot Auxerrois Schoech 2010

Lunch with the Original Big D and Le Ben, Monday 1/2/2012
Lunch with Michael and Kat, Tuesday March 20, 2012