Currently obsessed with Spicy Pomegranate Salsa, whether it's tossed with salads, spread onto flatbread, or simply scooped up with sweet potato chips. It's the perfect sweet and spicy dish to brighten up your fall and winter.
Jump to:
What is Spicy Pomegranate Salsa
Spicy Pomegranate Salsa is a sweet, sour, and spicy mix of red onion, jalapeño pepper, and pomegranate arils, the technical terms for the red pops inside the whole pomegranate. Pomegranates are at their peak in the cooler months, and are a fun, seasonal substitute for chopped tomatoes.
Health and Dietary Considerations of Pomegranate
This Spicy Pomegranate Salsa recipe as written is:
100% plant-based/vegan
raw
dairy-free
gluten-free
anti-inflammatory
What Ingredients You Need for Pomegranate Salsa
You will need:
Pomegranate seeds, preferably seeded yourself from a whole pomegranate
Red onion
Jalapeño pepper
Lime
Parsley
Salt (and pepper if you'd like)
Ingredients Notes and Resources
Pomegranate. Whenever possible, buy whole fresh pomegranates and seed them yourself. However, if seeding a fresh pomegranate is the step that makes you hesitate, then by all means, buy pomegranate seeds in the containers. Baby steps, baby.
Red Onions. If you don't have red onions, you can substitute shallots or even white/yellow onions. The white onions will become tinted pink from the pomegranate. Note: soaking the red onions in ice cold water, as directed in the recipe, softens some of the onion's sharp edge.
Jalapeño pepper. Jalapeño peppers have a medium spicy heat and are very easy to find fresh all year. If you prefer more heat, use more jalapeño pepper and include the seeds, or try using a serrano pepper, which has a higher heat level than jalapeño peppers.
Lime. This recipe call for 2 teaspoons of lime juice. One whole lime renders about 3 teaspoons of lime juice. You can also add a teaspoon of finely grated lime zest to add another dimension of flavor.
All other produce from local Los Angeles farmers' markets or organic at Whole Foods Market
Instructions for How to Make
There's nothing to Spicy Pomegranate Salsa than throwing all the prepped ingredients into a mixing bowl and giving them a good stir. The one slightly involved step is seeding the pomegranate!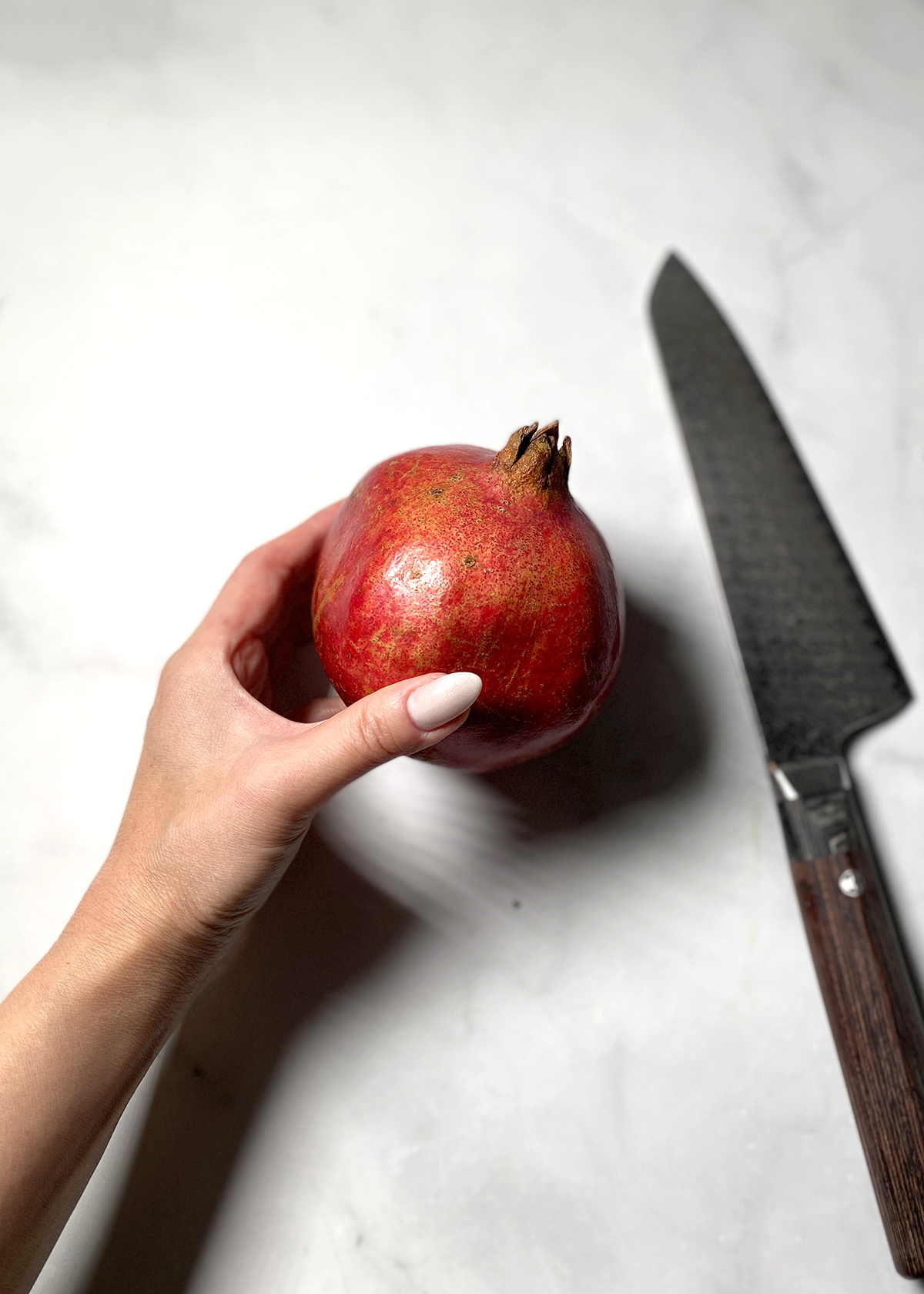 How to Buy Pomegranates
There are different kinds of pomegranates, with skin and seeds that vary in color from deep ruby red to faint pink, almost white. In grocery stores, look for pomegranates that have smooth shiny skin without dark bruises. A little wrinkled is ok as it just means the skin is drying out. The seeds inside should be fine.
Pick up the pomegranates and feel for one that is "heavy for its size." If you don't know what this means, you just have to do it by picking up two similar sized pomegranates and see which one feels heavier.
remove top of pomegranate
score skin and separate segments
How to Cut Open and Seed a Pomegranate
There are a few ways to cut open pomegranate and remove the seeds.
Peep the short video below to see how to cut open a pomegranate. Remove about an inch off the "top" or the blossom end of the pomegranate by barely slicing ¼-inch into the outer skin and peeling back the top. Then look for the white membranes that divide the pomegranate into segments and lightly score the skin along each of those membrane lines from top to bottom. Separate the segments where you made the scores.
What you should NOT do is take a knife to your pomegranate and just cut into it straight down the middle. This will also cut through all the seeds, spraying red juice everywhere.
To remove the pomegranate arils, aka the seeds encased in the red pulp, I find that removing them gently by hand works best to keep the most arils intact. The process is fairly slow, but nothing worthwhile is ever fast and easy. I find it to be very meditative for me to be honest.
As gentle as you are with removing the seeds, you will inevitably pop a few. Wear a dark colored top or an apron just in case.
How to Store Spicy Pomegranate Salsa
Spicy Pomegranate Salsa be stored in a glass container with air-tight lid in the refrigerator. It will be good for about three days. The onions will pick up a bright fuschia color from the pomegranate.
Freezing is not recommended.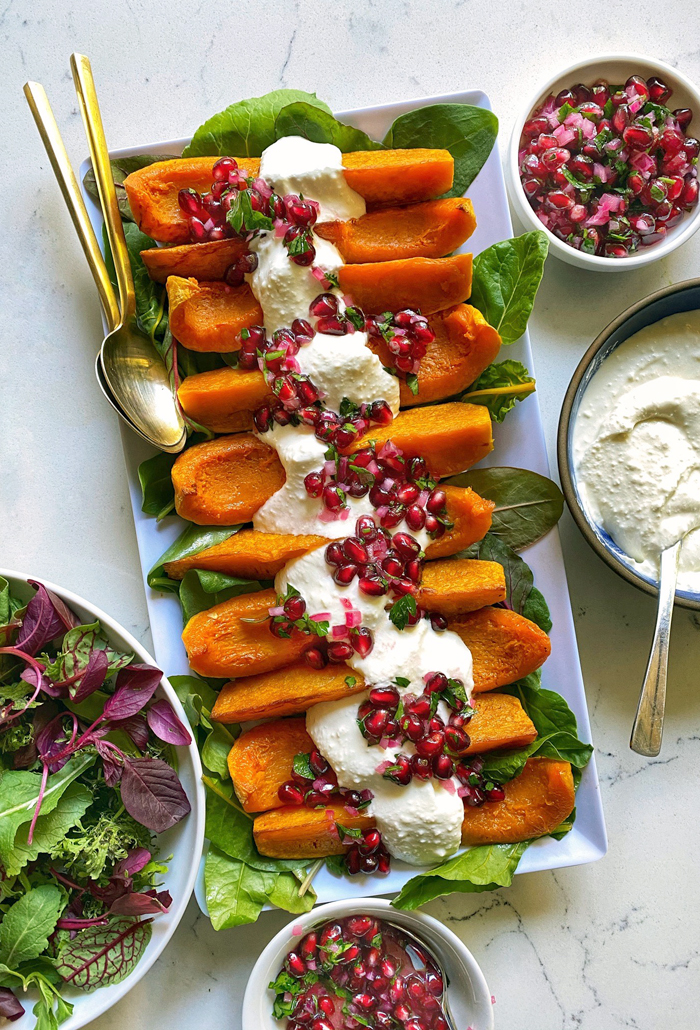 How to Serve Spicy Pomegranate Salsa
Use Spicy Pomegranate Salsa anywhere you would use a spicy tomato-based salsa, but in the fall and winter. Here are some specific ideas:
Variations on Spicy Pomegranate Salsa
Leave the jalapeño peppers out for a regular Pomegranate Salsa. This recipe has detailed ingredients and instructions.
Switch out the parsley for cilantro to make it more like a Mexican/Latin pico de gallo. Cilantro drastically changes the flavor of the salsa. You have to be into cilantro to want to make this variation.
FAQ
How many pomegranate seeds are in a pomegranate?
A large, heavy pomegranate rendered a little more than 1 cup of seeds. This recipe calls for 1 cup of pomegranate seeds. If you have the budget and storage space, buy more than 1 pomegranate. You'll thank me later.
Why are my pomegranate seeds partially white?
There are many varieties of pomegranates. Pomegranates can range in color for pale pink that's almost white, to the bright ruby red we're most accustomed to seeing in regular grocery stores. White pomegranates are more rare, ripen earlier than red pomegranates, and generally taste sweeter.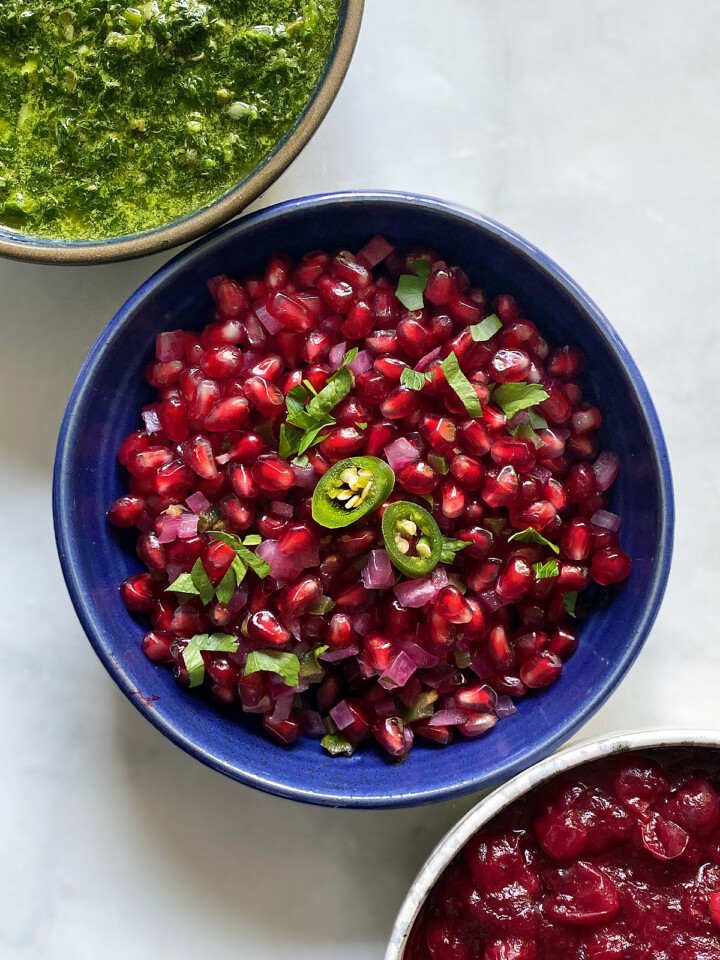 Print Recipe
Spicy Pomegranate Salsa
This spicy rendition of Pomegranate Salsa is perfect when you want both the health benefits of pomegranate and a hit of heat to keep warm in the fall and winter
Ingredients
2

teaspoons

lime juice

¼

teaspoon

Kosher salt + more to taste

1

cup

pomegranate seeds

2

tablespoons

finely diced red onions

1

tablespoon

very finely diced jalapeño pepper

2

tablespoons

finely chopped Italian flat-leaf parsley
Instructions
In a bowl, whisk together lime juice and salt. You're just trying to dissolve the salt.

Stir in soaked pomegranate seeds, diced red onions, jalapeño peppers, and chopped parsley. Taste and adjust seasoning with additional lime juice or salt.
Notes
Spicy Pomegranate Salsa be stored in a glass container with air-tight lid for about three days. The onions will pick up a bright fuschia color from the pomegranate.