Guest Chef Jeremy Fox did vegetables, "Animal-style." They were delicious.
Marcona Almonds
lavender sugar + sea salt + olive oil
If I had paid the $70 prix fixe and received nothing but a cereal bowl full of the Lavender Sugar Almonds...it still would have been worth it.

Crunchy French Breakfast Radishes
soft chevre with nori + black lava salt + mustard
Cheese with a faint smell of the ocean...I had half a mind to rub some into my shoulders like tanning cream. Or maybe I just had half a mind.

Black Lava Salt
It was salty.

2x Shucked Peas in Consomme of Shells
white chocolate + chocolate mint + macadamia
Forono Beet Baked in Rose Geranium Salt Crust
fuerte avocado + pickled green strawberry + pistachio
Pickled Green Strawberry
I did not love the pickled strawberry. Maybe because its pasty, pallid complexion with an eerie blue-green tinge looked all too familiar, okay?!

Young Favas, Roasted Whole, Then Shucked
salsa maro of the pods + anchovy flavor + parmesan
"Anchovy flavor" in quotes was worrisome. And then they told us it's red miso.

Wine: La Torre Rosso di Montalcino 2006
Obviously.

Heirloom Carrots Rescoldo Style, in Root Embers
vadouvan spices + coconut labneh + parsnip = WINNER
The first time I tasted vadouvan, I hated it. Vadouvan on Chef Fox's heirloom carrots tasted like Christmas in spring. The wine made them even better.

Heirloom Carrots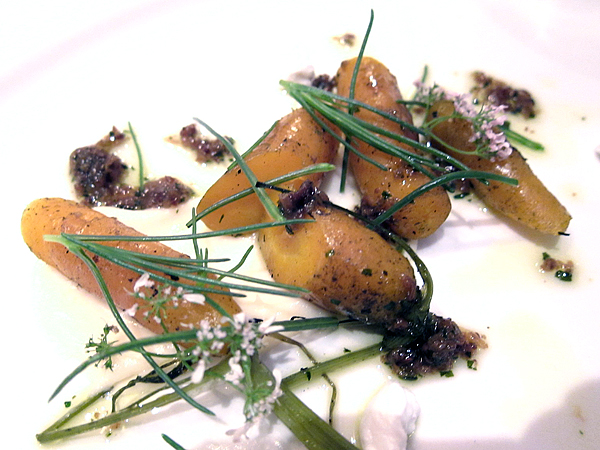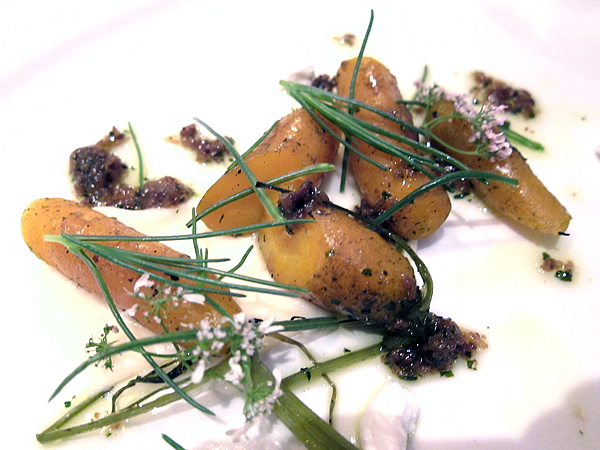 Roast Celtuce Stalk & Fresh Liptauer Cheese
ruta-kraut + pumpernickel + horseradish mustard
The question of the night was "celtuce, rhymes with 'melt us?' or celtuce rhymes with 'sell gucci' or celtuce rhymes with wtfisceltuceotherthanawesome?!"

Sweet Fennel & Puffed Wild Rice Krispies
fennel bulb + page mandarin + bronze fennel
Toasted Brioche & Sherry Creme Brulee
fried cornbread + chocolate ganache + shiitake
The shiitake mushrooms tasted like bacon.

Vegetable Tasting Menu with Two Wine Pairings
Tasting menu can also be prepared vegan (we had one at our table) and gluten-free.
Early Thoughts on Vegetable Dinners at Animal Restaurant:
~ "enamored with the flavors" from a Chowhound
~ "food and service were phenomenal" from QuarryGirl