In LA, to eat fancy fusion food from a professionally trained chef, you stand on a dirty street corner with a fistful of flimsy paper napkins and a plastic spork.
To eat "authentic" street food, you sit down at a table in restaurant with a fork and knife...
Escuela Taqueria serves no alcohol. They have no website. When we went for lunch, they were out of fish tacos and tamales.
And yet I quite loved sitting at the sheet metal-topped tables under a ceiling of chairs, eating "street" tacos served in paper trays, with a fork on pretty blue and white plates.
Fish Tacos
Carnitas (Pork) Tacos
Tamale (chicken)
Grilled Corn
Chicken Tacos
achiote lime marinade, onion, and cilantro $6

Pork Chuletas Tacos
Grilled pork chops with avocado and sea salt $6

Chips and Salsa
If you're on a diet, at least you won't overdose on chips and salsa. They chips were chewy (underdone?).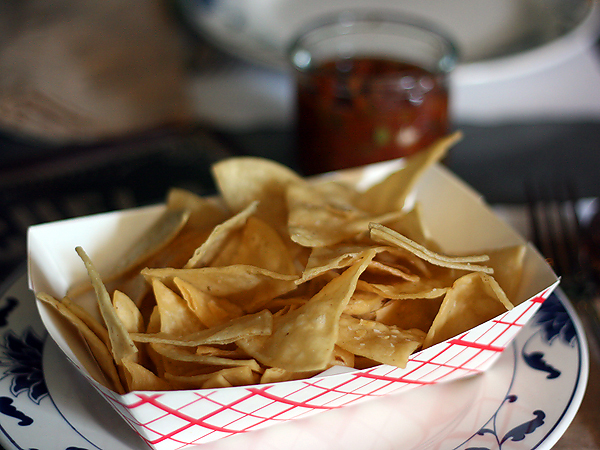 Tables
Decor: Chairs on Ceiling
Decor: Birds
Escuela Taqueria Front
Escuela Taqueria
308 N Stanley Ave (just north of Beverly Blvd)
Los Angeles, CA 90036
323.939.8226
{lunch with James R, Wednesday January 18, 2012, updated with lunch with Le Ben Thursday February 9, 2012}