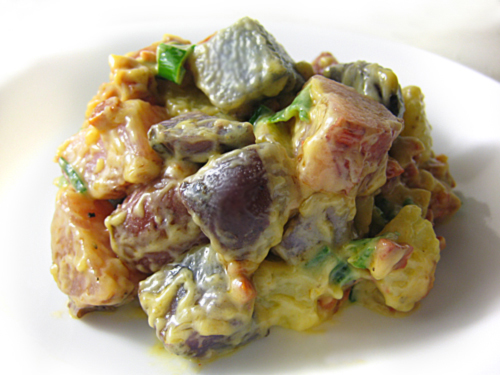 Print Recipe
Roasted Garlic Red Potato Salad Recipe
Ingredients
3

pounds

red potatoes or other small waxy potatoes

¼

cup

avocado oil

12

cloves

garlic, minced

1

tablespoon

sea salt

1

teaspoon

black pepper

1

teaspoon

dried rosemary

1

cup

mayonnaise

½

cup

chopped fresh parsley

1

lemon, juice
Instructions
Scrub, dry, and quarter 3 pound new potatoes. Toss potatoes with ¼ cup avocado oil, 8 minced cloves of garlic, 1 tablespoon salt, and 1 teaspoon black pepper.

Spread potatoes on a baking sheet, skin sides down. Roast in oven for 45 minutes, shaking pan every 10-15 minutes to keep potato skins from sticking.

Meanwhile, mix together 1 cup mayonnaise, another 3-4 cloves of minced garlic, ½ cup chopped parsley, juice of 1 lemon.

Toss cooled potatoes into mayonnaise mixture. Serve at room temperature, and pass a tin of Altoids.
There are certain things that I do not love, and when they are placed in front of me, I can politely decline. I am able to do that – I can be polite, I can decline. Oh, foie gras pad thai garnished with truffles and caviar? *smile* Thank you, but I'll pass.
For most people, this is normal. If they don't like it, they simply don't eat it. Simply.
But, there are also certain things that I do not love, and yet, when they are placed in front of me, it's not "simply." In my head, I am mentally recoiling and shrieking with utter disgust, "No! omg-get-that-ish-away-from-me! I hate that stuff! " Of course, a mental sign of the cross translates to whispering to the host, "Oh, no thank you." *smile*
But I am not thinking. I am caught up in the conversation. I am victim of a tumbler full of rocks and liquid potato poison. Before I know it, I catch myself with a spoon mid-flight to my mouth, unable to stop myself from eating whatever it was that I so hypocritically cursed into the culinary circle of Dante's hell in my mind and "no-thank-you"-ed out loud.
Lay's potato chips. Fried rice. Honey-roasted peanuts. Garlic crab.
Potato salad.
Supposedly, I hate potato salad, and yet – if we're sitting poolside on quite possibly the hottest day in the history of Los Angeless meteorology; if the bowl is a beautiful pale cerulean blue; if you make me and my camera wait poised impatiently over a bowl of potato salad, so that you can sprinkle it with pretty paprika in all your Sandra Lee glory; if you put a bowl of potato salad in front of me – I will eat it.
You see, I will absent-mindedly pick up a fork. I might actually catch myself here with a prissy little *giggle*, but I will tell myself that I will taste the potato salad, just to be polite. I will delicately maneuver a tiny piece of a potato with the edge-most tine of my fork. I'll taste it, make note, "Yep, that's potato salad," then ever so EmilyPost-ly put my fork down.
But then something comes over me. Rather, it doesn't come over me. Restraint does not take over. Before I know it, I am laughing wildly about "sausages" and other such nonsense, not realizing that I am going through some time warp trans-gender metamorphosis with every progressively larger bite, until finally I have become a modern day female Henry VIII, full fisting my fork, scraping pulpy potato residue from the sides of the sides of the bowl and quite possibly grunting with satisfaction.
Oops. *giggle* Did I eat all that? And in my head, I'm hauling my dreadfully undiscplined psyche over the coals. "Bad girl! Why did you just eat that!? I can't believe I just ate all of that potato salad!"
I thought I didn't like potato salad, right? Right??!
R-i-i-i-i-i-ght.
The reality is that the seemingly first instinct of "I don't like that," that silly little subconscious thing that kicks into "cool it now" like a thermostat is actually not natural, but the effect of a little personal brainwashing. I have been fooling myself right into the giant tub of Miracle Whip in the door. I think I might actually like potato salad. In fact, I think I might like a lot of the things that I tell myself that I hate because, well, I have been telling that to myself.
So I won't eat them.
So my arteries don't narrow to the diameter of a toothpick.
So my my waistline doesn't widen to the girth of a redwood.
I brainwash myself into thinking that I don't like certain "bad" things because it is easier to avoid things when you don't like them, than if you're just not supposed to eat them. When it's your own choice, it's your own choice, but when it's supposed to be a certain way outside your control, you just want to rebel. Let's face it, though. Eventually, deception will stop dead in its tracks, spin on its stiletto heel and come right back to bite you in the ass. And self-deception, well, that's even more painful because that's quite a stretch to reach all the way back there. It's like setting your clock ahead by 10 minutes to deceive your perpetually late self into punctuality. Please. Who are we really fooling, here?
So yes, I can no longer plainly state that "I do not like potato salad, period," because clearly that is not the case if I always end up eating it when it is placed in front of me. Granted, some potato salads are just plain horrible – mealy potatoes that fall apart into abovementioned pulpy, powdery potato residue, inclusion of such potato salad sacrilege as Spam (apples are okay, as long as the rest of the table is Korean), and the use of Miracle Whip, which is just plain scary as an ingredient for food when it can be used as a "natural" exfoliating equivalent for microdermabrasion.
In fact, there is a potato salad that I love so much that when I was living in my fantasy dream world of hating potato salad, I called it Roasted Potatoes with Garlic "Aioli" so that I wouldn't make myself a hypocrite. LOL! It's a f**king potato salad, and I love it.
There, now I'm only a semi-hypocrite.