Oysters and sparkling wine, three meals a day.
Assiette de Charcuterie [$15.50]
If they offered it, I would order just a plate of pickled vegetables. "French bahn-chan."

Kumamoto Oysters [$18/half dozen]
Tiny, briny.

Oyster Shell Comparison
Darker, ruffled edge Kumamoto on left. Paler Kusshi on right (also pictured at top).

Thon Grillé à la Niçoise [$31.50] – WINNER
I have been spoiled: grilled big eye tuna with pole beans, fingerling potatoes, arugula, hard boiled egg and radish

Macaroni au Gratin [$7.50]
I'll be honest. I could have used a splash or two of Tapatio.

Champignons des Bois [$7.50]
Perfect.

Pommes Frites [$7.00]
Bread: Epi Baguette
I don't eat bread. I use it for butter.

Obviously.

Dining Room Wall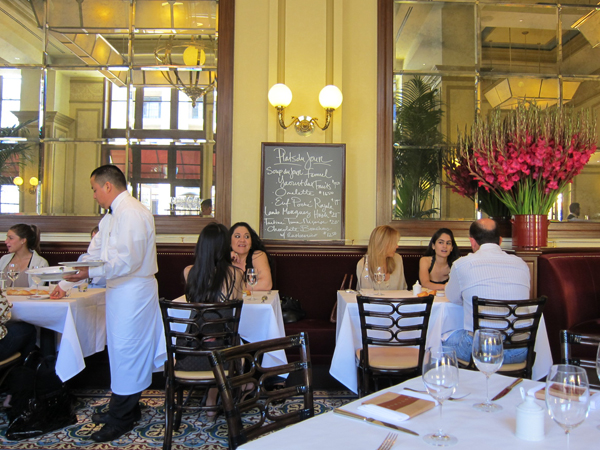 Lunch "meeting" Monday May 10, 2010 and brunch with The Boy Saturday May 15, 2010.
Bouchon
235 North Canon Drive
Beverly Hills, CA 90210
310.271.9910
www.bouchonbistro.com