After he teased me with it fairly soon after we met...
After I would occasionally, nervously bring it up, "Should we...?" then hurriedly change the subject...
After a year and a half of dating...
We finally did it!
...
We went to Sushi Park.
Albacore Sashimi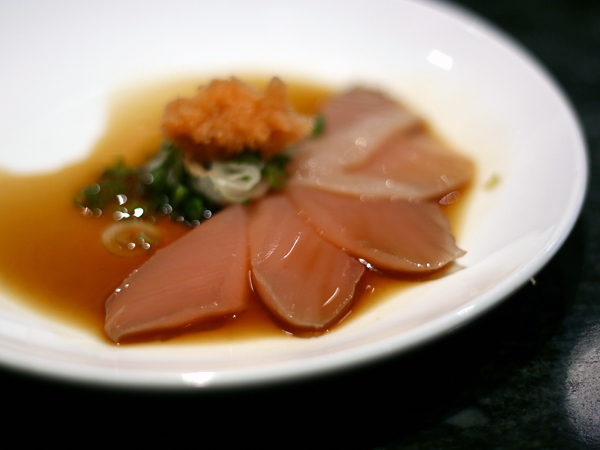 Bluefin Tuna, Bluefin Tuna with sauce, Bluefin Toro
Red Snapper, Halibut, Striped Bass
King Scallop
Hamachi, Kanpachi, Black Snapper
Black snapper was outstanding.

Skipjack, Jackfish
Spanish Mackerel, Albacore Toro
Spanish mackerel was, as it always is, remarkable.

Scallop, White Salmon, Salmon
White salmon! I don't even know what to say.

Octopus, Surf Clam, Uni
Uni so good, we asked for another. (Good to note: second time I've heard that uni from San Diego is better than uni from Santa Barbara.)

Blue Crab Handroll
Foreau Vouvray Brut 2004/2005, Chidaine Les Bournais 2008
Mochi Ice Cream
Green tea, mango, and the one I loved, strawberry

Chefs
Signs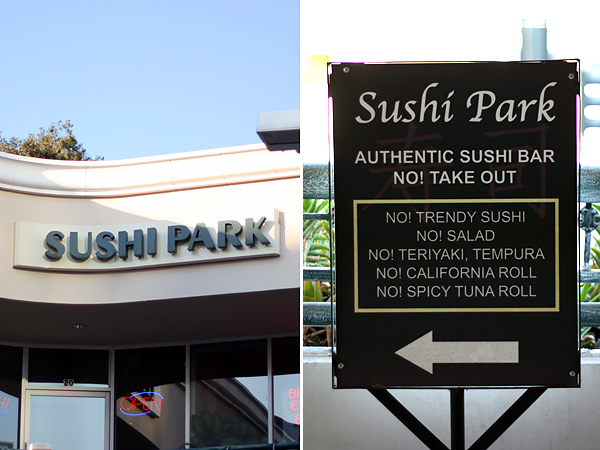 Quick back story: Le Ben would always mention how good Sushi Park is, how he ate there three times in the first week he moved to LA, but how he wasn't motivated to go back because they had a "no corkage" policy. Knowing that last part, still I'd occasionally bring up Sushi Park in hopes that he might want to go just for the sushi alone. In the end, we'd find ourselves at one of our usual, wine-friendly spots like Hirozen, Jinpachi or Nishimura.
Out of the blue last night, it was he who mentioned we go to Sushi Park so that at the very least, I could try it.
When he called the restaurant, he found out we could bring wine.
(Wait. What?! You mean we've been depriving ourselves this whole time for no reason?! No, no. They changed their minds.)
Omakase. Cuvee 2004/2005 Foreau Vouvray Brut and 2008 Francois Chidaine Le Bournais.
Yeah, we're totally in the honeymoon phase now.
Sushi Park
8539 Sunset Blvd, 2nd floor
West Hollywood, CA 90069
310.652.0523
corkage: $25