Jump to:
What is Pumpkin Spice Baked Oatmeal?
Pumpkin Spice Baked Oatmeal is essentially your two favorite morning habits—starbies pumpkin spice latte and a cozy bowl of oats—baked together in a pan, casserole dish, or even in actual muffin cups, with a few minor tweaks to the ingredients so that you end up with something that tastes more like pumpkin bread rather than the soft spoonable porridge you make on the stovetop.
As a breakfast option, Pumpkin Spice Baked Oatmeal is great if you like biting into chewy, textured breakfast foods or if you want to be able to take a bar-like breakfast to go, perfect for busy back-to-school and back-to-work mornings!
But you don't have to restrict Pumpkin Spice Baked Oatmeal to breakfast in the morning. Because it's truly sliceable into squares, treat it like a dessert bar that's subtly sweet, fiber-rich and all around healthier for you than say, a slice of cake.
And since it tastes like pumpkin bread, why not go ahead and bake Pumpkin Spice Baked oatmeal into muffin cups? It works perfectly!
Is Pumpkin Spice Baked Oatmeal Healthy?
This Pumpkin Spice Baked Oatmeal includes health-supporting ingredients that we could all probably use a little more of like gut health-supportive pumpkin, wholesome, fiber-rich oats, and anti-inflammatory super spices. Let's get into some of the health questions and considerations!
This recipe for Pumpkin Spice Baked Oatmeal as published, is:
vegetarian
dairy-free
gluten-free
refined sugar-free
Is Baked Oatmeal or Regular Oatmeal Healthier?
Oats are high in fiber, which we all know promotes good gut health. Fiber stimulates digestion, adds bulk to stool, and feeds the beneficial bacteria in your gut, aka our "gut microbiome." But it's the type of fiber, a soluble fiber called beta glucan, that's also particularly beneficial to heart health. Beta glucan can reduce the risk of heart disease and diabetes by lowering blood glucose, LDL, and total cholesterol levels.
In this recipe, blended oats replace plain refined flour. Oat themselves are naturally gluten-free, but because they are often processed in facilities that also process wheat, make sure to look for an oat product explicitly labeled "gluten-free."
Health Benefits of Pumpkin
Maple Syrup. This recipe uses maple syrup, a vegan-suitable natural sweetener, that replaces refined white sugar. Though still "sugar," maple syrup has a lower glycemic index (GI) than white sugar, may provide antioxidant benefits from naturally occurring phenols, and because it tastes sweeter than refined white sugar, you can use a little less in certain recipes like this one. (source)
What Ingredients You Need for Pumpkin Spice Baked Oatmeal
You only need a few ingredients for this recipe, and you probably already have most of them:
Pumpkin puree
Rolled oats
Baking powder
Baking soda
Sea salt
Cinnamon, ginger, and turmeric
Almond milk or other alt-milk
Eggs
Maple syrup
Vanilla extract
These are optional ingredients for topping the Pumpkin Spice Baked Oatmeal, and are not included in final nutrition calculations:
Almonds or walnuts
Dark chocolate chunks or chips
Flaky sea salt for topping
What Kind of Oats for Pumpkin Spice Baked Oatmeal?
Use organic rolled oats. Oats are available in a few different formats. Steel cut, rolled, quick-cooking, and instant oats are the most commonly available in grocery stores.
Rolled oats are whole oats that have been "rolled" over and flattened, making them even easier and faster to cook than steel-cut oats. Rolled oats are available as regular rolled oats or quick cooking rolled oats; you can use either for this recipe.
Steel-cut oats are whole oats that have been coarsely "cut" or chopped into smaller pieces for easier cooking. Steel-cut oats are not ideal for this recipe, as they are difficult to process into oat flour in your home blender.
Instant oats are highly processed so that they can be "cooked" by simply adding hot water. Do not use instant oats for this recipe.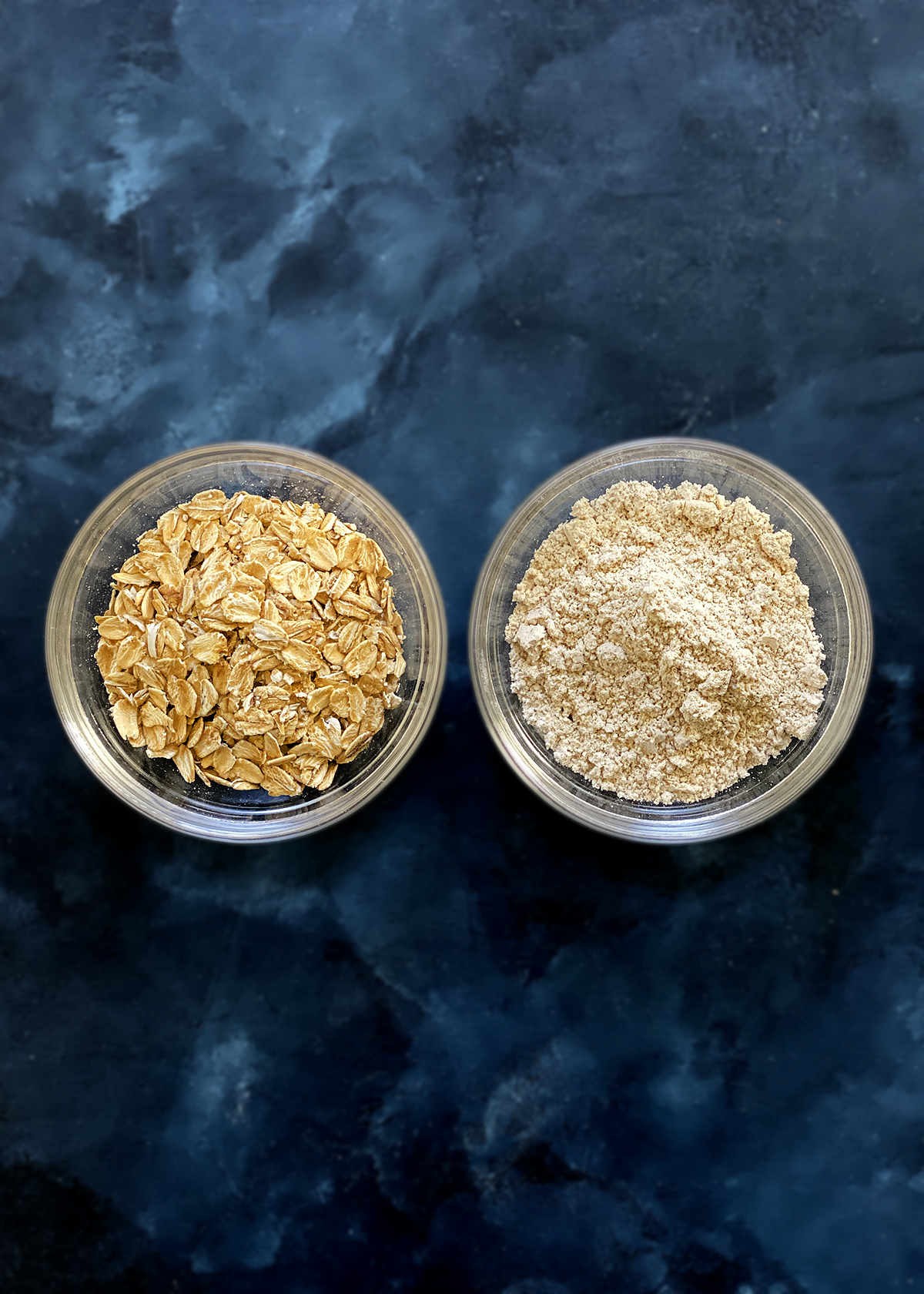 Oats and Oat Flour
This Pumpkin Spice Baked Oatmeal recipe uses rolled oats, some of which which you will process into a coarse "flour" in a high-powered blender or food processor. Oat flour provides a little bit of the "glue" that holds the oatmeal together, and the whole rolled oats give you the texture.
You can also buy pre-processed oat flour to save yourself the one step of blending the oats. This is a well-known, reliable brand for grains and grain flours. This is a newer brand to me and this particular oat flour product is organic and gluten-free.
Additional Ingredients Notes and Resources
Almond Milk. Almond milk comes in a wide variety of formats. Use a plain, unsweetened almond milk or other alternative plant-based milk that fits into your health and dietary needs. The almond milk we used in this recipe is sold in shelf-stable 32-ounce boxes.
Maple Syrup. A little bit of maple syrup adds a touch of sweetness. I use this organic maple syrup that is amber in color and more robust in flavor than lighter colored maple syrups. You can substitute with honey, though the recipe will no longer be vegan.
Vanilla Extract. For something like this Baked Oatmeal, I use whatever brand of pure organic vanilla extract is the most affordable, usually something like this. If I am feeling particularly luxurious or am making something fancy like a cake, I will spring for this vanilla. Do not use imitation vanilla flavoring.
Cinnamon. Cinnamon is a common spice for baking, but is unfortunately overlooked as a superfood! Anything labeled "ground cinnamon" is fine for this recipe. But if you really want something fancy, look for "Ceylon" cinnamon, which has a more delicate, complex flavor, and is great for certain cinnamon-focused applications, but might get lost in a rustic Baked Oatmeal.
Ginger.
Turmeric.
Salt. Adding salt to something sweet isn't to make it taste salty. Salt not only brings out the natural sweetness of the blueberries, it balances the sweetness, too.
Instructions for How to Make Pumpkin Spice Baked Oatmeal
Combine half the oats with the almond milk in a bowl, stir, and let the oats soak.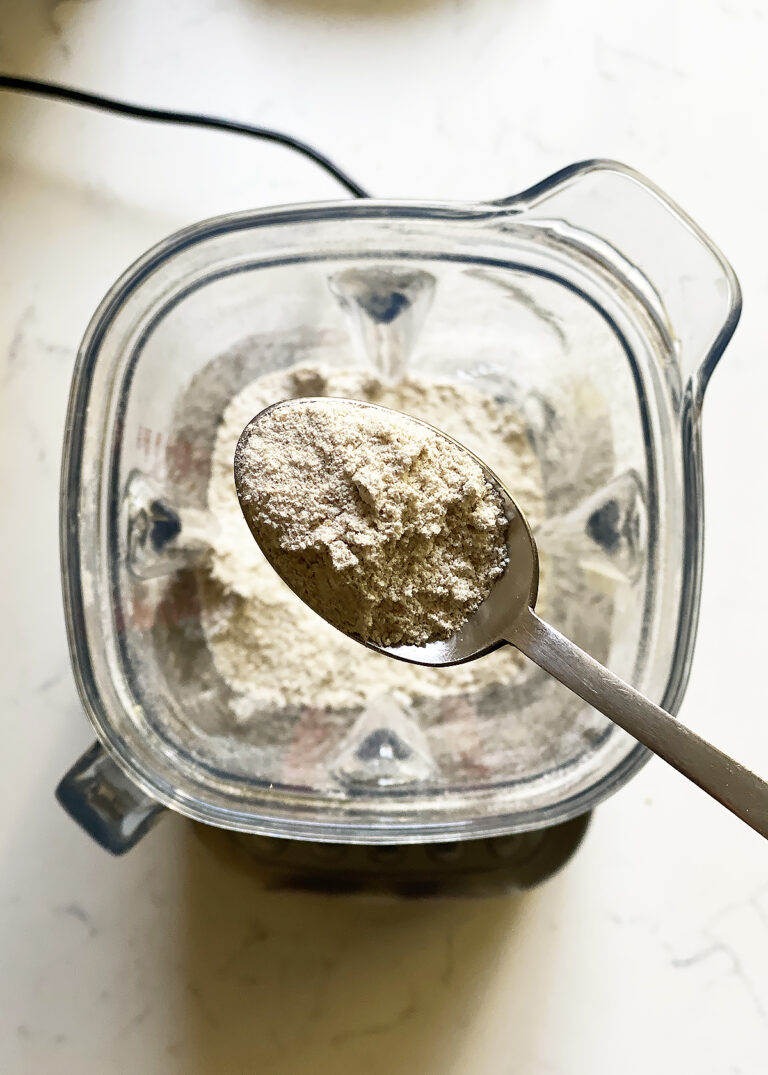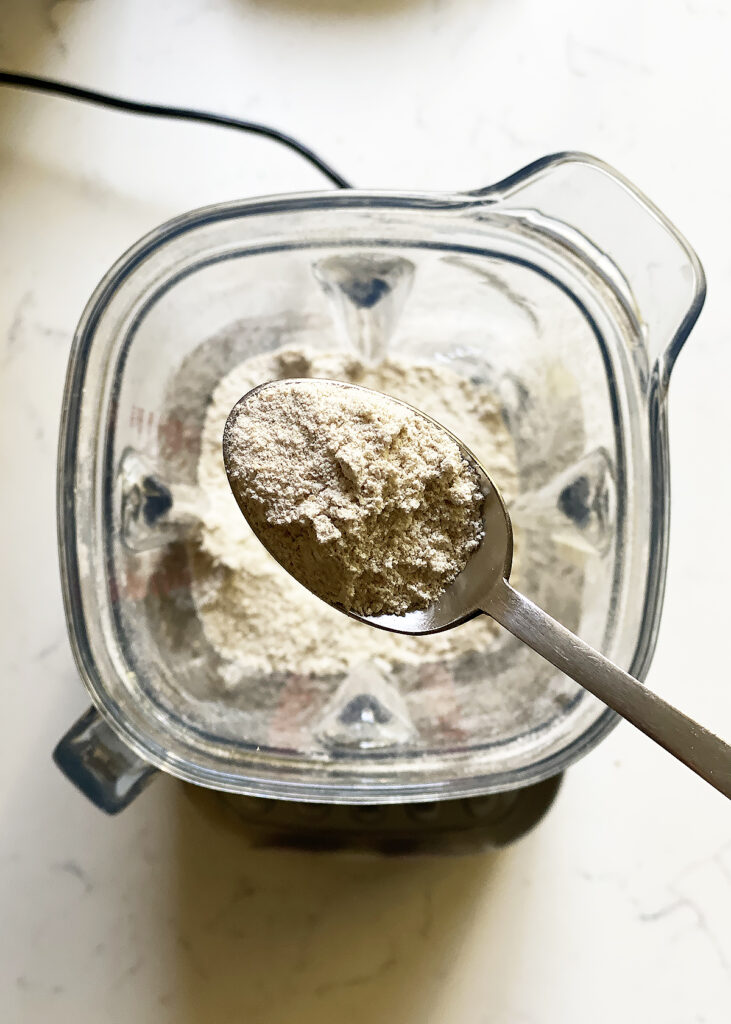 While the whole rolled oats are soaking, blend the remaining half into a flour in a high power blender.
Add baking powder, baking soda, salt, and cinnamon right into the blender with the blended oats and pulse a few times to combine all the dry ingredients.
To the bowl with the almond milk and oats soaking, add pumpkin, eggs, maple syrup, vanilla extract. Stir together to break up the eggs and combine.
Pour the dry ingredients from blender into mixing bowl with the liquid ingredients. Gently stir together until combined.
Pour the batter into the prepared pan or muffin cups. Scatter any optional topping if using over the top. Bake Pumpkin Spice Baked Oatmeal for 25-30 minutes, until a wooden toothpick or tester comes out with a few sticky bits.
Can I Make Ingredient Substitutions?
Baked Oatmeal in general is fairly forgiving, flexible and great for customization by making ingredient substitutions or additions. I have made this recipe many times as it's presented, as well as with the substitutions and variations as noted below:
Substitute Fresh Pumpkin. You can substitute in the equivalent amount of frozen blueberries for the fresh blueberries, 2 cups in this recipe. Do not thaw the blueberries, just use the frozen berries as is. Frozen blueberries may "spread" into the batter a little more making it purple, but won't affect the final flavor too much!
Substitute Other Plant-Based Milk for Almond Milk. Use any other plain, unsweetened plant-based milk—coconut milk, cashew milk, macadamia nut milk, soy milk, even oat milk!—for the almond milk. You can also use regular dairy milk of any fat percentage.
Substitute Sweetener for Maple Syrup. Substitute up to 50% of the maple syrup in this recipe with any other type of sweetener. However, you do need a slight bit of maple syrup to provide natural acidity to activate the baking soda for leavening!
Substitute or Omit Eggs. You can substitute in an appropriate plant-based egg substitute or a flax egg, which is made with ground flax seeds and water. I would not leave eggs/egg alternative out completely.
Modifications for Dietary Needs
Gluten-free - As presented, this recipe is gluten-free if the oats are certified gluten-free. Read the packaging/label to make sure the oats are processed in a gluten-free facility.
Dairy-free. As presented, this recipe is dairy-free (though not necessarily vegan because it has eggs).
Vegan - To make this recipe vegan, use an appropriate plant-based egg substitute or a flax egg, which is made with ground flax seeds and water. I would not leave eggs/egg alternative out completely.
Reduced Sugar—You can absolutely reduce the total amount of sugar in the recipe to ¼ cup! Any less than that, however, and you will compromise the structural integrity of the Baked Oatmeal, as sugar is not just for sweetness, but moisture as well as natural acid to help with the leavening.
Tools and Equipment
There isn't any special tool or piece of equipment required for Blueberry Muffin Baked Oatmeal, and in fact, I highly encourage you to skip hauling out heavy stand mixers, or even a hand mixer for this. However, that doesn't mean there are a couple of things that might make this baked oatmeal easier than it already is to get from pantry to plate.
High power blender to blend the oats into flour. The popular brand works great, but this is the brand I have and use.
Parchment paper to help release the bottom of the Baked Oatmeal

Square baking pan

Round baking pan
Earthenware casserole dish
12-cup muffin tin
Unbleached muffin liners
Measuring cups
Measuring spoons
Can You Use Different Pans or Sizes to Make Baked Oatmeal?
Yes, you can bake this Pumpkin Spice Baked Oatmeal in several different pan sizes and shapes! Part of what makes this recipe so easy and flexible is that baking in different pans doesn't require much, if any modification:
Muffin Pan— This Pumpkin Spice Baked Oatmeal will fit perfectly in a regular 12-count muffin tin and make perfect muffins! Grease and flour the muffin tin or line with paper liners. Divide batter evenly among cups. Bake the muffins for 18-22 minutes.
9x9-inch Square Pan—9x9-inch square pan is the recommended pan for the recipe and the one I use the most often. The batter will spread out more, making a slightly thinner/flatter final product. Bake a 9x9-inch square for a shorter period of time, i.e. start checking the Baked Oatmeal for done-ness at 20 minutes.
8x8-inch Square Pan— An 8x8-inch square pan will produce a deeper, i.e. taller Baked Oatmeal. Bake an 8x8-inch square for the recommended bake time, start checking for done-ness at 25 minutes.
Can You Make the Baked Oatmeal in a Loaf Pan? Though you can make the Pumpkin Spice Baked Oatmeal in a loaf pan, doesn't mean you should. I recommend you avoid this option because a loaf pan is too deep to properly bake the center. Baked Oatmeals in general do not have the structure to bake and rise the way breads and cakes made with regular wheat flour do.
Advance Prep, Leftovers and Storage
Refrigerator. Leftover Pumpkin Spice Baked Oatmeal will keep in an airtight container in the refrigerator for five days. Take individual servings out of the refrigerator to come to room temperature or heat gently in the microwave for 30 seconds or in a toaster oven on medium.
Freezer. Leftover Pumpkin Spice Baked Oatmeal can be stored for the longer term in the freezer. Cut Baked Oatmeal into individual portions, wrap each portion in parchment paper to keep from sticking, and store in an airtight, freezer-safe container. Leftover Pumpkin Spice Baked Oatmeal can be frozen for up to 3 months. Thaw in refrigerator overnight, or pop into a toaster oven or air-fryer for a few minutes.
If You're Here for the Pumpkin
Try more pumpkin recipes:
For More Recipes with Oats
Print Recipe
Pumpkin Spice Baked Oatmeal Recipe
Made with that good morning staple, oats, and naturally sweet, antioxidant-rich pumpkin, this recipe for Pumpkin Spice Baked Oatmeal is a deliciously healthy must-make! Perfect as a breakfast or snack to-go!
Ingredients
2

cups

old-fashioned rolled oats

1

cup

unsweetened almond or other plant-based milk

1

teaspoon

baking powder

½

teaspoon

baking soda

1

teaspoon

cinnamon

½

teaspoon

ground ginger

¼

teaspoon

ground turmeric

½

teaspoon

sea salt

2

cups

pumpkin puree

2

eggs

½

cup

pure maple syrup

2

teaspoons

vanilla extract

optional: 1 cup chopped almonds or walnuts, flaky sea salt for top
Instructions
Pre-heat oven to 350°F. Line an 9x9-inch square or 9-inch round baking pan to make it easier to lift baked oatmeal out of the pan and cut. Spray parchment and sides of pan with baking spray.

Place half the oats—1 cup— in a large mixing bowl with 1 cup of almond milk and allow the oats to soak.

Blend the other half of the oats—1 cup— into oat flour as fine as your blender or food processor will get it. It make take several minutes to get oats from a coarse meal to something resembling a flour.

Add 1 teaspoon baking powder, ½ teaspoon baking soda, 1 teaspoon cinnamon, ½ teaspoon ground ginger, ¼ teaspoon ground turmeric and ½ teaspoon sea salt to the blended oats already in the blender or food processor and pulse a few times to combine all dry ingredients.

To the oats and almond milk that are soaking together in the mixing bowl, add 2 cups pumpkin puree, 2 eggs, ½ cup maple syrup, and 2 teaspoons vanilla extract. Whisk to break up the eggs and combine.

Pour dry contents of blender or food processor into bowl with wet ingredients. Gently stir liquids and dry ingredients together until well-combined.

Pour batter into prepared baking pan and smooth top with spatula. Sprinkle with optional sliced almonds, flaky sea salt, or other topping if using, over the surface and then lightly press them into the batter with your hands or a spatula.

Bake at 350°F for 25-30 minutes, or until a toothpick inserted into the center comes out with a few sticky bits.

Allow Pumpkin Spice Baked Oatmeal to cool in pan for 10 minutes before serving.

If you plan to slice Pumpkin Spiced Baked Oatmeal into individual servings and store or freeze for later, allow the Baked Oatmeal to cool in the pan for a full 20 minutes in the pan. Slice and gently lift cut servings out of pan.
Nutrition
Serving:
1
serving
|
Calories:
119
kcal
|
Protein:
3
g
|
Fat:
2
g
|
Fiber:
2
g
Afterthoughts
Who invented "breakfast in bed?" Who? I want to know which genius thought it would be absolutely brilliantly sweetly romantic to bring breakfast to your lover in bed, possibly splashing coffee all over the white silk sheets, permanently staining the pillowcases with bacon grease, and leaving a trail of muffin crumbs where, really now, no muffin crumbs of any kind of muffin should ever go? Who?
Breakfast in bed is a very bad idea.
Why don't we have lunch in bed? Or dinner in bed? Because those are stupid, that's why. On your anniversary, your lover doesn't insist you jump between the sheets at noon so that he or she can bring you an egg salad sandwich in bed. When you and your lover want to share a cozy, intimate dinner, you don't slip into your jammies at 7:30 PM and share a bowl of chicken pesto pasta in bed. Good gracious, I don't even want to think about kimchee jji-gae in bed. (If you're naked, hey, that's not for this blog). Lunch in bed and dinner in bed both sound ridiculous because it's messy, awkward, potentially dangerous (oops! I dropped the knife...under the pillow), and no one wants to wake up with egg yolks smashed into her hair. What makes us think breakfast in bed is any better?
Breakfast in Bed is Not Better
It's not better. It's worse. Breakfast in bed supposed to be romantic. But I dont have to tell you that there is nothing romantic about groggy, froggy voice, sleep in your eyes, morning breath, glasses with lenses as thick Coke bottles, in sweats that are so old and tattered your alma mater's name is hardly recognizable. Your high school alma mater? Whoa, time for new sweats, princess.
Wait...you actually wake up with your hair smooth and silky, fully flossy glossy make-up, in a negligee (or silk boxers for the guys – but if you're wering a negligee, hey, again, that's a different blog)? If you look that good, that means you probably didn't have that much fun the night before, so you're not getting breakfast in bed anyway. Besides, last time I checked, even a gorgeous diva like Jessica Simpson looks like absolute hell in the morning (after).
Breakfast in bed is not romantic because you have dragon breath, and when you have dragon breath, pancakes taste no different than your flannel sheets, except that flannel doesn't drip maple syrup all over yourself. Oh, but what about thick, fluffy buttermilk pancakes, hmmm? Right. I meant pancakes taste like your down comforter. So, maybe you get up and brush your teeth first. Now you're up. Why would you get back into bed? If you're already out of bed, save yourself the laundry money and eat your French toast in the sunny breakfast nook that tacked an additional $200 to your rent each month.
Maybe Scones
The only breakfast I would ever consider eating in bed is...nothing. Nothing! I don't want breakfast in bed. Ever. Especially not scones, because those things crumble under the slightest pressure faster than the kickers on both teams in the Orange Bowl. Oops! Did I say that? Sure made for an exciting game, though.
So apparently I don't love scones because they're crumbly, and I don't love breakfast in bed even less. Whoa, grammar monkey, don't think so hard. Basically, I don't like either, but that sure didn't stop me from baking pumpkin scones with dried cranberries, eating them in bed, watching the Golden Globes. :)
Wait a second here, Eater of Breakfast-in-bed! Don't I suck at baking? Yes, yes I do, which is why this pumpkin cranberry scone tasted less like a dry, crumbly scone and more like an overgrown triangular muffin-top. The scone's muffin-ness is probably why I didn't end up with scone crumbs in my bed, only a wayward dried cranberry here and there. Next time - dried cranberries go in the scone, not on the scone.