This gorgeous green Kale Pesto is a fast, easy, and most importantly delicious way to get a supershot of greens, magnesium, and other anti-inflammatories. It's perfect to mix into a grain bowl, toss with pasta, spread onto flatbread pizzas, you get the picture!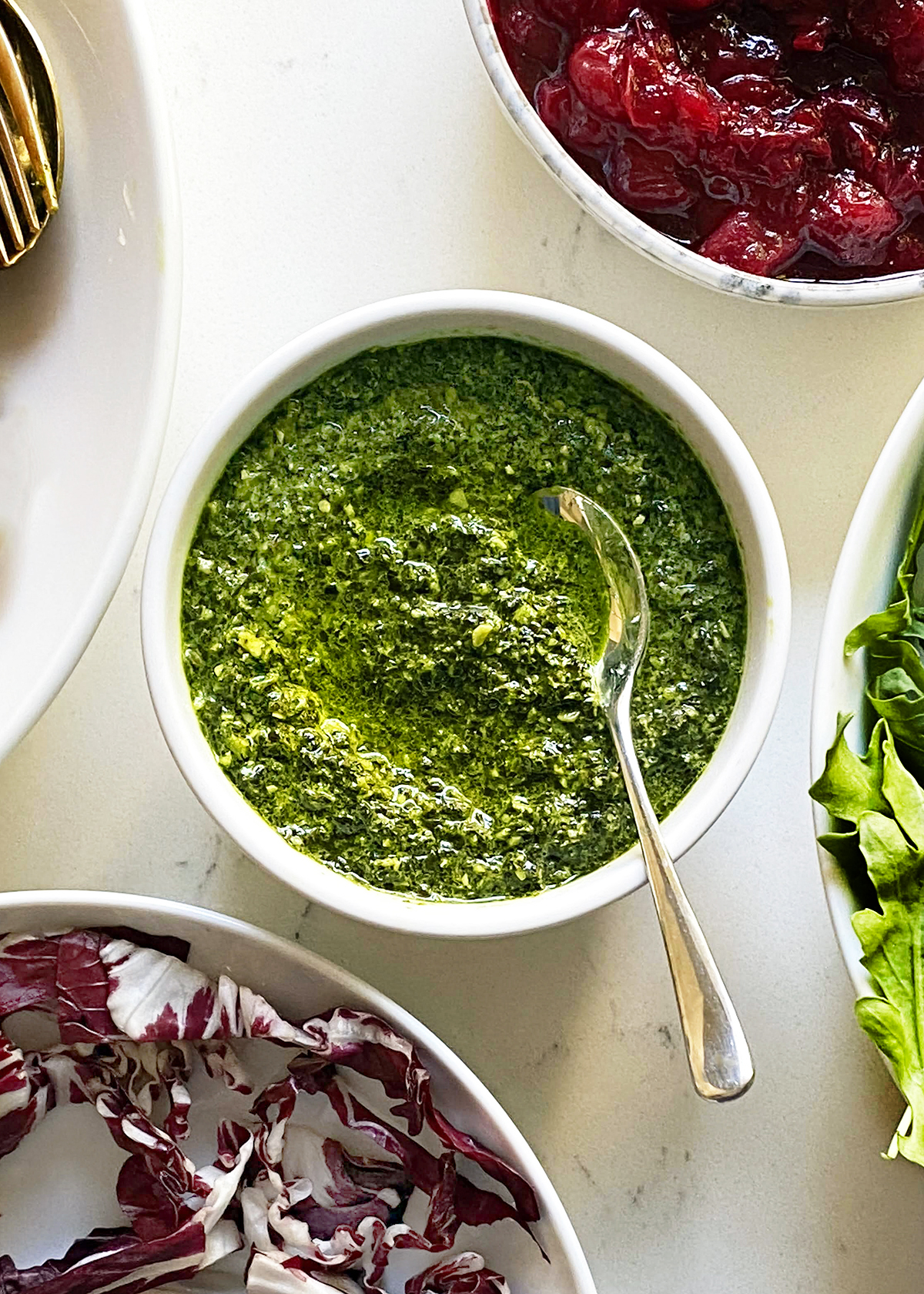 Jump to:
Ingredients You Need for Kale Pesto
kale
garlic
pumpkin seeds
nutritional yeast (or substitute miso)
lemon juice
olive oil
salt and if you like, pepper
Instructions How to Make Kale Pesto
To make this Kale Pesto, you will:
"flash blanch" kale—don't worry, it's not as fancy as it sounds
throw the kale and everything else into a food processor or blender
let 'er rip until you get pesto!
Ingredients Notes and Resources
Kale. The pesto in these photos is made with darker green lacinato/Tuscan/dinosaur kale, which has long skinny, "bumpy" leaves. However, any type of kale works for the pesto, too! Curly kale with the ruffled edges is a lighter green, which makes the pesto a brighter, slightly more vibrant green.
Pumpkin Seeds aka Pepitas. When we think of "pesto," we usually think of Italian basil pesto, which has pine nuts. Not that I have anything against pine nuts—which are actually seeds and not true tree nuts anyway—but why not use something that's more affordable and accessible? Pumpkin seeds fit that bill exactly. I use these organic sprouted pumpkin seeds.
Nutritional Yeast. I trust this brand of nutritional yeast, but use whatever nutritional yeast is most affordable off the shelf.
Olive Oil. I use this extra-virgin olive oil for every day uses like pesto.
Kosher Salt. I only ever use this one in the burgundy box.
Any and all other produce, organic, from local farmers' markets or Whole Foods Market
Ingredient Substitutions
Kale. Any variety of kale works here, as long as you flash-blanch it to soften both the flavor and actual texture. Curly kale is a little bit tougher in terms of texture, but will make the pesto a brighter green.
Other greens for kale. Substitute up to half the kale with another leafy green, especially if you are still getting used to the flavor of kale. Baby spinach is the mildest and most familiar flavor. Basil will take the kale pesto closer toward the traditional Genovese pesto.
Other Seeds for the Pumpkin Seeds. If you prefer not to use pepitas, and want to stick with something in the seed category try sunflower seeds.
Nuts in place of Pumpkin Seeds. You can use any kind of toasted nut you like. I have used almonds, pistachios, and even pepitas, which are seeds. Walnuts are softer, so they blend well into the pesto. Pistachios are amazing because the pesto turns an even brighter green, but also cost a little more than other nuts. The key factor here for any kind of nut is to make sure they are toasted, which adds back some of that umami element that we will miss from leaving out parmesan cheese from this pesto recipe.
Parmesan cheese instead of nutritional yeast. If your diet includes regular dairy, by all means use an equivalent amount of grated Parmesan (cow) or Pecorino (sheep) cheese.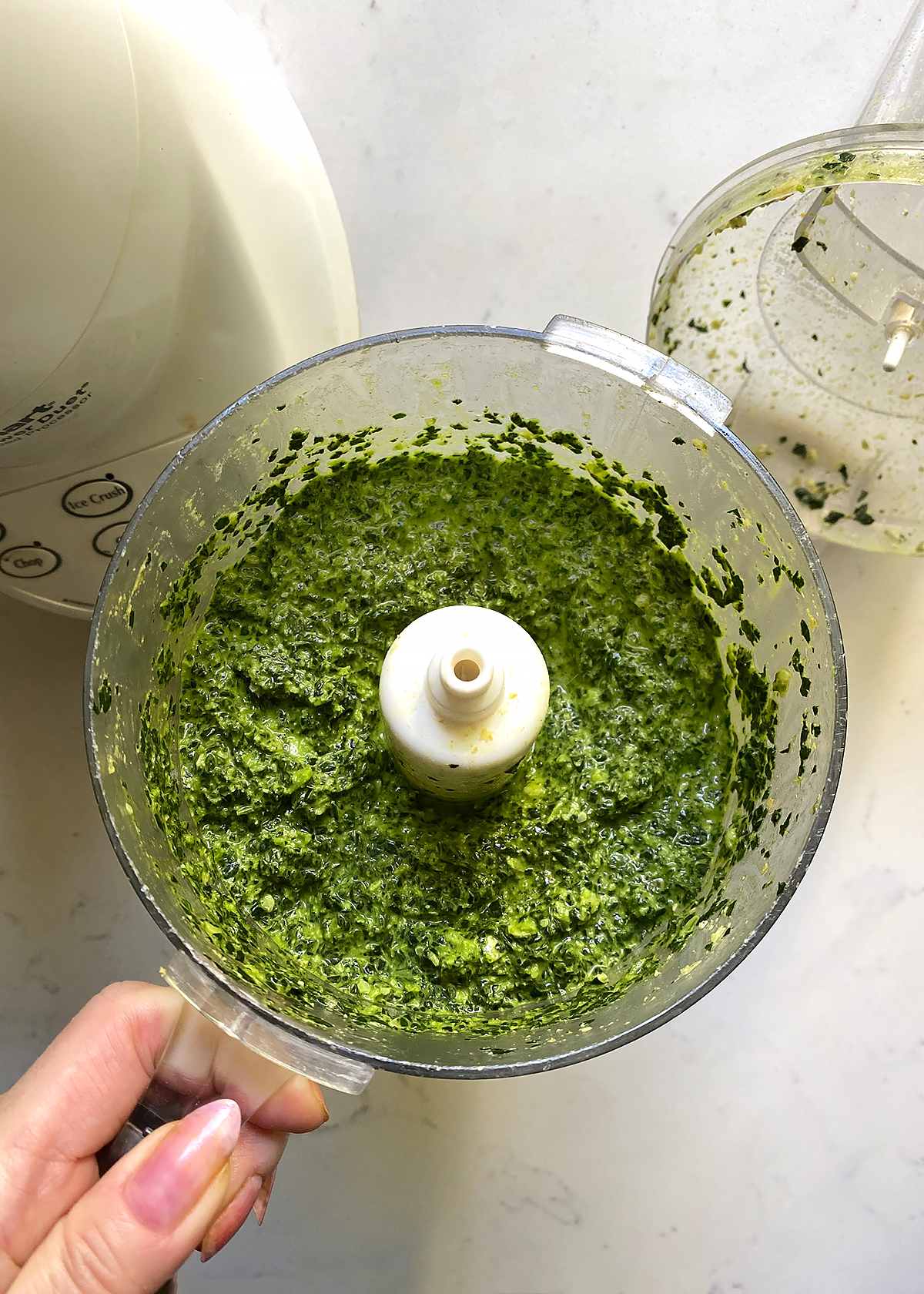 Tools and Equipment

As I always say, you can absolutely make this Kale Pesto with nothing but a sharp knife on a sturdy cutting and a lot of time. However, ain't nobody got time for that. To make Kale Pesto truly fast and easy, you will want to buzz it in either a food processor, or even better, a high power blender. These are the tools I have in my kitchen that I use for making Kale Pesto:
Food Processor. This is the small, compact food processor I have had for 800 years. It still works well. The small size is just the perfect size for sauces like Aji Verde.
High Power Blender. This is the one I have. The smoothie cup attachment (instead of the full size pitcher) is just the right size for Aji Verde.
Salad Spinner I can't live without this to really dry off the herbs.
Large pot for boiling water to blanch kale. This is the brand of pots and pans I have and use every day.
Colander to drain blanched kale. This over-the-sink style has changed my life.
Cutting Board. My favorite every day cutting board.
Garlic Press. You only need the press if you're doing this by hand. Otherwise, you'll just toss whole smashed cloves into the blender or food processor. As a side note, the most ridiculously expensive garlic press I've ever seen better come with a happy ending.
Health and Dietary Considerations
This Kale Pesto recipe as printed is:
vegan/100% plant-based
dairy-free
gluten-free
nut-free
paleo and keto-friendly
One quick note: some of the recipe substitutions may render the pesto not-paleo or not Whole30-compliant, e.g. substituting miso, which is made from soybeans, will make the pesto not compliant with paleo or Whole30 diets.
All the diet labels aside, the most important factor for me is that this Kale Pesto tastes good and is made up of entirely anti-inflammatory ingredients.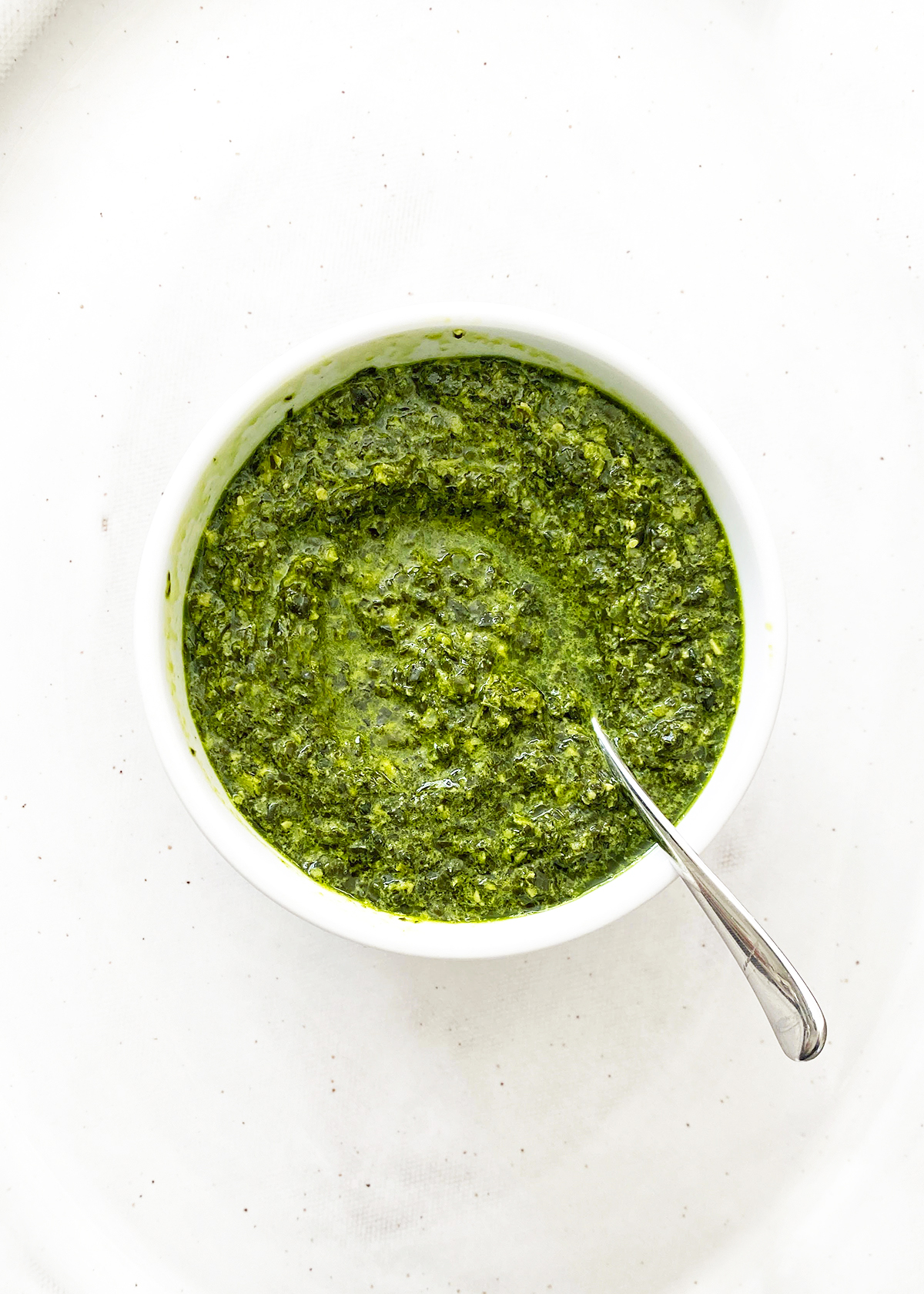 How to Use Kale Pesto
Kale pesto is considered a "master sauce" in this house, which means it gets dolloped, drizzled, slathered, and stirred into and onto just about everything from hard boiled eggs to flatbread pizza. Here are some specific ideas for how to use kale pesto:
Toss Kale Pesto with any roasted vegetables. It's the perfect savory balance to Roasted Honeynut Squash.
Toss Kale Pesto with long pasta like fettuccine or linguine and some blanched spring vegetables to the pasta and make it a Pasta Primaverde, a.k.a green pasta primavera
Spread Kale Pesto on toast to make a super flavorful Avocado Toast
Use Kale Pesto as the sauce base for a flatbread pizza
Stir Kale Pesto into a mix of roasted baby potatoes, green beans, and hard boiled eggs for an easy BBQ side dish
Shake a few tablespoons of Kale Pesto with lemon juice and olive oil for an instant salad dressing
Add a dollop to your grain bowl
Swirl it into labneh or thick yogurt for a dip for chips, bread, and crudites
Kale Pesto Variations
All the Green Sauces You Need
Kale Parsley Pesto Recipe (vegan!)
Italian Salsa Verde recipe
Peruvian Aji Verde recipe
Green Harissa recipe
Arugula Pesto recipe
Avocado Basil Pesto
Cilantro Lime Dressing recipe
Pesto Vinaigrette recipe
Mexican Salsa Verde (tomatillos)
Ginger Scallion Sauce recipe
Print Recipe
Kale Pesto with Pumpkin Seeds Recipe
A bright pesto with all the anti-inflammatory, immune supporting benefits of kale and magnesium-rich pepitas
Ingredients
1

bunch of kale, leaves pulled from stems and roughly chopped, about 3½ cups

3

cloves

garlic

¼

cup

pepitas

2

tablespoons

nutritional yeast

1

teaspoon

salt

plus more to taste

juice from half a lemon

⅓

cup

extra virgin olive oil + more for consistency

optional: finely grated lemon zest
Instructions
Place kale leaves in colander in sink. "Flash blanch" the kale by pouring boiling water over the kale, then immediately rinse the kale with the coldest water from the tap. If you are making pasta, you can do double duty and drain the pasta and boiling water in a colander over the kale.

Smash garlic cloves and remove green stem inside. Add garlic, pepitas, nutritional yeast, and salt in food processor. Chop in food processor until roughly chopped, stopping food processor to scrape bits off sides and back down into food processor bowl.

Tightly squeeze as much water as you can from the blanched kale. Add kale and lemon juice to the food processor. Pulse until combined. Everything will still look pretty choppy.

With the food processor running, drizzle olive oil until the pesto is the consistency you want. I like my pesto on the thicker side, spreadable as opposed to pourable.

Taste for salt and acid and add more as needed. Remember that straight pesto out of the food processor should taste saltier than is "comfortable" for you. The flavor will dilute when you add it to pasta, or whatever dish you're using it on.

Pesto keeps for about three days in an air-tight container in the refrigerator. It will darken in color after 1 day, but it will be fine to eat.