This perfect Peach Salad with arugula, salty umami cheese, crunchy walnuts, and a spicy, tangy, subtly sweet dressing is the salad you'll be making and eating all summer long. And the most important part of this entire series, is the fact that the recipe is more a template that you can use in every season. Shall we?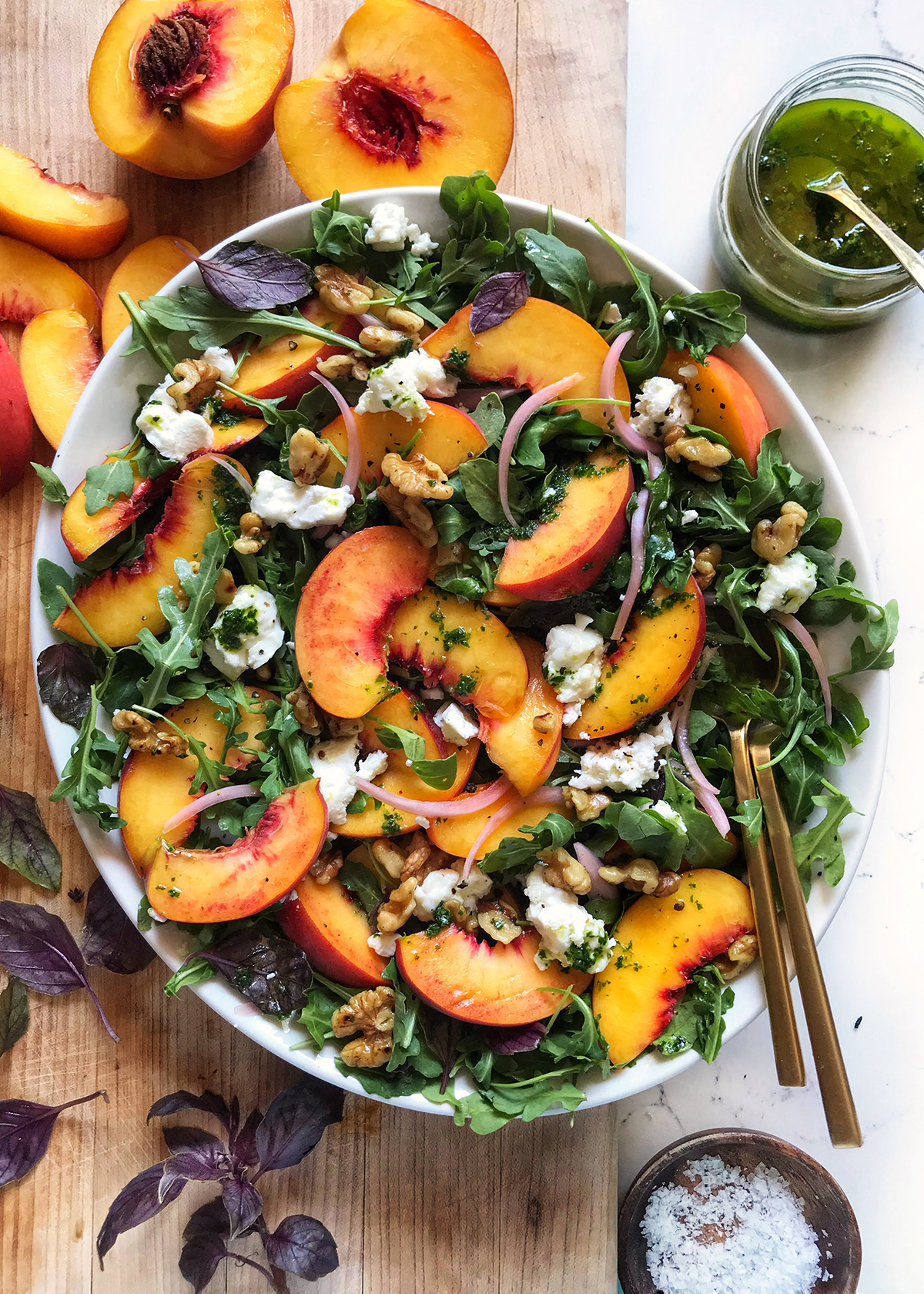 Jump to: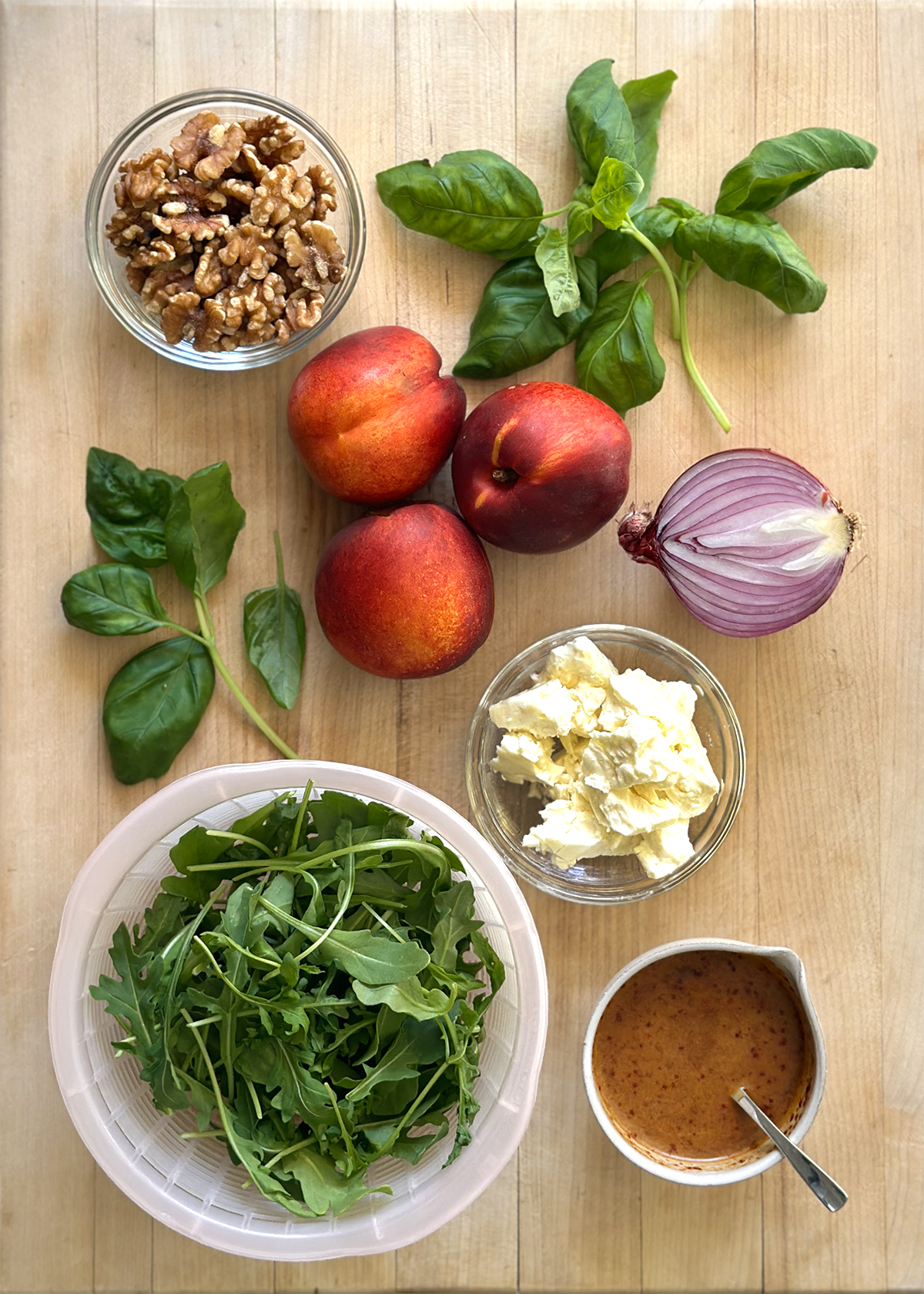 What Ingredients You Need for Peach Caprese Salad
Peaches or nectarines, firm-ripe
Arugula
Feta
Walnuts
Red onion
Balsamic Vinaigrette or Basil Pesto Vinaigrette
Substitutions to Use This Recipe as a Template for Any Salad
To make any other version of this salad, you will fill in these blanks, some suggestions included:
Fruit. Any sweet, tart seasonal fruit, and yes that includes the original inspiration, tomatoes in summer, which as well all know, is actually a fruit. This salad template works well with ANY stone fruit from apricots to cherries to plums, figs in early fall, and persimmons in winter.
Bitter greens that don't always have to be green, like arugula, endive, radicchio
Cheese. Salty, fresh to semi-firm cheese like feta or ricotta salata
Nuts or seeds like almonds, pistachios, walnuts, pepitas
Dressing. High acid, sweet dressing like Balsamic Vinaigrette, Hot Honey Balsamic, or Ginger Basil pesto Vinaigrette
Best Dressing for Peach Salad
Any salad with sweet, tart fruit as an ingredient is best with a similarly sweet, tart vinegar-based dressing, as opposed to a umami-rich creamy dressing. For this Peach Salad, use the Hot Honey Balsamic Dressing included as part of the recipe and its own printable version here.
These are some of the best dressing options for Peach Salad:
Peaches vs Nectarines, Does it Matter Which One You Use?
Technically, it does not matter if you use a peach versus a nectarine in this recipe, or any other dish for that matter. Peaches and nectarines are the same tree-grown stone fruit and are identical in flavor. (Some people say there is a difference in flavor between the two, but it's almost undetectable to me.)
However, a small genetic difference accounts for the most noticeable outward difference between the two: peaches have a fuzzy outer skin and nectarines have a smooth, shiny fuzz-free skin.
The smooth, shiny skin is what makes nectarines my personal preference for salads. You can leave the nectarine skins on, which means you get whatever additional health benefit like fiber and antioxidants in the peels. More importantly, you don't have to spend any time peeling the fruit. Fuzzy peach skins are 100% edible and perfectly fine to eat, and some of the fuzz will rub off when you wash and dry them, but I personally prefer the texture of the smooth nectarine skins.
If you have peaches and also prefer a fuzz-free experience, just peel them before adding to this salad!
Additional Ingredients Notes and Resources
Arugula. There are a few varieties of arugula, and the one that's most widely available in grocery stores is the small arugula leaves sometimes labeled "baby arugula" sold in plastic bags or clamshells. Arugula labeled "wild" has a sharper taste. Sometimes you may find large leaves of arugula like the arugula pictured in the Peach Salad above, which will have a similar flavor as the smaller leaves, but will be much less bitter.
Feta. Because peaches are sweet, feta cheese is a perfect balance taste-wise because it is salty and slightly funky. I buy mine from either Bristol Farms or Whole Foods, though when I am feeling fancy, I shop at the Cheese Store of Beverly Hills.
Walnuts. Shockingly, organic, whole walnuts are a great deal at Costco. Buy them in bulk, keep a mason jar of them on your counter to eat weekly, and put the rest in the freezer for longer term storage.
Pickled onions. I make Perfect Pickled Onions every week as literally the only food I "meal prep" for the week. You can also simply slice fresh onions paper-thin and soak them in ice water for 10-15 minutes before adding to the salad.
All other fresh herbs and produce from either the Santa Monica Farmers' Market on Wednesday, or Whole Foods Market when I can't find what I need at the farmers' market.
Instructions for How to Make Peach Salad
Make the Hot Honey Balsamic Dressing first, then assemble the Peach Salad.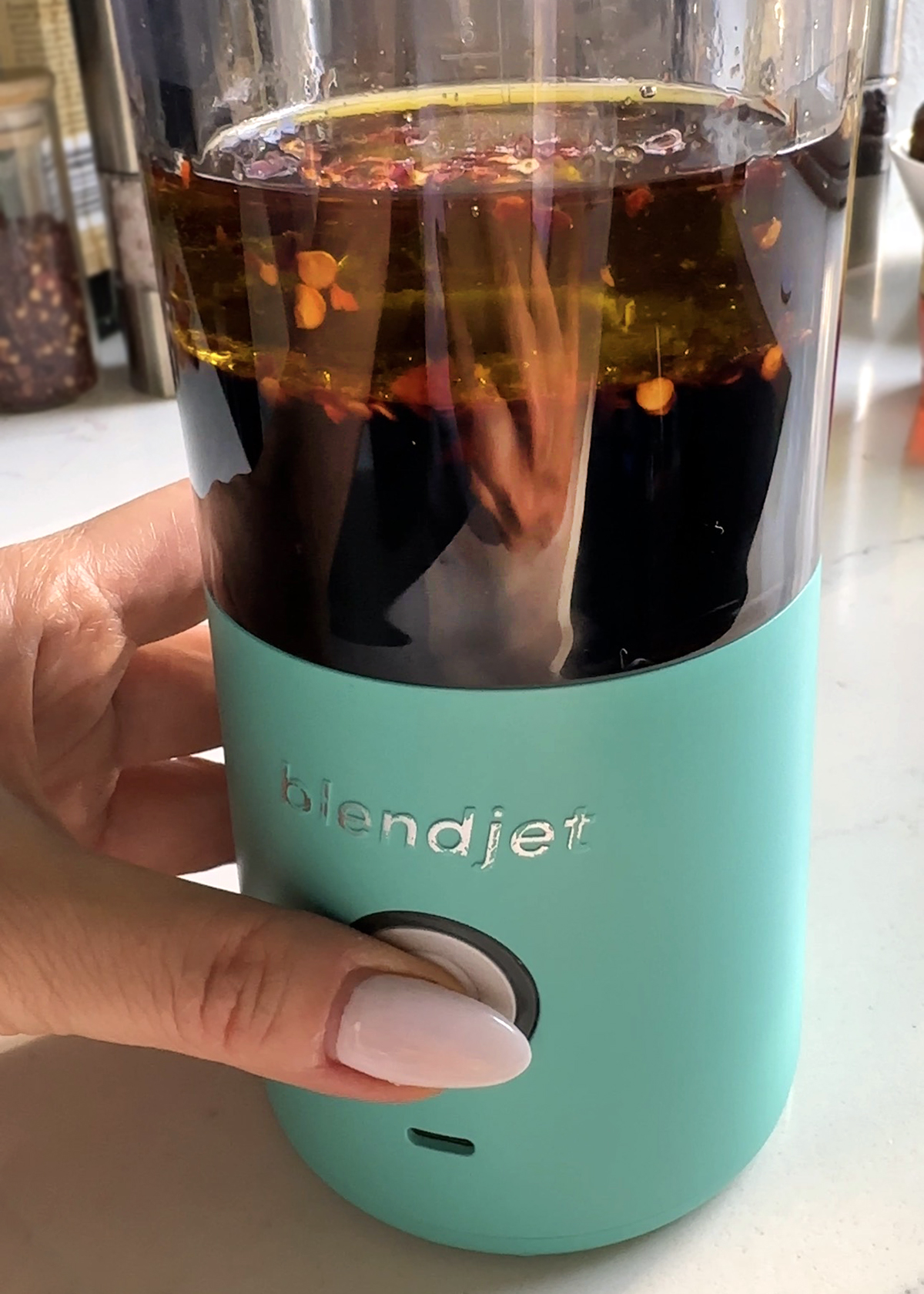 Make Hot Honey Balsamic Vinaigrette or Basil Pesto Vinaigrette and set aside.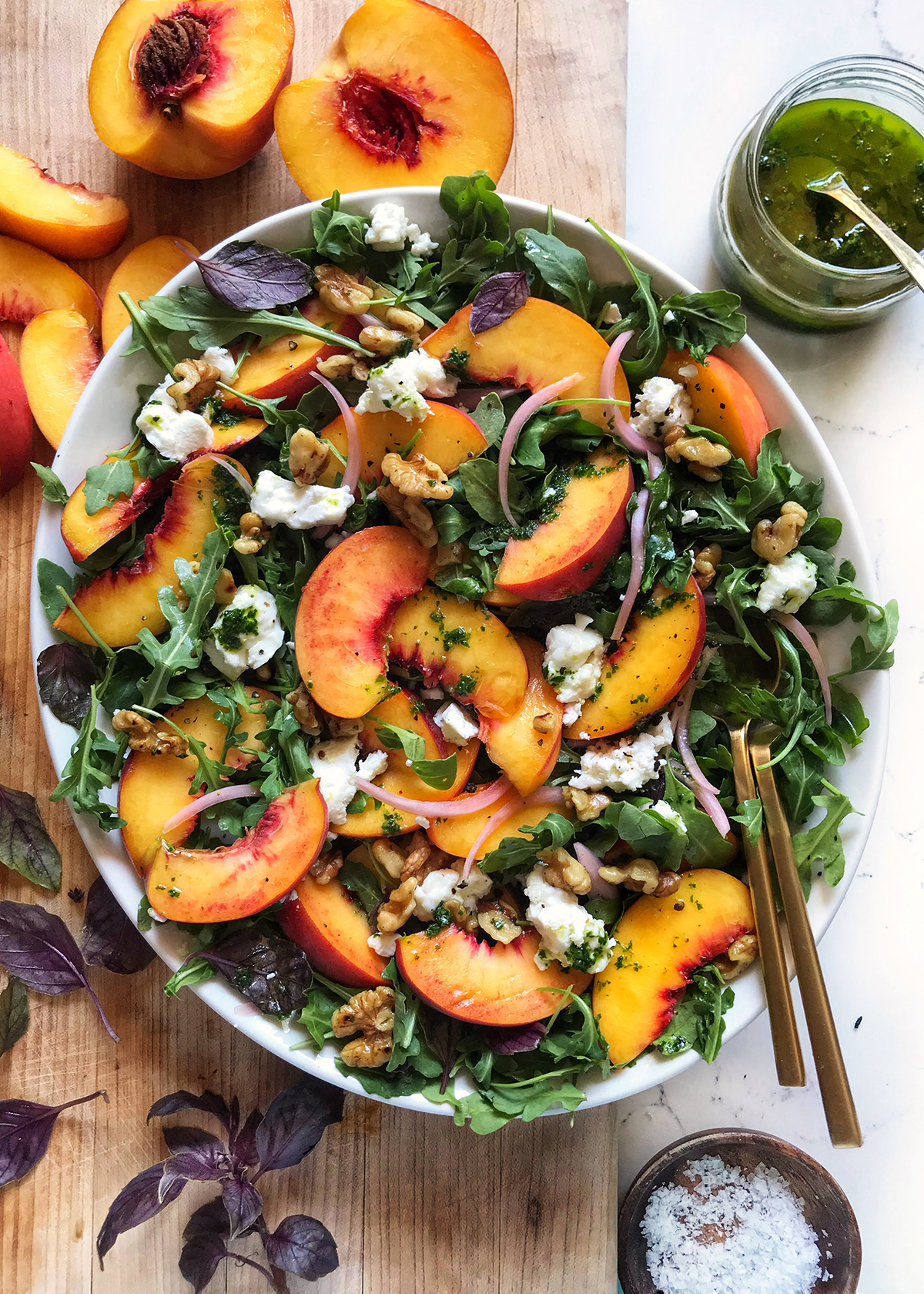 Arrange remaining ingredients for Peach Salad in a large salad bowl or platter with high sides. Drizzle dressing over salad, and serve extra dressing, walnuts, and crumbled cheese on the side.
Pro-tip: Because arugula is a delicate green and wilts almost immediately after dressing, drizzle with vinaigrette just before serving, or let the people eating dress their individual salads themselves just before eating.
Advance Prep, Leftovers, and Storage
Make the Hot Honey Balsamic Vinaigrette Dressing up to five days in advance.
Slice the peaches up to 1 day in advance.
Wash and prep the arugula up to 1 day in advance. Make sure the arugula is BONE-DRY before storing in refrigerator.
Once the salad has been dressed, leftovers of the salad do not keep well.
Tools and Equipment

You don't technically need any special equipment to make this Peach Salad. You can simply use a large knife and cutting board to chop all vegetables. However, that doesn't mean there are a couple of gadgets and tools that might make this salad even easier to throw together than it already is.
Salad spinner - this has saved my sanity because wet, soggy greens are the worst, and arugula in particular needs to be BONE DRY to keep it from wilting.
Chef's knife - my daily workhorse knife
Cutting board - large and sturdy so you have enough surface area for all the fluffy greens, and doesn't move around on the countertop
Japanese-style mandoline - to make lightning fast work of slicing the firmer vegetables. When you start eating a LOT of vegetables, this will be a lifesaver.
For the Hot Honey Balsamic Vinaigrette, these tools are also helpful
What Else to Serve with Peach Salad
Add cooked quinoa to give the salad a plant-based protein boost!
Add 2 cups shredded cooked chicken breast to make it a hearty main dish salad
Top with a generous piece of omega-3-rich salmon to make this an antioxidant-rich meal.
Wine for Peach Salad
You have a couple of directions you can follow for wine pairing with Peach Salad. Either take the fragrance lead of the peaches, or follow the sweet, salty, and sour flavors of the Hot Honey Balsamic Vinaigrette.
Salads dressed with vinaigrettes almost always calls for a high-acid white wine to match the high acidity of the dressing.
For something a little more fun, this wine is made from California-grown sangiovese, and fermented as whole clusters in a process called carbonic maceration so the wine has a slight natural fizz.
For more tips on pairing wine with food, check out this post about wines from Paso Robles, California, and this post about wines from Santa Barbara, California.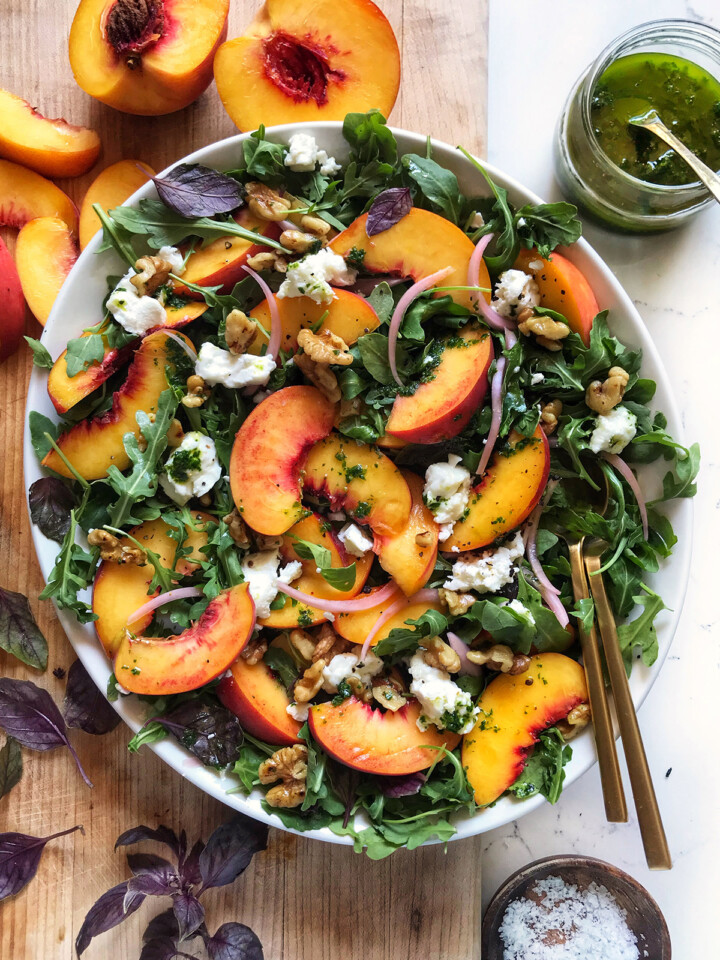 Print Recipe
Perfect Peach Caprese Salad
Sweet summer peaches are perfectly balanced by peppery arugula, crunchy walnuts, balsamic vinegar in the dressing, and a little bit of funk from an aged cheese.
Ingredients
8

cups

wild arugula

(equivalent to 5-ounce plastic clamshell)

2-3

firm-ripe peaches or nectarines, thinly sliced

½

cup

toasted walnuts, roughly chopped

¼

small red onion, sliced paper thin and soaked in ice water for 10 minutes

4

ounces

aged sheep's milk cheese like Manchego, sliced into matchsticks

½

cup

pomegranate arils

½

cup

Hot Honey Balsamic Dressing
for Hot Honey Balsamic Vinaigrette
2

tablespoons

balsamic vinegar

1

tablespoon

apple cider vinegar

1

tablespoon

honey

1

garlic clove

1

teaspoon

crushed or ground red pepper

2

tablespoons

olive oil

¼

teaspoon

sea salt
Instructions
Place arugula in bottom of large salad bowl or serving platter with high sides.

Arrange peaches over arugula, followed by walnuts, sliced red onions, cheese, and pomegranate.

Drizzle salad with ¼ cup of Hot Honey Balsamic dressing, and serve the remainder of the dressing alongside.

Salad, without dressing, will keep in an airtight container in the refrigerator for one day. Once dressed, leftover salad does not keep well because the arugula will get soggy.

Make Hot Honey Balsamic Vinaigrette: Combine all the ingredients for dressing in a blender or food processor and combine until emulsified. Add water 1 tablespoon at a time until
How it Started
Right around the beginning of the end, I had some sort of allergic reaction.
Not "some sort." It was an actual, very real, allergic reaction, the very real kind that freaks you the fuck out if you've had a history of allergic reactions that land you in the emergency room, sometimes with hallucinatory-level antihistamines shot directly into your bloodstream with deep space-sized needles, sometimes with your "waking up" with your way-back-then-boyfriend and two other strangers standing next to your arm with an IV drip of something they say should "clear it up," sometimes with a compounded dose of relief and shame when you look at the bottom copy of a release form in triplicate and make out the single phrase scrawled on the bottom line: "panic attack."
I was sitting at the computer late at night, after a very late dinner, working on an extremely late next installment of whoknowswhatIwasactuallydoing, when I noticed my upper lip tingling on the starboard side, the unmistakeable terminology for "right side" as my Dad always taught me when I was four years old about unmistakably clear communication.
I touched my lip lightly with my finger. I pressed my lips together, the way you do when you're putting on lip gloss. I could feel it. My lip was starting to swell.
"Oh no," I thought.
"Oh god, no," I instinctively prayed to no one in particular except maybe the omniscient, omnipresent deity aka webMD. "Please let this be a stress- and anger-at-boyfriend-induced panic attack."
I tip-toed up the hallway to the guest bathroom, the closest one to the office where I was working, the furthest one away from my sleeping boyfriend, and examined my lip in the mirror. Closeup, the fine lines on and around my upper lip had disappeared, the skin pulled taut by the bloating from almost instantaneous cult-like gathering of too many horrifying histamines in a tiny temple aka my upper lip, now rounded off, hard, smooth, the same kind of effect, I guess, that women pay thousands of dollars to achieve in a plastic surgeon's office.
Does panic look like a real housewife of Beverly Hills adjacent? I hoped for the breast best.
I stood back from the mirror to look at my whole face. They say to do that, you know, to sit back from that magnifying mirror when you're doing makeup to one teeny tiny part of your face, because what might look good (or bad) up close, looks totally different when you see it in the context of everything else around it. Except I wasn't plucking my brows or painting a cat's eye. I was examining a near medical emergency. Maybe I was overreacting. Maybe I needed perspective. Maybe I needed to get myself to Cedars in the next few minutes.
What could have caused this reaction, if it was, indeed, an allergic reaction?
Standing in the sick, creepy, after-midnight light of the bathroom, I played out dinner over in my head, as far back as cooking and even prepping because who knows what I could have put into my mouth unconsciously popping, tasting, sipping. Quinoa. Spinach. Lemon. Lime. Chickpeas. Garlic. Cauliflower. Fish sauce? People can be allergic to fish, but I've never been, and had eaten fish sauce many times before, as recent as the two days before in homemade Chicken Pho. Nothing was new, nothing stood out as something that had caused problems before. Chicken. Rubbed with salt.
Wait. Was I...? Could I...?
Am I allergic to salt?!
My god! I had opened a new box of salt...maybe I'm allergic to salt...Holy fuck, I'm allergic to salt! I'm allergic to salt, people! I am a medical mystery!
My brain was on overdrive, my imagination sending my sanity into a violent downward spiral as I waited, hoping that the antihistamine I had just popped would kick in faster than my body would. It was obvious now that it was an allergic reaction. The swelling had spread across my philtrum from the driver's side to the passenger side. Yes, I looked up philtrum. I wanted to know the exact term in case I had to use it to explain to the paramedics what was happening.
I crept further up the hallway to the bedroom.
"Babe?" I whispered, standing over him. There was no way he would have heard me through his snoring.
"Hey, babe, I think I'm having an allergic reaction." I said a little louder, poking his shoulder. He didn't move.
"I MIGHT BE DYING SHOULD I GO TO THE ER?!" I practically screamed. He awoke, totally startled and confused. Sitting on the edge of the bed, I fake-calmly pointed out my lip, which had swollen to more than double its size. He rolled his eyes, asked me if I really needed to go to the ER this time (yes) because do I know how long we'd be waiting (three hours at least) if we went right now, told me to take a Zyrtec (I already did), told me I'd be fine in 15 minutes, then fell back into bed, asleep again within 10 seconds.
I stormed back down the hallway to the office. I was going to die all alone, even though my boyfriend was in the house.
Allergies are a scary thing not only because the reactions can be life-threatening, but because the allergies themselves are unpredictable and unexplainable.
I've had reactions to everything from common allergens like shrimp when I was a child, to not-as-common blueberries, neither of which cause reactions now, but could in the future again, and if/when they do, will likely, and very frighteningly, result in reactions that are more intense than the one before (also the nature of allergies). I've been to different allergists, all of whom charge a lot of money for nothing more than a series of tests that can tell you only what you're allergic to right now, like dust mites (which is everyone anyway) and cats (which I don't eat), but never predict that your lips would suddenly swell up after eating a slice of Toffee Bar Coffee Cake riddled with hazelnuts, or that your entire body would break out in hives the morning after eating tomatoes at dinner the night before.
When violent reactions occur after eating something you've eaten without concern countless times before, every meal that you haven't cooked yourself is a sick (literally) game of chance, every dish on the table a round that could possibly take you out in a single shot of histamines. Does it contain shrimp? Does it contain hazelnuts? What about the increasingly trendy hazelnut oil? Has it touched hazelnuts? Does it contain something else to which I might be allergic that I don't even know about yet but will tomorrow when I die of anaphylaxis? (I am not anaphylactic. Yet.) Does this dish contain food? Because guess what, I might be allergic to food! The constant questioning fuses into an underlying doubt and the underlying doubt eventually turns into...fear.
Oh, there is is again.
Recently I have been struggling with fear. The fear itself is not recent, as I'm pretty sure that some version of fear has been plaguing my subconscious since childhood spankings with a heavy, metal spatula (which certainly explains a few things). However, it wasn't until some time in the last few months that I realized that in the previous two or three years, I had let normal levels of the normal fears that usually keep you from doing stupid, harmful and illegal things, balloon in both scale and scope into a paralyzing array of utterly irrational, utterly inexplicable fears. Fear of failure isn't so abnormal but I've let it completely take hold of my ability to write anything from blog posts to the subject line of an email. Fear of cooking is less common, but still keeps me from some certain normal things like, you know, cooking. Fear of spiders is its own thing.
But fear of eating?
Fear of food?
How It's Going
Right around the beginning of the end, I had some sort of allergic reaction, that kicked off the whole of it boiling out on control. I wouldn't leave the house, let alone go out to a restaurant to eat something that didn't have a detailed label or recipe attached to it. I stopped drinking wine. I stopped eating kimchi (shrimp). Stopped eating Thai (also shrimp). No more Vietnamese, sushi and pretty much all of my favorite foods including anchovies and canned sardines because though I had never shown any type of reaction to fin fish, you never know. Ramen isn't going to kill you, Sarah, he said. But after a few bites, I started to feel faint, and had trouble breathing. It was made from a mushroom stock. I swore off mushrooms. I swore off ramen just to be safe. I was eating nothing but organic bananas, avocados, steamed brown rice and quinoa, hard boiled eggs, raw tofu, and green juice that I pressed at home from vegetables that I washed to the point that all the nutrients were probably vaporized. Even then, I'd look sideways at a tiny bunch of broccoli with suspicion.
All of my fears were feeding off each other, but I wasn't feeding myself. But worse than losing weight faster than any detox diet could ever promise, I was losing my mind.
Then it got to a breaking (up) point, and that was the end of the end.
-----
A couple of weeks ago, I cooked Shakshuka, a dish that very prominently features tomatoes. I ate it. I'm no longer allergic to tomatoes, which, incidentally, was his favorite food of all time.
I am, however, still allergic to hazelnuts.