This Pan-Roasted Honeynut Squash recipe, caramelized on the stovetop then baked in the oven until spoonably soft, will be the only way you will ever want to make and eat Honeynut Squash and other butternut type squashed for the rest of your life! Shall we?
Jump to:
This recipe is based on the pan-seared, oven-roasted method that has gone viral across social media as the "life-changing Thomas Keller zucchini," originally made with honeynut squash's summer lovin' cousin, zucchini squash.
What is Honeynut Squash?
It may look like just a baby butternut squash, but Honeynut Squash is actually a slightly different variety within the winter squash family. It is a relatively "new" hybrid of the familiar butternut squash and buttercup squash, cultivated over multiple generations to produce what might be considered a "better" squash in terms of flavor and texture.
The backstory is that in 2009, Chef Dan Barber of Blue Hill Stone Barns challenged plant breeder and genetics professor Michael Mazourek to breed a better tasting butternut squash, which Barber thought generally watery and bland. That was all the encouragement Mazourek needed to continue with a side project on producing mini squash he had already started. A decade and many generations of hybrids later, we get the literal fruit of that labor.
What is Pan-Roasting?
What exactly is the "Thomas Keller method" of pan-roasting squash? It's a method that world-renowned Chef Thomas Keller shared via Masterclass, that then went viral on tiktok.
Chef Keller:
slices the zucchini length-wisescores zucchini in a cross-hatch pattern
salts and drains the zucchini
pan-sears the zucchini in a pan on the stovetop, then
oven roasts the zucchini in a high-heat oven until the zucchini becomes meltingly soft and tender.
Tiktokers called the roasted zucchini "life-changing" and while that's not a surprising description for any dish that comes from the mind of Chef Keller, it is surprising that it's for zucchini which is sort of an NPC of the vegetable world, and that the method is actually fairly simple. Chef Keller's recipes are famously long and complicated, to say the least.
Peep more of Chef Thomas Keller's recipes here:
The complete recipe from the Masterclass includes a sauce vierge, a French fresh chopped tomato sauce, something like a salsa, to top the Roasted Zucchini, which I've included with the recipe. However, the only thing that matters is the zucchini roasting method.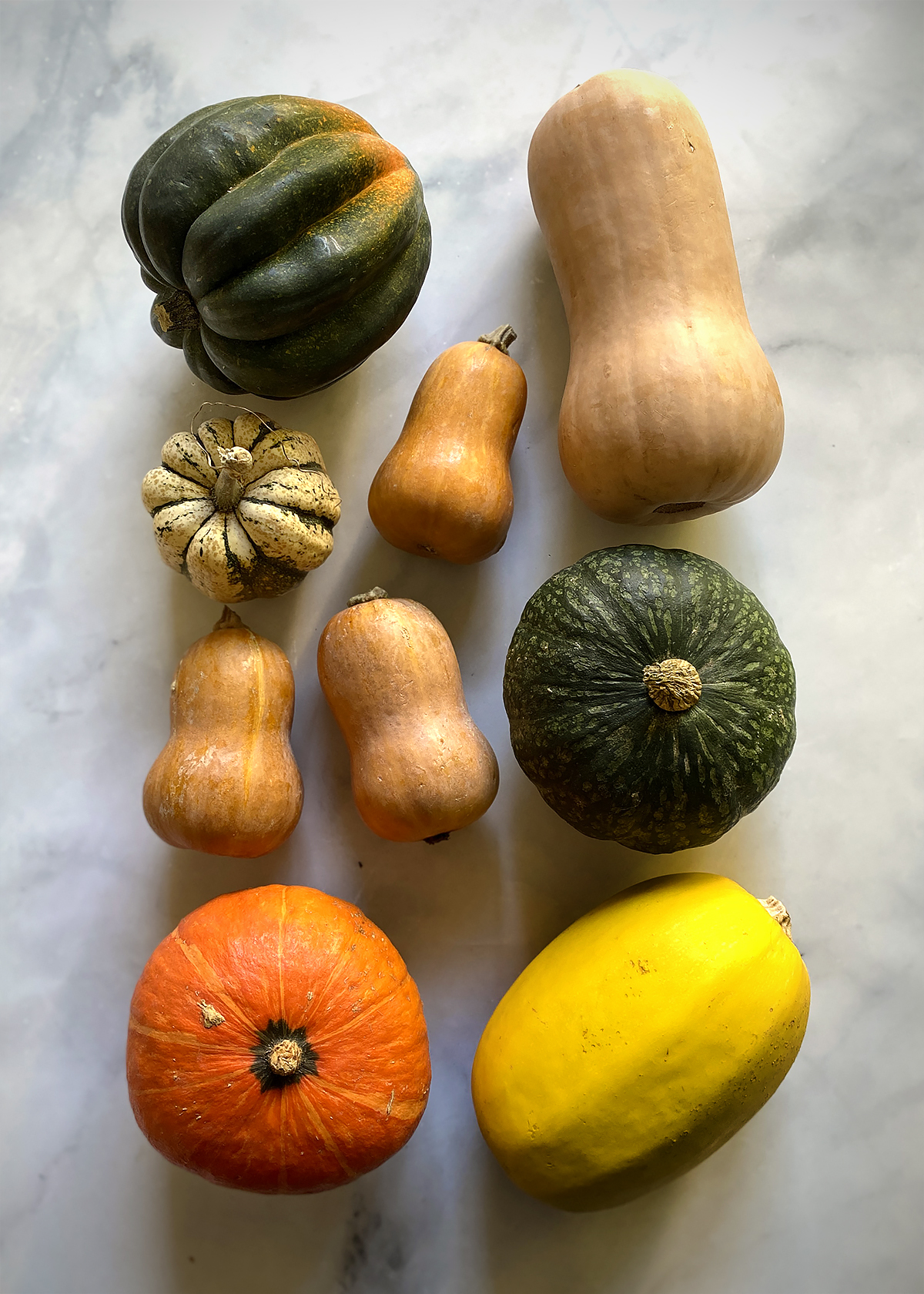 What Does Honeynut Squash Taste Like
Honeynut squash tastes like a richer, "squashier," somewhat sweeter version of butternut squash, with a dense, more velvety texture than its parent varieties, butternut and buttercup. You know butternut squash is one of my all-time favorites so no hate to the original! The skin on Honeynut squash is much thinner, so it's edible!
Ingredients You Need for Pan-Roasted Honeynut Squash
Honeynut Squash is so sweet and flavorful on its own, it doesn't require much else to roast. You will need::
Honeynut Squash, obviously!
Sea salt
Cooking oil
That's it! Seriously! The Honeynut Squash will be salty, naturally sweet, umami-hinted from the char, and of course, spoonably soft.
HOWEVER. If you'd like to take your Honeynut Squash to the next level with a Gochujang Glaze, which I always do because why wouldn't you, you still only need a few ingredients. Here's what you need:
Gochujang
Soy sauce/tamari
Maple syrup
Apple cider vinegar
Sesame oil
Instructions How to Make Pan-Roasted Honeynut Squash
This method for cooking Honeynut Squash is so easy! Because the squash are small and have an edible skin, there are only a a couple of steps, none of which are complicated at all. Most of the steps are non-active, "waiting" time.
scrub the skins, you do not have to peel them
cut each squash in half lengthwise and scoop out the seeds; you may have to cut off the stem first as it's pretty tough
score the "neck" part of the squash into a cross-hatch pattern
sprinkle with salt
sear on the stovetop
roast, cool, and enjoy!
Pan Sear Honeynut Squash
Heat oven on 400°F. Slice squash into halves length-wise. You can leave the stem end on for aesthetics if you'd like, or cut it off, which might be necessary to fit the pan.
The skin of Honeynut Squash is totally edible so you can leave it on. However, the skin does have some "texture" to it, so you can peel the squash using a Y-peeler.
Using the tip of your knife, cut a cross-hatch pattern into the cut-side of each squash half. Each cut only needs to be about ¼ to ⅛-inch deep.
Sprinkle the cut side of each squash with a little bit of sea salt.
Heat a cast iron skillet or other oven-proof pan over medium heat, add 1-2 teaspoons neutral cooking oil with a high smoke point like avocado oil, and place the squash cut-side down in the pan.
Cook Honeynut squash until lightly charred around the edges, about 7 minutes, as pictured above. Use a pair of tongs to gently lift up an end of the squash to peek at the underside.
Roast Honeynut Squash in Oven
Once the cut sides are deeply golden brown, place the cast iron skillet or oven-proof pan in the 400°F oven. Roast for 20 minutes or until squash are tender when pierced with a fork. For spoonably soft, custard-like texture, roast for an additional 10 minutes.
Make Gochujang Glaze (if using): While the squash are roasting in the oven, make the Gochujang Glaze by whisking together gochujang, tamari or soy sauce maple syrup or honey, vinegar, and sesame oil in a small bowl. Add filtered water one teaspoon at a time until the glaze is the consistency of a thin barbecue sauce.
When the squash are meltingly tender, remove the pan from the oven. If you are going to use the Gochujang Glaze, turn the squash over so they are cut side up, and brush lightly with Gochujang Glaze. Otherwise, if you are not using the Gochujang Glaze, serve the squash as is or with any other sauce or condiment.
Return skillet with squash cut, glazed side up to oven under the broiler for 3 minutes until miso glaze just starts to bubble. Remove pan from oven. Garnish squash with toasted sesame seeds and sliced scallions if using.
How To Make a Larger Batch of Honeynut Squash
Squeezing two or three Honeynut squash into a large oven-proof skillet that goes from stovetop to oven in a single sweep works for making a couple of servings as a side dish. But if you want to make more servings, you'll have to brown the squash on the stovetop in batches and transfer to a sheet pan before roasting in the oven. Here are the tips:
Drizzle a sheet pan that will fit all the squash with 1-2 tablespoons of oil, and place it in the oven when you start to pre-heat. This ensures that the squash will stay hot on when it transfers from the skillet to the oven.
Brown 2-3 cross-hatched squash in a skillet on the stovetop following the recipe.
Once a batch of squash are finished browning in a skillet on the stove top, transfer them face-down to a plate and continue browning the rest of the squash.
Place all the browned squash face down on the pre-heated sheet pan, then return the sheet pan to the oven and roast, following the recipe.
Additional Ingredients Notes and Resources
Olive Oil. I used this olive oil that's pretty widely available, though it is not organic.
Salt. I use this brand of salt for everyday cooking.
Gochujang. There are several different types of gochujang.
Maple Syrup. Anything called a "glaze" contains some kind of sugar, and quite a bit of it. I prefer the sweetness of natural maple syrup to refined sugars, and use a very little amount. I use an organic maple syrup like this. you can substitute an equivalent amount of honey.
Apple Cider Vinegar.
Sesame Oil.
Any other fresh herbs and produce , like scallions and sesame seeds for the garnish at the end, from either the Santa Monica Farmers' Market on Wednesday, or Whole Foods Market when I can't find what I need at the farmers' market.
VIDEO
Health and Nutrition Considerations of Honeynut Squash
Surprisingly, honeynuts are more nutritionally dense than butternut squash, with about 2-3 times more beta-carotene, the precursor to vitamin A. Beta carotene serves as a potent antioxidant.
Like butternut squash, honeynut is low in fat and high in fiber. Though it is technically a higher carb food, Honeynut Squash has a low glycemic index.
Dietary Considerations
This Roasted Honeynut Squash recipe is:
100% plant-based, suitable for vegan lifestyles
vegetarian
low calorie, low fat
gluten-free
dairy-free
refined sugar-free
keto and paleo adaptable without the gochujang glaze
Substitutions and Variations
With so few ingredients in this recipe, there aren't a lot of substitutions. That being said, you can substitute:
Different Squash. Substitute any kind of hard, winter squash for the Honeynut Squash in this recipe. I have tried everything from Honeynut's larger cousin butternut squash to Kabocha squash and even to delicate zucchini squash in the summer. Cooking times will vary across all squash, based on size and shape.
You can also make small adjustments to the Gochujang Glaze to suit certain diets or lifestyles:
Sugar-Free. The roasted squash itself is completely sugar-free. To make the Gochujang Glaze sugar-free, simply leave out the maple syrup or other natural sweetener. Gochujang has an inherent natural sweetness, so you may not even miss the sugar anyway!
Tools and Equipment
As I always say, you don't need any special equipment to make almost any recipe. However, that's not to say there are a couple of gadgets and tools that might make it a LOT easier to get Pan-Roasted Honeynut Squash from your fridge to fork.
What Else to Serve with Pan-Roasted Honeynut Squash
Paired with a bowl of steamed rice or quinoa, this Pan-Roasted Honeynut Squash can be a perfect, light vegetarian meal. However, if you'd like to add some protein, more color, or make the squash a full side dish to a larger main dish, here are some ideas for what else to serve with Pan-Roasted Honeynut Squash:
More Honeynut and Butternut Squash Recipes
You can absolutely substitute Honeynut Squash for butternut squash! Try these recipes:
One thing to keep in mind is that for recipes in which the squash is puréed or combined with a lot of other flavors like soups, sauces, and chili, it may be worth it to stick with butternut squash. Not only are butternut squash more widely available, but they are easier to peel a single large squash rather than a lot of small ones.
FAQ
What is the difference between Honeynut Squash and butternut squash?
A: Honeynut squash is a hybrid cultivar of butternut squash and another winter squash, buttercup. It is smaller, denser and sweeter in flavor. You can, however, substitute interchangeably in recipes.
Can you use Honeynut Squash instead of butternut squash?
A: Yes! You can use Honeynut Squash instead of butternut squash and vice versa! Treat Honeynut Squash the same as butternut squash when peeled, cubed and cooked. To roast the halves just be mindful of the timing since Honeynut Squash are smaller.
Do you need to peel Honeynut Squash?
A: No, you do not have to peel Honeynut Squash. The skin is completely edible, and when left on, protects the sweet tender flesh during roasting. However, just as with other fruit and vegetables, if you prefer to peel the skin, using a vegetable peeler is the easiest.
How to tell when a Honeynut Squash is ripe?
A: Honeynut squash should have a golden caramel color skin and feel heavy for their size. Some light green veining is okay. When buying, look for smooth skin.
Can you get "butternut squash hands" from Honeynut Squash?
A: Yes! For those of us who experience "squash hands," the red, tight, sometimes itchy palms from handling raw butternut squash, handling honeynut squash will likely cause the same reaction. The contact dermatitis is caused by an unnamed allergen that is present in all squash of the same family, though with varying degrees of reactiveness. I always wear gloves when handling all hard winter squash.
How long can you keep honeynut squash?
A: Fresh Honeynut Squash will keep in the cool, dark place for 1-2 months. Because they have thinner skin than their butternut ancestors, they don't keep quite as long. I just keep Honeynut squash in the bottom drawer of the refrigerator.
Print Recipe
Pan-Roasted Honeynut Squash Recipe
This spoonably soft Pan-Roasted Honeynut Squash will be the only way you will ever want to eat squash for the rest of your life. Is that an exaggeration? Try it and you tell me. (Spoiler alert: not an exaggeration).
Ingredients
4

Honeynut squash

1

teaspoon

sea salt

1

tablespoon

neutral cooking oil with high smoked point like grapeseed or avocado oil

garnish: toasted sesame seeds, sliced scallions
Gochujang Glaze
2

tablespoons

gochujang

1

tablespoon

soy sauce or tamari

1

tablespoon

apple cider vinegar

2

teaspoons

maple syrup or other sweetener

1

teaspoon

toasted sesame oil
Instructions
Roast Honeynut Squash
Halve the Honeynut Squash lengthwise and score the the cut side in a crosshatch pattern so that salt can penetrate it.

Rain salt onto the cut and scored side of the zucchini from a height so that it is evenly distributed. Leave the Honeynut Squash for 15 minutes to draw out moisture.

Preheat oven to 400°F (degrees Fahrenheit). Pat the Honeynut Squash dry with paper towels.

Pour just enough oil to coat the bottom of a cast iron skillet or oven-safe frying pan and heat until it's shimmering but not quite smoking. Add the Honeynut Squash, cut side down, in the oil and adjust the heat to allow the Honeynut Squash to sear and brown without burning. Cook about 5 minutes, checking occasionally, until it is browned and charred slightly at the edges.

Transfer the entire pan with the Honeynut Squash in it to the oven. Roast squash for 20 minutes or until they are soft. Larger Honeynut Squash may take a few minutes longer
Make Gochujang Glaze
While Honeynut Squash are roasting, prepare the Gochujang Glaze. Combine gochujang, vinegar, tamari, maple syrup or other sweetener, and sesame oil in a small bowl. If needed, add filtered water one teaspoon at a time until the glaze is the consistency of a thin barbecue sauce.

Remove pan from the oven. Flip the Honeynut Squash over so the cut and scored sides are face up. Drizzle or brush each Honeynut Squash half with about ¼ teaspoon of the Gochujang Glaze. Return pan with Honeynut Squash to oven under the broiler for 3 minutes or until the Gochujang Glaze starts to bubble and caramelize. Remove pan from oven, transfer Honeynut Squash to serving plate. Allow to cool for 5 minutes, then serve.